A century after The Great War began, a group of 50 travelers will leave Vienna on a six-country walk of peace.
They're launching the European Peace Walk – a 23-day pedestrian route to commemorate the 100th anniversary of the beginning of World War I.
The first group begins its trek Monday, planning to cover nearly 342 miles before ending at the Mediterranean Sea in Trieste, Italy. Each day for the next two weeks, smaller groups will leave the Austrian city.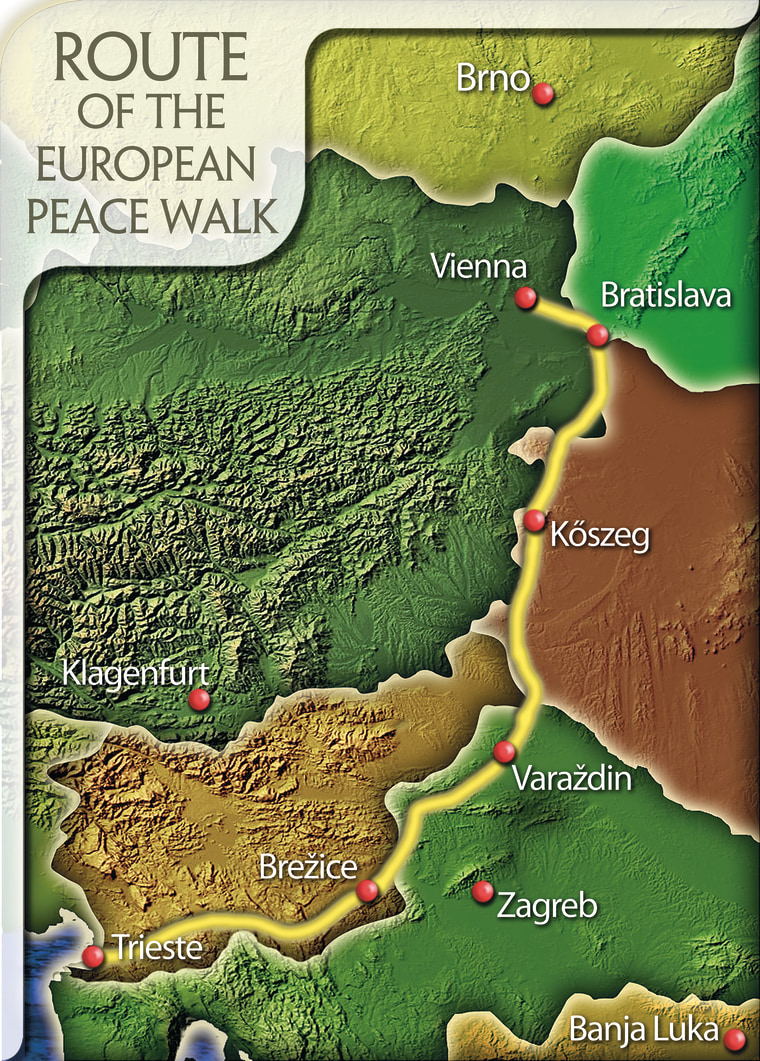 The idea for the EPW developed after Grattan Lynch walked the Camino de Santiago pilgrimage route in 2007.

"I had never seen Hungarians, French, Germans and Americans all sitting at the same table, eating, laughing, flirting and enjoying life," he said. "While I sat there, I thought, 100 years ago they would have been killing each other."
So Lynch and a small team of volunteers set out to replicate the Camino experience in an "accessible and beautiful part of Europe," as a way for people "to meet and share in our united histories and future together," to celebrate the current European culture of peace and honor the past.
Many of the walkers, who are coming from Europe, North America, Central America, Australia and New Zealand, have family connections to World War I. "We all did, and we all lost so much," Lynch said. "And then we did it all again, 20 years later."
Among the walkers traveling the route through Austria, Hungary, Croatia, Slovenia, Slovakia and Italy will be Lee LaTour, a marketing consultant in her 60's from Portland, Oregon. Her grandfather was a World War I veteran.
"My first hope is that I can finish it. I think the weather – extreme heat -- will be challenging," said LaTour, who does not consider herself athletic or a war buff, but walked the Camino from France to Santiago, Spain. Participating in the EPW will be "like being a part of something bigger than myself," she said. "And it's in an area of Europe I've never been to. What better way to see and learn about that part of the world than by walking slowly through towns and villages?"
Walkers will sleep in hostels, schools, a brewery, sports halls, mountain huts, Rock Cafes, student residences, and, the founders' personal favorite, a cowboy's fish farm. Lynch said the organizers had to be creative, because the standard infrastructure was not available in some remote areas, especially those impacted by the Iron Curtain after World War II.
Walkers pay for their accommodations and food, but there is no fee to participate in the walk. Daily costs are expected to be an average of 10 Euros for a bed and about four Euros for dinner.
In all, about 150 walkers are expected to participate in the inaugural walk.
Sharr Prohaska, a clinical associate professor at the Preston Robert Tisch Center for Hospitality, Tourism and Sports Management at New York University, said that events like the EPW demonstrate how a few committed people who have a vision can help inspire others.
"I applaud this organization for their dedication to raising awareness about the importance of peace," Prohaska said, adding that walkers, too, play a major role. Their actions, she said, "encourage people to reflect on the negative impacts that war has on people, their families and their countries."
That is the case for Jessy Macoto Oqueli, 25, of Tegucigalpa Honduras, who plans to walk along with her husband, parents and a family friend.
"Honduras is a beautiful country with nice people but I would like to mention that my country is one of the most violent," Oqueli said. There is a violent death every 74 minutes in the country of roughly 8 million, according calculations by the National Commission for Human Rights. Oqueli's mother, a member of parliament, taught her since she was a girl about the importance of working for the peace in their country and globally.
"My personal goal is to walk with energy the 550kms with the hope to change the world for our future generations," Oqueli said.
The plan is for the EPW to become permanent and open six months of the year. People can still register for the current walk, as the the last group will depart from Vienna on the morning of August 11th.
"We will not rest until there are 10,000 PeaceWalkers a year," said Lynch.