Vacation destinations often include exotic places with an ocean view, but for "Duck Dynasty" fans, West Monroe, La., is the vacation spot of the year. 
The A&E scripted reality TV show, which follows Willie Robertson, his redneck family and their multimillion-dollar duck call business Duck Commander, is one of television's most-watched reality series. More than 11.8 million viewers tuned in for the season four premiere in August, and fans are now taking their love for the show and hitting the road to visit the Robertsons' town of West Monroe. 
"We laugh and smile and shake our heads because the show has really put us on the map," said Courtney Hornsby, president of the West Monroe-West Ouachita Chamber of Commerce. "We're just trying to embrace it and see how we can use it to help grow the community."
Although Hornsby did not have official tourism numbers, she says the town of 13,000 is inundated on weekends. And local businesses are aiming to take advantage of the "Duck Dynasty" crowds.
The local Hampton Inn has a Duck Commander package which gives participants a gift bag with their very own Phil Robertson mug when booking a room. The Downtown Monroe Alliance is planning a holiday event around the show, to be called A Very Merry Commander Christmas, and the Monroe-West Monroe Convention and Visitors Bureau created the Duck Commander Hometown Tour to help tourists find locations from "Duck Dynasty."
"It's really exciting to see our area revitalized with increased tourism from the show," said Rebekah Landry, art and social media director for Landry Vineyards. Her family's vineyard was shown on an episode of "Duck Dynasty" in 2012. Landry estimates that half of the vineyard's visitors come by because of the show.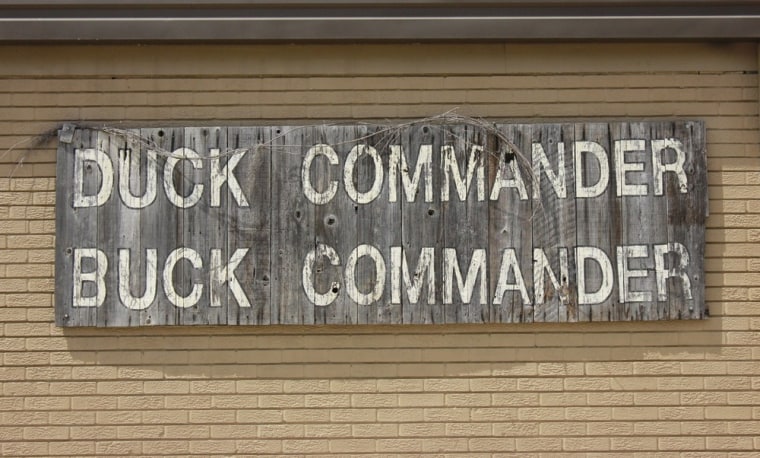 "People are always asking 'Where's Willie?,' 'Where can I meet him?,' 'Where does he live?'" said Landry. "It can be an irritant but people are coming in the door and buying our wines, so you can't complain."
Lori and Dalton Young and their four children spent their spring break visiting West Monroe from McKinney, Texas. Their first stop was the Duck Commander warehouse where they bumped into Willie's uncle and "Duck Dynasty" star Si Robertson.
"Our youngest daughter has Down syndrome, and it was really sweet to see Si talking to her," said Lori Young. "She kept calling him daddy so he was laughing and joking with her."