A Honolulu beach named for Duke Paoa Kahanamoku, the Olympic gold medal swimmer known as the "father of modern surfing," has claimed the top spot in the list of annual "Top 10 Beaches 2014" released today by Stephen Leatherman, a.k.a. "Dr. Beach." 
Hawaii and Florida beaches dominated the top 10. Surprisingly, no California beaches made the list. 
"The east end of Waikiki Beach is where all the big hotels are and that's where most people go, but Duke Kahanamoku Beach is pretty far away, on Waikiki's west end, near the Hilton Hawaiian Village," said Leatherman, director of the Laboratory for Coastal Research at Florida International University in Miami. 
"It's got the widest stretch of beach in Waikiki and is protected by an offshore coral reef, which makes it a good beach for families with children," he said. 
For those who want to avoid ocean waves entirely, the nearby lagoon is also a popular spot for swimming. 

"It is also a great location to watch the Friday night fireworks," added Les Enderton, executive director of the Oahu Visitors Bureau.

Kahanamoku Beach had the number two spot on Leatherman's list last year and has been on the top 10 list often. What may have helped it snag the number one slot this year is that in January, Oahu made all beaches on the island non-smoking.
"Cigarette butts in the sand are disgusting," said Leatherman. "Some people think beaches are a giant ashtray, and I don't like that idea at all. When I go the beach, I go for nature. I don't want to have to put my hand down on a cigarette butt someone else was smoking." 
Leatherman has been making his annual Top 10 Beaches list since 1991 and uses 50 criteria, with rankings from 1 to 5, in his evaluation process of swimable beaches. Factors he takes into consideration include beach width at low tide, sand softness and color, wildlife, pests (such as ticks and mosquitos), available amenities and public safety. 

Once a beach reaches the top of the list, it is retired to make room for others. 
Starting next year, Leatherman plans to put extra emphasis on environmental management and beach safety and award bonus points for beaches that, like those in Oahu, are officially smoke-free.
"It's not all just beauty," said Leatherman. "People want clean water and clean sand. But they also want safety, parking and nearby amenities."
Number two on Dr. Beach's list this year is Barefoot Beach in Bonita Springs, Florida., which moved up, after re-evaluation, from its number six slot in 2013.   
Located in a 342-acre county park, the beach is 8,200-feet-long and has small waves, shallow water "and if you like seashells, there are millions of them," said Leatherman. 
Rounding out the top five are St. George Island State Park in Florida, Waimanalo Bay Beach Park in Oahu, and Hamoa Beach in Maui.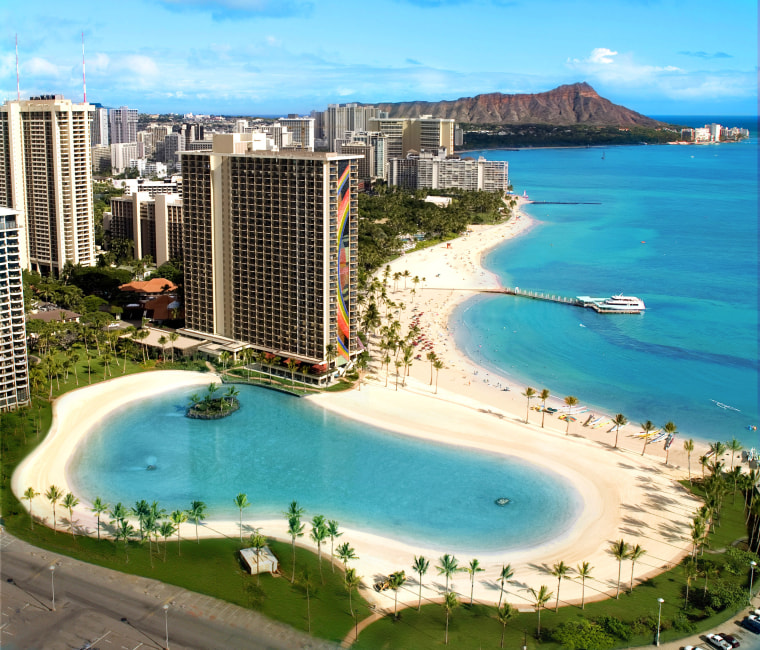 Dr. Beach's Top 10 Beaches 2014

1. Duke Kahanamoku Beach
Waikiki, Oahu, Hawaii

2. Barefoot Beach
Bonita Springs, Florida

3. St. George Island State Park
Florida panhandle

4. Waimanalo Bay Beach Park
Oahu, Hawaii

5. Hamoa Beach
Maui, Hawaii

6. Cape Hatteras
Outer Banks of North Carolina
7. Cape Florida State Park
Key Biscayne, Florida

8. Coast Guard Beach
Cape Cod, Massachusetts

9. Beachwalker Park
Kiawah Island, South Carolina

10. Delnor-Wiggins Pass State Park 
Naples, Florida