Home has become the center of the universe for most of us in the past few months. To highlight what that looks like for people across the country, TMRW is launching its My Space series. We'll be featuring professionals from different fields each week who share their experiences with working from home while following stay-at-home orders.
Name: Emi Grate
Age: 27
Location: Brooklyn, NY
Profession: Drag artist and event producer
How long have you been working from home: Since mid-to-late March
How has having to stay home affected your career? What are you doing to work around or adjust to the parameters?
I'm used to working at home to coordinate shows, but most of my work usually culminates in me having to go out — to be on stage, to be in the audience or to work a temp assignment. That doesn't happen anymore. Everything has to begin and end on a screen. As a producer, I've been learning video streaming, reconnecting with my in-person audience in a different way and finding a new on-screen audience. As a performer, I've been learning how to frame and present myself on a video screen instead of a stage.
What did producing + performing in shows look like before coronavirus? How many shows were you putting on per week? How many shows are you putting on now?
I used to do one to four shows a week. Audience sizes varied but were usually in the tens. Now it's one to three shows per month and the audience can vary from a just a few viewers to hundreds.
Has not having an in-person audience changed the way you make money as a performer and a producer?
I have no cash on me, except change. As for making money right now, there is no booking fee — both for performing and producing. When I was in charge of producing at venues, I almost always split tips among performers. Now, tips go directly from the viewers to the performers. Even when a producer does manage the payout, the audience ultimately decides which performer they want to tip.
What is the main difference between getting ready at home to perform versus at an event or show? Has this changed your practice at all?
The process is different because the final product is different. When you're performing live, you can only prepare so much before you go on, and you have no control over how the audience interacts with you. When you're broadcasting pre-filmed material, you have absolute control over what the audience sees and experiences. If you overload a video with details, people will miss a lot. If you don't put in enough in, people will get bored.
What do you miss most about performing in public?
I miss doing "big" acts. When performing live, my whole being is allowed to manifest in a 3D space that is larger than who I am. On a screen, everything I do is compressed onto a 2D rectangle and I, in fact, have to make myself smaller.
What's been the unexpected silver lining?
I don't miss the commute. I love connecting with an audience from further away because they might not have access to what I'm creating otherwise. My parents are quarantined on the other side of the world, and they can finally tune into my shows now.
What have you learned about yourself from this experience?
Editing my own videos has made me self-conscious. I like my voice but I hate the way I speak. I hadn't been aware that, as an ESL (English as a second language) speaker, I make weird pauses and fluctuate speed while I speak because I want to always make sure I'm saying the right thing at the right moment.
Overall though, my mental health is surprisingly better because I'm finally working on my own terms and don't have to conform to any expectations or standards.
Chrystalla Neocleous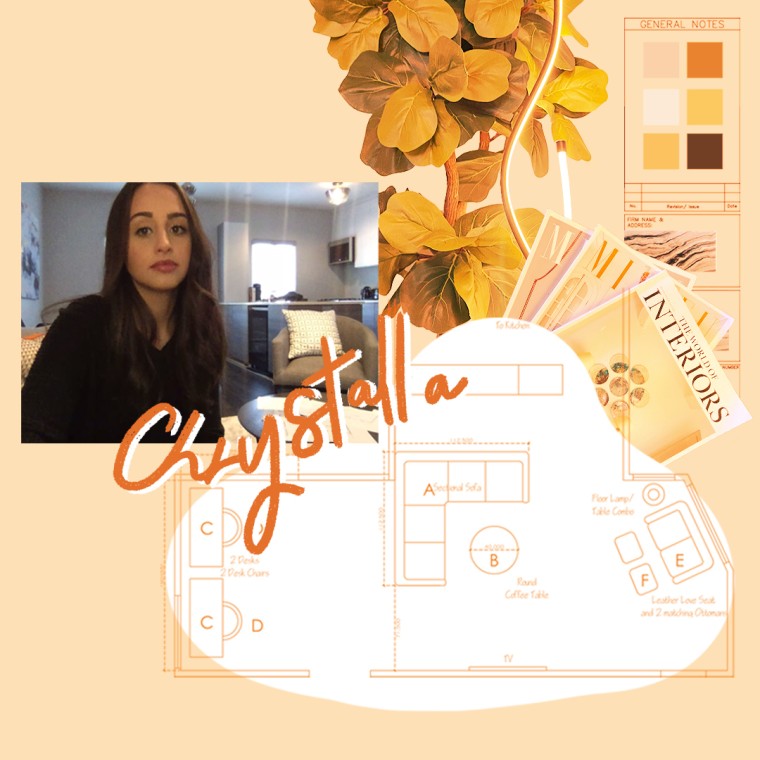 Name: Chrystalla Neocleous
Age: 24
Location: Astoria, New York
Profession: Interior designer
How long have you been working from home: Since March 16
How has having to stay home affected your career and what are you doing to work around or adjust to the parameters?
Together with my parents, I run a small business that does everything from interior design to kitchen design, bathroom design and even construction. As an interior designer, the last place I expected to get stuck doing my job is from home. Being in the space you are designing is one of the most important aspects of the job. The stay-at-home order and business shutdown made that impossible. In addition to not being able to visit our clients' spaces, all of our suppliers' factories have been shut down and all orders are at a full stop.
Although the quarantine has forced a lot of our projects to stop, we have continued to design remotely and do tasks we are able to complete from home. I have found myself being able to focus on things I didn't typically have time for before, like creating social media content to grow our digital platforms, organizing past and present work and finding creative ways to continue designing from home.
I have been able to use my design software remotely to continue to produce design drawings and mood boards for clients. I have been video chatting with them on a regular basis to continue their design process. I'm so used to physically explaining my designs while my clients are able to hold materials in their hands that I had to come up with ways to do this digitally and still be just as effective.
What is the biggest challenge of working from home?
Most definitely the most challenging part of being an interior designer from home is not being able to physically visit and measure the spaces I'm designing. I've always known that this is the most important part of the designing process for many reasons.
Physically being at the site allows me to take mental snapshots of what it feels like to be in the space, which is something I always refer back to during the design process. Surveying the site on my own plays a major role in how I approach interior design, but what I've learned from this forced work from home experience is that it's not always needed to get the job done. I can still create layouts and renderings to bring spaces to life in a virtual form and design from there.
What's been the unexpected silver lining?
Being quarantined at home forces a lot of people to pay attention to and re-evaluate their living environments. The fact that people are stuck home brings out hobbies and interests that we never get the time to do during our busy daily lives.
Boredom sparks creativity, home improvement interest and internet inspiration searches. I've had people contact me for help redecorating, laying out spaces and even some full-on renovation interest.
How has this inspired your practice or changed the way you work and look at other homes?
People are focusing more on their living environments now in quarantine and it gives them a better perspective on what they actually need in their space. These new projects that are coming out of being home are focused on comfort and utility rather than aesthetics. This is something that I too will focus on more going forward.
Has your working relationship changed at all with your parents due to this experience?
If anything, it made us stronger. It made me realize how hard it is for small businesses to prosper. I hope that we can all find this new normal soon so we can continue to support small and local businesses just like we were before.
What have you learned about yourself from this experience?
This experience has brought on a lot of anxiety, self-doubt and worry about how life is going to move forward after this and how we're going to get back to "normal." I honestly believe that in situations like this, you have to find your silver lining and keep yourself busy by finding other ways to still do what you love, and its totally OK if it has nothing to do with your current job!
Jourdan Ferguson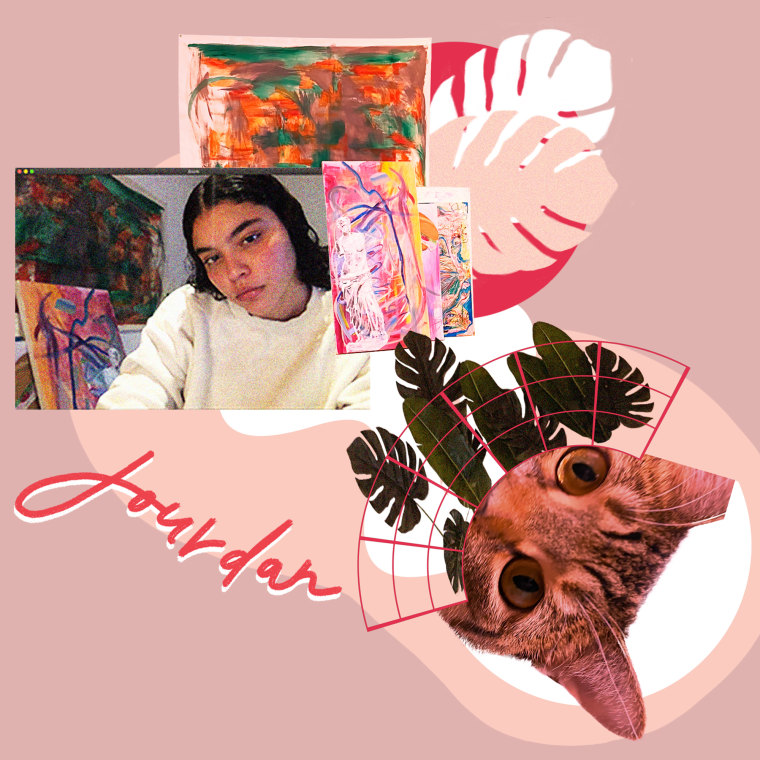 Name: Jourdan Ferguson
Age: 24
Location: Flatbush, Brooklyn
Profession: Freelance 3D Designer/ Fabricator/ Multimedia Artist
How long have you been working from home: Since March 17
How has having to stay home affected your career and what are you doing to work around or adjust to the parameters?
Since the COVID-19 outbreak, staying at home has actually benefited my career. I typically find myself easily distracted so these new rules have really helped me focus and make time for my work. I have been able to work on a lot more of my paintings that have been put on hold since the holidays and start new ones. Another positive is that I create virtual reality work and since no one can really go outside or do the things they normally do, I've been creating universes for people to experience from home which I think is the whole point of augmented reality.
Do you mean it's benefitted you creatively or also financially?
This time is definitely benefitting my career both creatively and business-wise. Creatively, I have been able to spend more time researching other artists and designers who inspire me. Also, being able to work for longer hours allows me to create new pieces and fix old work that maybe didn't feel totally complete.
As for business, I am lucky because I studied virtual reality in college at Pratt. This has allowed me to do some freelance renderings for real estate listings that cannot currently have open houses. It's become a small side hustle for me and I think the experience will become a normal way to view apartments and homes in the future.
I'm interested in the fact that you have been creating virtual worlds for people to live in since we can't really live in our own. Can you elaborate on that?
This idea started back two years ago. I was in a virtual reality class and we were given the opportunity to make anything we wanted for our final. It was cold as hell outside and your normal New York winter: sun down at 4 p.m., really windy and just unpleasant. I decided to make a world called "Mental Getaway." The idea was that it would be a world in which it was sunny and an escape from the situation I was in. Flash forward to this year, I started making similar concepts in my work but using video footage and turning it into 360-degree VR film to explore. This project really inspired me because it is a chance to escape reality and spend some time in a calming, unique space.
What's been the unexpected silver lining?
The most unexpected silver lining is that I have a lot more time to give to the animals I foster. I have been fostering kittens and cats since 2015 for a company called TeamTinyBK and Brooklyn Cat Cafe. During this time at home, I have been able to foster and care for multiple kittens and become a mentor to new fosters joining our team.
What is the hardest thing about being a freelancer right now?
The hardest part for me right now would be not knowing when shows and art openings will be back up and running. One of my biggest freelance gigs is working for artists to help 3D model their sculptural work and fabricate it. Not being able to work in a studio or plan on the next show opening has been the biggest setback. Especially when planned events are getting canceled one week at a time, things are constantly in flux.
What advice would you have for other freelancer creators?
My best advice would be, if work isn't coming and things seem slow, JUST KEEP CREATING! You never know when the right person is going to look at your work and request you. Also, something I find helpful is being flexible and adjusting your craft to the current time we are in. If you are used to doing things only one way, maybe think about how you can adapt that to the situation we are in now. Find your creative niche and make it work for you in times like these.
Lloyd Knight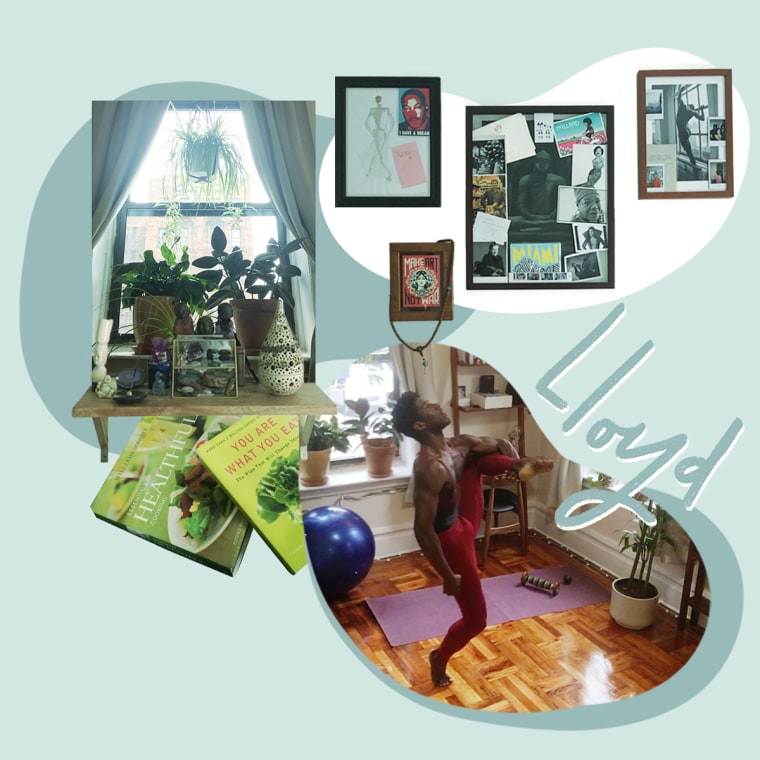 Name: Lloyd Knight
Age: 36 years old
Location: Washington Heights, New York
Profession: Principal dancer for The Martha Graham Dance Company
How has staying home affected your career and what are you doing to work around or adjust to the parameters?
I spend almost every day in big, beautiful, bright dance studios or theaters rehearsing and performing for tons of people, and now there has been a stop to it all. I am now dancing by myself wherever I can find space in my small city apartment, and taking classes for me means taking a class on either Instagram or Zoom. But dancers are fighters and I'm determined to make the best out of this situation. I make as much space as I can so I feel comfortable dancing in my surroundings. For example, if I'm taking a ballet class, I use the frame of my furniture as a ballet barre.
The one positive thing is that now so many dancers are teaching amazing classes online so there's a lot to choose from. It's a beautiful thing to witness dancers all over the world still practicing this breathtaking art form, even if they have to do it in their living rooms.
Has being in a small space lead you to new creative discoveries?
Yeah, for sure. You're in one room by yourself and you have no choice but to focus internally on what you have to accomplish for the dance that you're doing at that moment. One great thing is that you're really in tune with yourself at that time. When you're in a dance studio with other people, you might be focused, but you still have a lot of other people around you, mirrors and the teacher talking.
Our technique at The Martha Graham Dance Company is to use just a floor. In Graham, we start on the floor and we do everything without a barre. That is one great thing about my dancing right now — if I'm taking a Graham class, I just need the floor and a little bit of space and I'll be fine.
What classes have you been teaching? And what challenges come with that?
Just Graham classes. Every class has been different, but the most people I've taught was around 40 students for a university.
The difficult part of teaching online is that I can't really see everyone as clearly as I would like. I don't have a TV to hook up my computer to, but a lot of other teachers have been setting it up that way lately so they can see everybody bigger than they would a computer screen. That has been hard for me — I go up to the computer screen and really try and take a look at each box to check if they are doing everything correctly. If you just had two or three people on Zoom it's doable, but when you have 30 little boxes in front of you and you're trying to see what they are doing, it's a little bit challenging.
How has being home affected your connection with your dance partners?
You miss the human connection of touch. Even just looking and seeing that person right in front of you and being able to look into their eyes and seeing their body move in front of you — all of those different textures, they disappear. Yes, we can always watch something online and feel an emotion from it, but there is nothing like dancing in the same room with somebody on the same floor. You hear breath; you see sweat.
The thought of touch has become such a scary thing during this time. Do you think that is going to change how you and your company practice when you are able to be together again? If so, how?
I think when we first get back, the first 10 minutes everyone is going to be super cautious and alert, but once everybody relaxes that will die down. We trust each other to take care of ourselves by washing our hands. It will be OK. We really have no choice but to touch one another.
I would hope this wouldn't change dancing completely. It would be a really sad day if we weren't allowed to touch each other forever.
How excited are you when you think about getting back into the studio?
It's every dancer's dream right now. You just want to dance freely without thinking you're going to knock over a plant!
What have you learned about yourself from this experience?
Truly, I learned that my love for the art form can't be stopped by anything! Stay at home ... OK, fine, but I'm still gonna keep twirling!
Einat Admony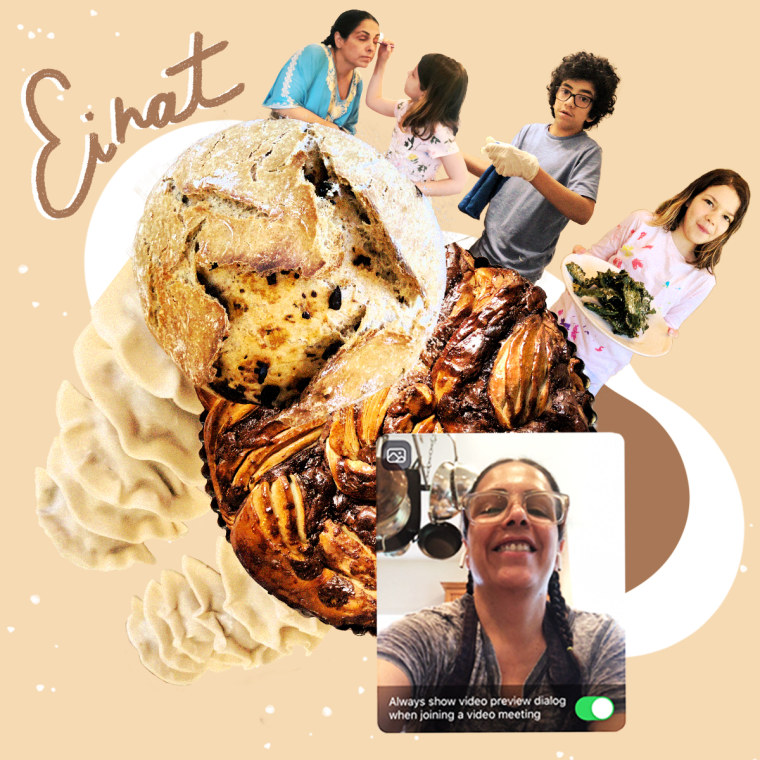 Name: Einat Admony
Age: 48 years old
Location: Due to COVID-19, my two kids and I are upstate in our house in Kerhonkson, New York. We are usually in Fort Green, Brooklyn.
Profession: I'm a chef and owner of Balaboosta and Taim Falafel
How long have you been working from home:
Since March 14 and the biggest challenge is the distance. I'm very personal and I like close interactions.
How has having to stay home affected your career and what are you doing to work around or adjust to the parameters?
I try to keep my social media active, I'm doing cooking classes, baking, experimenting, growing stuff and keeping myself busy and sane.
What is the biggest challenge of working from home?
I have become a housewife — I'm cleaning, doing laundry and making two to three meals a day — which it makes hard to juggle work obligations.
How does it feel to take on the housework when you have so many other obligations beyond your family to attend to each day?
Before this, I had a cleaning lady come once a week since I was not around to clean. I hate cleaning — it feels like I'm wasting time that I don't have. No one could ever clean as well as I would, but I had to learn to let go because I did not have the time.
My husband has also gone back to the city so I am the only one to do laundry. For food, I used to be able to bring take out from the restaurant and now I have to make three meals every day. I have one vegetarian and one big meat eater so I have been trying to work around what both of my kids want.
What is it like to balance the responsibilities of raising children, doing housework and keeping up with your career?
There is no career or restaurant — the things I am doing are just to stay afloat. It is important to stay relevant. I have been trying to lead Zoom cooking classes during this time.
The weekends are the best. I really wish my kids didn't have school — especially my daughter because we do so many things together.
Have you felt like you have had to act like a teacher to your kids during this time?
I taught them how to do laundry yesterday; how to separate the whites and colors. I am training them to be self-sufficient, which I have been since I was very young. There is a different style of parenting now. It's a different generation but being independent is important for a child.
What's been the unexpected silver lining?
I've become more creative, less wasteful, a better mom (as I am around all the time), my dream garden is up and my relationship with my husband is evolving. And the most important thing is that I lost over 10 pounds! There is no trick now I just have a routine and timeline instead of always being in a kitchen with food all around me to taste. It's been good.
What have you learned about yourself from this experience?
That I'm going to keep my kids after all. 😉I'm pretty self-aware of my flaws and pluses, but I believe that most of us realize how resilient we become.