I've professed my love for boxing and raved about the results I have gotten from the workout in the past.
And anyone else who shares this sentiment has likely heard of Rumble — a boxing gym with a cult following. It's one of the boutique fitness classes I missed most when the pandemic relegated all of us to living room workouts.
So I was excited when they released a digital workout platform on Feb. 1 and was eager to check it out.
Cost and equipment
At $29/month and $249/year (with a special offer of $199 until March 1), the subscription is pricier than many of the other apps and on-demand products we've reviewed on TMRW. That being said, the diversity of options and the fact that the monthly cost is about what I used to shell out for one in-studio class makes it worth it in my opinion.
Technically, you don't need any equipment. But if you have access to dumbbells, a treadmill or a boxing bag, there are classes that use them.
The platform is web-based, so you simply log in when you want to use it, no app download necessary. For most of the workouts, I used my laptop so that I could take advantage of a larger screen, but you can also mirror to a TV with Airplay or Apple TV for an even bigger picture.
What the platform offers
While Rumble is known as a boxing gym, the platform provides much more than just boxing workouts. It's organized into four major categories: boxing, HIIT, strength and running. The platform offers both live-streaming classes (with six classes on the schedule every weekday, and three on Saturdays and Sundays) and a large library of on-demand workouts that you can stream any time.
To find a workout, you can filter by trainer, workout type, workout length, body part focus and/or equipment needed, which makes it really easy to find a workout that fits the bill. I appreciated being able to select a workout that spoke to me each time I logged on without wasting precious time sifting through the database. The selection is pretty robust and features a diverse group of trainers and class types.
Bumping music and high-energy trainers are part of the Rumble model, and that's built into the virtual program as well. It allows you to control the music separately from the workout video so you can skip songs and control the volume apart from the instructors voice. After trying lots of home workouts, that feature is unique and one of the little things that can make a big difference if you're someone who feeds off of music for energy. Blasting bangers over the speakers is a staple of the in-studio Rumble classes, so this feature really helped create the atmosphere of being back in the gym.
I've never been a huge treadmill fan (and don't have consistent access to one) so I stuck with the HIIT, boxing and strength workouts for the most part. But I did check out a few classes in the treadmill category and it reminded me a lot of classes I used to take at Mile High Run Club and Barry's Bootcamp. I am far from a runner, but pushing yourself through sprints and intervals in a treadmill class is a unique kind of torture that always left me feeling super proud of myself for conquering the mental challenge. From what I saw, I think the same workout intensity can be accomplished with the on-demand workouts on this platform.
I am at the mercy of a 1-year-old and a full-time job, so being able to schedule a workout and know that I couldn't let something else get in the way helped take some of the stress out of getting my workout in.
The workout
I logged on for my first workout on a Saturday morning — it was a live boxing and HIIT class. While I once was a group fitness junkie who scheduled my workouts for the week ahead of time, I found it tough to commit to a specific time slot in advance after a year of squeezing them in haphazardly.
It was an adjustment, but I really liked the advance live schedule and being able to decide which classes I was going to take for the week ahead of time. While I try to make time for exercise, I am at the mercy of a 1-year-old and a full-time job, so being able to schedule a workout and know that I couldn't let something else get in the way helped me make it a priority. I also felt like I had time set aside for me that was non-negotiable.
The 45-minute workout consisted of 10 rounds, alternating between shadow boxing and high-intensity body-weight strength training.
During shadowboxing rounds, I liked that the combos were printed across the bottom of the screen (like they are in the in-studio classes) so it's easy to follow along. It felt like a really good refresher to practice my form and also sharpen my mental game doing different combos, which helped my accuracy when I went back to other boxing workouts.
The strength-training portion was tough in the best way. It reminded me of all of the different complex movements that my body is capable of doing that aren't often incorporated into standard body-weight workouts — like squat thrusters, alternating between walk outs and jump squats and plank walk shoulder taps. I hadn't been doing many of these complex movements in other home workouts and it reminded me of how hard I used to push myself through in-person fitness classes before the pandemic.
Pushing your muscles to complete exhaustion is something I used to love about 'hardcore' fitness classes and I've found that really difficult to achieve when working out alone in my living room.
I was dripping sweat after just a few rounds in, and could feel my shoulders and core lighting up. By the end, I could barely catch my breath; the last "Rumble round" pushed my muscles to complete fatigue to the point where I was collapsing during mountain climbers. Pushing your muscles to complete exhaustion is something I used to love about "hardcore" fitness classes and I've found that really difficult to achieve when working out alone in my living room.
The next day, I didn't have a lot of time (and also welcomed the excuse for a shorter workout), so while my son was napping I did a quick 15-minute HIIT class. I thought the shorter time would mean an easier workout, but quickly realized my mistake. The HIIT had four rounds — full body, lower body, upper body and a Rumble round — and I was dripping with sweat by the end.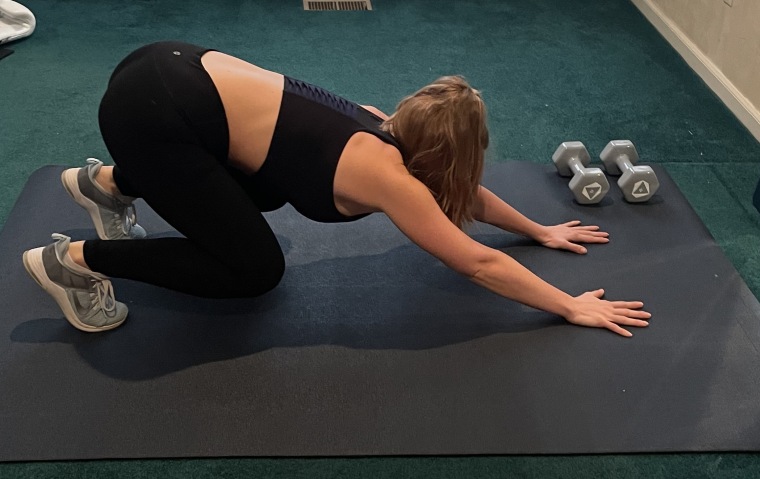 My child blessed me with a long nap so I had time to squeeze in another 15-minute class. I didn't think I had another full-body workout in me, so I chose an ab workout thinking it would be easier. Again, I was mistaken. While it was core focused, it also worked my entire body. The third round was a 3-minute Tabata (aka interval training) with no rest, and my abs have never burned so badly from a floor routine.
Every single workout I did on the platform concluded the same way: pacing around my living room, trying to catch my breath, wiping sweat from my forehead and chugging water. One day when my shoulders were shot, I chose a lower-body class to give my upper body a rest. I found all of the workouts consistently effective including some great cardio options.
What I liked
With all of the variety the platform offers, you could put together a pretty comprehensive workout routine without having to fill in gaps elsewhere, which isn't always the case. I often feel like I have to supplement apps and digital platforms with other forms of exercise to get a well-rounded routine.
The work is hard. Really hard. But the way the workout is structured in rounds makes it feel doable (even if my body couldn't quite make it through all the exercises). And the fast pace and creativity of the routines made this the first at-home workout where I willingly committed to a 45-minute class.
Many of us have lost dedicated workout time and the live classes helped create some separation for me.
The live classes may be my favorite thing about the platform. I really appreciated having a full schedule of classes from which to choose every single day. You can't pause or rewind the live workouts, which is a little difficult sometimes being at home with kids and household duties constantly popping up, but it really mimics an in-studio class where you are completely focused on that workout for the 45 minutes while you're there. I think many of us have lost this dedicated workout time and the live classes helped create some separation for me.
The live-streamed workouts really motivated me to push harder, too. I was unable to pause, so I had no choice but to push through or quit altogether (and I'm no quitter). Seeing others posting on the real-time message board reminded me I wasn't doing it alone, and it took me back to pre-pandemic days in group fitness.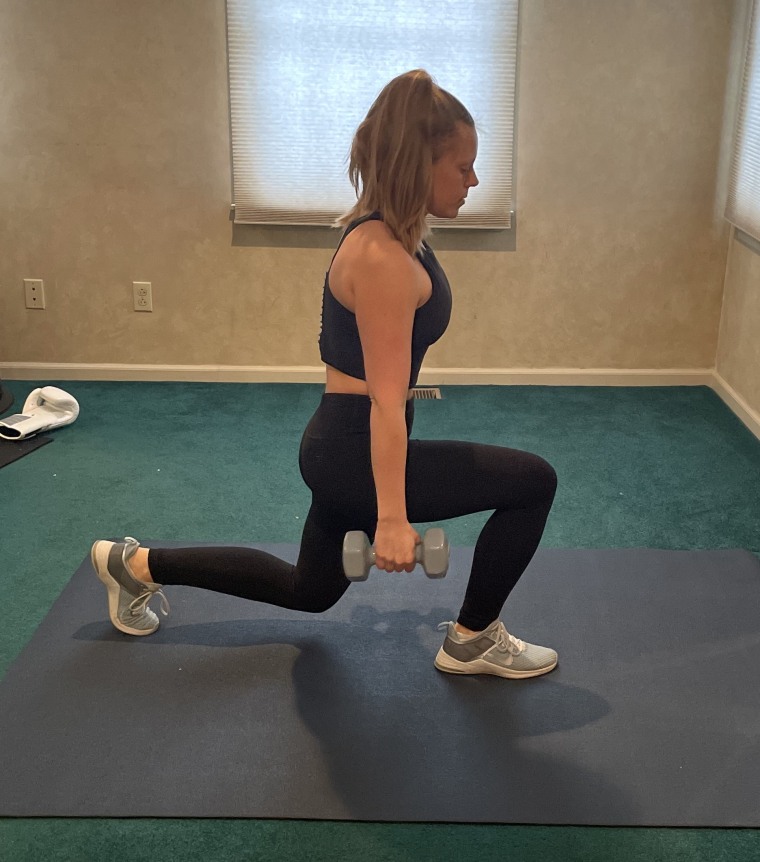 What I didn't like
Because of the fast pace of the workout, there isn't a ton of instruction time when it comes to form or a lot of time to watch the instructor do the exercise before trying it. Even as someone who is pretty well versed in a various exercise moves, I had to stop and watch the video a few times, and that meant missing out on time to actually perform the move. Some trainers are better at this than others, but I would have appreciated some more verbal instruction during some of the workouts. If you're new to HIIT, I would start with an on demand class and pause as needed to allow yourself time to get the form down first.
I exercise consistently and I found this workout really hard. Yes, you can always modify and go at your own pace, but I do think if you're new to fitness you will have a difficult time keeping up, which could be discouraging. You need a lot of endurance, so if you do want to use this platform to get in shape, I would definitely start with on-demand classes so you can pause to rest as needed.
My body took a beating and I was able to recognize this and schedule in active rest days with stretching and yoga, but if you don't allow your body that break, you could run the risk of overdoing it.
It would have helped to have more of a cool down incorporated at the end of the workouts. My body craved a longer cool down, and I had to seek out a stretching routine elsewhere. To be fair, I also felt this way with most group fitness classes at the gym; there often just isn't enough time in a 45-minute class to devote a large chunk to cooling down. But class offerings focused just on stretching would be a great addition to the platform.
I would recommend this workout to:
Gym junkies who miss boutique fitness classes
People who take pleasure in the pain of next-day soreness
People who are in good shape and want to take things to the next level
Anyone who is easily bored by repetitive workout routines
Those working out on a treadmill and getting bored with straight jogging
People looking for a solid live-streaming class schedule to hold them accountable