My relationship with yoga has been a journey.
In my early 20s, I ended up in a class because it was the only thing left on the gym schedule ... and I couldn't keep a straight face when the class collectively chanted "om."
In my mid 20s, I turned to yoga classes to stretch my body and show it some love after HIIT workouts — but I was still unable to quiet my mind. I was that person who would sneak out during savasana to be first in line for the shower.
It wasn't until a few years later when I started feeling the stress of running the rat race that I began to really use yoga as a tool in my fitness arsenal instead of something I just fell back on as a plan B. Now there are times when I crave the calming flow of a yoga class after a full day of working and chasing after a 1-year-old. But with yoga studios closed over the past year, I had a hard time finding at-home classes that I liked.
I typically find yoga flows on Instagram's IGTV or in a limited section of a more general on-demand program. So I decided to try a subscription program completely devoted to yoga, Inner Dimension.
Cost and equipment
A subscription to Inner Dimension will cost you $15 a month or $120 a year. For that price you get access to the entire platform, which includes hundreds of classes as well as curated programs ranging from three to 108 days long. It's a good deal considering that one in-studio yoga class will often set you back more than the monthly cost.
While equipment is not required, a yoga mat certainly helps and you will see other yoga props referred to quite frequently. Think: blocks, bolsters and straps. If you decide to give the program a solid shot, it might be worth investing in a few of them.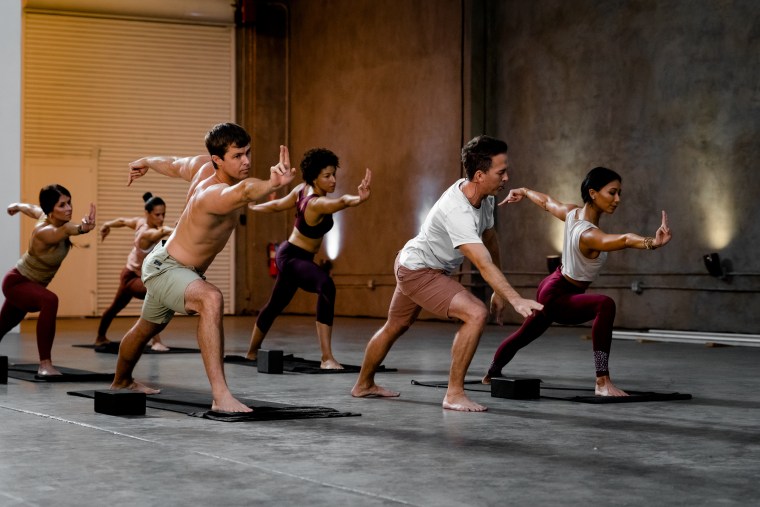 Navigating the platform
Inner Dimension was developed by a husband and wife team with the goal of inspiring what they call the six dimensions: body, energy, mind, heart, awareness and soul. And what they have created is a super comprehensive library of in-studio quality classes and thoughtfully curated programs to allow you to practice at home.
You can access the platform through an internet browser or through the app on your mobile device. The app offers an option to download a practice and stream it offline, which is a nice feature if you'll be traveling or may not have access to Wi-Fi. (Yoga on the beach anyone?)
There are nine categories of practice: power yoga, yin yoga, meditation, wisdom talks, gentle yoga, restorative, pranayama (breath work), prenatal and combination. You can browse using filters for style, instructor, duration, difficulty and program. There really is something for everyone, whether you want a strenuous workout that will raise your heart rate, something gentle and restorative or anything in between. The platform also offers curated programs with a specific focus — including a 28-day yoga for beginners or an 8-week flexibility program — and series with content to help you explore a particular type of practice or achieve a specific goal. New classes are added to the platform weekly.
What the workout entails
The first time I logged on, I chose the 60-minute "Detox" class from the "Level Up" program. The 108-day program is one of their most popular and is designed to take your yoga practice to the next level.
The class had a little bit of everything: stretching, meditation, breath work and a heart-pumping yoga flow. We started with twisting positions to warm up the body. When we dropped into the first downward dog, I took note that my back and calves felt really tight. After warming up, we transitioned into a very rigorous flow. The poses were challenging and my arms were burning pretty quickly. I felt like I was in slightly over my head, considering I hadn't done yoga in quite some time, but I liked that the class featured people of all abilities so there is always someone to watch who's at your level.
The movements were all slow and deliberate, and you transition fluidly between them — a stark contrast from the boxing and HIIT I usually do. But just because it was low impact doesn't mean it was easy. I often look at yoga as an active rest day, but this was not a rest day by any means. Holding poses for a longer period and transitioning slowly between them was actually more challenging, and there was definitely some shaking to get through it. I quickly felt fatigued in my upper body and my inner thighs.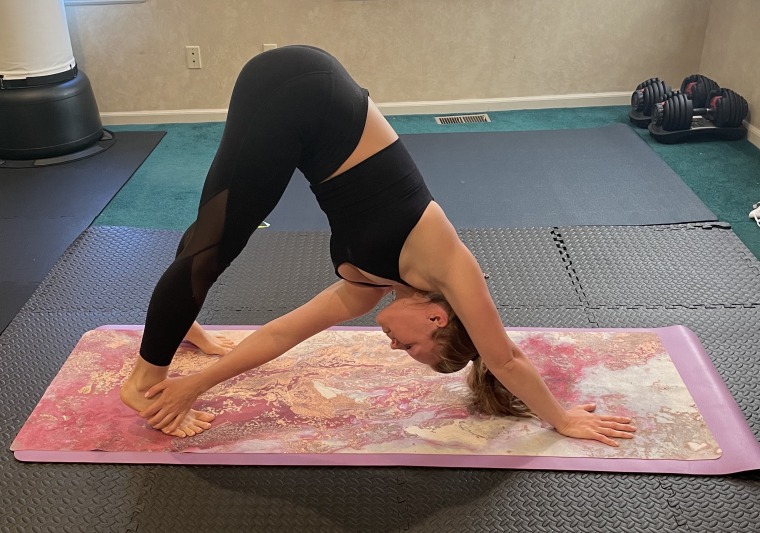 There was a large focus on "wringing out" tension and "letting go" (both mentally and physically) and it felt great to release my lower back and focus on freeing myself from mental stress at the same time. It was a form of moving meditation for me; I was so focused on the pose at hand that it quieted my mind from all the outside stressors.
While it was a tough workout, the hour flew by. I finished the flow section out of breath and sweating profusely. When we reached the end, I felt like I had really earned savasana and it felt so good to just lay in silence. I definitely felt my whole body open up and feel looser and lighter. Even mentally, after a foggy Monday morning, I felt more energized and awake after the flow.
The next day my arms, back, core and inner thighs were all sore — proof that slow and steady really can win the race.
This was just one day of the 108-day challenge, but I can imagine that this would really transform my mental state and help release tension I hold in my body if I was to commit to the full program. (Not to mention, do some serious work on toning and strengthening.) The next day my arms, back, core and inner thighs were all sore — proof that slow and steady really can win the race.
After undergoing such a rigorous class, I felt I deserved to try something more relaxing. So the next day I tried "Self Care" yoga from the recovery section. It was a very easy and relaxed flow with gentle stretches. We held certain positions like pigeon and a single leg forward fold for a very long time, at least a minute each, which was really nice because I usually feel rushed when I do those stretches in other classes. I have to admit I got a little bored at certain points of the recovery workout and my mind wandered. I always have a hard time slowing down and quieting my thoughts.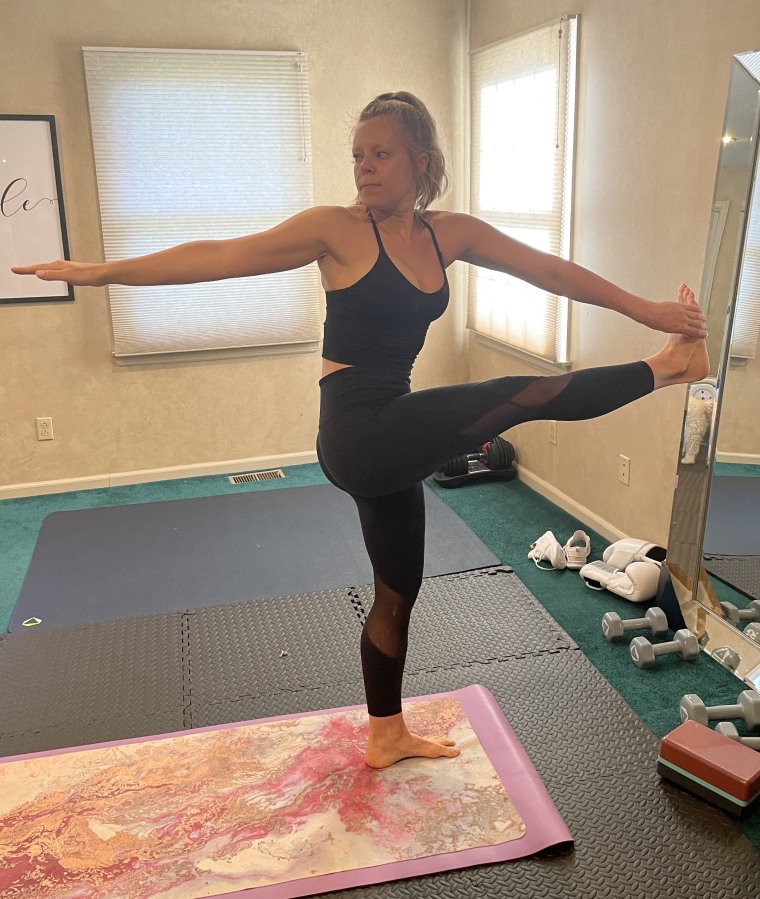 The class finished with yoga breathing in a resting pose. I enjoyed the breathing exercise and felt my heart rate slow, but when we transitioned into a long guided meditation at the end (10 whole minutes!), they lost me. I ended it early when my son started crying in the other room. You definitely have to be in the right headspace to slow down, commit to the class and shut yourself out from distractions. I think if you suffer from anxiety or stress, this class could be really helpful.
In addition to yoga, the platform also offers meditations. I tried a 15-minute "Sense and Savor" meditative walk and was surprised how much I enjoyed it. Typically, when I walk my dog around the neighborhood I jump between scrolling Instagram, shooting off texts and rattling off my to-do list in my head. The mindful walking exercise helped me turn off autopilot and made my daily route that I take almost every day feel fresh. The teacher said you don't need to go to an exotic location to find beauty, which really resonated with me as I walked my suburban neighborhood in New Jersey, desperately craving a tropical vacation.
What I liked
I have always loved the way I feel after a yoga session, and my experience with Inner Dimension reminded me of that. I could feel my heart rate lower and a general sense of peace come over me (even if it was short-lived as a working mom) after all three of the classes I tried.
I was really impressed with the size of the library and the diversity of the options on the platform. With all of the programs and series, everyone is bound to find one that fits their personal goals and experience level. I like the idea of having an organized program that works toward a specific goal and also takes the guesswork out of deciding which yoga class to do on a given day.
The teachers really talk you through each practice, and provide a lot of opportunity for progressions, which makes it a good workout for people of varying abilities. They walk around and correct form in a real class of students, which it feels like you are in an actual studio. I also really appreciated that there were people of all skill levels in the class on video, so you can always see someone at your level to follow along with.
Yoga can be intimidating, especially when you walk into a class filled with yogis when you're just starting out. This program really helps you build a strong foundation — and progress to more difficult poses and flows — in the comfort of your home.
What I didn't like
An hour is a substantial time commitment, and one I don't always have the ability to make. There are shorter offerings that may work better with my schedule, but I did love the 108-day detox class I took. I just don't know that the time commitment would always be possible for me if I were to do the program in its entirety.
Some of the guided meditation sections were a bit longer than I would have liked. And I also would've liked more real-world examples and connections thrown in. I respond well to references that really ground and connect me to the meditation, like referencing common stressors or sources of tension in order to let them go, but I found some of the meditations to be a bit too meta for me to really connect to them.
This program is entirely devoted to yoga and it does it very well. That being said, it may not be the best choice for those people who want a more comprehensive fitness routine as you would have to go elsewhere for HIIT workouts, strength training, etc. I would say this platform is best for someone who is looking to commit to a yoga practice long term and has a goal of really working on and improving their practice.
I would recommend this to:
Those who are serious about making yoga a consistent part of their routine
People who are stressed out and need to calm down
Anyone looking for a low-impact, high-intensity workout option
Those looking to work on their mind-body connection
Beginners interested in trying yoga, but not sure where to start