Does it seem like more and more workers are announcing strikes these days? That's because they are — so much so that some social media users have even nicknamed this month "Striketober."
They're happening across various industries and across the country, from health care to Hollywood to food service and manufacturing.
Experts point to the so-called "Great Resignation," in part, to help explain why: With fewer people in the workforce, employers are scrambling for staffing — as well as facing supply chain issues — which means workers have more leverage than usual. Experts also cite the pandemic, which has prompted many to re-evaluate and re-prioritize what's important to them, and that includes work. Employees may feel emboldened to ask for better wages and working conditions right now.
And as one expert from Cornell University's School of Industrial and Labor Relations, which tracks labor actions across the country, told NBC News, strikes can be "contagious."
Here's a look at what's happening across the U.S.:
Kellogg's workers demand better pay, benefits
More than 14,000 workers from Kellogg's, the maker of cereals like Raisin Bran, Rice Krispies and Frosted Flakes, went on strike on Oct. 5, following a dispute over wages, benefits and extended working hours.
The workers are from plants in Nebraska, Tennessee, Michigan and Pennsylvania.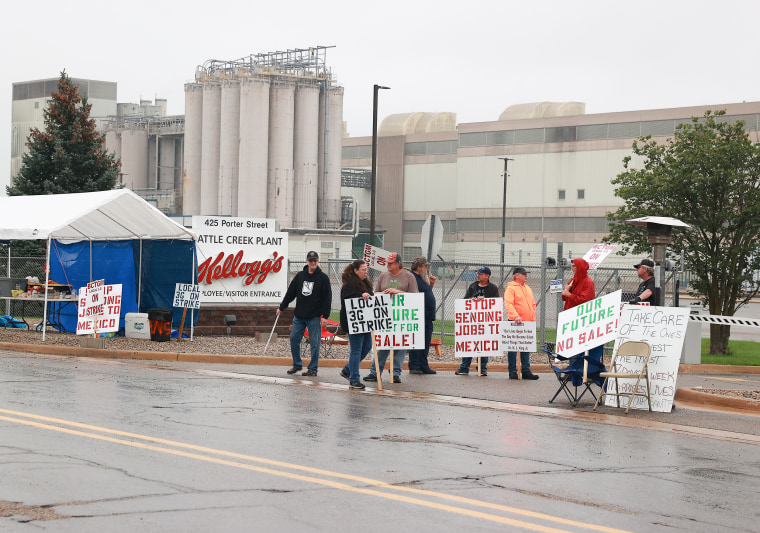 A statement from the Bakery, Confectionery, Tobacco Workers and Grain Millers International Union also mentioned threats by Kellogg's "to send additional jobs to Mexico if workers do not accept outrageous proposals that take away protections that workers have had for decades."
A spokesperson from Kellogg's said in a statement that it was disappointed in the union's decision to strike and that its compensation and benefits are "among the industry's best."
John Deere workers on strike after rejecting deal
More than 10,000 John Deere workers went on strike last week after their union rejected a deal with the company that would have given them them 5%-6% raises.
Workers say that's not enough, especially given that the farm equipment company reported record profits this year. "Strikes are never easy on workers or their families but John Deere workers believe they deserve a better share of the pie, a safer workplace and adequate benefits," a union director said in a press release.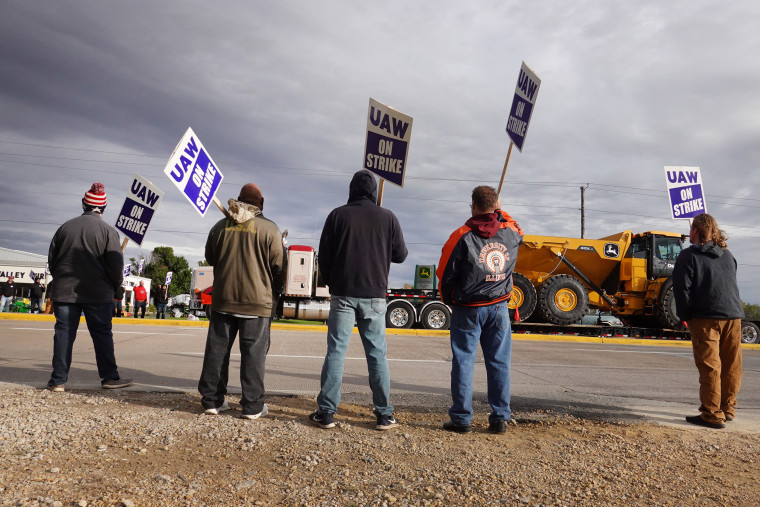 The strike includes employees from 14 plants across five states: Iowa, Illinois, Kansas, Colorado and Georgia.
The strike has some farmers, already burdened by supply chain issues, worried about how harvests and next year's planting season may be affected.
Strike narrowly avoided in Hollywood
The union that represents behind-the-scenes workers in Hollywood, including camera operators, makeup artists, costume designers and more, announced in late September its plan to strike if negotiations with the union that represents major TV and movie production companies failed.
It would have been the industry's biggest walkout since World War II. But on Oct. 16, the two unions reached a tentative deal, averting a strike.
Hollywood workers had been calling for improved working conditions, including meal breaks and rest periods, as well as better pay and benefits and diversity initiatives.
Thousands of health care workers authorize strike
Nurses and health care workers in California and Oregon are threatening to walk off the job over pay and difficult working situations during the Covid-19 pandemic.
More than 24,000 Kaiser Permanente employees authorized a strike earlier this month, amid bargaining between the company and the Alliance of Health Care Unions, according to The Associated Press.
Kaiser's proposal reportedly included lower wages and reduced health protections for new employees. Unions are asking for raises for employees and for the company to hire more nurses to relieve staffing shortages, the AP reported.
Nabisco workers return after striking for weeks
Last month, Nabisco workers ended weekslong strikes after its union settled on a contract with Mondelez International, the owner of Nabisco, the maker of popular snacks like Oreos and Ritz Crackers.
The strikes had been happening in various locations across the U.S., including Oregon, Illinois, Virginia and Colorado.
The company and the Bakery, Confectionery, Tobacco Workers and Grain Millers International Union had been in disagreement over shift lengths, overtime, pensions and moving jobs to Mexico.
A statement on Mondelez's website said the contract included both pay increases and policy changes.