In a tavern on New York City's east side, a table of politicians were beckoned from their usual drunken banter by music and light piercing through the night. On the street outside, a group adorned in glittery black capes and soldiers' hats marched through the Bowery with glowing torches.
According to archives of the Sept. 19, 1860 issue of the New York Herald, the politicians were mesmerized and shouted out, "Who are these Wide Awakes?"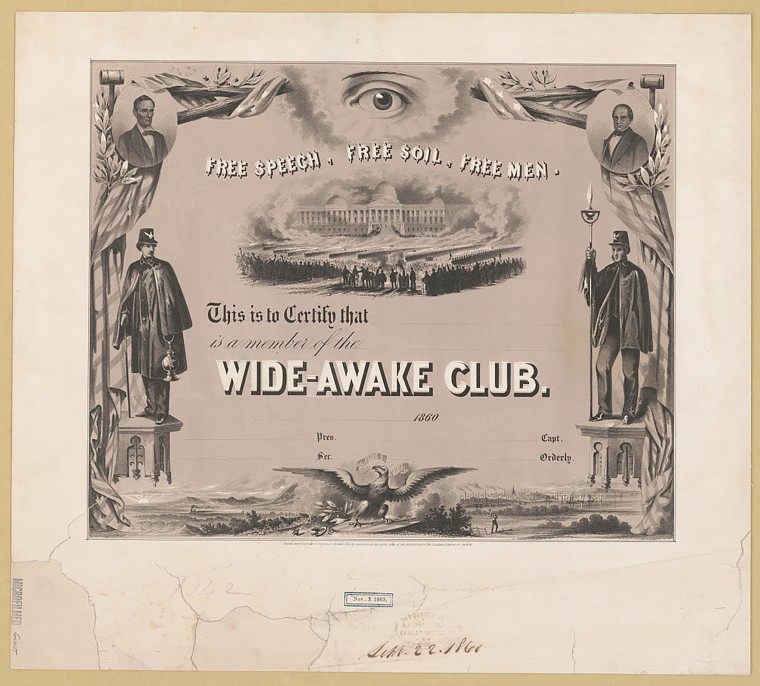 The grassroots organization began earlier that year when a handful of Connecticut shopkeepers gathered to guard Cassius Clay (the politician, not the boxer) as he campaigned for the then-radical Republican candidate, Abraham Lincoln. The men lit torches to light Clay's way and wore capes to protect their bodies from the wax. Young, forward-thinking Americans joined the movement — stomping through Northern cities and villages from Philadelphia to San Francisco. They marched for Lincoln, for the abolition of slavery and for freedom.
"There never was, in this country, a more effective campaign organization than the Wide Awakes," wrote the Connecticut Quarterly in 1895, though their existence was, until recently, often overlooked in Civil War-era history.
On Oct. 3, 2020, the Wide Awakes once again thronged the streets of Manhattan. This time, the group of men, women and children wore neon-patterned capes and face coverings. From the Africa Center at the northeast corner of Central Park to Times Square to Washington Square Park, the crowd sang in call and response, waved flags and performed song and dance at each stop. Much like their predecessors on that dark night in 1860, the Wide Awakes of 2020 illuminated the streets; their jubilation contagious.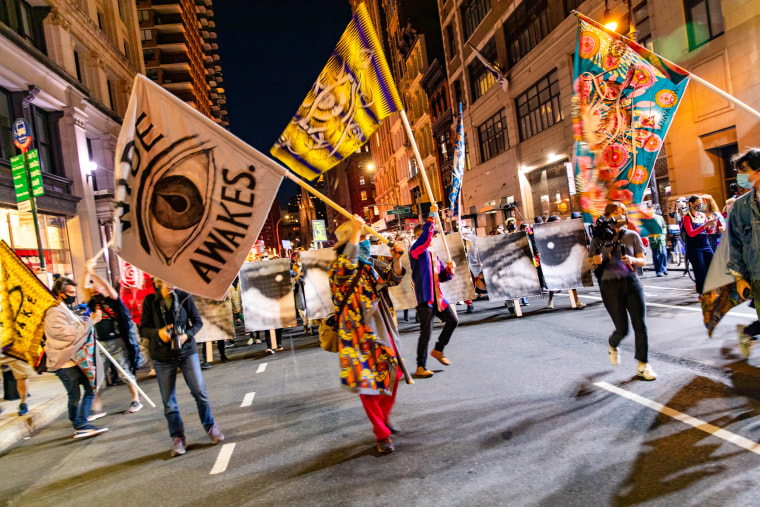 "Everyone is an activist," Tracey Ryans, a public speaker, environmental and social activist, and entrepreneur told TMRW.
Ryans joined the movement in the beginning of its resurgence at Hank Willis Thomas' art studio in the Brooklyn Navy Yard. (Thomas discovered images of the 1860s Wide Awakes nearly a decade ago and created an artistic collaboration with hundreds of musicians, artists and activists in December 2019.) Though the Wide Awakes were forced to recalibrate during shutdowns associated with COVID-19, they sprung into action with virtual meetings, art installations and safe processions and performances following the murders of George Floyd, Breonna Taylor and Ahmaud Arbery.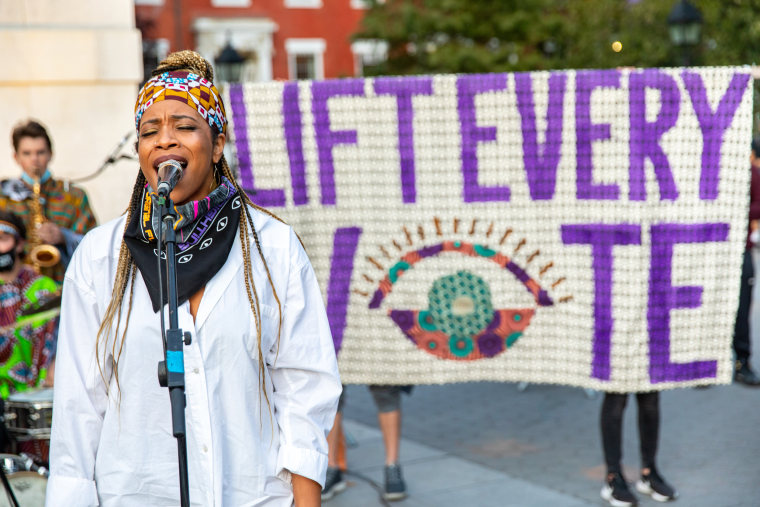 In just 10 months, the Wide Awakes exploded from a small gathering in Thomas' studio to thousands around the globe. Musicians like Alicia Keys, Lupe Fiasco and The Roots' Tariq Trotter (aka, Black Thought) are all Wide Awakes and help amplify its principles, the key to which is seeing "joy as an act of resistance."
"We're factoring in creativity, joy — ways that activism can be a part of the fabric of America," Ryans said.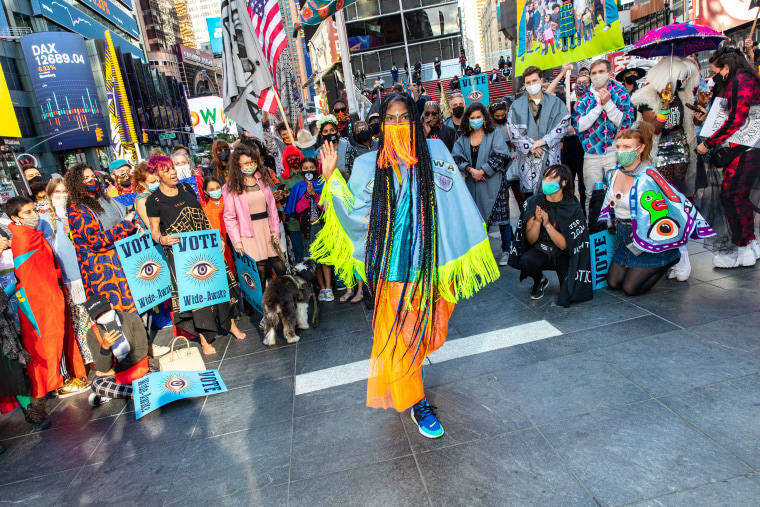 "As an African American, we've always used joy," he continued. "That's how we got here. It's been a survival technique for a long time. Jazz, blues, hip-hop all came out of Black pain — we always made time to dance and sing in our darkest days."
The "methodology of joy" (as Carly Fisher, an impact strategist who now serves as the "architect, synthesizer and donductor" of the Wide Awakes, put it) is about redirecting negative energy and perceptions through positive connections and action.
Fisher offered the 2020 election as an example of a divisive time that, for many, is a stressful experience void of joy.
"In so many places around the world, people get off work (on Election Day). It's a day of celebration that you live in a democracy and have the opportunity to advocate," Fisher told TMRW. "It's an opportunity to gather in community with one another, discuss the future and living that future."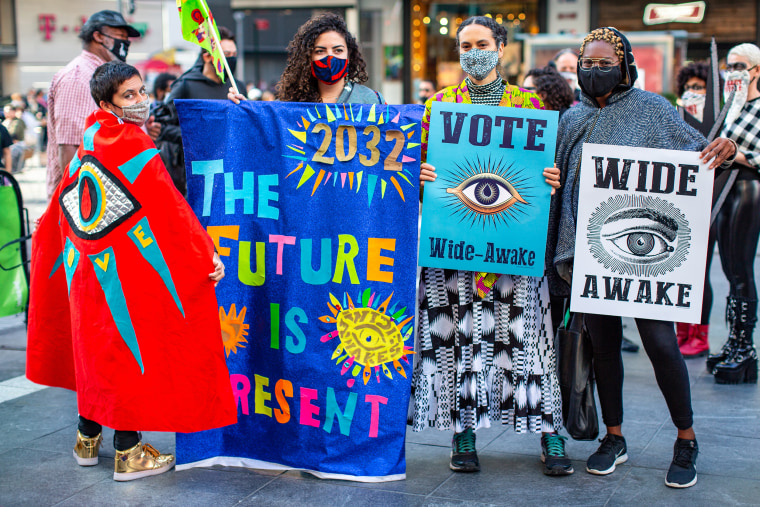 To celebrate the presidential election on Nov. 3, the Wide Awakes will bring food trucks to long voting lines to help lift the spirits of those waiting to exercise their right.
"Energy never dissipates, it just gets redirected," Fisher said. "We're absorbing the energy of hate and redirecting it."
According to another member of the group, Nour Batyne, this redirection also applies to how the Wide Awakes reclaim and reframe language and histories that perpetuate pain and oppression; they do so through celebration.
On Indigenous People's Day, which has replaced Columbus Day in 14 states but is not recognized federally, the organization honored indigenous women by featuring their stories and art in a futuristic virtual event.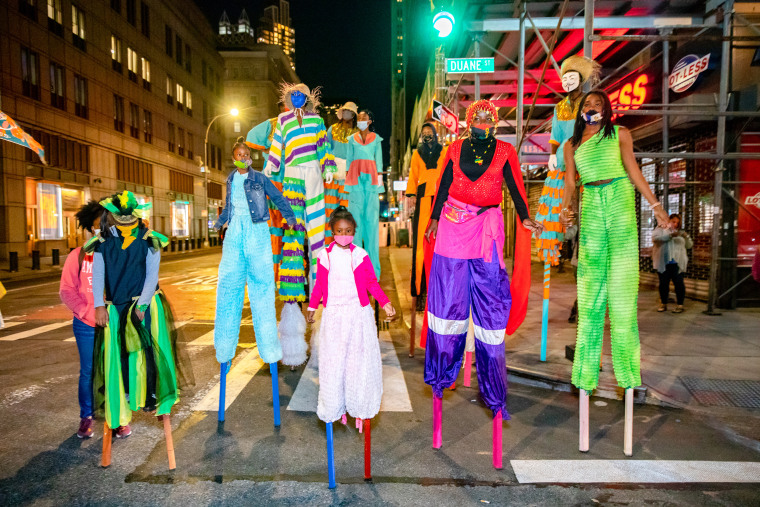 While the Wide Awakes envision a positive future, they also connect it to the past and present.
"We use a little wordplay: 'The past is present, your present presence is a present, and we are the future past.' Use the past and present to manifest the future," Fisher said.
Batyne said she often looks to the Seventh Generation Principle her grandmother taught her, which is that every action has a reaction. The theory says that what you do today will affect seven future generations, the same way Batyne's experience as a woman in 2020 is determined by actions her ancestors took seven generations ago.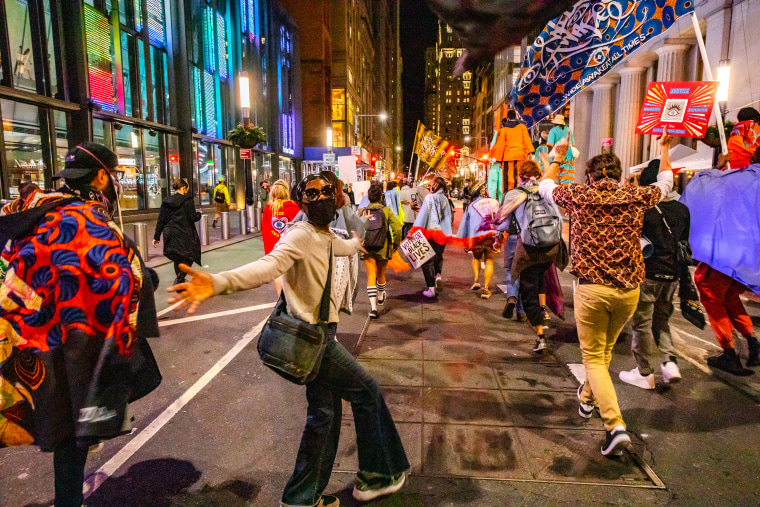 But today, Batyne feels the generational foresight needs to be accelerated.
"We are rooted in joy, but there is a level of urgency calling upon all of us to be Wide Awake," Batyne told TMRW. "Forget seven generations — (this is about) the next generation: our children. This moment requires radical collaboration because there's just way too much at stake."
The Wide Awakes believe everyone is an activist and a creative who has the ability to make an impact on the present and therefore the future. There is not one answer to what the future will bring, but only the question: "What are seven things you can imagine yourself doing now that would affect the future of your community?"
In other words, your individual action today, however minute it may feel, is a prescription for the future of America.