Whether the relationship is long-term, long-distance or brand new, couples around the world have been impacted by COVID-19.
On Monday, two couples spoke to Jenna Bush Hager on TODAY with Hoda and Jenna to talk about their relationships and how they've changed since the pandemic.
Watch TODAY All Day! Get the best news, information and inspiration from TODAY, all day long.
Matt Robertson and Khani Le, both based in New York City, had only gone on two dates in March. Their first date lasted for hours and they had what they call an instant connection, so they decided to take a risk and go on an extreme third date by traveling to Costa Rica together.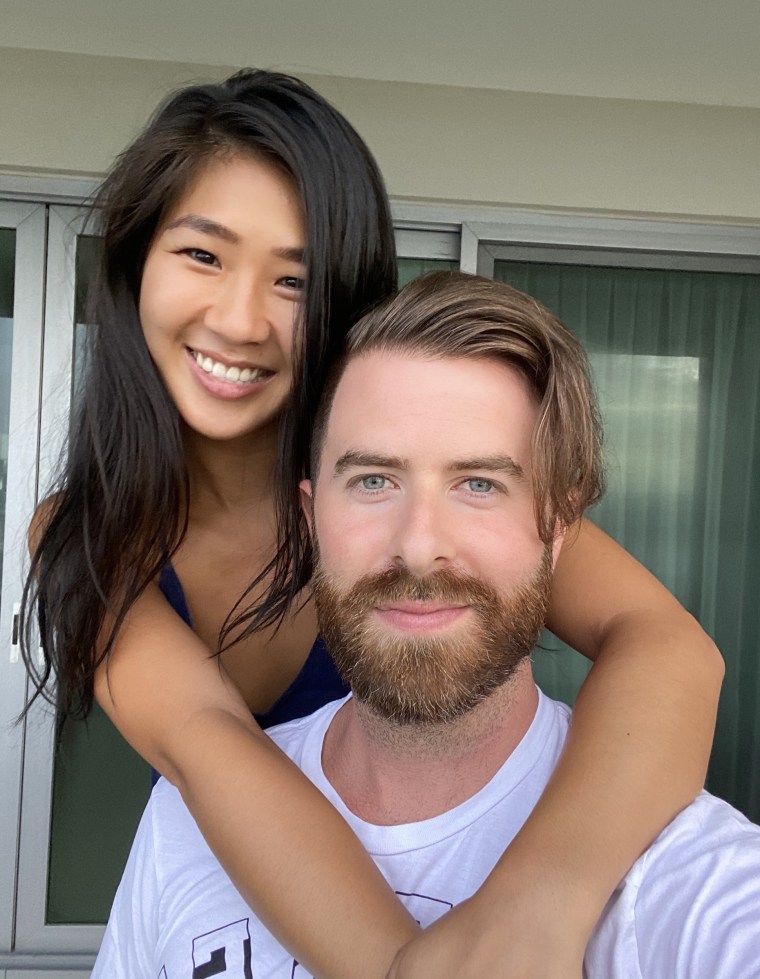 "We were thinking, we both need a vacation," said Robertson. "We were joking about going someplace warm and that's really how this whole third date came around. It started out as a joke ... And then this joke turned into us booking one of the travel deals to go to Costa Rica."
The trip was initially supposed to last five days, but on the fourth day things "really spiraled out of control," according to Robertson, and the new couple was stuck in the country for nearly three months as flights were canceled and borders closed around the world.
Robertson said they took some extra precautions before leaving — calling both the United States embassy and the hotel they planned to stay in beforehand. While they knew there was "a bit of risk," they believed it was worth it for the chance to "really get to know each other."
As the weeks turned into months and the couple's budget thinned, they began to move between different rental homes in an effort to stay afloat.
"It was almost like playing house really, really early on," Le said. "But it just ended up working really well. We connected and got really close with each other in such a short amount of time in a very unique situation that not a lot of people have done before or would want to do."
"It worked really well for us," Roberston said. "... We realized that it was going to be six weeks together and it's like, 'Wow, this is either going to be really good or really bad.' And thankfully, you know, it was amazing."
Now back in the United States after finding a government flight home, the couple said they're "excited for the future" and hope that their international adventure is a "sign of good things to come." Right now, they're staying together at Robertson's family home in Maine.
"(It was a) wild ride, that's for sure," Robertson said.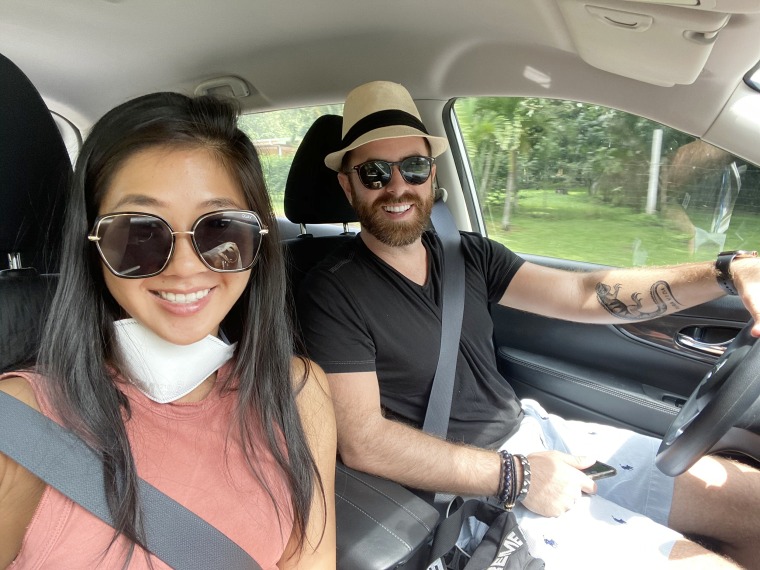 It's not just new couples who are being affected by quarantines and border closures. Nick Smith and Leah Bosello had been dating long-distance for five years. Just before the pandemic hit North America, Smith had moved to Blaine, Washington, which was just a short drive from where Bosello lived in Vancouver, Canada.
"We had been waiting five years and finally the ball was rolling, and then there's a pandemic," Bosello said. "Like, are you kidding me? It was like, what more could happen to keep us apart?"
After months of only communicating through FaceTime and other online services, the two decided to meet up on "Zero Avenue," a road that runs parallel to the border between Canada and the United States and is considered no man's land.
"I still didn't know that this was a no-man's land and I could cross," Bosello explained. "And finally this older gentleman came up to me and was like, 'You're allowed to cross ... you guys can see each other," and so I remember the final spot I crossed with (my dog) Lola and then we were on the same side.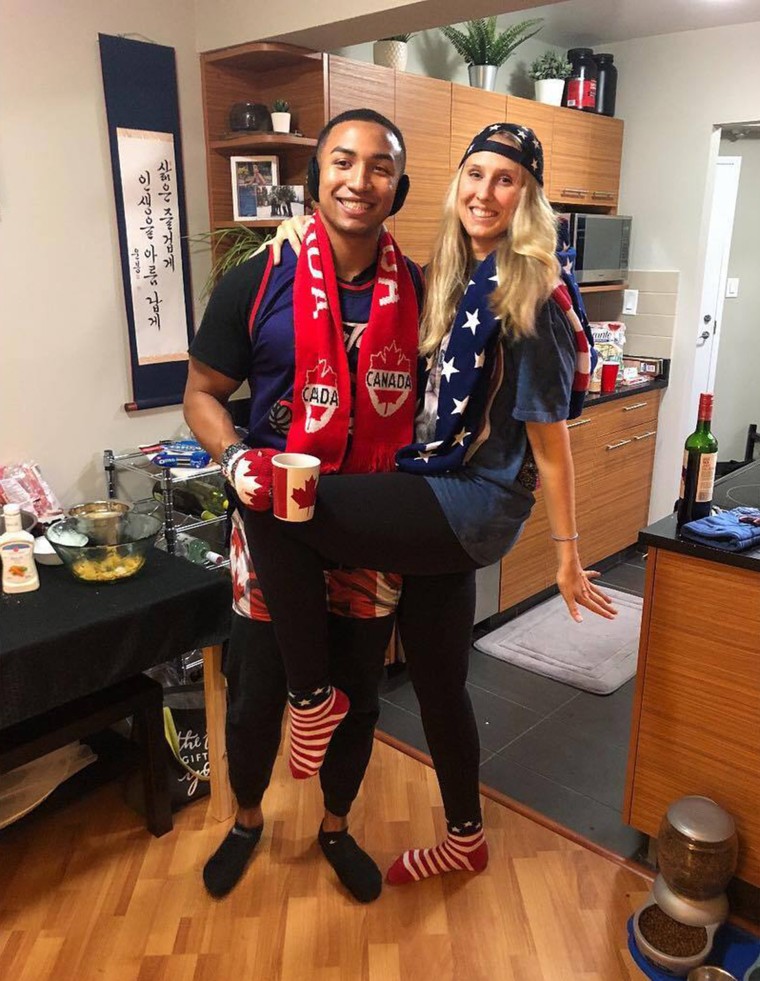 "What was even more confusing is ... this was in May. You're supposed to physically be distant from one another," Bosello continued. "So I had a moment of, like, I haven't hugged anyone in three months, let alone my partner, and then I was like screw that I don't even care. And we just hugged and Lola was going nuts and it was amazing. It was a really cool, cool experience."
Smith said that the border closures and other uncertainties kickstarted some serious conversations between the two about marriage.
"As the months went on, we started talking about it more and more," he said. "And then June came and we were like 'OK, let's get married in two weeks!'"
Bosello said that the proposal was "very romantic," with Smith proposing on their five-year anniversary using an onion ring from Burger King.
"He was actually waiting on a ring to come, so there wasn't really a proposal that could happen," Bosello explained. "And over that onion ring, delicious ring, we basically decided to set a date. Nick picked June 6 and I was like, 'Well, why not June 6?' And I was like, 'Sure,' so I texted 15 of my girlfriends and I was like, 'Hey, listen, we've got a wedding to put on!'"
Bosello said that the wedding was "so relaxed," but they managed to hire a professional photographer to capture the day. The only thing missing was Smith's family, most of whom were in other states and couldn't travel to be there.
"We had a Zoom meeting, and we had my parents from Maryland, all my friends across the country, my family members who were in India, so we had a lot of people watching our wedding via Zoom," he said. "It was great just knowing that there was that many people watching. Even though they weren't physically with us, they were still supporting our relationship."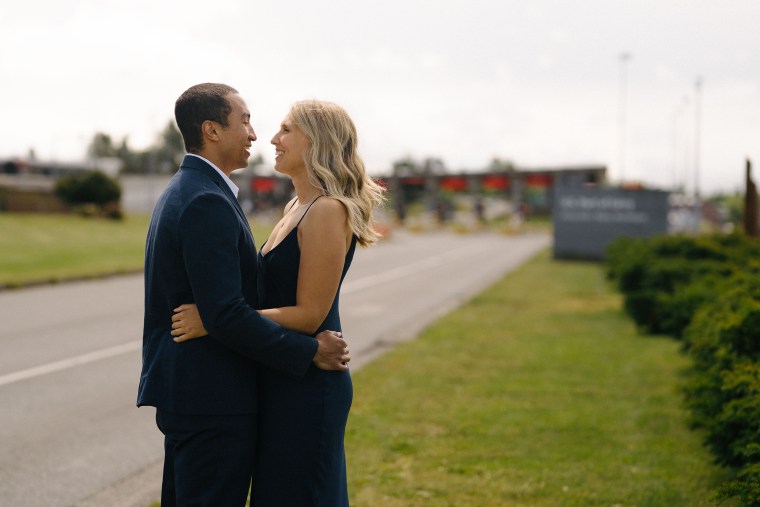 The newlyweds said that the pandemic allowed them to fully understand the importance of their relationship.
"It just made me (realize), like, 'Hey, Leah is important to me, I love her very much and I want to spend the rest of my life with her, and I don't want to spend another month apart from each other,'" Smith said.
"Our relationship has been through a lot, and we've always come out the other side," Bosello added.
The couple is still spending some time apart as they wait for the border between the two countries to officially reopen or Smith to be granted permanent residency status in Canada. Now that they're married, he can cross the border, but has to return to Washington for work.
"(It's) the simple things I'm looking forward to the most," Bosello said.