There's a battle going on between Generation Z and millennials — and it's all about hair.
Young people on TikTok have been teasing millennials over their love for side parts, explaining that middle parts are now cool.
The TODAY team tried the look on Thursday, eliciting lots of laughs.
Hairstylist Riawna Capri of Nine Zero One salon joined the anchors to chat about the dispute and put it succinctly: "Since when do we let 17-year-old TikTokers tell us what to do?" Not to mention, she added, what looks best mostly depends on your face shape.
But hair parts aren't the only trend being debated right now. Gen Z is also taking aim at millennials' use of the laugh-cry emoji, or what's officially called the "Face with Tears of Joy" emoji.
"I stopped using it a while ago because I saw older people using it, like my mom, my older siblings and just older people in general," Walid Mohammed, 21, told CNN.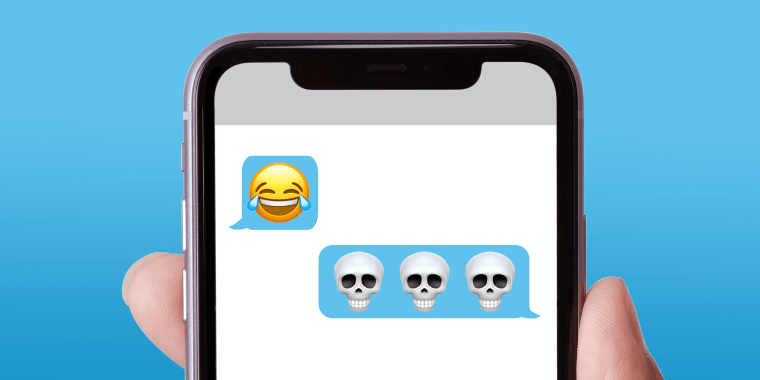 NBC News correspondent and "Stay Tuned" host Savannah Sellers confirmed that Generation Z is indeed over side parts and the laugh-cry emoji. (Though, she also pointed out that it's hard to tell what's going to hit or miss on TikTok — remember the captivating yet incredibly random "Ratatouille" musical?)
"A general rule of thumb with this generation is that if their parents are using it, they no longer want to be," Sellers said.
That's right: Young people have decided the laugh-cry emoji makes people look old and uncool despite its popularity (or, perhaps, because of it). According to EmojiTracker.com, a website that tracks use of emojis on Twitter in real time, it's currently the most-used emoji out there, followed by the red heart and the sobbing emoji.
But, as trends go, once something has reached that level of saturation, its downfall is typically not far behind.
"It's common wisdom on TikTok that the laughing crying emoji is for boomers," reads a recent blog post on Emojipedia. "And by boomers I mean anyone over the age of 35."
The Pew Research Center has defined millennials as anyone born between 1981 and 1996, and anyone born after that part of a new generation, aka Gen Z.
The post also dives into what has become the accepted replacement for the laugh-cry emoji: the skull. Read literally, it means, "I'm dead" or "dying."
That isn't all, though. On TikTok, millennials are getting roasted for various generation-defining choices, from their slang to their music choices and, most notably, skinny jeans.
And they're not all willing to let them go.
"I am not giving up my skinny jeans for the generation that ate Tide pods," said one TikTok user.
Others pointed out that with age comes the blissful realization that it's OK to be uncool.
"Just to be clear I was never under the impression that using (the) laugh-cry emoji was cool," another person wrote on Twitter.