If you loved "Emily in Paris" as much as we did, you'll be excited to hear the instant Netflix hit is back in production for its second season.
The highly anticipated sophomore season will film in multiple locales, including "Paris, St. Tropez and other locations in France," according to a Netflix statement released on Monday.
The cast of the Golden Globe-nominated series reunited for an Instagram video announcing the production kickoff.
"Hey guys! I have some very exciting news for you ...," series star Lily Collins began in the video.
"Nous sommes de retour," Collins' co-star Ashley Park chimed in. "Translation ..."
"We're back," Lucas Bravo explained as he slides into screen next to Park.
Fellow actors William Abadie, Samuel Arnold, Philippine Leroy-Beaulieu and Bruno Gouery make appearances in the video too, expressing their excitement about returning to set. Camille Razat rounded out the cast clip, adding, "You can't wait. I can't wait. It's going to be fun."
The romantic comedy became a breakout hit during the coronavirus pandemic and it was TODAY's Al Roker who broke the news to Collins that "Emily in Paris" became the top comedy for Netflix in 2020. "Fifty-eight million households around the world have watched 'Emily in Paris' in its first 28 days, making it Netflix's most popular comedy series of 2020," Roker explained in an April conversation with the rising star.
Collins revealed she had no idea the series had broken a new record. "That's so cool! Wow! That blows my mind. How incredible. Honestly, what I kept saying throughout quarantine, when our show came out, as an actor, as an artist, as someone who's a creative, the greatest gift is to get to connect with people through your art in some way.
"What we do, it can be a gift to ourselves and to an audience and the fact that 'Emily in Paris' made people laugh and smile during a time when we all needed it the most, that's when you get the most out of your art and your craft and what it is that we do. What an honor; that's so exciting!"
In addition to speaking with Collins, Al also sat down to chat with Darren Star, the executive producer, showrunner and writer of "Emily in Paris." Star, who's also the creator of other hit shows like "Younger" and "Sex and the City," said, "I definitely think that the timing was fortuitous in that it aired at a moment when people couldn't travel and they all became armchair travelers watching the show.
"They got to live vicariously through Emily ... So the idea from the beginning was we want to really showcase Paris in the most beautiful way possible and to give the viewers this vicarious feeling of being there and sort of sharing our love for the city."
The official Instagram account for the show announced the series' renewal last November with a video montage featuring the show's cast members and a short caption explaining, "Deux is always better than un 😉."
The video opened with Park as Mindy, holding up a bottle of Sancerre (a type of dry, fruity white wine) to the camera before pouring out two glasses and clinking them together in celebration and saying simply, "deux."
Abadie, who plays Antoine Lambert, one of Emily's clients who owns a perfume company, then spritzed some cologne and repeated, "deux." The video cut to Razat, who portrays Emily's friend Camille. She held up two bottles of champagne, flashed a big smile and added her own enthusiastic, "deux."
Bravo, who plays Emily's main love interest, Gabriel, followed up by cracking two eggs into a skillet in a re-creation of a scene from the show's first season.
The clip also featured Emily's co-workers and boss at the fictional marketing agency, Savoir: Luc, Julien and Sylvie, played by Gouery, Arnold and Leroy-Beaulieu respectively.
Collins as Emily Cooper rounded out the star-studded video, and as she leed down at two text message notifications, sighed and said forlornly, "Ugh, deux."
As part of the announcement, Netflix also shared a fictional letter from Emily's boss, Sylvie, announcing the news.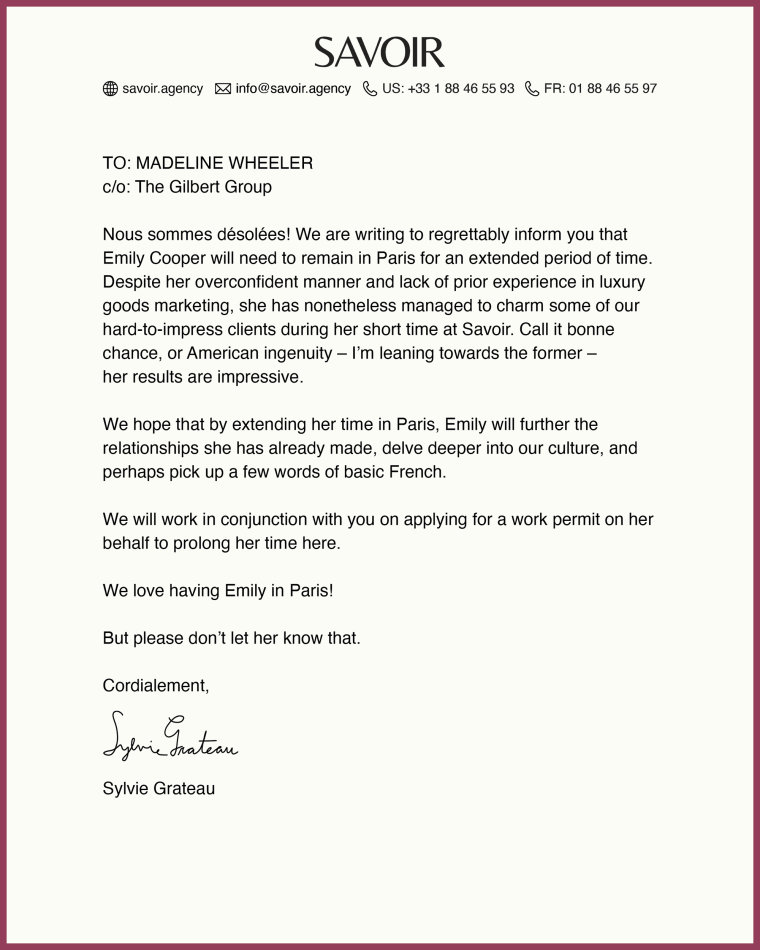 What is "Emily in Paris" about?
Emily, a 20-something marketing professional from the Midwest, travels to France for her dream job. Viewers follow along as Emily pursues a new life in Paris that's "filled with intoxicating adventures and surprising challenges," as the press release first described it. Along the way, she works hard "winning over her work colleagues, making friends and navigating new romances."
The hype around the dramedy picked up instantly after it premiered, and the show was even described as "2020's answer to 'The Devil Wears Prada.'"
"Emily in Paris" features costume design by Patricia Field, who also worked on both "Sex and the City" and "The Devil Wears Prada," with her signature flair for the fun and dramatic.
"All in all, it was a fantastic experience," Field said in an Instagram video. "I had a wonderful team there. I worked as a consultant. The designer was Marilyn (Fitoussi), who was excellent. All good, just a little report. Keep your eyes open for 'Emily in Paris.' It's going to be the pilot plus 10 episodes."
Who stars in the romantic comedy?
Collins, most known for her roles in "To The Bone," "Mirror Mirror" and "The Mortal Instruments: City of Bones," stars as the title character who moves from Chicago to Paris. She also serves as a producer on the series.
When she was cast in "Emily in Paris," the 31-year-old actor said in a statement: "All of Darren's shows have deeply defined, greatly impacted, and undeniably helped me navigate my journey into womanhood. I couldn't imagine a more inspiring city to be our 'Emily in Paris' home than Paris. What an absolute dream project!"
Park, who was nominated for a Tony Award for her role as Gretchen Wieners in Broadway's adaptation of "Mean Girls," co-stars as Mindy Chen. Her character is a fellow 20-something expatriate in Paris who befriends Emily.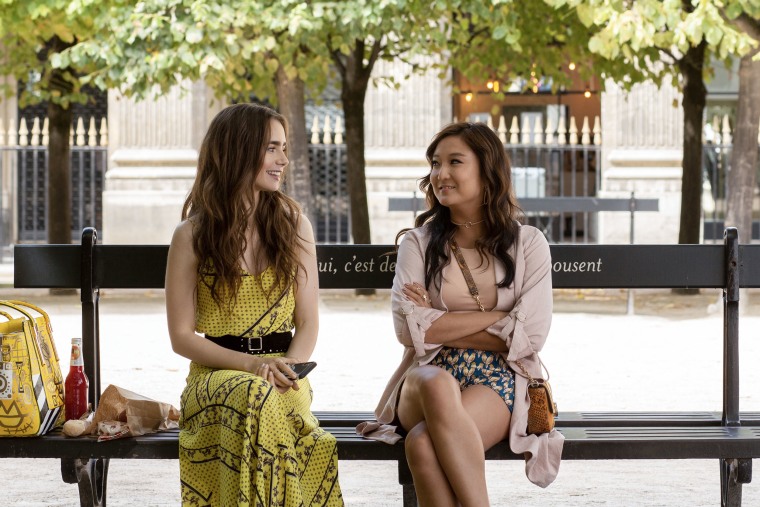 Kate Walsh of "Grey's Anatomy," "Private Practice" and "13 Reasons Why" plays Emily's mentor and co-worker in Chicago.
When and where can I watch "Emily in Paris?"
Season one of "Emily in Paris" was released on Netflix on Oct. 2. The series was initially picked up by Paramount Network, but later switched to the streaming service. No word yet on when the second season will be released, but we'll be watching!