Alan Perkins takes Halloween very seriously, and his home decorations this year are (literally!) larger than life.
He's been decorating his home in Olmstead Falls, Ohio, a suburb of Cleveland, for 11 years with elaborate and spooky designs, but this year, he simply outdid himself with a display that's nothing short of magical.
Perhaps most impressively, he created two gigantic skeleton hands that look like they're coming out of the ground and grabbing his home.
"I find larger-than-life things fun. A few years ago, I saw a picture that looked like someone had a Christmas tree that was too tall and broke through their roof. I liked the concept and applied a Halloween twist to it," Perkins told TMRW in an email.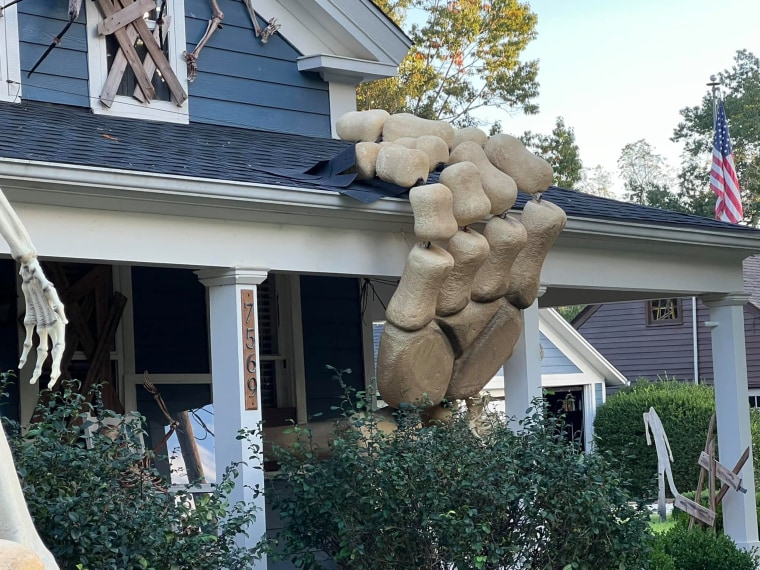 It took him around 25 days to construct the waterproof skeleton, which is made of foam and PVC armature (he shares instructions for making your own here). The dimensions are pretty spectacular, too: The hands are 8 feet wide each and the arm is 10 feet long on the shorter end and 12 feet long on the longer end. One hand is also holding a 12-foot-tall Home Depot skeleton that went viral last year.
The skull, which rests on the roof of Perkins' home, took another two weeks to build, including a bulging eye made out of an exercise ball.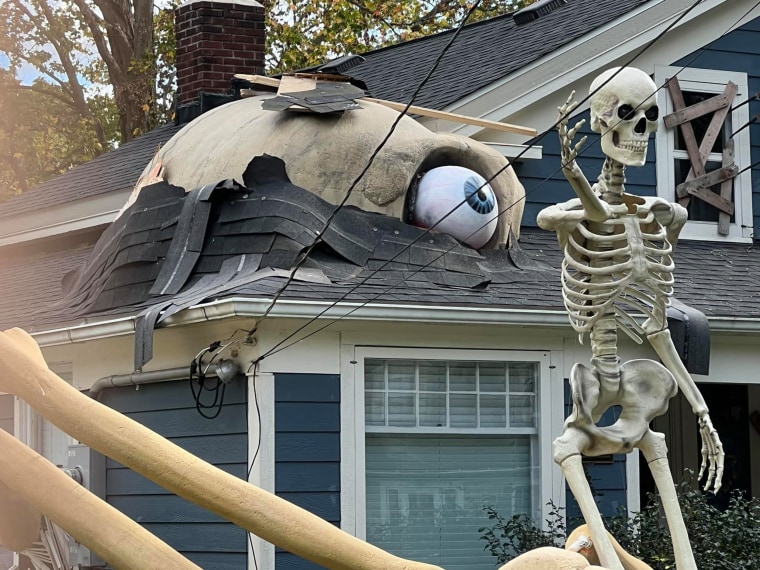 The most impressive part? Perkins, who works as a health and safety professional, doesn't even have a construction background.
"I am mainly self-taught," he explained, adding that he works on his hobby on nights and weekends.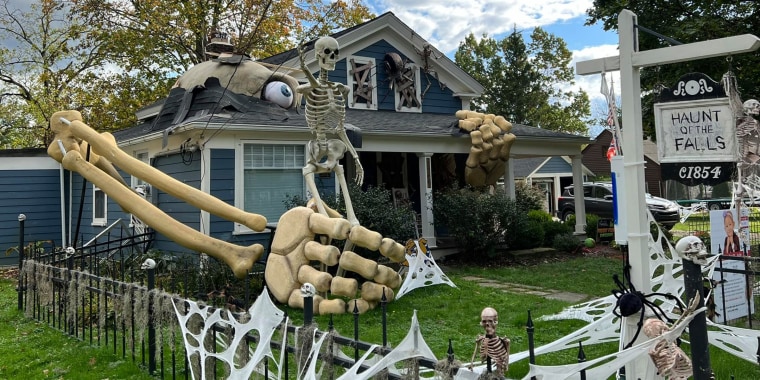 He does have a little bit of help, however. Perkins' two children, who are 6 and 8 years old, love lending a hand when he's decorating.
"My son says he is the most popular 3rd grader right now at school. I allow them to help whenever I can. They always place the tombstones (that bear the name of my neighbors) and help with the webs," he shared.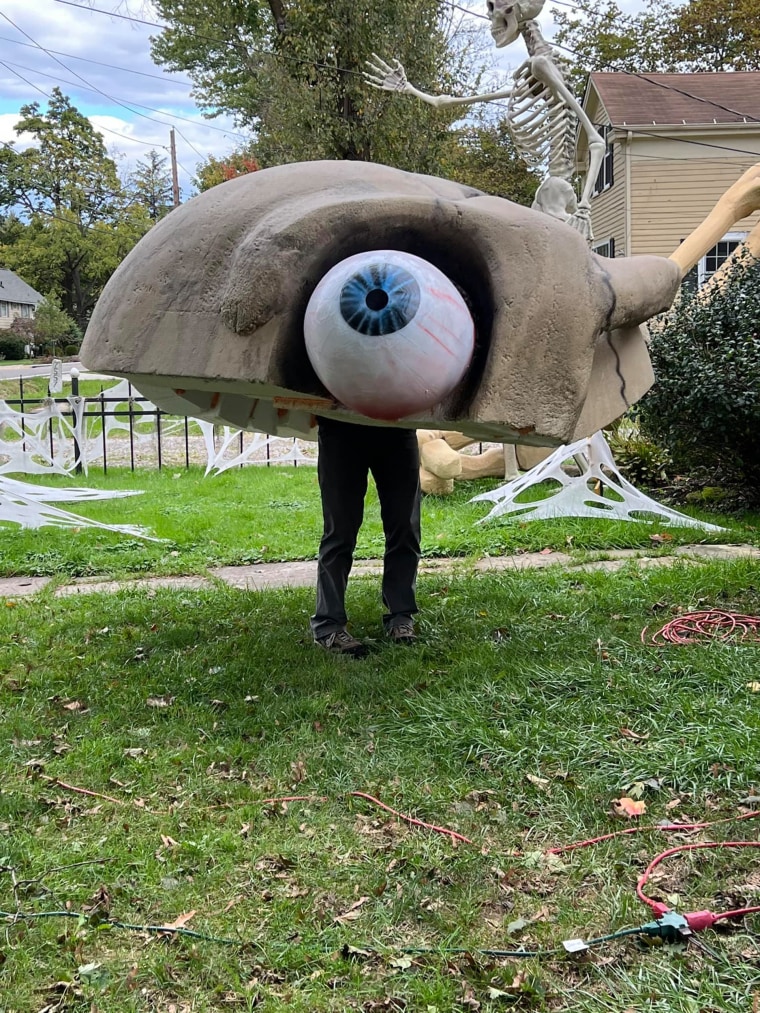 His wife, Heidi, on the other hand, is supportive of the whimsical project but not quite as into it.
"My wife doesn't rank Halloween in her top three holidays. She is supportive but doesn't help decorate or create. It is my passion and hobby," he said. "She likes to say she is a 'Halloween widow' and that during the month of October and most of September she didn't see me at all. She just waters and feeds me as needed."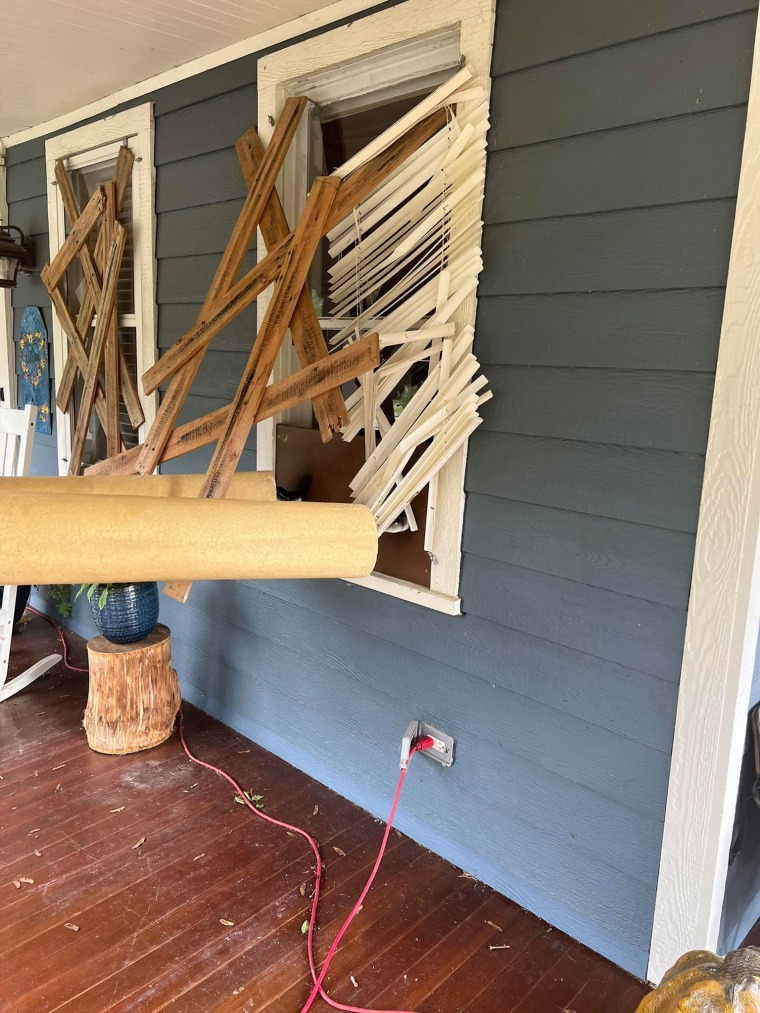 Naturally, Perkins' decorations draw quite a crowd and he said his neighbors enjoy it ... for the most part.
"We have had a lot more traffic though so their patience might wear thin in a few weeks. I keep telling them we need a lemonade stand or a taco truck for all the people," he said.
As for his favorite past displays, Perkins cites his project four years ago, when he created a life-size Lego Batmobile. (You can learn how to make your own with his instructions here.)
"I was making an exact replica of the original Lego model. Not much room for error there. The skeleton was created to whatever I thought looked right, which made it easier overall. I like both projects but the Batmobile was definitely more fun to make," he said.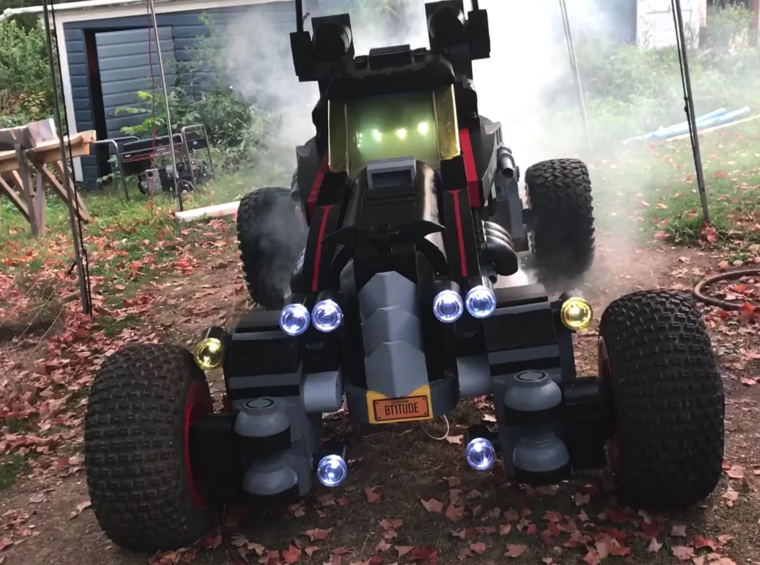 The Ohio resident's latest decorations went viral after he posted some photos in the Cleveland Haunt Club's Facebook group earlier this month. Now we're just left wondering: What does Perkins plan to do for Christmas?!
Related: