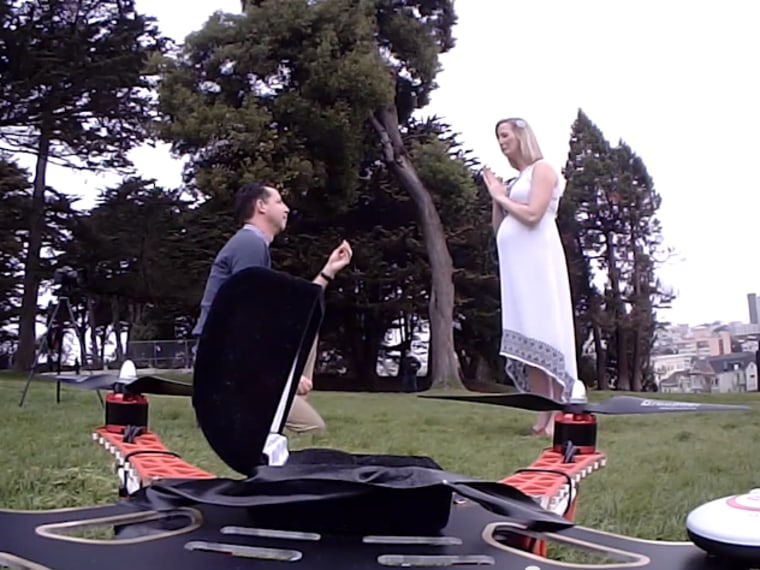 What began as a "baby bump photo shoot" in San Francisco's Alamo Square turned into a surprise wedding proposal with the help of an unlikely ally, a ring-delivering hexacopter drone.
Early on a cool spring day, the first Sunday in April, before the crowds of tourists gathered, Jason Muscat took his girlfriend Christina Dam to the park to take photographs before baby day.
"Anything you want to say to our little baby, Angelina?" Muscat asked. Looking into the video camera, Dam, seven months pregnant, said, "Angelina, I can't wait for you to be part of our lives."
The couple laughed and joked about their upcoming "babymoon" to Las Vegas, when they noticed a small flying copter swinging into view. You can hear Muscat say "WHAT is that!?" in a YouTube video that documents the event. As it got closer, Dam realized there was a ring box taped to its center. It landed on the grass and Muscat popped open the lid. Ring in hand, drone at his side, he asked Dam to marry him.
ALSO READ: Five super-geeky marriage proposals (that ended happily)
Dam was blown away. "It came out of nowhere," the newly engaged 35-year-old app developer told TODAY. She was expecting a marriage proposal, yes — but she never imagined it would arrive via drone.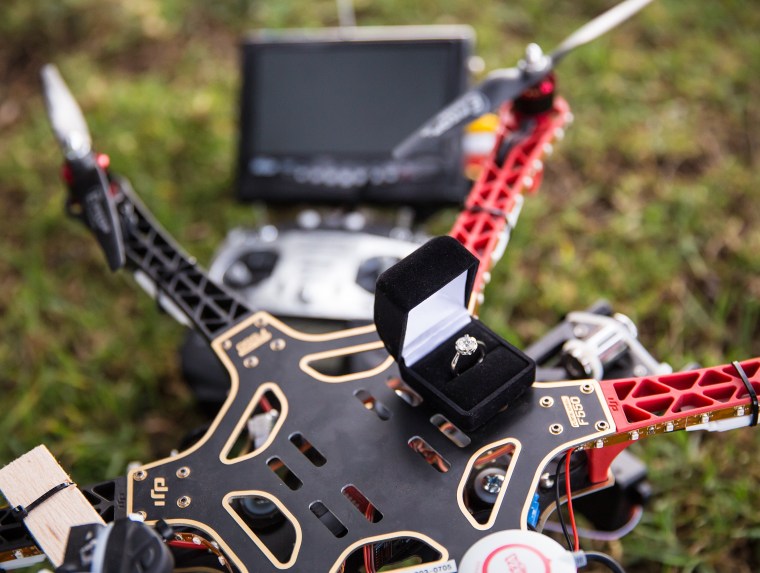 "I kept thinking one of these days we would be having dinner and he would be pulling a ring out of his pocket," Dam said. "It was way more elaborate than I expected a proposal to be."
Muscat was fascinated by news stories about small drones that police officers, rescue workers and researchers use. He'd learned that hobbyist hexacopter and quadracopter owners could record great aerial videos and photographs by strapping store-bought cameras onto their crafts. If a drone could do an aerial survey of a landfill, why not get one to help photograph his proposal?
The only problem — the 40-year-old web developer didn't own one.
Muscat's friend, owner of a remote-controlled model aircraft, knew of the thousands of hobbyist drone fliers who gathered online to chat on message boards about parts and modifications and cool hacks to their machines. So, at Muscat's request, he posted a note, asking for a drone operator who may be willing to lend a hand.
Chris Geiger, a hobbyist drone owner from Fresno, wrote back. His day job? Wedding photography. "I got in touch and said: 'I'm very interested,'" he told TODAY. "It's up my alley and I [wanted] to cover it."
Muscat couldn't believe his luck. "Chris being a wedding photographer and an outstanding drone pilot was the perfect fit," he said, so he booked him.
Geiger spent two weeks practicing the flight sequence with his hexacopter and two cameras. And to make sure he got the pan and zoom maneuvers just right, he then drove up to San Francisco in time for a dress rehearsal with Muscat the day before. Geiger's own ring served as a stunt double. Before they separated for the evening, Muscat gave Geiger the ring he bought for the engagement.
The next day started early. "I made up a story that the light is really good in the morning, which it really isn't," Muscat said — the real plan was to get the drone in the air before the wind picked up, and made piloting tricky.
Dam had wanted to take photos for months, but Muscat kept putting her off. "No, your belly is not ready yet," he'd say, she remembered. But he'd been talking about this photo shoot for days.

Geiger had been waiting at the park, ready with the ring, for about an hour before the couple showed up. The two cameras on the hexacopter were in place. The ringbox was bolted to its flat center plate. Muscat's ring was snug in place, but Geiger made a last-minute decision to tape the lid of the ring-box shut, just in case.
As Dam and Muscat began their photo shoot, Geiger, from behind some trees, launched the drone, piloting it all the way to the couple's side, then diving for his trusty DSLR camera.
Of course Dam said yes. "They did an amazing job," she said, calling it a "sweet gesture and moment I'll never forget."

Muscat has a romantic side, Dam said, but the drone proposal takes things to the next level. "This far exceeds anything I've seen him do."
Nidhi Subbaraman writes about technology and science. Follow her on Twitter and Google+.