Ah, your wedding day. It simply wouldn't be complete without your loving new spouse, those beautiful flowers ... and that guy in the corner who's making $3,000 to live tweet, Instagram and Facebook your nuptials. 
It's a new service from the W Hotels, which announced on Tuesday its "Social Media Wedding Concierge" service available at four New York locations. (The company pitched the idea to media outlets including The Huffington Post, and tech editor Bianca Bosker tweeted the pitch with the plea: "please stop.")
For a cool 3 Gs, the concierge will publish live updates to Twitter during the ceremony and reception, post photos and videos to Instagram and even encourage guests to use the wedding hashtag especially "curated" for you.
But the fun doesn't stop with the concierge encouraging Grandma Ellie to take an end-of-the-night selfie.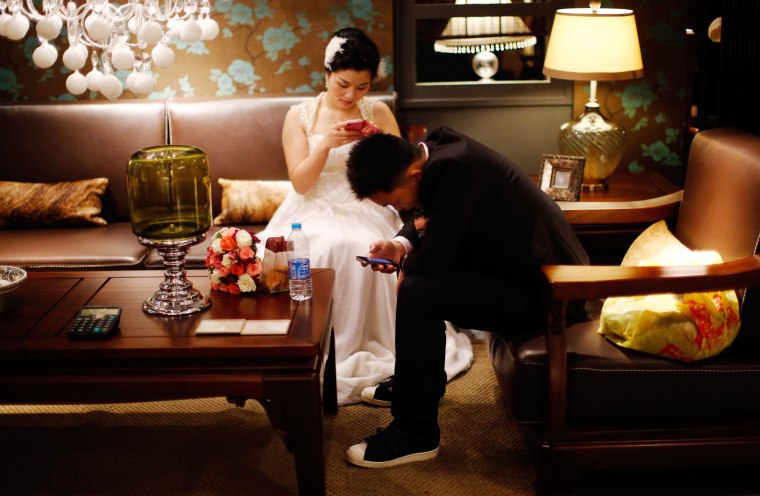 After the wedding, this social-media maven will compile a Shutterfly book to recap your big day. But instead of boring old photos -- so passé! -- the book will include "social media highlights" including a collage of the top tweets and Instagram photos.

The W Hotels told Today.com they "are already seeing tremendous response" about the new service. The company believes it is the first to offer "this type of innovative service."
Rates start at $3,000, and for more money, the company will do pretty much whatever you'd like. 
"W has a Whatever/Whenever service philosophy. So long as it's legal, we will fulfill whatever wishes our guests want," the company told Today.com.

So, go ahead and dream about just how much more you can annoy your Facebook friends who didn't make the invite list.