Smartwatches are going to surge, at least for a while. Companies like Samsung, which build them simply because they can, may eventually make some interesting wrist-top devices. But the first-generation Galaxy Gear now hitting the market isn't going to mesmerize anyone with its lousy camera, redundant notifications and unimaginative third-party apps. We're looking at a product seeking a reason to exist, and coming up short.
Too negative? OK, here. Since I've had the opportunity to wear a Galaxy Gear for a few days, I can go over the reasons you should — or should not — buy one yourself.
Reasons for:

It tells time like a boss.
Comes in seven colors (well, three colors in the U.S. so far), and it's not nearly as hideously large as I'd imagined.
You can pause your phone's music and videos without going to the trouble of actually touching your phone.
Easy-ish navigation reminiscent of the adorable square 6th-generation iPod Nano.
The screen is pretty.
It's a speakerphone … on your wrist!
Um … 
Reasons against:
The camera takes terrible pictures and is awkward to point.

The first wave of third-party apps is lame.

Battery dies after a day, and the special charging dock means you may not be able to charge it quickly when you're in a pinch.

Yet another roadway distraction.

Yet another distraction period.
For the moment, it only pairs with a shiny beast of a phablet, the Galaxy Note 3 — though an attractive, powerful device, it may be dauntingly humongous to those of us not in the NBA.

S Voice, ugh. Say you're reading a message, and you tap the menu option "S Voice reply." The system doesn't know what message you came from … or that you want to reply to it!

No heart rate monitor for workouts — though there's an accelerometer to count steps.

It's $300.

Want me to go on? OK …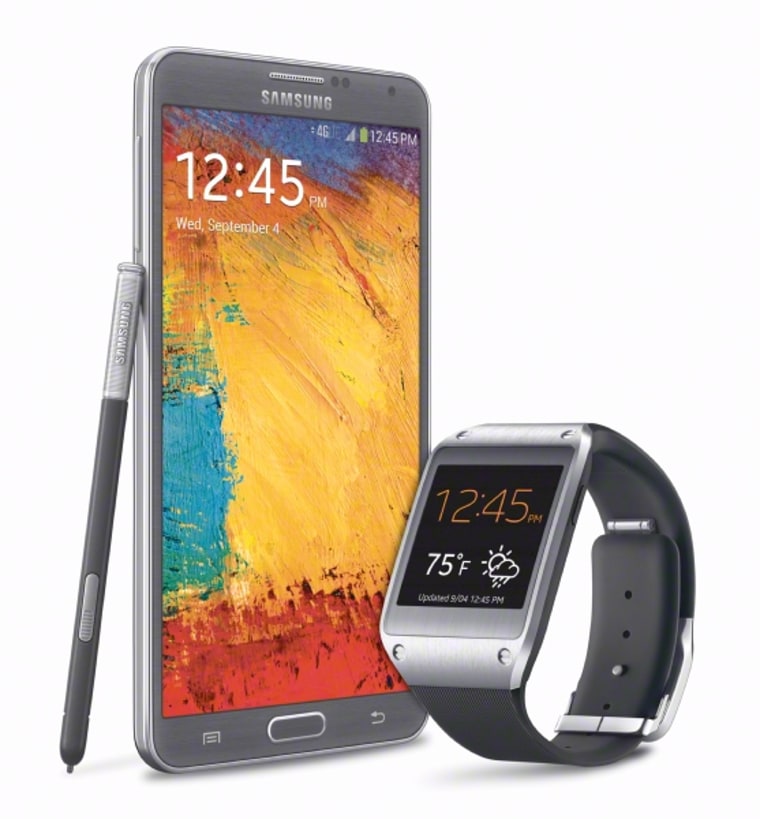 I can't conceive of who would go out and buy a Galaxy Gear at this point (though if you're in the market, they're available at Sprint starting this Friday). I would, however, consider a slender smartwatch that could subtly notify me of key — preferably highly customized — items throughout the day.
But it would have to be about more than getting smartphone notifications.
What Samsung has failed at in this initial launch is explaining why I shouldn't be able to live without a smartwatch. Something I'd find more irresistible would have to include a killer mapping app, for navigation on foot especially, whether in a strange city or the back woods; also, an exercise system that goes beyond just pedometers. In my wilder dreams, I could even hope for a front-facing camera (which would be way more useful than the clumsy band-mounted one on the watch now), and perhaps the ability to descend 100 feet underwater and serve as a diving computer, too. 
OK, so I may get carried away thinking of what I might actually want on my wrist. But none of that is here, now, in the Galaxy Gear. While I approach the concept with less bafflement than that head-mounted camera-and-notification system known as Google Glass, I come away from this device equally uncommitted.
Next smartwatch, please.
Also read: Laptop's Mark Spoonauer reviews Galaxy Gear, says "Apple has nothing to fear"
Wilson Rothman is the Technology & Science editor at NBC News Digital. Catch up with him on Twitter at @wjrothman, and join our conversation on Facebook.