If you miss the latest episode of your favorite TV show when it first airs, Twitter instantly turns into the worst place on the Internet. There are spoilers at every turn and no matter how much you scream at people to not tell you what happened on "Game of Thrones" or how "Lost" ended or who won "American Idol," you're doomed to find out.
If only there could be a spoiler-free way to use Twitter, wondered 17-year-old Jennie Lamere — who then turned around and created it.
Twivo, which is getting its start as a browser extension, earned Lamere the grand prize at a recent TV-themed "hackathon" — an event encouraging coders to quickly turn concepts into working products.
The way Twivo works is simple, the high school senior told TODAY. "The basic gist of it is, you just type in the show you're watching and it will hide all tweets that mention it," she explains. "When you've watched the show, you just hit stop [and the tweets appear]."
Lamere only came up with the idea for Twivo the night before TVnext Hack, which took place in Boston on April 27. "I was walking with my dad and we started talking about Twitter," she said. "[The conversation] reminded me of how I can never go on Twitter when I'm watching a show."
Specifically, "Pretty Little Liars" — at one point, Jennie saw on Twitter which character was actually the mysterious "A," before getting to see it for herself.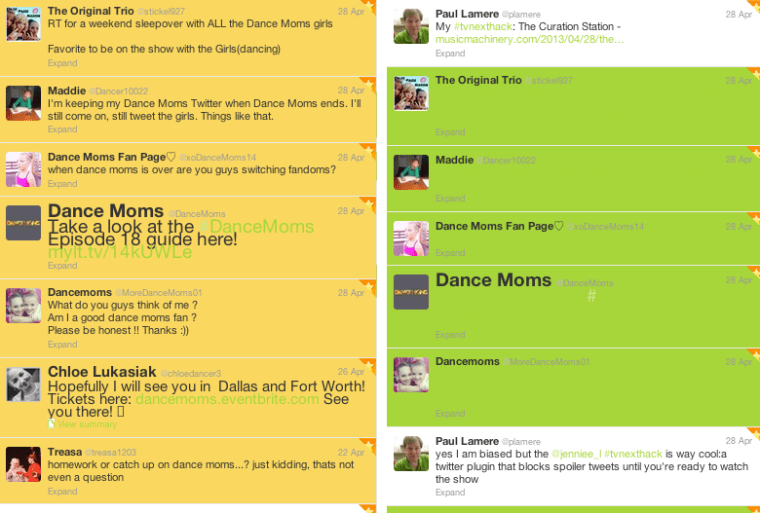 That sad memory, the idea sparked by chatting with her dad, and about 10 hours of coding was all it took for her to create a working version of Twivo. She's used it personally, and gave the code to friends so that they can try it. She's still working out a few bugs before Twivo is ready for a public release.
Once it is time for a wider rollout, Lamere will have support from Furious Minds, an advertising technology collective. Ashley Swartz, founder and CEO of Furious Minds, told TODAY that Twivo caught her attention because "it's freakin' smart." As a woman in tech, she explains, she's proud to see a girl like Lamere involved in a project like this, and hopes to provide her with technical assistance and strategic direction to ensure that Twivo is a success. "My goal is to pay for her college [through earnings] if we can," Swartz said.
"I watch most of my programming time-shifted, so I avoid Twitter," Swartz explains, emphasizing that she will benefit from Lamere's project as well. "Whenever I was watching 'Girls,' I avoided the Twitter feed."
So, what's next for Lamere, now that she's saved us from spoilers? Well, for starters — a celebration. The teen's 18th birthday is Friday. After that, she's "just gonna focus on school for a bit," she told TODAY, explaining that she will be attending the Rochester Institute of Technology to study computer science next year. In the long run, "I wouldn't mind working at Google," she said.
Want more tech news or interesting links? You'll get plenty of both if you keep up with Rosa Golijan, the writer of this post, by following her on Twitter, subscribing to her Facebook posts, or circling her onGoogle+.