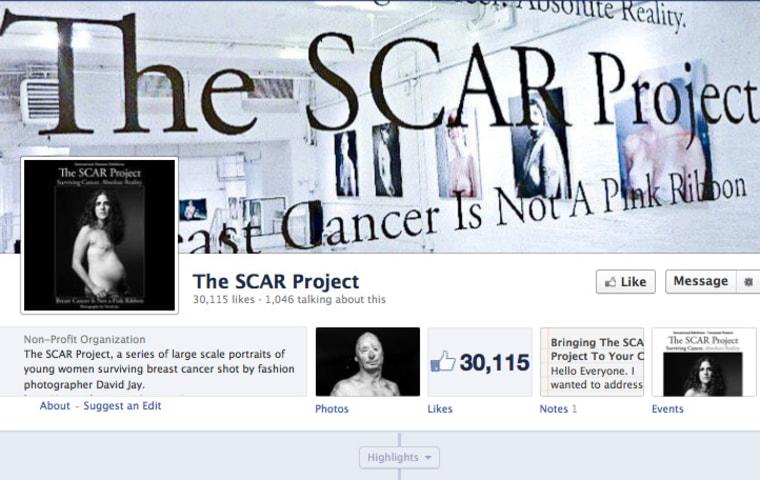 The backers of The SCAR Project, which aims to raise public awareness about breast cancer by sharing powerful photos of young women and the scars they have from their mastectomies, say Facebook pulled some of the photos from the project's longtime Facebook page because of concerns about nudity.
One of The SCAR Project's supporters filed a petition on Change.org a few weeks ago, asking Facebook to change its policy so that the photos — some very graphic, showing nipples that have been surgically reconstructed — will stop being considered in the same category as pornography.
David Jay, the photographer who founded The SCAR Project several years ago as an "exercise in awareness, hope, reflection and healing," told NBC News Tuesday that he had recently added 24 photos to the Facebook page, spurred by Angelina Jolie's "very brave decision" and public disclosure about her own double mastectomy.
The images, he said, "are what they are. I can't imagine anyone finding anything pornographic or sexualized or even offensive in any way."
Yet "within no time, Facebook had removed some of the photos and banned me for 30 days," he said.
Facebook spokeswoman Alison Schumer told NBC News Tuesday that Facebook has "long allowed mastectomy photos to be shared on Facebook, as well as educational and scientific photos of the human body and photos of women breastfeeding."
"We only review or remove photos after they have been reported to us by people who see the images in their News Feeds or otherwise discover them," she said. "On occasion, we may remove a photo showing mastectomy scarring either by mistake, as our teams review millions of pieces of content daily, or because a photo has violated our terms for other reasons."
It was unclear whether a complaint or a mistake by a Facebook staffer led to the photos being pulled.
On Facebook's community standards page, regarding nudity and photography, Facebook says:
Facebook has a strict policy against the sharing of pornographic content and any explicitly sexual content where a minor is involved. We also impose limitations on the display of nudity. We aspire to respect people's right to share content of personal importance, whether those are photos of a sculpture like Michelangelo's David or family photos of a child breastfeeding.
"I don't hold Facebook completely responsible," Jay told NBC News. "I think the powers that be at Facebook are very supportive of The SCAR Project."

Schumer, Jay and the SCAR Project supporter who filed the petition had a phone conference call Tuesday to air the concerns on both sides.
"They've had a policy in place allowing mastectomy photos, and they made it clear during our conference call that obviously mistakes had been made," Jay said. "Basically they intimated they've always had the correct policy, it just hasn't been implemented properly.
"I think it's not lost on Facebook how important this issue is to so many people, and perhaps they'll spend some time internally educating their staff about the types of images The SCAR Project has," he said.
For Facebook's part, it is "supportive" of The SCAR Project, Schumer said, "and will continue to work with them to ensure that even as we review millions of pieces of photos and content, we are also doing our best to make the right and best decisions as they pertain to photos."
Check out Technology and TODAY Tech on Facebook, and on Twitter, follow Suzanne Choney.