It's been 10 years since Mark Zuckerberg created Facebook, and despite the social network's rapid and massive success, he says he was surprised his brainchild became a household name.
In a television exclusive interview with TODAY's Savannah Guthrie airing Tuesday, Zuckerberg, who will turn 30 this spring, reflected on Facebook's evolution from its beginnings as a network he originally created for his fellow students at Harvard.
"I remember really vividly — you know, having pizza with my friends a day or two after — I opened up the first version of Facebook at my school," he says.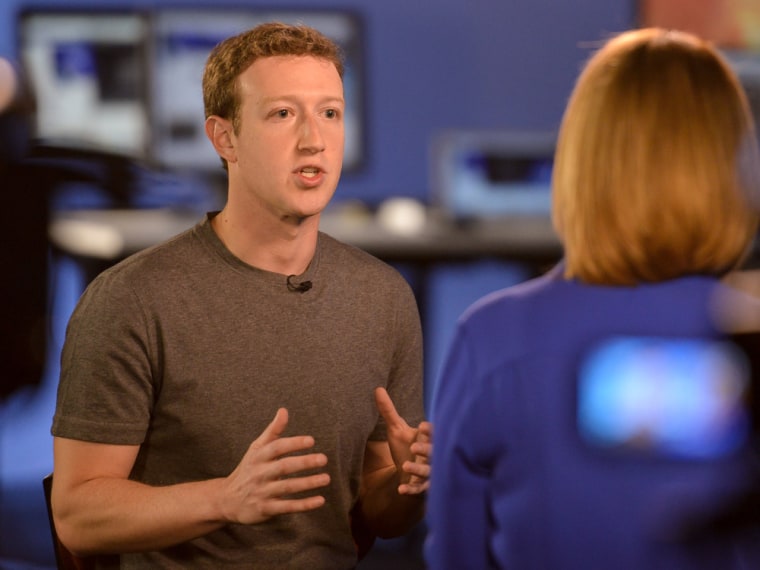 "I was just really excited that we were doing it at one school. And, you know, at the time I thought, 'You know, someone needs to build a service like this for the world.' I always thought that that was this incredibly important thing to have happen. But I just never thought that we'd be the ones to help do it."
Zuckerberg has had a good week, professionally: His personal wealth went up $3.2 billion on Thursday when the company's stock closed at an all-time high. He may be the richest 29-year-old American in history, adjusted for inflation. 
The CEO also shared what he thinks has set Facebook — which hit 1 billion users in 2012 — apart.
"When I look back over the last 10 years, one of the questions that I ask myself is, why were we the ones to help do this? And I think a lot of what it comes down to is, we just cared more."