When his eyesight started to go, 97-year-old Hal Lasko rediscovered his passion for art — thanks to the simple Paint app that comes with every Windows computer. Inspired, he now spends hours poring over pixels and creating art that is rich and evocative, yet unmistakably digital.
"I had paintings that I'd started that I no longer could work on, so I put them on the computer," Lasko told NBC News. "I found out that if I blew it up, I could see exactly what I couldn't see when I was painting."
Lasko was originally a "letter man" — or type designer — in the middle of the century when signs were painted by hand. (American Greetings still uses one of the fonts he created). But a condition called wet macular degeneration progressively damaged Lasko's vision as he grew older, and he is now legally blind — though he doesn't let that stop him from doing what he loves.
Lasko grabbed the attention of the Internet this week after a short documentary film entitled "The Pixel Painter," directed by Josh Bogdan and Ryan Lasko (Hal's grandson), appeared online Monday. The touching 8-minute film shows "Grandpa" at work, explaining his technique and showing his paintings. (You can watch it above.)
Ron and Ryan — Hal's son and grandson respectively — helped conduct the interview. (Lasko is also hard of hearing and can't easily use the phone.) Ryan also helped his grandfather understand how to use the computer to make art, way back in 1998.
After using a brush and pen for many years, it took some getting used to, Lasko said: "I had to find out how colors mixed and things like that. And that took quite a long time, like months, I'd say." But before long he was on his way to creating the images he'd painted before: landscapes, still lifes and abstracts.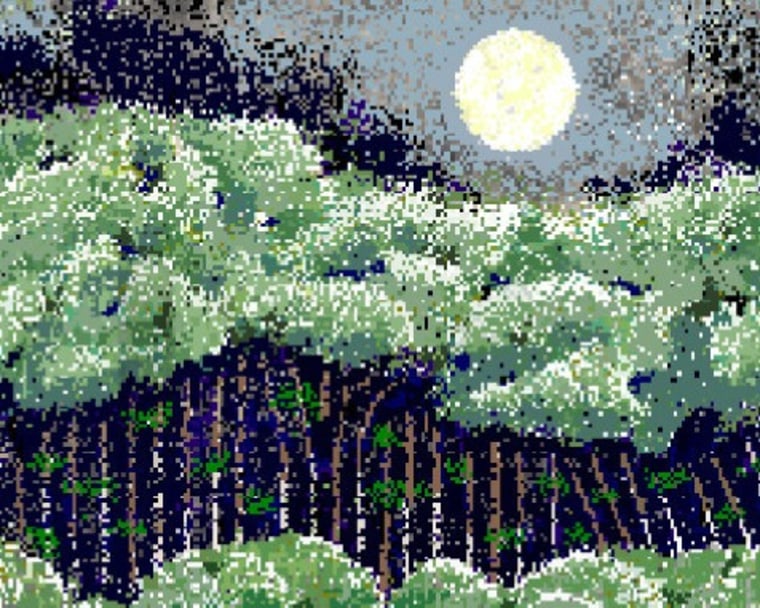 The results are impressive, especially considering the tool he chose: Microsoft Paint, the super-basic app that comes free with every copy of Windows, was Lasko's canvas 15 years ago, and it still is today.
He tried more sophisticated programs but ended up sticking with what he knew. "To conceive a painting, it was much easier to keep it simple. I had had years to learn how to do this — so I just decided that this is my way. What I made was beautiful to me."
Many of Lasko's works can be viewed and purchased on his website; in honor of his upcoming 98th birthday, each piece is priced at $98, of which 10 percent will be donated to Veterans of Foreign Wars programs.
His inspirational message and story spread quickly online, and the documentary now has thousands upon thousands of views. Lasko concluded our interview with some thoughts on the capability of computers to help people who may feel disconnected by age or disability.
"The computer is just such a wonderful way to design. It's a wonderful way for people with poor eyesight and poor hearing to spend their time. I feel more creative now than when I was actually painting."
Devin Coldewey is a contributing writer for NBC News Digital. His personal website is coldewey.cc.