Whether you're trekking through Yosemite or just pitching a tent in the yard, there's nothing more fun than camping with Dad. If your dad's idea of adventure is wandering to the fridge during a commercial break, not to worry — I've got a bunch of high-tech camping accessories that make great Father's Day gifts, and will turn even the most novice adventurer into an outdoor enthusiast.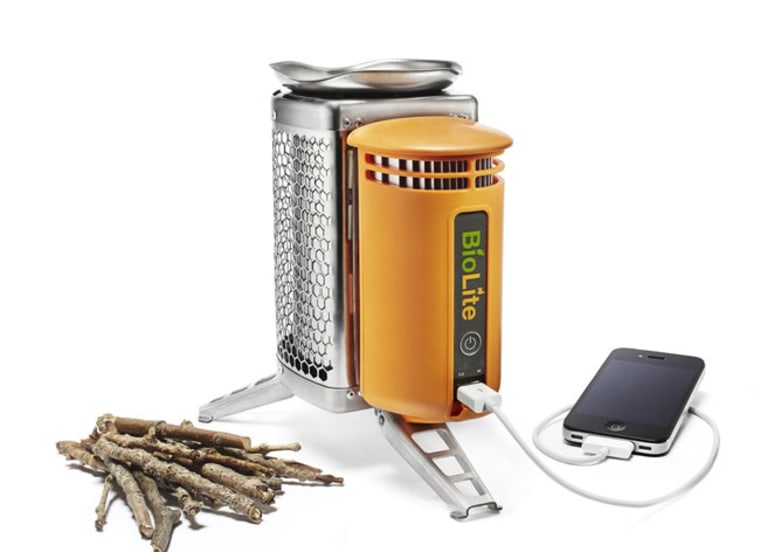 BioLite Camp Stove,$129
It's been a long day of hiking and setting up camp... and now you've got to chop some wood and light a fire? Ugh. If you brought a BioLite stove, you won't have to collect anything but some twigs and pine cones as fuel (and keep the propane at home, this is a clean-burning stove). Plus the heat generated while you roast your weenies can be used to charge your phone, thanks to the thermoelectic generator on board. And it can boil water in 5 minutes, so it's as speedy as it is smart.
Rightline Gear Pop-Up Tent, $99.95
A tent that sets up in seconds in a godsend to weary campers. Unzip the handy case for this tent and it practically jumps out: sewn-in instructions take care of the rest. It sleeps two adults comfortably and has windows and a privacy mesh door.
Pelican S140 Tablet Backpack, $215
If dad can't leave his Netbook at home, then this is the bag that will protect it in the wild. The built-in crushproof and waterproof case makes keeps everything safe and sound, plus lumbar pad and removable hip belt mean it's comfortable to carry for long distances. And if he's just trekking to the airport, it's TSA-friendly too.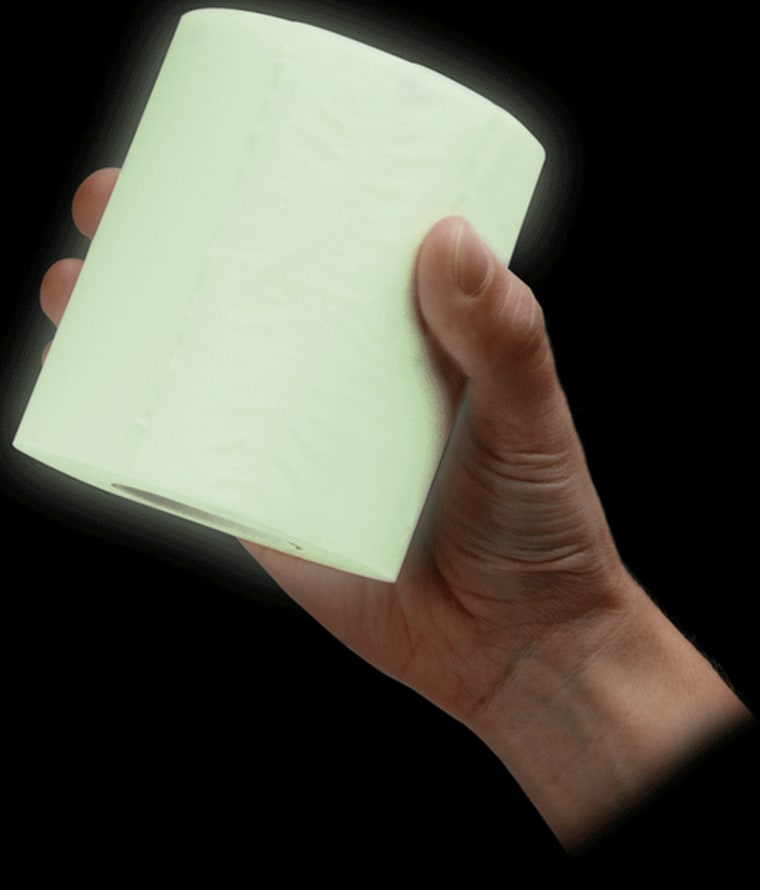 Glow-in-the-dark toilet paper, $4.89
You're in the woods, it's after dark, and you gotta go. Thank goodness you discovered glow-in-the-dark toilet paper (via ThinkGeek), which is easy to find when you need it most. And yes, it's safe to use on your backside and fully biodegradable.
Steripen Ultra Portable UV Water Purifier, $99
Water, water everywhere... but is it safe to drink? Fortunately, with this Steripen, you can eliminate 99.9% of the bacteria, viruses and protozoa that cause water-borne illness, and drink without care. Charge it via USB before you head outdoors, and it will clean up 50 Litres of water on a single charge.
Mini Hozuki LED Candle Lantern,$34.99)
Tents don't come with potlights or dimmer switches, so it's nice to have some hanging lanterns to help you see when mother nature's lights go out. These LED lanterns (via ThinkGeek) have attach easily around around poles or hooks or branches in your tent or around the campsite. The LED bulbs shine in various levels of intensity, including candle-mode, so you can have all the ambiance without the fire hazard.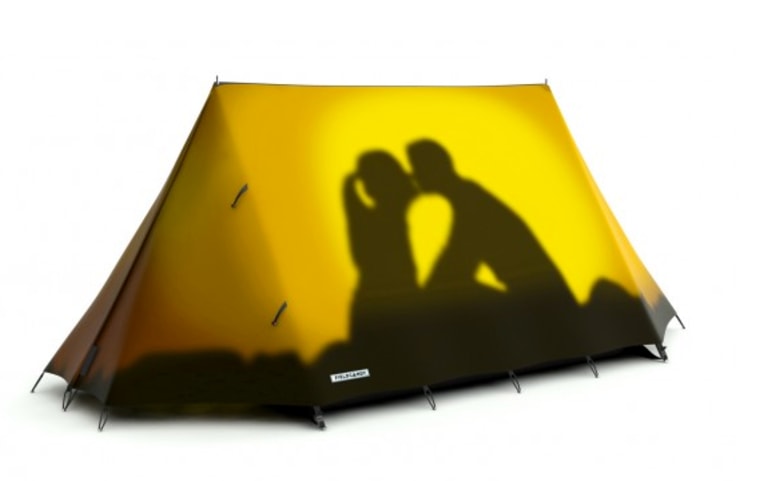 FieldCandy "Get A Room" tent, $746
For the not-so-subtle paramour: If dad wants to let other campers know exactly what his intentions are when the sun goes down, he could with the "Get A Room" tent from Field Candy. Just one of the many amusing designs adorn the flysheet on this well-constructed tent for two, it's great for festival camping (you won't have trouble finding your tent in a crowd). Even if he doesn't get lucky, it will look like he did.
Garmin eTrex 20, $199
He won't ask for directions in the car, but in the wilderness, there's no one to ask at all. Thankfully, this hand-held GPS positioning device can help him find his way back to the campsite after a day on the trails. Two AA batteries give you 25 hours of compass, navigating power, and maps you can load in advance to plot your trip. Plus use it to search for geocaching treasures, which is fun to do with the whole family. You can even mount it to the car and use it to get turn-by-turn directions home... don't tell dad.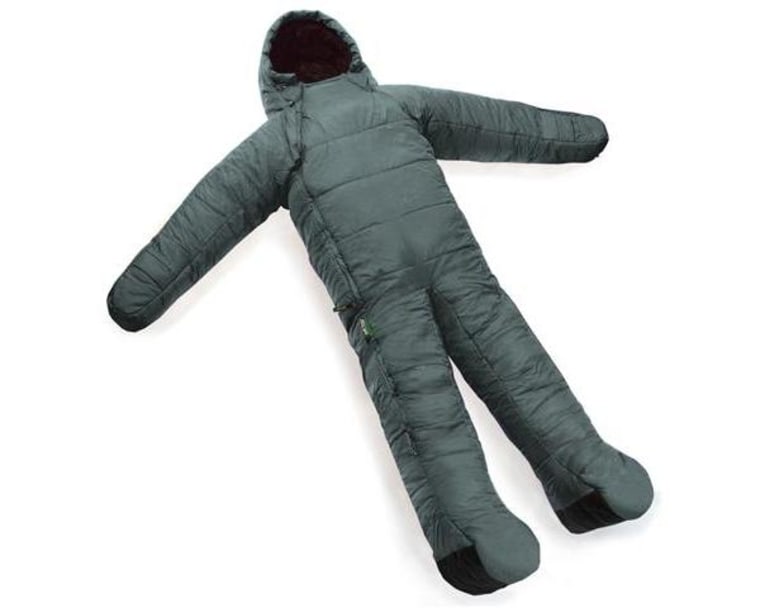 Selk'bag Sleeping Bag Suit, $159.95
Who says you have to get out of bed? Stay toasty in this sleeping bag suit while you lord over your campsite instead. Think of it as a sleeping bag Snuggie— perfect for people who feel restricted by traditional sleeping bags (and who don't mind looking at bit dorky). Quick release closure on the sleeves allows you to easily free your hands from the down mitts, and the double zippers in the front give you quick access to pockets. Different weights and sizes for kids too (so you can be a family of rainbow-colored puffy-down campers).
Carley Knobloch is a TODAY contributor and digital lifestyle expert. She's the host and founder of Digitwirl, a Webby-nominated web show designed to help busy women discover technology that "just works." Digitwirl brings together Carley's obsession with all things tech, her passion for problem-solving and her knack for curating the best resources for her audience. She also decodes smart home technology on HGTV.com, and has appeared on The Ricki Lake Show and EXTRA. She resides in Los Angeles with her husband, two kids, Springer Spaniel, and myriad tablets.