Thanks to Disney World, you can now fulfill your childhood dream of kissing Prince Charming in a real-life castle.
But there's a catch, of course. Because to feel like a true princess, you better be prepared to pay a royally high price.
Just how much does it cost to get married in Cinderella's Castle?
$75,000! And that's the minimum.
RELATED: Princess bride: Over-the-top Disney wedding a viral hit
When news broke that happy couples could marry on the East Plaza Garden in the Magic Kingdom, Disney didn't shy away from offering a full explanation of the pricing.
A park representative broke down a few of the details for Cosmopolitan: "To have your ceremony in front of the castle, which allows for just 100 people and a ceremony time of 9:30 a.m. sharp, there is a $25,000 minimum fee. That's excluding food and beverage and other expenditure minimums, which total the $75,000. This, again, is for the ceremony alone. You can't have your reception in the same location."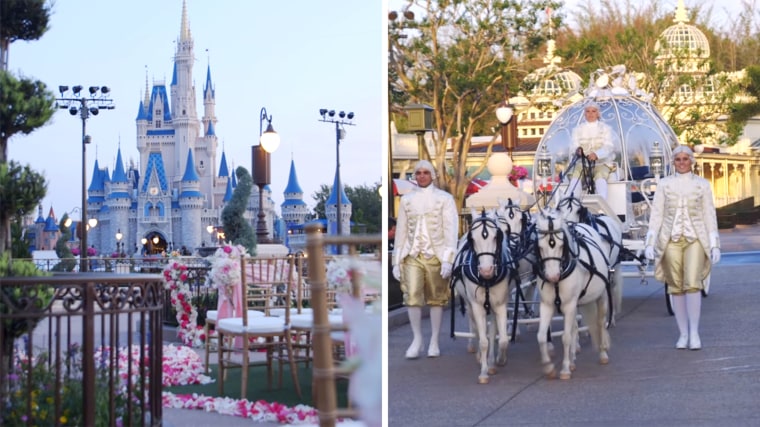 RELATED: Billion-dollar wedding? Jennifer Lopez performs at lavish Moscow ceremony
The representative also noted that couples planning to have "fairy godmothers" assist with their wedding day usually have a "sky is the limit" budget.
Indeed, the 2016 price breakdown on disneyweddings.com shows the premium paid for the coveted spot. For that $25,000 minimum fee, you could instead opt to hold your ceremony at Disney's Wedding Pavilion, which costs $4,000 and up.
Oh, and if you want to ride to your ceremony in a horse-drawn glass coach, Disney can make that happen, too — but it'll cost you $2,950 for two hours.
And there you have it: "The Place Where Dreams Come True" ... for a few.