This year marked the first-ever New York Fashion Week: Men's, with over 60 designers and brands showing their collections for next spring. But if the thought of fashion week summons images of Derek Zoolander in "Derelicte" garbage and ridiculous, unwearable clothes, it's time to think again.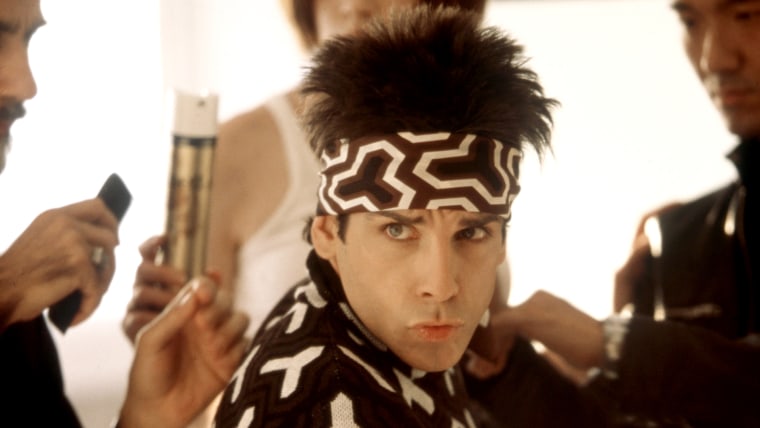 We've narrowed down six essential items that will be easy to wear in the warmer months of 2016 and, hey, since it's summer right now, why not be ahead of the curve and try them now?
The Hawaiian shirt
The Hawaiian shirt is back in a big way (seen here at Ovadia & Sons), though it has been reworked as a fitted shirt, as opposed to the traditional, boxy cut. It also feels fresh thanks to contemporary prints, such as digitized camouflage designs or updated floral and botanical motifs. This new breed of Hawaiian shirt is generally more lightweight, perfect for pairing with a blazer or crewneck sweater for festive occasions.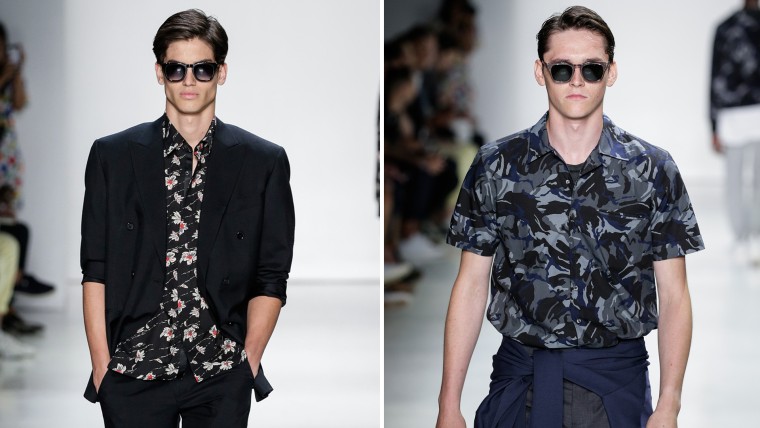 Shop the look:
No Retreat Men's Short Sleeve Hawaiian Shirt in Black, $24.99, Target.com
Brooks Brothers Regent Fit Pineapple Print Short-Sleeve Sport Shirt, $52, BrooksBrothers.com
The varsity sweater
Cardigans have taken a backseat in men's fashion over the past few years, but a revamping of the varsity sweater (this one, from Nautica) in a tailored version is going to change all of that! Seen in both pullover and button-up forms, it looks great in business-casual settings or paired with a crisp button-up or pique polo shirt on the weekend. Wear it as the epitome of casual with an ultra-soft T-shirt and jeans.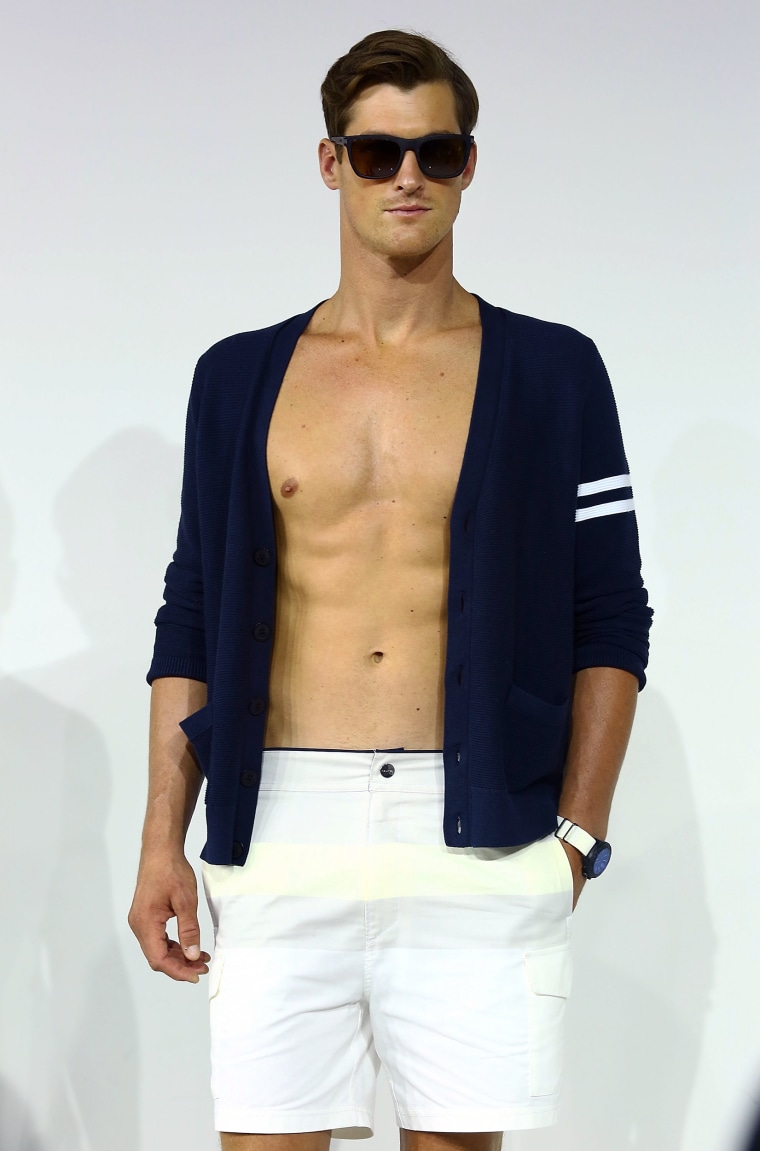 Shop the look:
Lands' End Men's Cotton Varsity Cardigan, $69.99, LandsEnd.com
Abercrombie & Fitch Sawteeth Mountain Sweater, $27.20, Abercrombie.com
Anything and everything navy
Is navy the new black? It's a distinct possibility since the hue heavily saturated the runways (seen here at Michael Kors). The trickiest part of wearing navy is matching it with the right footwear. For a head-to-toe navy suit, go with a deep chocolate brown or charcoal grey shoe color; for softer navy, that has a pop of blue, a pair of contrasting black shoes will work well.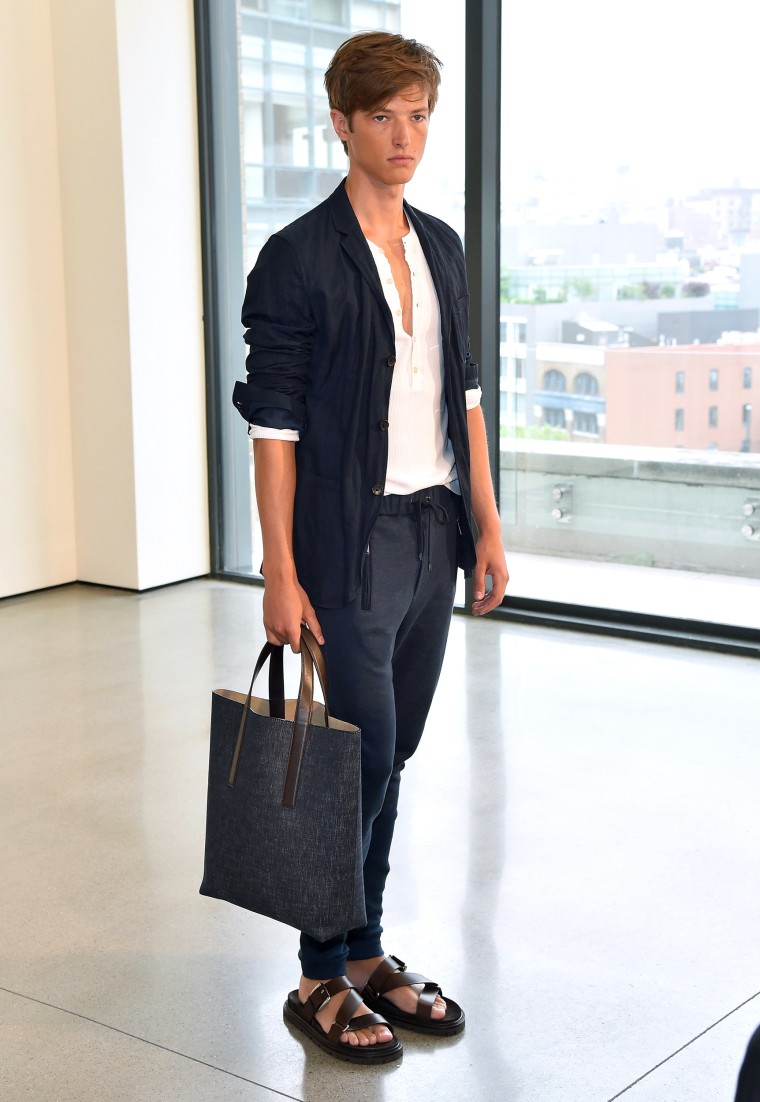 Shop the look:
Ted Baker Thame Spotted Print Shirt, $88, TedBaker.com
The sack pant
Guys who never quite got used to a skinny pant will rejoice in the return of the wide-leg trouser. Seen here on the runway at Duckie Brown, a wider leg looks great with a roomier top. Find a slouchier-fit shirt to create the ultimate relaxed look.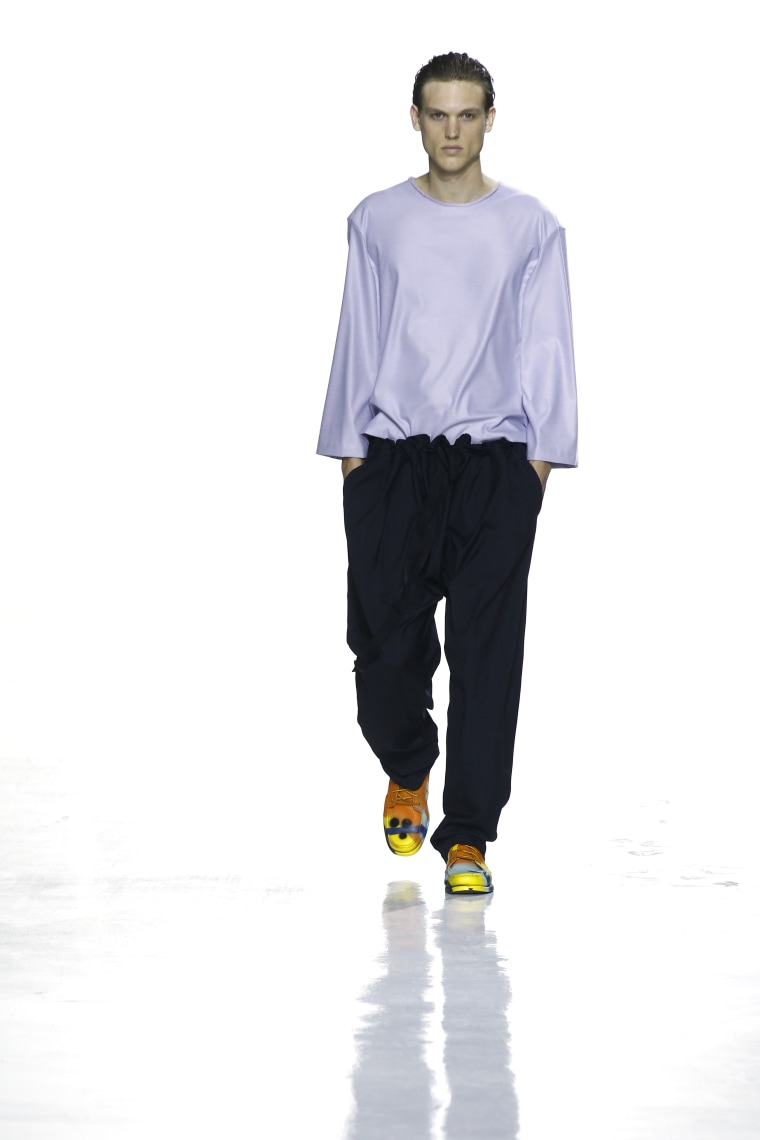 Shop the look:
Gap Lived-in Relaxed Khaki, $60, Gap.com
The bomber jacket
Move over motorcycle, there's a new jacket in town! Practically every designer at New York Fashion Week: Men's showed a version of the bomber jacket in materials as far ranging as waxed nylon and silk to linen, leather and even some animal print accents. To keep the look sleek and streamlined, pair the outerwear with more tapered, fitted layers underneath. Depending on the material of the bomber jacket, you could easily convert it to more formal settings or wear it year round.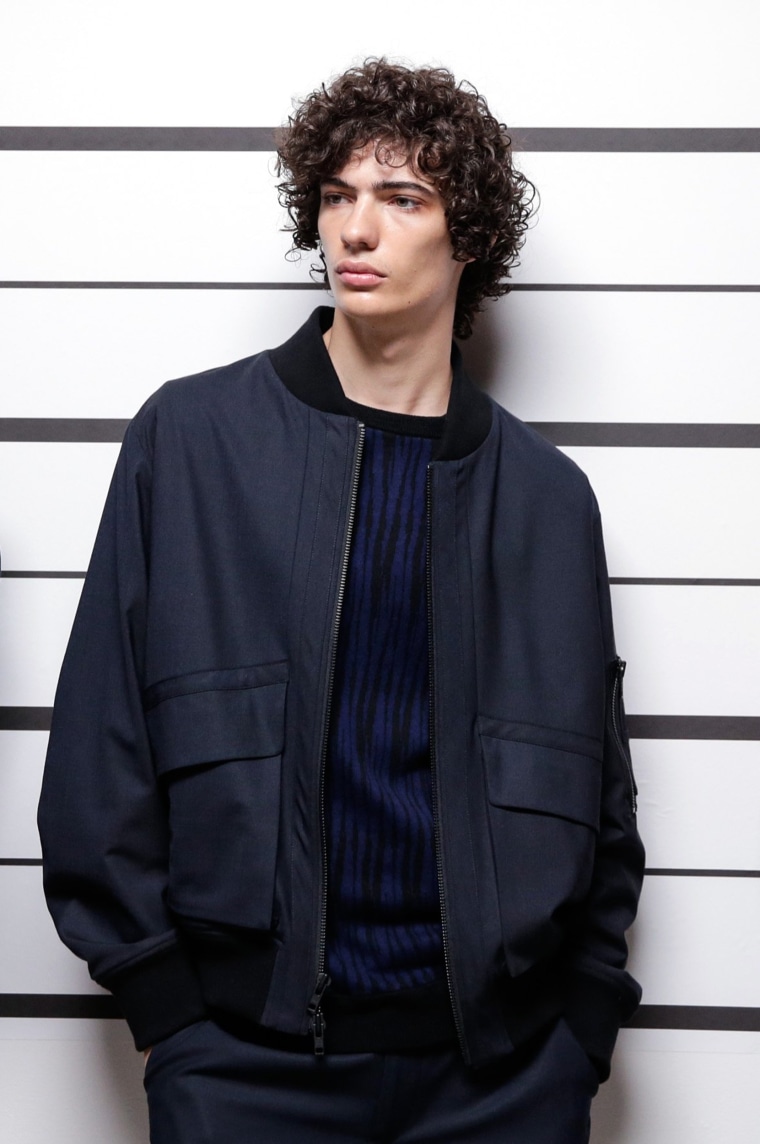 Shop the look:
Your Neighbors Marius Lightweight Bomber Jacket, $79, UrbanOutfitters.com
Topman Cotton Bomber Jacket, 80, Nordstrom.com
The white linen suit
It may feel retro in a very Don Johnson-in-"Miami-Vice" way, but there's no denying that the white linen blazer, and even the full white linen suit, has been revived (seen here at Tommy Hilfiger). Some shows channeled the popular '80s pairing of a bright T-shirt or Henley underneath for the ultimate dressy-meets-casual appeal. For a summer suit, stick to a structured fit and match with lighter colors and seasonal fabrics.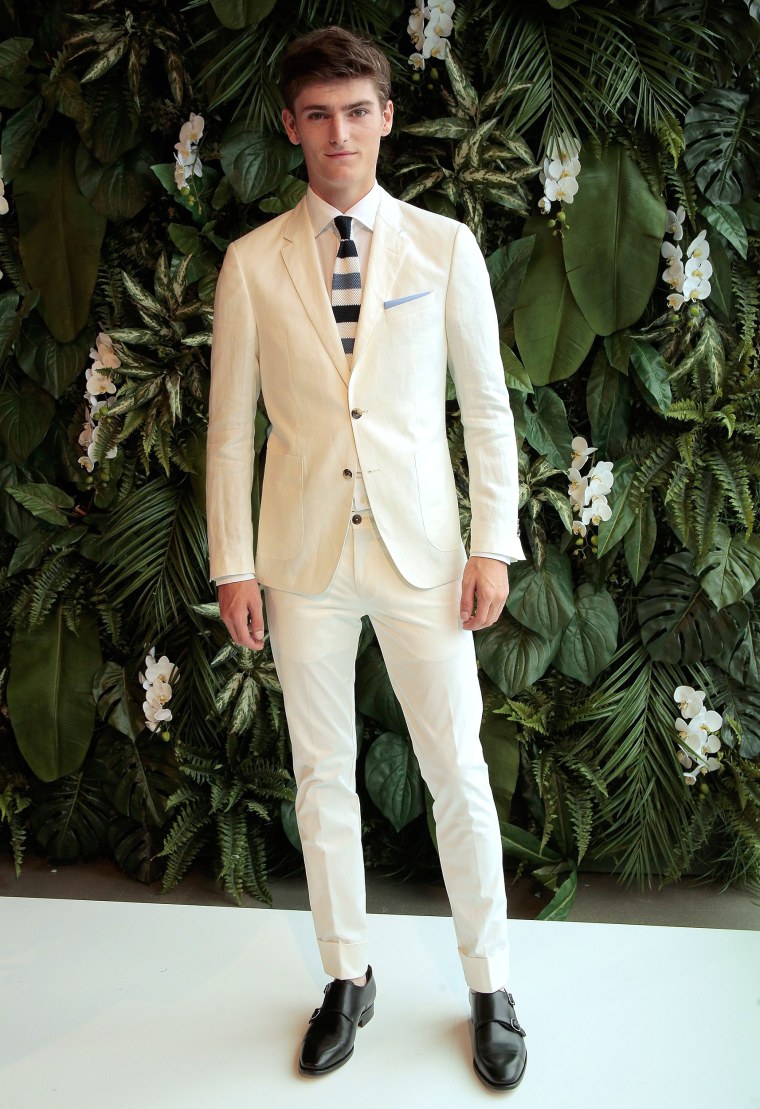 Shop the look:
Stafford Linen Cotton Suit Sport Coat, $60, JCPenny.com
Julia DiNardo is a fashion and beauty expert residing in New York City who pens the blog Fashion Pulse Daily. Follow her on Instagram, Twitter, and Pinterest.