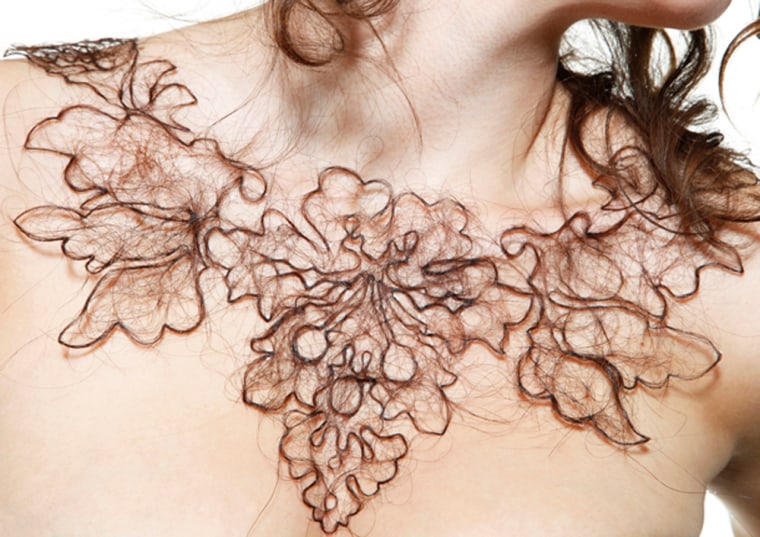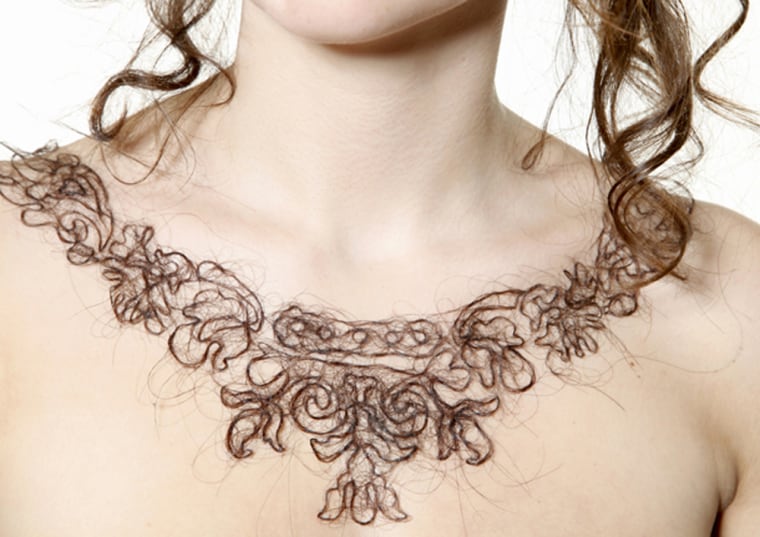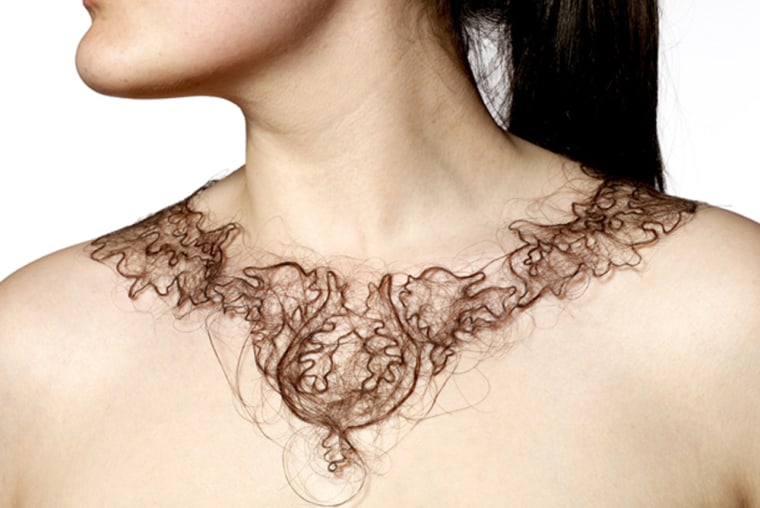 By Brooke Lea Foster
Next time you get your hair cut, you might ask the shampoo girl to sweep up the trimmings and pack them in Ziploc bag, so you can mail them to Kerry Howley.
The 23-year-old Middlesex University art student makes necklaces from human hair. Yes, hair.
Her work is causing quite a stir in the art world. She was recently awarded the Museum of Domestic Design and Architecture's Arthur Silver Award, and her work has been exhibited at the Business Design Center in London, where she lives.
Howley was inspired to create the necklaces when she thought about how much importance we all put on our hair – until it gets cut. Once we're no longer connected to the hair, we see it as unclean, a little gross even. Think: Stray hairs in the bathroom sink or clumped in the shower drain, a tangle of it in your hairbrush.
"I wanted to see if I could make discarded hair attractive again," she writes on Arts Thread about her project. She calls her controversial collection: "Attraction/Aversion."
As you can imagine, working with hair takes a lot of patience, since it takes over 60 hours to create each necklace. It's not the artist's own hair; Howley's mother's friend, a Japanese woman with hair hanging down to her waist, donated 30 centimeters of her hair when she recently got it cut.
Then Howley went to work. She used broken saw blades to separate and weave the hair into Damask wallpaper patterns and abstract designs. If you didn't know the ornate necklaces were made of hair, you might actually think that they're kind of pretty.
But let's be frank: We can't stand the feel of our own hair on our neck. Who would want someone else's?
I'm feeling itchy already. 
Hair today, bling tomorrow: It's jewelry made from cat fur
Will Hilary Clinton bring back the scrunchie?
Forget pigtails: Braid trend is all about glamour