What would you do if your hair dryer burst into flames?
That's the terrifying experience Erika Augthun Shoolbred had recently when she tried out a new hair dryer for the first time. Soon after she switched it on, the dryer began to smoke. Before long, flames were shooting out of the nozzle.
"Talk about a bad hair day! My new hair dryer (more like hair fryer) from OraCorp on Amazon.com became a blowtorch on its first use this morning," Shoolbred wrote in a Facebook post about the incident, alongside footage of the blazing appliance.
Shoolbred says she sustained a small burn on her hand while unplugging the dryer, but other than that was not injured.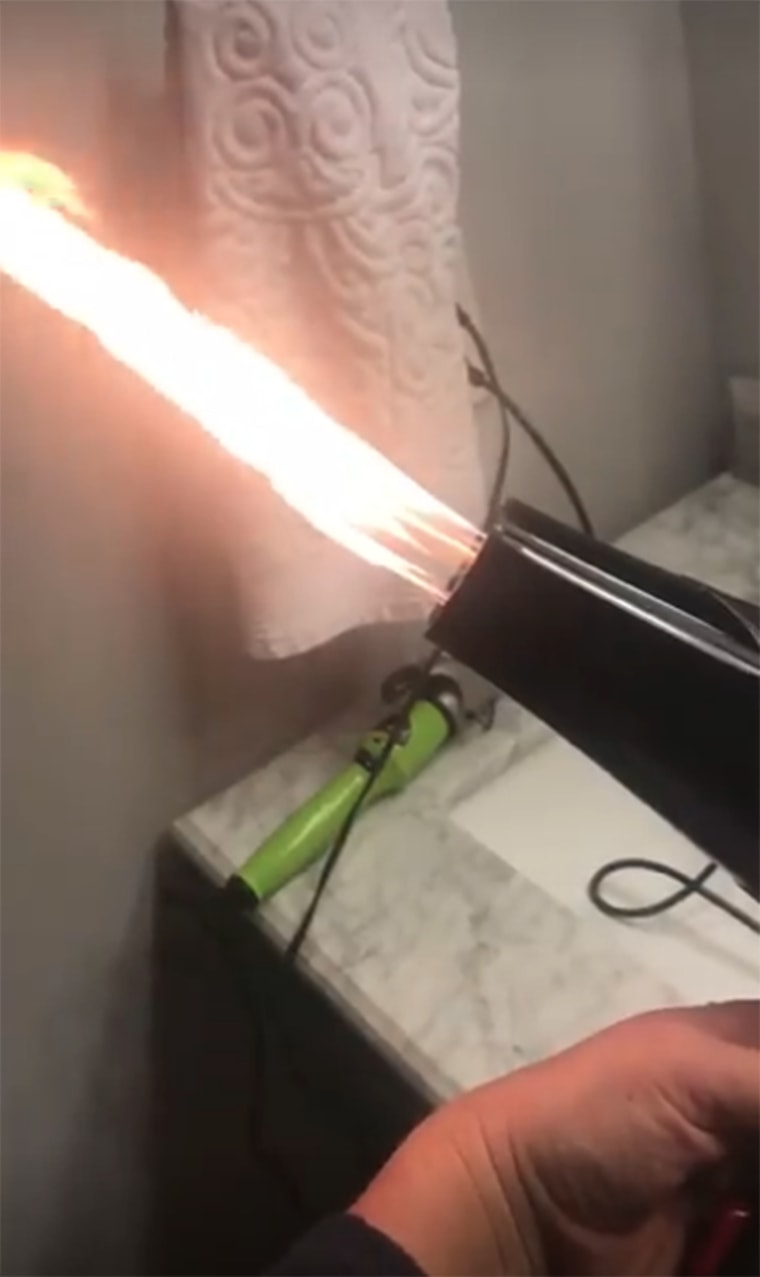 "I'm so fortunate the dryer was pointing away from me, and my 5-year-old daughter was not getting ready with me that morning," she told TODAY Style in an email. "It could have been horrific."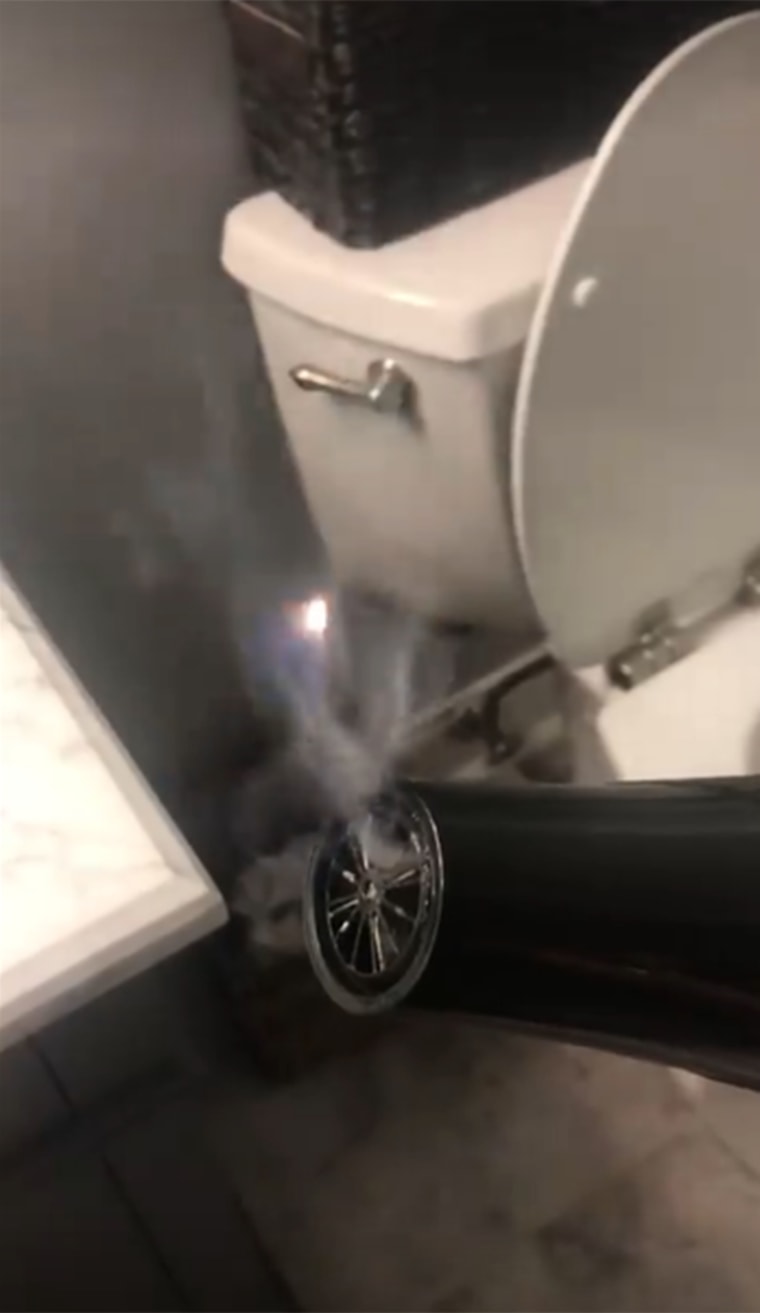 Shoolbred ordered the dryer, which she says was marketed as salon grade, from a third-party seller on Amazon called OraCorp. After she reported the incident, Amazon offered her a full refund.
An Amazon spokesperson confirmed to TODAY Style that the hair dryer in question is no longer available on the site.
Shoolbred tried reaching out directly to OraCorp, which does not appear to have a company website apart from their Amazon seller page, but with no luck. TODAY Style also reached out to OraCorp for comment but has not heard back.
While you don't often see a hair dryer shooting out such dramatic flames, stories of burning dryers are nothing new. Several people commented on Shoolbred's original Facebook post to share their own horror stories with smoking or flaming styling tools.
"My hair dryer started shooting sparks at me and had a mini flame on one of the heating elements," one woman wrote.
"I've had two blow dryers blow up on me now," another commenter said.
"I had the same thing happen to me from a hair dryer I bought from Amazon. Mine was about a year old," yet another commenter shared.
Hair dryer safety tips
That raises the question: What should you do if your hair dryer starts sparking, smoking or shooting flames?
"The first thing you should do is unplug it," Thomas Olshanski, a spokesperson for the United States Fire Administration, told TODAY Style. "A lot of electrical appliances lose their energy and won't support continual burning once they're de-energized."
After you've unplugged it, Olshanski says, set the dryer in the sink or anywhere it's safely away from combustible materials such as wooden cupboards or paper towels.
One thing you should never, ever do? Attempt to put the fire out with water.
"You're dealing with electricity," Olshanski said. "Obviously throwing water or dipping it in water would be incredibly bad."
And if the flaming hair dryer sets something else on fire before you're able to unplug it, don't try to put the blaze out yourself, he says. Get everyone out of the house and call 911.
Of course, nobody wants to deal with this kind of emergency, and there are some steps you can take to prevent hair dryer fires to begin with.
First, only buy dryers from reputable retailers, recommends Brett Brenner, the president of the Electrical Safety Foundation International.
"Make sure you're paying the average market price," he told TODAY Style. "If the price is too good to be true, it probably is."
Second, check the dryer for safety certification marks, which indicate that it has been independently tested against rigorous fire and electrical safety standards. Common safety certification marks include UL (Underwriters Laboratories), ETL (Intertek) and CSA (Canadian Standards).
Also, older dryers can present more of a fire hazard due to worn-out cords or malfunctioning parts. Does your old hair dryer smell weird or repeatedly blow out a fuse when you turn it on? It's time to stop using it and get a new one, Brenner says.
Finally, be sure to keep the vent in the back of the dryer clear of lint, hair and other debris, because those can pose a serious fire risk.
Choosing a quality hair dryer
To avoid fire hazards, it's worth investing in a quality hair dryer to begin with. Celebrity hairstylist Ryan Richman, whose clients include Sarah Hyland and Hilary Duff, gave TODAY Style some blow dryer-shopping tips.
For one thing, hotter isn't always better. Professional blow dryer wattages can soar above 3,000 watts, but Richman says a dryer in the 1300 to 1875 watt range is ideal for the average home user.
Also, know the difference between ionic, ceramic and tourmaline dryers. Ionic dryers are great for quick drying because they break down water molecules on the hair, but it's easy to over-dry your hair with these high-powered models, Richman says. Ceramic dryers provide more even heat distribution and are much gentler on the hair, while tourmaline ones help repair hair and maintain shine and softness.
Finally, try not to go for the absolute cheapest dryer on the market.
"Stay within your budget but invest in a quality product and a brand name," Richman told TODAY Style in an email. "In my opinion you get what you pay for. When you're using hot tools near your hair and skin you want something safe first."