/ Source: TODAY Contributor
Jessica Reed and John Pyle wanted a simple, private wedding that was just about them. They chose a meaningful wedding date, Jan. 22, exactly one year after their relationship began with conversations that came easily and naturally, as if they had always known each other.
Although a major snowstorm bore down on Nashville, Tennessee on their special day, the couple were undeterred and stuck to their plan to marry outdoors.
As the wind whipped and falling snow dampened her flowing hair and his bushy beard, Reed and Pyle were married atop the John Seigenthaler Pedestrian Bridge Friday afternoon. The boot-clad bride and groom trudged through about 6 inches of snow to become husband and wife while overlooking the city they love.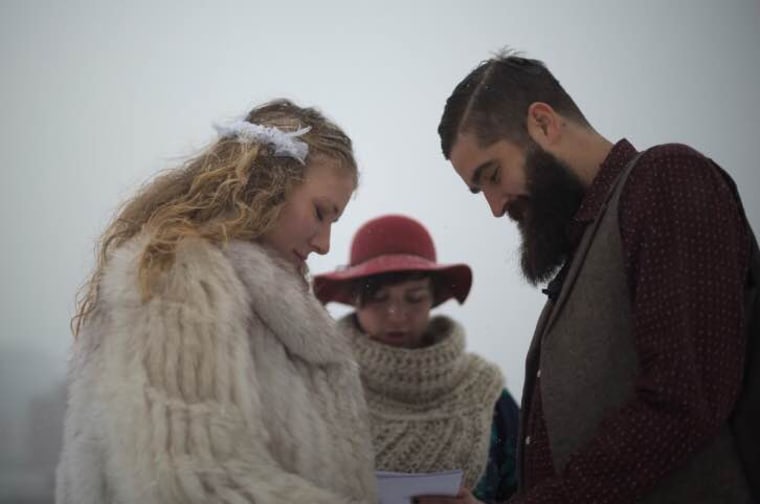 "Some people like normal and they like traditional and they like doing things that are by the book," the groom, 31, told TODAY. "That's not Jess and I.
"When the forecast said snow, it said snow, and we said, 'You know what? This is who we are. This is what we're going to do,'" he added. "We went up on that bridge and did what we said we were going to do. We got married, no ifs, ands or buts about it. It was going to happen."
Cold hands aside, the bride, also 31, called it a storybook wedding.
"Even with all the chaos and the weather, it was just us," she said. "It was just pure joy and happiness and love. We finally we did it. We made it. At the end of the day, we just wanted to start the next adventure of our lives."
"Adding the snow to the mix and the blizzard just kind of held true to our adventurous spirit," she added.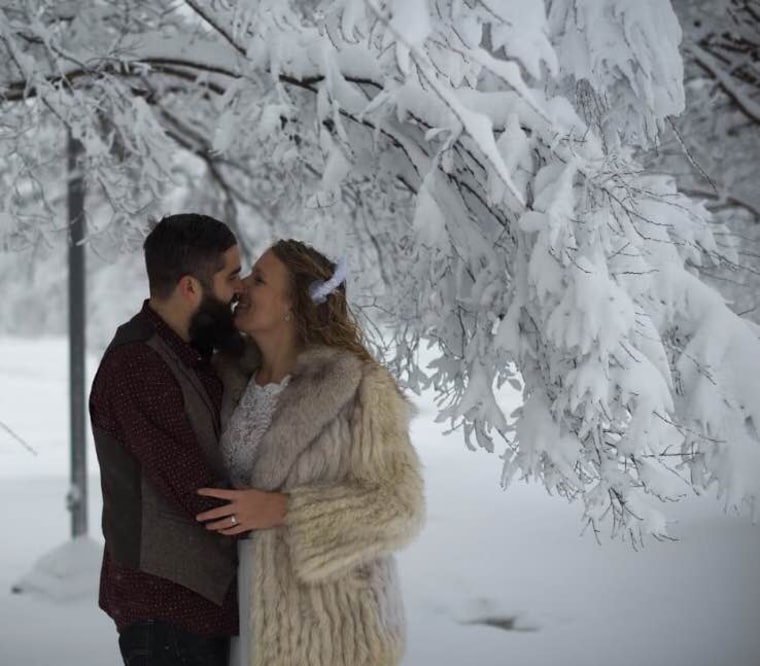 And it provided a gorgeous, natural backdrop for photos and memories they will cherish.
"Everything was beautiful," said Reed, who wore leggings and leg warmers under her dress. "It was magical, like a winter wonderland."
There were concerns about weather earlier in the day. But after Pyle made it home from work in the snow, the couple decided to stick to their plans. Reed, however, realized how cold she would be in her sleeveless dress, purchased less than a week earlier at a department store.
"I really wasn't excited to wear a North Face jacket up there," she explained. "I said it would be really awesome if I had a fur coat."
The stores were closed, and Pyle decided to make a long-shot request on a neighborhood Facebook page for a fur coat to borrow. He ended the request with the hashtag #thisweddingishappening. The couple were overwhelmed as dozens of offers came in, and word of their wedding spread.
A woman they had never met offered a short, light-colored fox coat, and after hearing about its origins, they took her up on her offer. The coat was described as a wedding gift to a woman who went on to be married for more than 50 years.
Reed took it as a sign of fate and good luck. "It fit like a glove," she said, adding that the woman also gave her a sixpence to put in one of her riding boots for extra luck. "It just kind of made that much more romance to the story."
With the warm coat in tow, they went to the bridge, where Pyle's longtime friend, Callie Ann Starkey, officiated and his brother, David Pyle, took photos.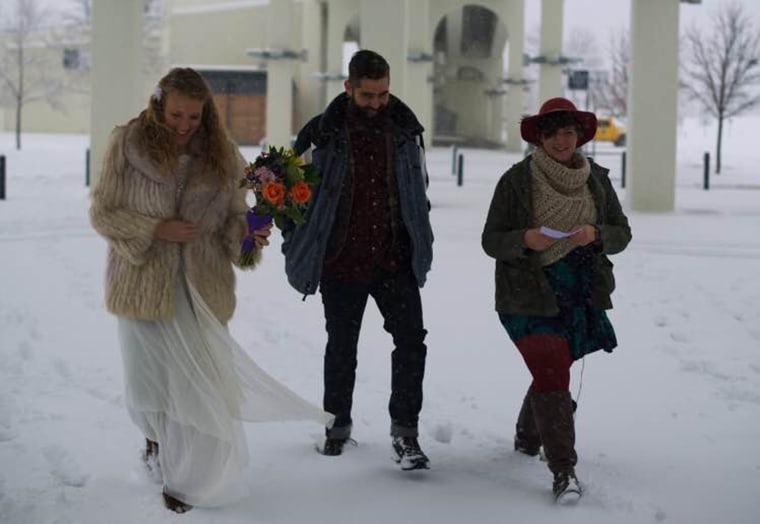 Through Pyle's Facebook post, the media learned of the wedding and covered the nuptials, turning what was supposed to be just the four of them into something much bigger. One couple who saw the Facebook post even walked through the snow to attend, Champagne and cups in tow.
The newlyweds say they wouldn't change their wedding for anything. It was the perfect way to celebrate the whirlwind year since they met on Tinder and began talking on the phone and exchanging texts.
"I will never forget the day we sent the first text message," Pyle said. "And I won't ever forget our wedding day."
TODAY.com contributor Lisa A. Flam is a news and lifestyles reporter in New York. Follow her on Twitter: @lisaflam