Winter hats are a great way to keep warm and look stylish when it's cold as heck outside, but they can seriously cramp your hair game. Think about it: When was the last time you didn't experience major static electricity or flat hat hair after taking your winter hat off? And when have you ever been able to rock a hat and a ponytail simultaneously without looking like a Conehead?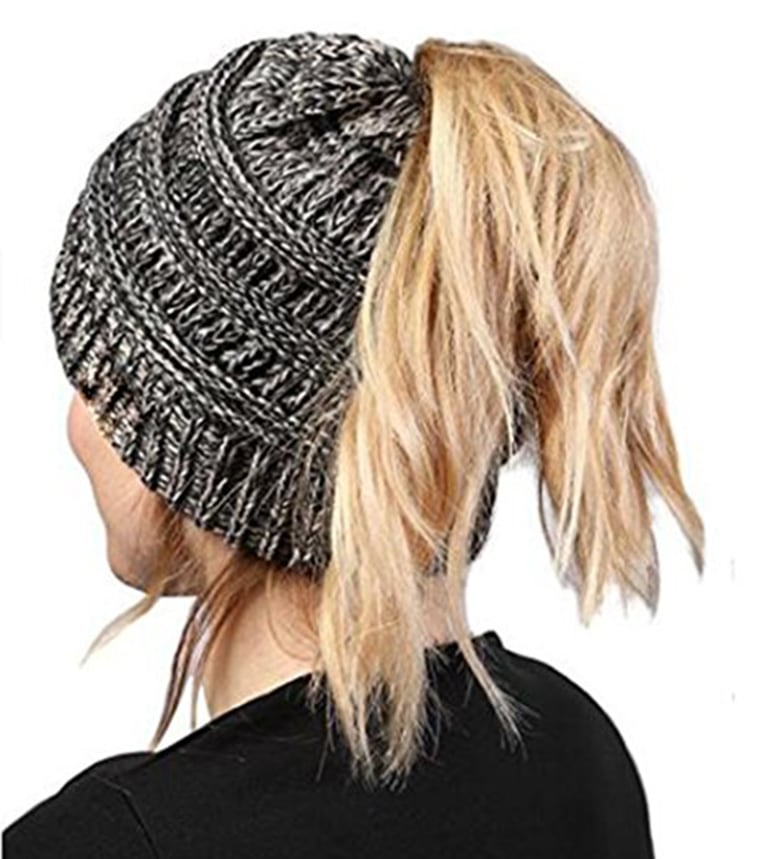 Ponytail lovers everywhere often forego their favorite style during the winter months for this very reason, but it turns out you don't have to anymore. This high bun ponytail hat from Mazdom features a stretchy whole for you to pull your ponytail through, so you can look chic and stay warm at the same time. Genius, right?
The hat is a pretty brilliant solution for those of us going through ponytail withdrawals this winter, and the beanie style works for both high buns and ponytails. Made of a soft, stretchable knitted fabric, the hat also features a warm fleece lining to keep you nice and toasty while braving the elements.
Shoppers on Amazon appear to be big fans of the $11 hat, earning the smart solution a rating of five stars. One customer praised the smart design, writing: "Very comfortable, high quality knit cap. Covers my ears and has plenty of room to cover my hair worn in a high bun. Very warm."
Another echoed the excitement, writing: "I absolutely love wearing this hat!! It's warm and is not tight on my head, fits very comfortably!"
Comfort and style? Sounds like the best of both worlds to us!
For more warm weather gear, check out our list of kid-approved winter outfits, the boots that all the celebrities at Sundance are wearing, and the ultra-warm gloves one editor won't take off.