Stiletto sufferers, rejoice — heels are coming down a notch.
Take a walk around New York City's hottest shoe departments and you'll quickly notice: Mid-height heels are back in a big way. At Saks Fifth Avenue, 1- to 2-inch heels are everywhere — from big designers like Valentino, Givenchy and Pierre Hardy.
"We are definitely carrying more and more of this heel height, in all silhouettes, in prints, in different patterns, studs, no studs, exotic details," Elizabeth Kanfer, Saks' senior fashion director of accessories, told TODAY's Savannah Guthrie.
Unfortunately for many women's feet, mid-sized "kitten heels" have enjoyed only short pockets of popularity since their heyday in the 1960s.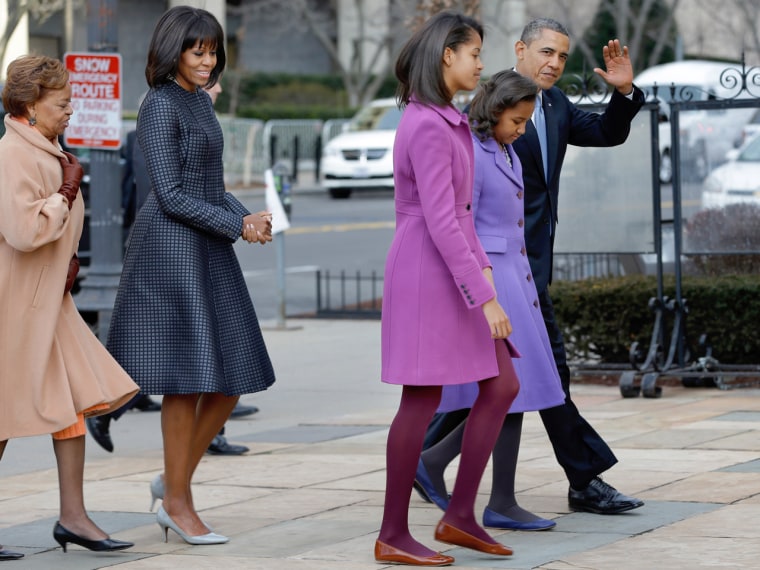 Could the first lady be the woman to thank for their resurgence? Michelle Obama has noticeably made kitten heels a staple of her wardrobe throughout her husband's presidency. She wore a pair during the first half of January's Inauguration day — a sensible choice for all that standing — before changing into a higher-heel boot for the big ceremony.
Slideshow: Michelle Obama's effortless style
Women who are apprehensive about losing those giant heels shouldn't be — even a small heel has a big impact on your silhouette, according to The Guardian's fashion editor Jess Cartner-Morley. Shorter heels can do even more for your posture than too-high ones that throw you off balance, she notes.
So ladies, believe the hype — and enjoy it. As Wall Street Journal fashion director Meenal Mistry told TODAY, "Fashion trends aren't always realistic. But this one is sort of a win-win. People like the way it looks, but it's also practical and comfortable."