While award shows officially kick off with the Emmy's in August, the Oscars are the Super Bowl of fashion — marking the end of awards season with one big bang. And even if there's been a fumble or two along the way, the Academy Awards red carpet is where it all counts. Amongst a stream of strapless goddess gowns and a few fashion-forward hits, I was pleased to see variety at this end-of-season event, as celebs expressed themselves in dresses that summed up their style best.
Cate Blanchett: A+
Always a style statement and a personal red-carpet favorite, Cate keeps things fresh with unexpected back details, necklines, cut-outs, colors or unique jewelry. She was the epitome of elegance in a one-shoulder, embellished crystal mesh silver dress from Armani Prive. She gets a plus for the Lorraine Schwartz earrings, which crept halfway up her ears like little diamond "ear jackets" to complete her fashion-forward look.
Penelope Cruz: A
This was the most well-rounded red carpet look. Although the star made a soft-spoken entrance delicately lifting her feather-like shredded train, all eyes were on Penelope. The evening's blushing princess had arrived. From the figure-flattering Atelier Versace gown only worthy of the Oscars to her pinned-back hair and vintage-like Chopard earrings, Penelope pulled it all together perfectly.
Reese Witherspoon: AReese has officially shed her old skin, and the newly single mother is sleeker, stronger and sexier than ever. In her third strapless gown designed by Olivier Theyskens for Nina Ricci, she glowed in a deep eggplant tiered design that twisted her petite frame a few extra inches. A far cry from the frilly sweet vintage frocks she usually favors. Reese proves she's not afraid to try new things. Bravo!
Helen Mirren: A
Wearing her "dream dress" by Christian Lacroix, Helen was truly comfortable in her own skin — and it showed. It was one of those rare red carpet moments when the dress and its owner become one. She exuded pure joy and floated down the red carpet in the floral print lace embellished dress. A true joy to watch as she entered the awards to claim her crown as queen of the night.
Nicole Kidman: A–
The lady in red. The long and lean Aussie beauty oozed drama in a lipstick red Balenciaga gown. A bold choice, considering the negative reaction to Charlize Theron's big bow on last year's Oscar carpet. But she made it her own, and it absolutely worked. A softer construction, placed slightly further back, and paired with silky straight hair — the design hit a high note on her tall frame. Simple, yet striking.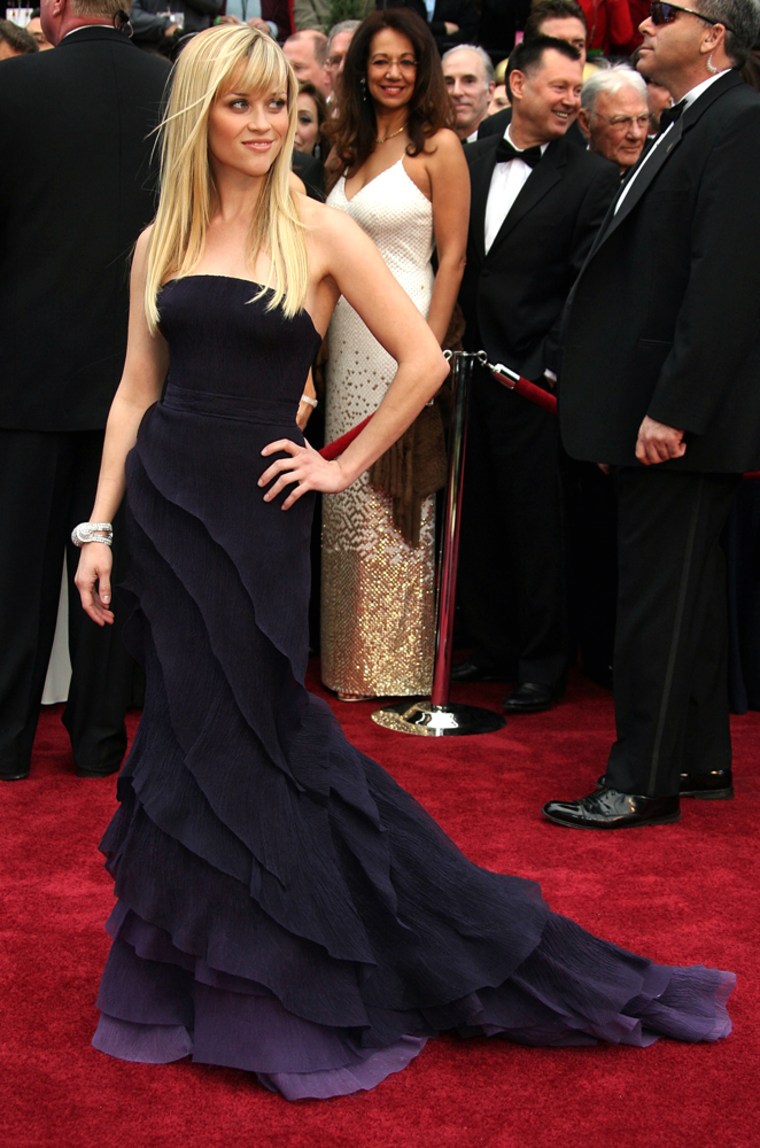 Queen Latifah: B+In a basic black, Queen Latifah was far from boring, wearing Carmen Marc Valvo for the second time down the Oscar catwalk. The star was streamlined, elegant and classic — clearly comfortable and confident. In a sea of pressure to be thin, Latifah proves you don't have to be a "sample size" to stand out.
Jennifer Lopez: B+With her bejeweled neckline, tucked-under hair and empire waist, Jennifer managed to stay true to her roots in a Marchesa gown that was sweet and spicy at the same time. Lopez constantly excels at achieving a balance between flashy and dramatic, yet soft and classy.
Rinko Kikuchi: BThis young star took a risk at the Globes, but was statuesque at the Oscars in a slinky, strapless, sequined fishtail haute couture dress from Chanel. Most importantly, I like that Rinko stayed loyal to Chanel, despite previous criticism and urging to opt for something different. The star stuck to her instincts and it paid off!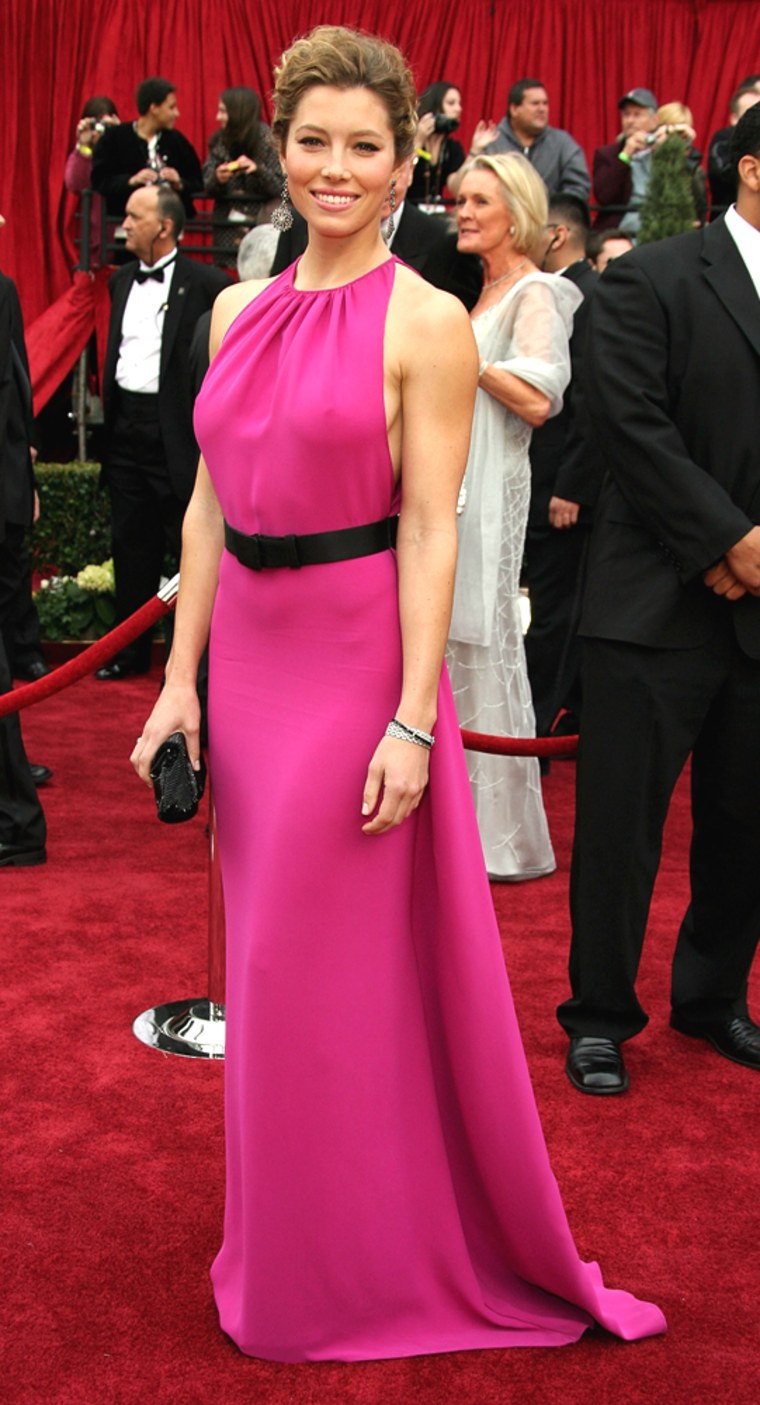 Cameron Diaz: B-
In a fun and flirty fishtail dress by Valentino, Cameron topped off the white trend that we've seen appear over and over again on the red carpet this season. While she may be the ultimate jeans and t-shirt girl, on the red carpet she is a fan of fashion, and will unapologetically try dresses that are hard for others to wear. She's not afraid to take an "editorial" piece and work it her way. Having shopped with her myself, I can tell you that she loves up-and-coming contemporary designers, and even sits front row at their fashion shows, like Rag & Bone.
Jessica Biel: B-
While it was gorgeous, unfortunately this fuchsia Oscar de la Renta gown literally competed with the red carpet, but I can tell you it looks stunning against a black and white backdrop (like at the Oscar de la Renta runway show, where I sat front row watching it stroll by). A sleek tight bun would have better suited the style, and the big bold earrings from the runway would have balanced the sharp black belt.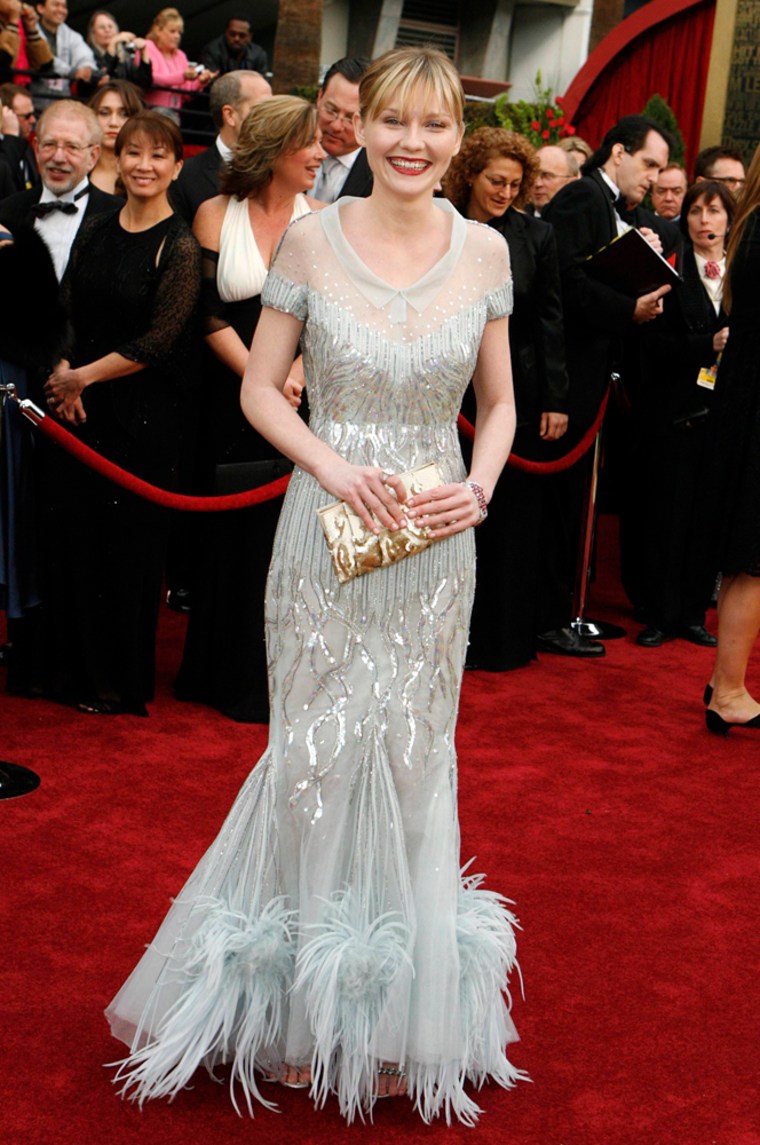 Rachel Weisz's beautiful face was lost as the vintage Cartier necklace and embellished bustline on her champagne Vera Wang dress battled for your attention. Sweet Anne Hathaway had too much sugar. The lace Valentino had not one, but two big bows, and the placement on her chest did not compliment her figure and distracted from her lovely face. Courtesy of Van Clef and Arpels, Anne added over 100 carats of diamonds, including pearl drop earrings and multiple diamond bangles, including one with yet, another bow. And while I openly admire Meryl Streep's mindset and "who cares" confidence, I'm such a fan of the "The Devil Wears Prada" that I would have loved to have seen one more glimpse of the character's sophisticated style. And while Meryl did don Prada, to be honest, it just didn't do her regal being justice.
Take note of these trends
Oscars spectators, let the stars guide you and their red carpet glam inspire. Learn some lessons from their awards show hits and misses, and try out these trends for your next night out:
Try sleek straight long locks or a flapper-like faux bobs

Find the perfect shade of red lipstick for your skintone

Make a statement in something metallic this year

Yes, go ahead and try a single shoulder strap, but don't over accessorize!

Or go strapless, leave your neck naked and dust on a little shimmer

It's time to search for those vintage style clip-on earrings

Lastly, stack on big bracelets and play with brooches