TODAY is throwing a wedding … and we need your help to make it happen!
America, you're voting on all of the details, which means planning Kaitlin and John's wedding at the Rainbow Room in New York City is totally up to you. Today, we're taking a look at three options for wedding welcome signs, all designed by Sheila Dodson-Wright, owner and lead designer at Tableau, a refined wedding design and papery studio she founded in 2008. Based in Northern Michigan, the firm's papery and custom details are available nationwide.
RELATED: Wedding gowns galore! Vote for your favorite dress and tux to win TODAY's Wedding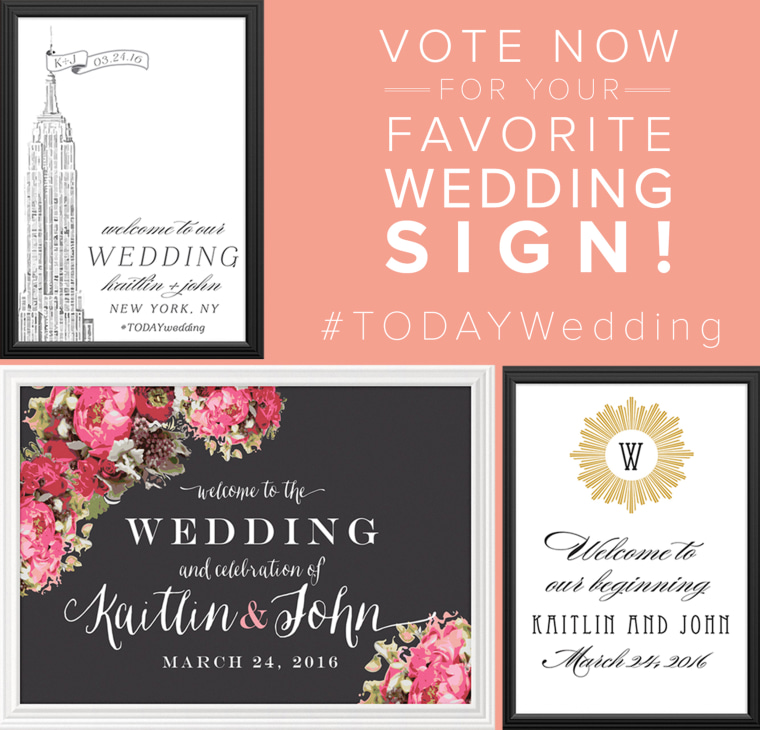 "A wedding sign is the first thing you see when you get to a wedding, so it's important that it represents the couple's personal style and what's true to them, as well as keeping things like location and venue in mind," Dodson-Wright told TODAY in a phone interview. "They're basically oversized poster boards that can be propped up on easels or displayed in other fun, prominent ways at the entrance of the event."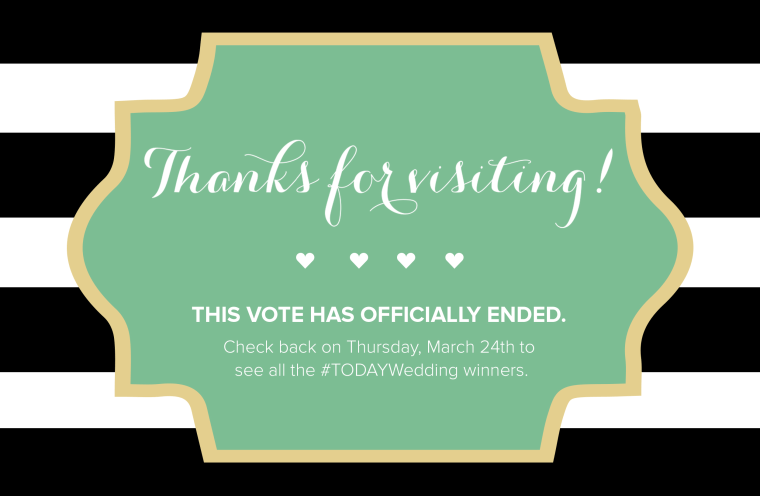 RELATED: America says 'I do!' Meet the winning couple of TODAY's Wedding
Tableau designed the following three signs specifically for Kaitlin and John's big day, and now it's up to you to vote on your favorite. Take a look, read a bit about the inspiration behind each board, and then make your voice heard using the poll above.
And be sure to tune in on March 24 to see which design makes it to the big day!
1. Location-inspired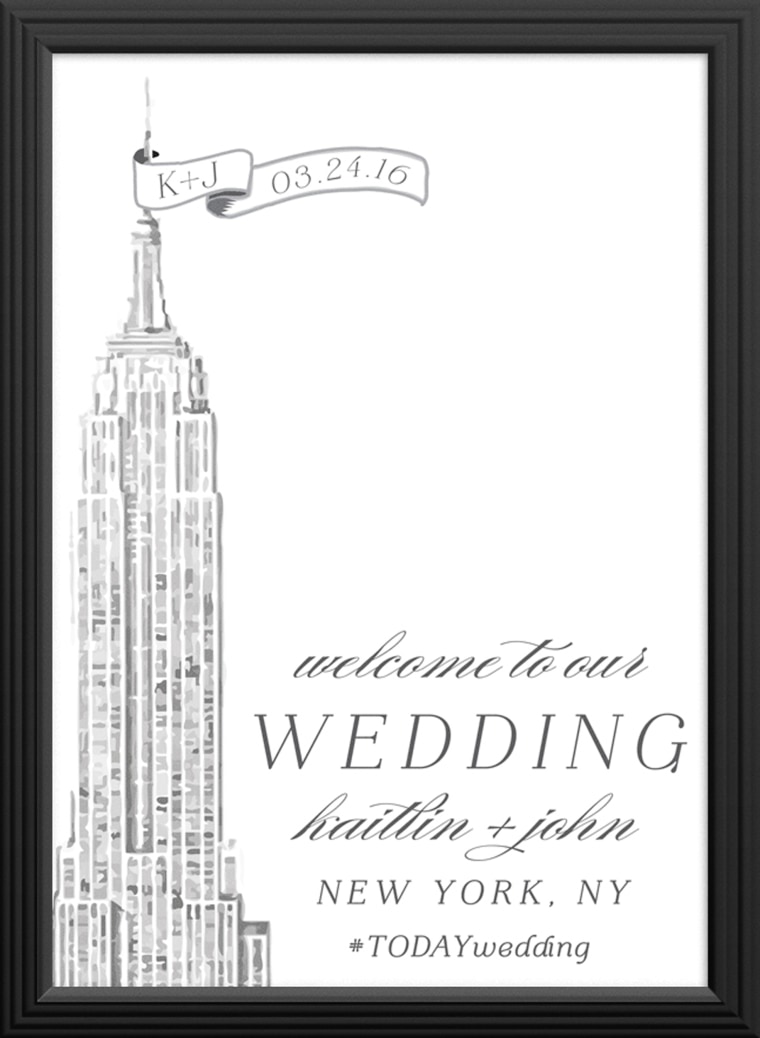 "This design is obviously inspired by the location of the wedding," said Dodson-Wright of the above design. "But to make it a bit more personal, we added the banner." A fun, semiformal script and hashtag inclusion brings this black-and-white, classic design into the 21st century.
Pin it!
2. Floral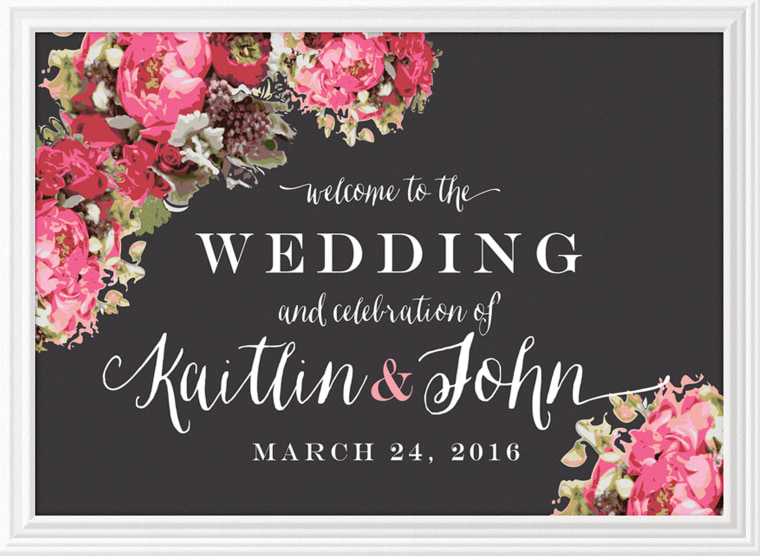 "I wanted to do something floral for them, because it's a romantic and time-tested option," commented Dodson-Wright. "But I also didn't want to make it too garden-y." The result is a metropolitan floral design that perfectly complements a city wedding.
RELATED: 'My Big Fat Greek Wedding 2' stars reunite and reminisce on TODAY
Pin it!
3. Art deco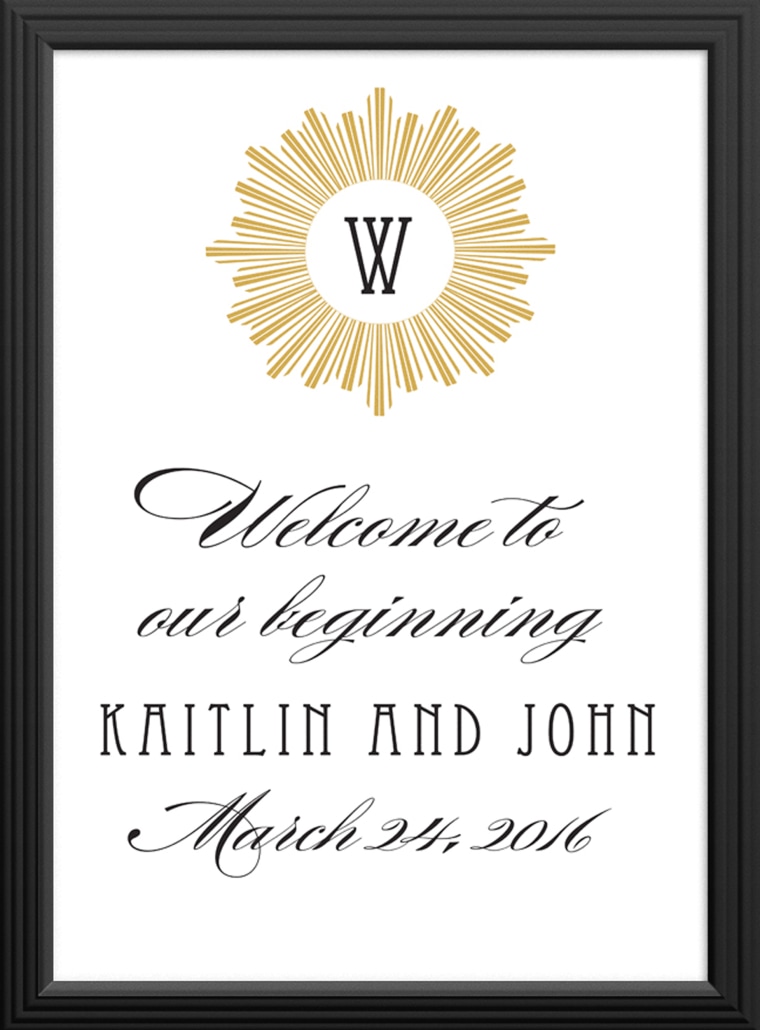 This design was inspired both by New York and the venue: the famous Rainbow Room. "I wanted to present them with a classic art deco vibe, and this one's actually one of our most popular signs," said Dodson-Wright. "It's classic, refined and has that historic vibe to it. I love the font. I really love everything about that one!"
Pin it!