When I first heard about a salon in Los Angeles that matches astrology readings to a custom manicure, I thought two things: First, how completely L.A. this is and second, I'm going immediately.
I heart all things nail art, all things ridiculous and, as an Aries, all things that have to do with me — this scenario is a dream come true!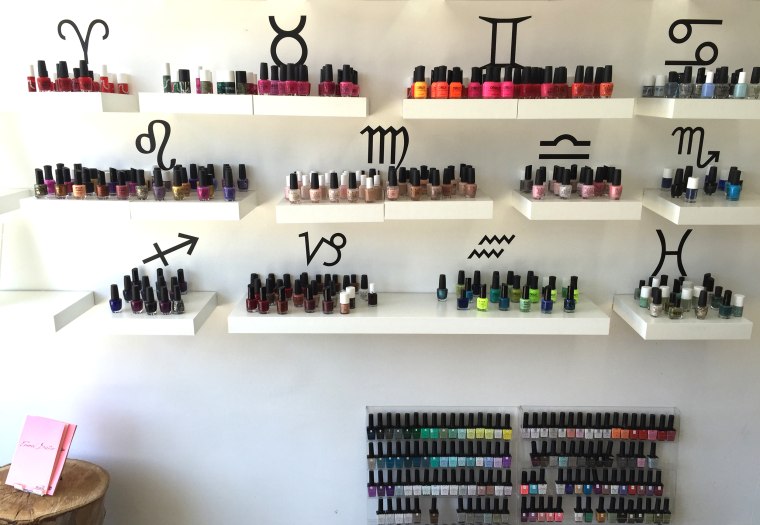 As to be expected with any buzzy beauty service, getting an appointment wasn't as easy as strolling in. I figured the extra few days would give me time to rally a friend to join me. I successfully recruited a Libra.
When you walk into Enamel Diction's salon, you'll notice it checks off every design trend you can dream up: neon signage, a Coco Chanel quote on the door, a succulent plant wall, natural wood furnishings, a rack of top-shelf fashion periodicals in lieu of the standard gossip rags, geometric-patterned wallpaper that reads like free-hand nail art, etc. In short, no Instagram-potential surface was overlooked. As nail salons go, this is one of the most visually pleasing I've seen in Los Angeles. I snapped a few photos and reminded myself to stay on track, digest the experience for the reading and manicure, not just the décor.
Rose Theodora, the resident color astrologer, greets me by name and offers a warm smile. Rose combines her experiences with meditation, yoga, neuroscience, art history and astronomy into her practice. Instead of seeming pretentious or too touchy-feely, Rose comes across as a kind and generous person you can't help but like immediately.
Rose directs me to the "color wall" where I'm asked to "explore polishes I'm drawn to," regardless of the astrological assignment located above each shelf. No surprise here, I land on what I'm already wearing on my toes: red. Located on the Aries shelf, my sun sign and current pedicure color are in perfect alignment. Not so with my grey fingernails, a color apparently preferred by Libras like my friend.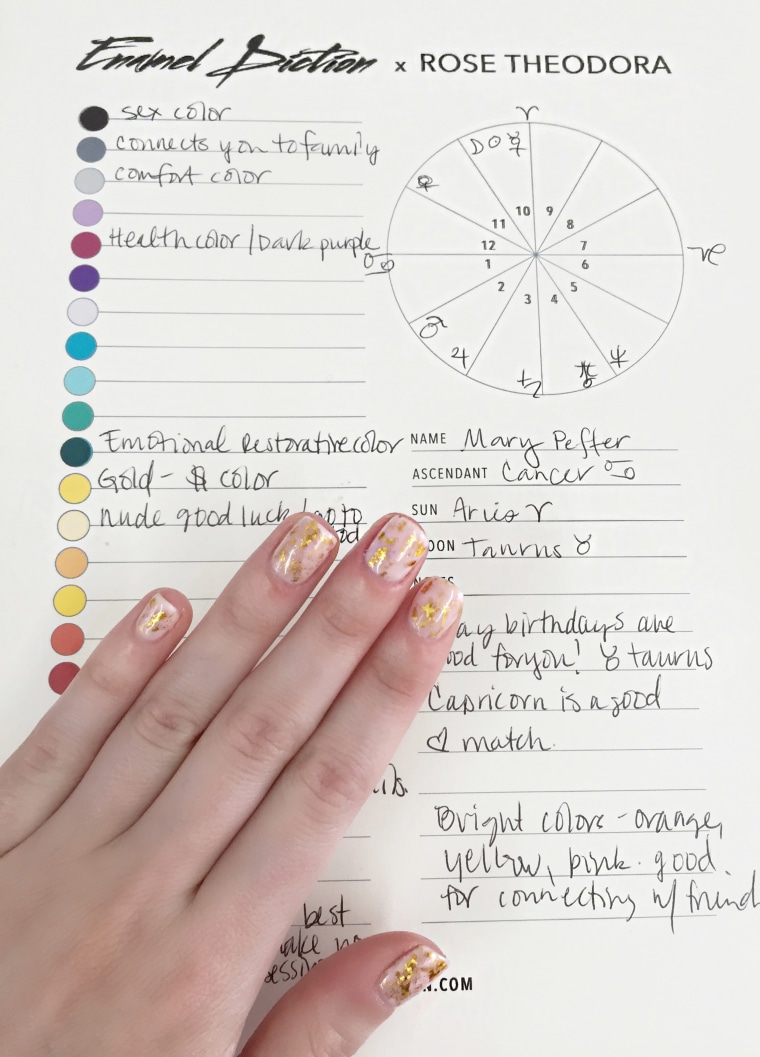 It's time for the reading, which takes place in the public waiting area in the front of the salon — not quite the private area one might hope for an intimate conversation. Somehow, however, you still feel quite comfortable. Rose enters my date and time of birth into an iPad and dives into the "color scope" for my unique reading. She determines that grey is my comfort color and red my go-to for partnerships and love — not that groundbreaking based on my previous information. But she then explains that while my sun sign is Aries, I should also begin referencing my rising sign Cancer. I'm confused about what this means exactly.
She explained that by providing the precise time of my birth, she is able to determine my ascendant sign — this is meant to provide greater accuracy in readings. Rose then assigned my nail art to a technician: nude base (for good luck) with gold leaf stamping (my personalized money color). I'm now on Day 3, and while the choice is admittedly outside of what I might have picked for myself, this manicure looks great and I'm glad I listened to her suggestion!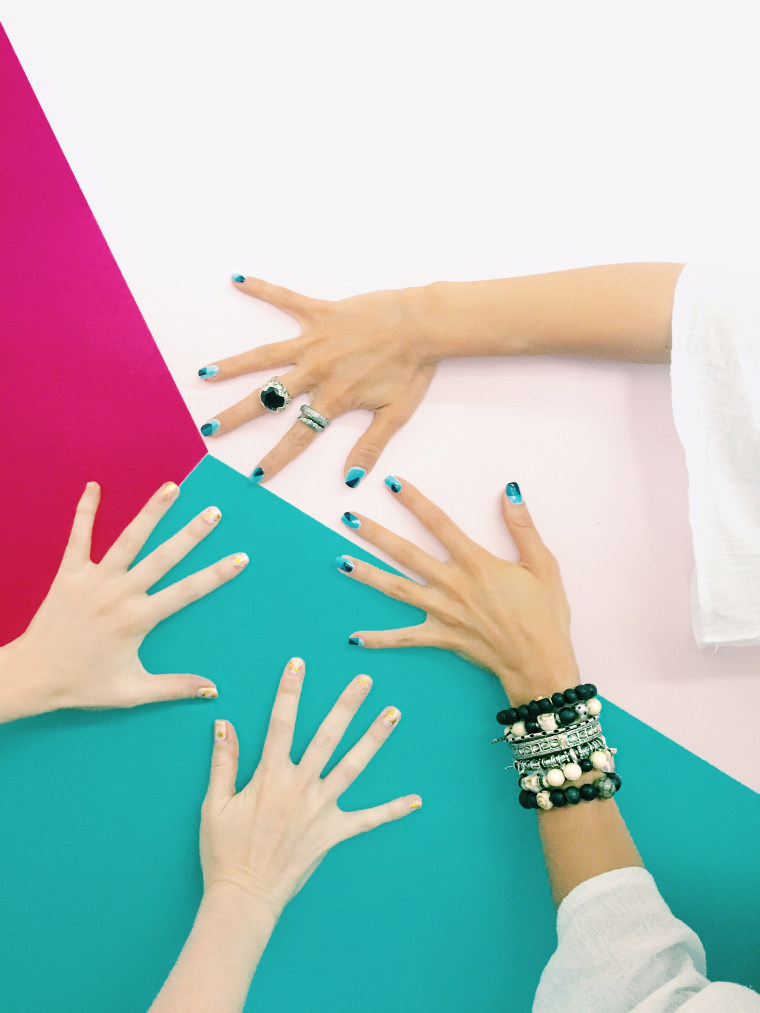 Will this reading give you the life answers you've been searching for? I'm afraid not. And the salon itself is in need of some logistical polishing (in a group of three, we were all charged different amounts for the exact same service), but these all seem like growing pains of a new business.
The truth is, the experience was just fun! Rose's personalized color reading was the perfect addition to a girl's day of pampering.
To book an appointment at Enamel Diction or find your free weekly color scope, their website.
Follow Mary on Twitter and Instagram @marypeffer.