"Helmet hair" took on a whole new meaning at The Blonds Fall 2012 fashion show during New York Fashion Week Wednesday night.
The bold, fun design duo behind the line that celebrities love rolled out sexy models – clad in the brand's signature corsets – with Barbie-esque ponytail motorcycle helmets. (We're pretty sure they are not recommended for actual riding use.)
This time around, the body-hugging bodices were bursting with spiky crystals and draping chains whose inspiration came from a motorcycle adventure the two committed designers, Phillipe and David Blond, took during the past year. "It was a wild night out and I was wearing this corset, of course" said Phillipe. "And [David] was like, 'Let's go out on my dad's bike.' " So, it's partly about their relationship, which extends beyond the design room. Love, guys!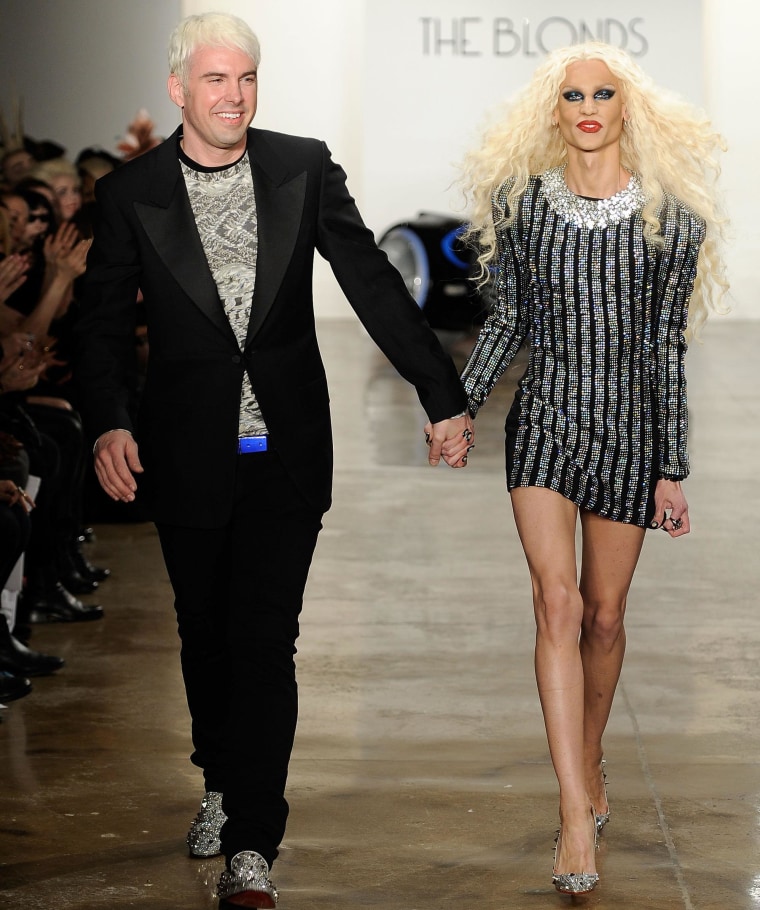 As for the menswear, it was somewhat based on their appreciation for "American Idol" star Adam Lambert, who was one of their first male clients and attended last night's show. "I think more men are looking for things that are different, they're looking for more options,"  said David. "Women have all the options, and men don't have any." (Cue the violins?)
"There's something happening with fashion for men right now," added Phillipe, noting that the boys are suddenly becoming "so popular" with the introduction of celebrity male models and designer male accessories. "There's a huge movement now – it's growth, and it's wonderful and it feels amazing."
The Blonds' custom-made creations take several weeks to produce for clients, who include fashion-forward celebrities with a penchant for wild, intricately-designed ensembles: Beyonce's corset in her "Upgrade U" video and Katy Perry's sparkly "Smurfs" dress, for instance. And of course, they've recently dressed  Lady Gaga, Lil' Kim and Nicki Minaj.
As for their wish list, they're holding out for an icon – Madonna – and a newbie, Lana Del Rey. "I'm obsessed," said Phillipe.
More: Slideshow: Best dresses on the runway