You've said yes to the dress and he's said yes to the tux, but that's not all you need in preparation for the big day.
Before the official walk down the aisle comes the rehearsal. And with a wedding to plan, figuring out what to wear to your rehearsal dinner can easily get pushed to the side and become stressful. But it certainly doesn't have to be.
RELATED: Heading to a weekend wedding? Try this minimalist packing hack
TODAY asked the experts for their best tips and tricks of the trade for dressing for a rehearsal dinner.
1. It's your time to shine.
"It's your party, you're the bride and you can whatever you want," said Julie Sabatino, founder of The Stylish Bride, a service that helps brides select the perfect dress.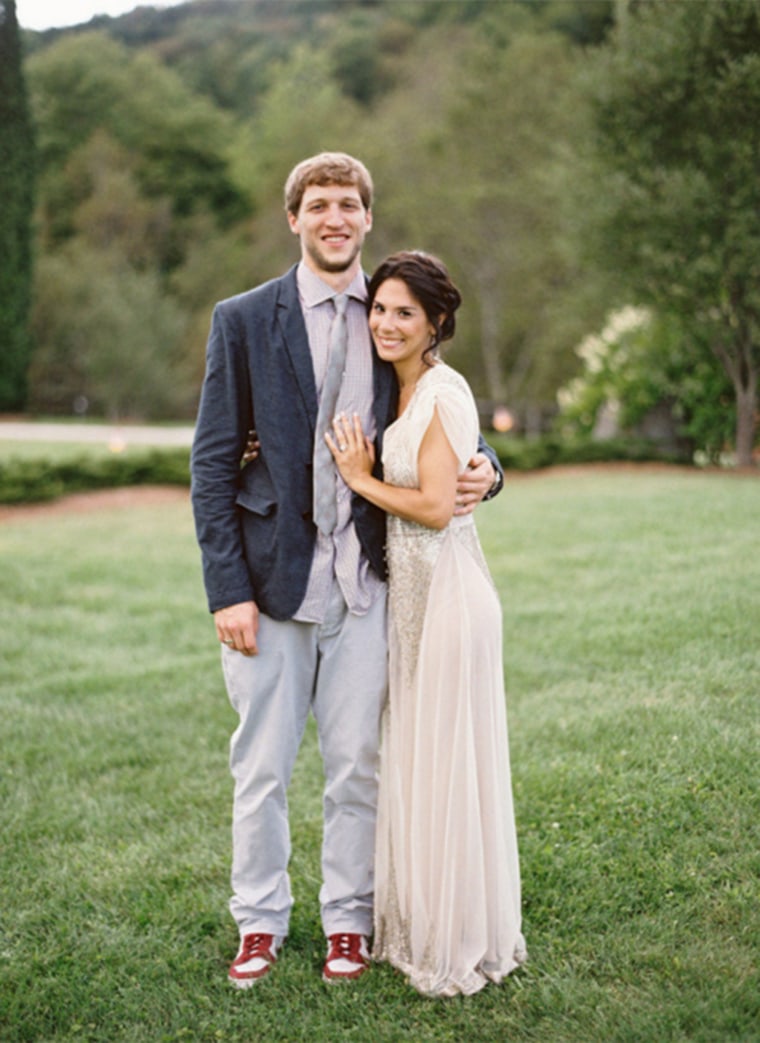 "It really should be something really special. This is your real fashion moment."
2. Pick the best outfit of what you would normally wear.
This is Sabatino's top piece of advice for brides-to-be. She suggests thinking along the lines of what you would wear to someone else's wedding when deciding what could make the perfect rehearsal dinner outfit.
Start by determining the formality of the event, then pick an outfit that's slightly more dressed up then what your guests might wear.
RELATED: 18 unique and minimalist engagement rings for the modern bride-to-be
3. White is always a good idea.
"Depending on the season, it's fun to prelude to the upcoming celebration with a little white dress," wrote Style Me Pretty founder and TODAY Tastemaker Abby Larson. "Put that little black dress back In your closet and say hello to the new girl in town, the little white dress,"
4. But you can also wear other colors and patterns.
While you definitely can wear white to your rehearsal dinner, you don't have to. According to Sabatino, light blues and pinks are always popular with brides-to-be. However, you can also really make a statement and go for a bold pattern.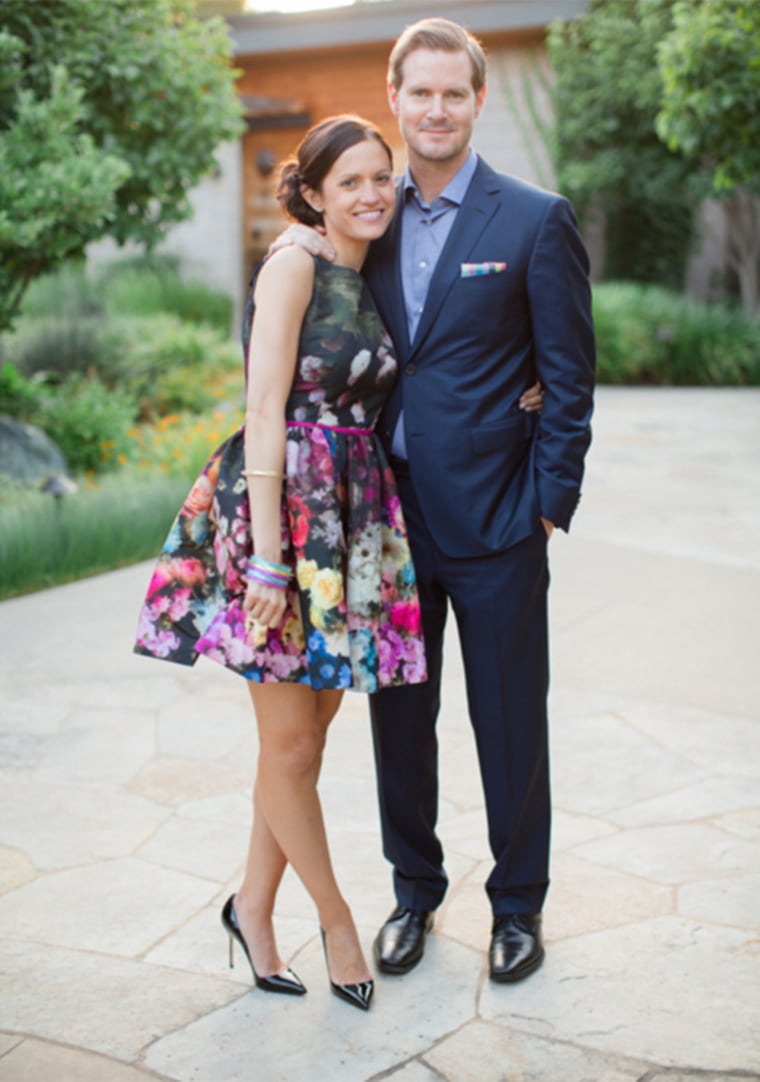 Larson added, "Another fun route is think about your color palette. Are you wearing white on the big day? Cream? Champagne? Blush? Find a fun frock that gets your guests excited for the big reveal and hint at your gown choice."
5. Have some fun with different styles.
For a formal affair, go for a long dress or cut a wedding dress into a short white dress. If it's taking place at a restaurant, a fun cocktail dress is perfect. And if you're doing something a bit more relaxed and casual like a BBQ, pair your dress with a cool denim jacket.
RELATED: How to find a wedding dress: 21 things I wish I'd known
"Maybe your a jeans and T-shirt kind of girl and a dress isn't your go-to. In that case, think about textures and other styles, like a jumpsuit or a billowy blouse with leather pants," said Larson. "Try a new style out. Be daring, experiment with what you know works for your body type, and always listen to that little voice in the back of your mind and go with what you feel best in!"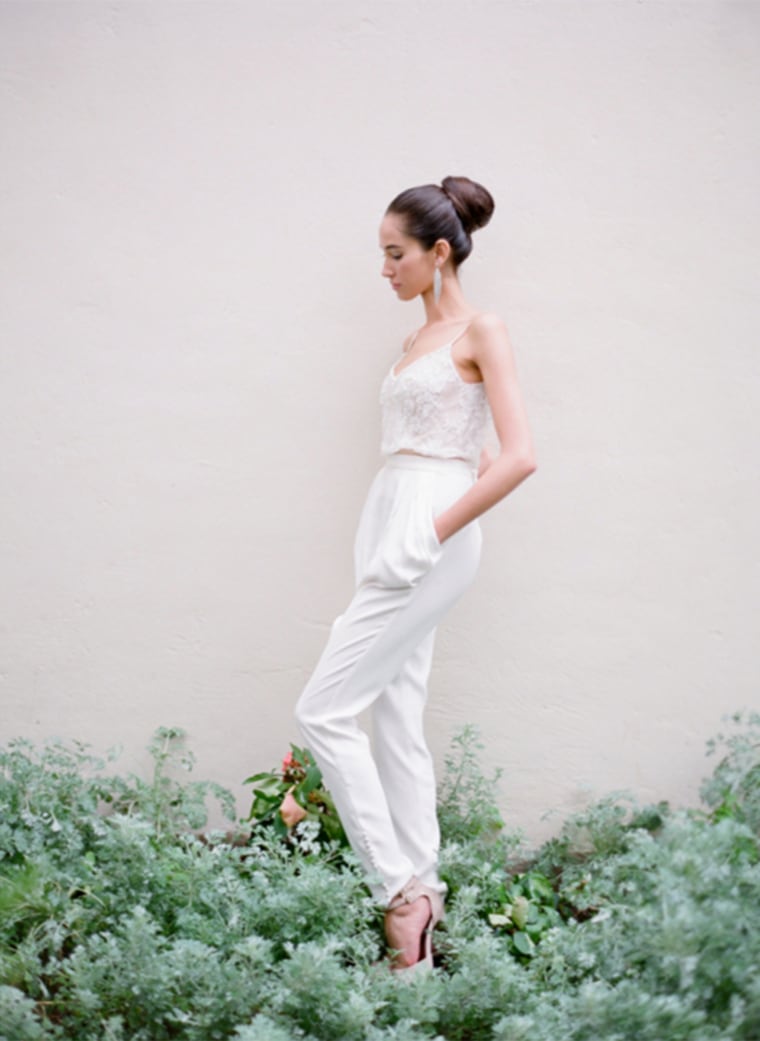 6. Spare your feet.
When it comes to shoes, Sabatino's rule is to not kill your feet the night before. Go for a shoe that's a different style than what you'll be wearing to your wedding. If the rehearsal dinner is taking place outside, go for a wedge and definitely don't be afraid to wear flats.
7. Don't forget hair and makeup.
Sabatino explains that often times couples forget that this a night that's filled with lots of photos and you definitely want to be looking camera ready. She suggests getting your hair and makeup done, but to make sure it's different than what you're doing for your wedding day. For example, if you plan on wearing your hair in loose waves for your trip to the alter, try an updo for the rehearsal dinner or vice versa.
RELATED: H&M new Conscious Collection features affordable and sustainable wedding dresses
8. Let the groom have a fashion moment, too.
Just like the bride, the groom should use the rehearsal dinner as a chance to show off his own style, explained Allyson Lewis, vice president of design and merchandising at The Tie Bar.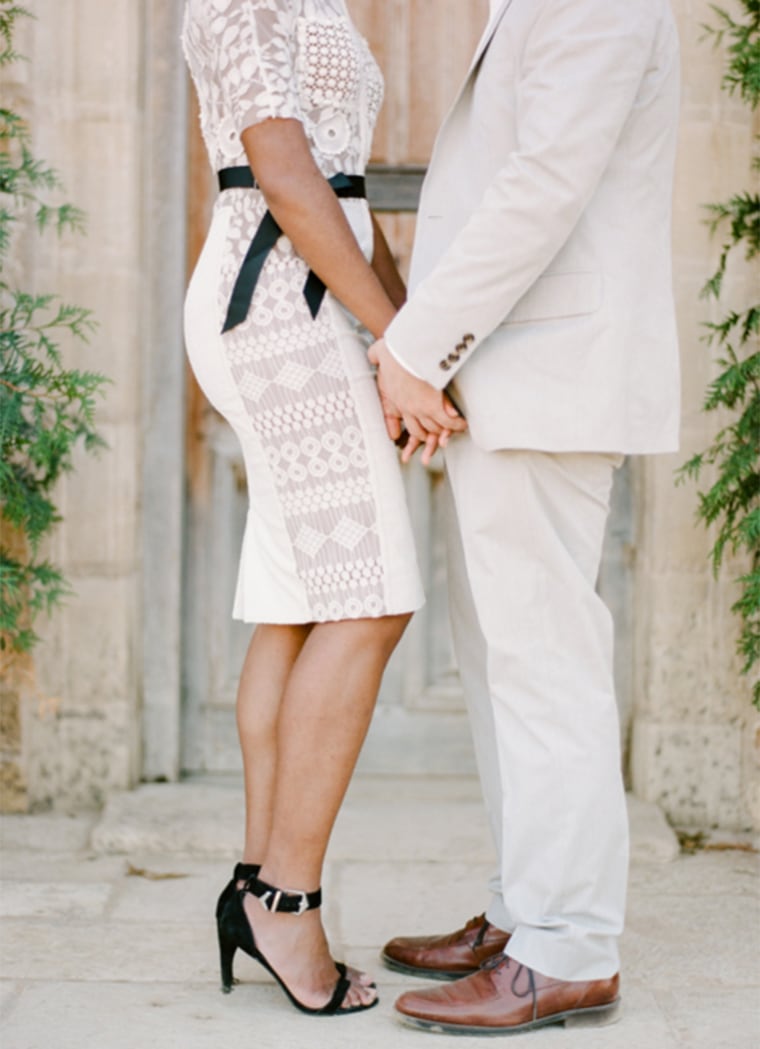 9. The groom can go bold with colors and patterns.
"While the rehearsal dinner is still an important occasion, there is less pressure to adhere to the more formal dressing rules of the big day," wrote Lewis in an email to TODAY. "Don't be afraid to embrace lighter colors and have fun with new patterns."
10. It's all about the accessories.
Lewis suggests using the rehearsal dinner as a time to have some fun with your look. The easiest way to do this is playing with accessories.
RELATED: The 10 wedding dresses you must see from Bridal Fashion Week
"If you are planning to wear a bow tie for the wedding, perhaps opt for a tie during the rehearsal dinner. Worried that a tie might be too formal? Then try a knit tie in a variety of different colors or patterns. Or if you want to skip the tie all together, a blazer with a pocket square is a great alternative for looking sharp but not under-dressed," said Lewis." Or let your belt do all the talking and grab a braided or canvas option instead or resorting to a traditional brown or black leather."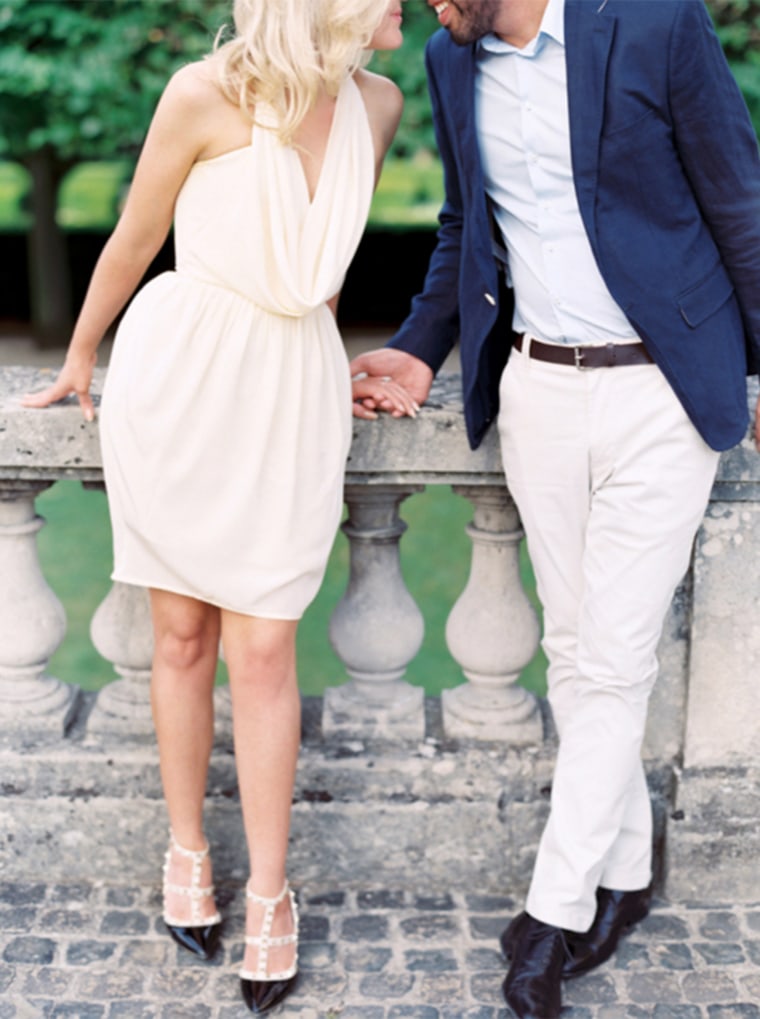 And regardless of what you choose, Lewis is a fan of using your socks to add that little extra personal touch.
11. It takes two to tango.
As far as coordinating as a couple, Sabatino recommends dressing in a similar color palette and making sure the level of formality of your outfits is on par. She suggests holding up both of your outfits side by side to see how they look together. You can even try taking a picture to see if they photograph nicely together.
RELATED: ModCloth launches the boho-chic bridal collection of your dreams
Don't forget to share these tips with your friends on Pinterest.