Figuring out your face shape has always been one of life's greatest mysteries. Is it round? Is it square? Does it look like a heart? There are so many different options, it can make your head spin! But determining your face shape doesn't require a beauty degree.
There are six main face types, and pinpointing yours is as easy as looking in the mirror and answering a few key questions. To help you get started, we tapped several beauty experts to break down the most common characteristics of each face shape and offer tips for accentuating your unique look. You can thank us later!
What face shape do I have?
Determining your face shape is as easy as 1, 2, 3 — literally.
"The face shape is broken down into three parts. The forehead and cheekbone width, the jawline and the face length. To identify your face shape ask yourself, what is the widest part of my face? Is it my cheekbones? You probably have a round face. Is it my forehead? You probably have an oval face," said celebrity makeup artist Vincent Oquendo.
Next, take a look at the width of your jawline. "A strong jawline usually means you have a square or rectangle face shape. If your jawline comes to a point then you have a heart-shaped face," Oquendo said.
Finally, check out the length of your face. Rounder faces are typically on the shorter side and oval faces are usually on the longer side.
Most of us fall predominantly into one category or another, but it's totally possible to have characteristics of more than one face shape!
"Someone can easily teeter between two different face shapes, especially the shapes that aren't so far off from one another," said Lauren Lebowitz, Glamsquad New York's regional makeup expert.
Sure, knowing your face shape is fun and all, but does it actually serve a purpose? You bet!
"Knowing your face shape can be very helpful. It can help you decide life's toughest questions like which haircut is most flattering on me? Which makeup will make me look most natural? And it just might be the answer to finding your favorite pair of glasses," Oquendo said.
Now let's get to it and take a look at the six main types of face shapes!
Round face shape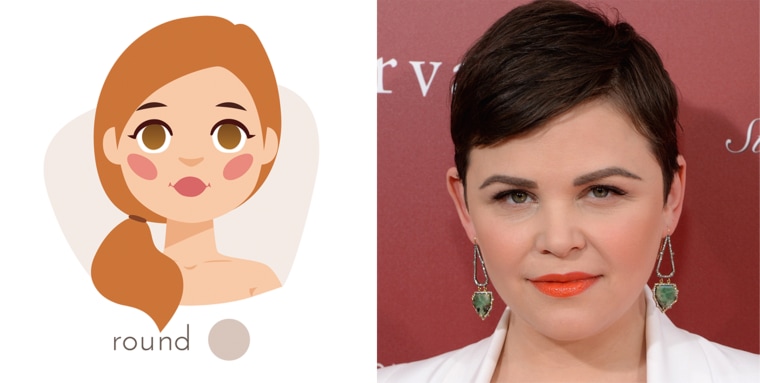 Wondering if you have a round face shape? Here are a few facial traits that can help you decide:
Round face shapes are typically pretty symmetrical. "With a round face shape, your face is about the same width and length, and you have a round jawline and chin," said Stephanie Brown, master hair colorist at the Eddie Arthur Salon in New York City.
Cheekbones aren't particularly prominent on a round face.
Round faces tend to be circular in appearance and have no major angles or edges.
Celebrities with a round face shape: Chrissy Metz, Ginnifer Goodwin, Mila Kunis, Chrissy Teigen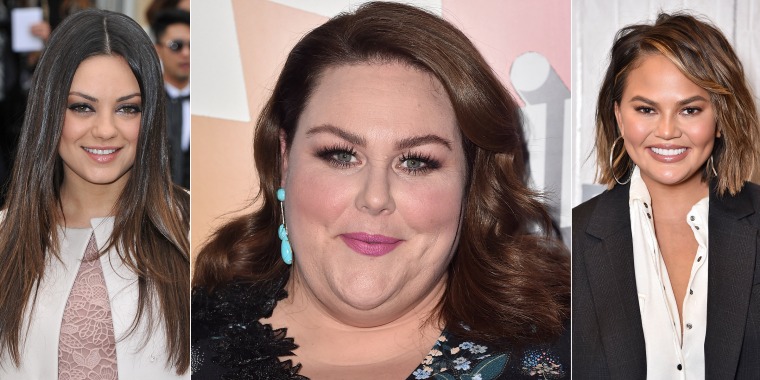 Hair tips for a round face shape:
Looking to accentuate your round face shape? The right hairstyle can make a world of difference. For starters, pixies and center parts are pretty darn flattering for a rounder face.
"A center part with pieces falling in front of your face will help slim your face," said celebrity hairstylist Michael Duenas.
If you're crazy about fringe, just try to avoid short, blunt bangs and instead opt for soft, longer bangs (think Brigitte Bardot!).
Volume in the right places is also key for a circular face. "You don't want a haircut that gives you volume at the jawline. Volume needs to be at the crown of the head. A flattering length is a grown-out bob/lob," Lebowitz said.
These haircuts and hairstyles for round faces from celebrities can be inspiration for your next cut. Pictures of Adele, Chrissy Teigen, Selena Gomez and more.
Makeup tips for a round face shape:
Makeup can also help accentuate or downplay some of your facial features. For starters, contouring can work wonders.
"Women should enhance their cheekbones, jawline and the temple of their head to make it look like they have more structure than they really do," Lebowitz said.
To contour a round face, follow these expert-approved tips:
Celebrity makeup artist Desirae Cherman recommends shading and highlighting. "Add a highlighting powder to the bridge of your nose, center of the forehead and on the chin to create length," she said.
Applying highlighter high up on cheekbones (above where blush is applied) can also emphasize bone structure and make your face appear less round.
Contour from the back of the ear to the center of your cheek and blend, blend, blend!
Blush can also lend cheekbones a bit more depth. "For round face shapes, focus blush right on the apple of the cheeks and blend down and out," Oquendo said.
Last but not least, eyebrows can also help balance out a round face. "Keep your brows straighter and long with an angled arch. You don't want them round at all," Cherman said.
Square face shape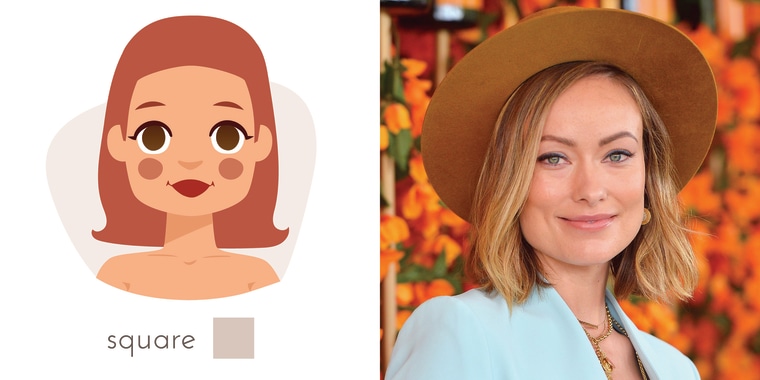 Think you have a square face shape? You might be right if your face meets the following criteria:
The key to a square face lies in the jawline. "With a square face shape, your forehead, cheekbones and jaw will be the same width, but your jaw will have sharp angles to it," Duenas said.
Square face shapes are similar in appearance to a round face, but have a more pronounced, wide jawline.
A square face has very minimal curves to it.
Celebrities with a square face shape: Demi Lovato, Cameron Diaz, Olivia Wilde, Lucy Liu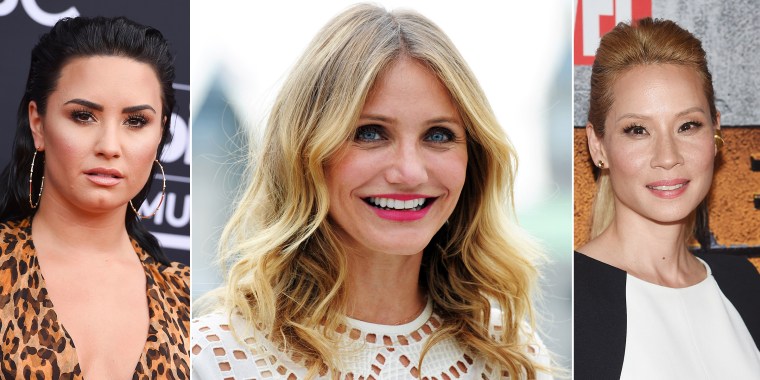 Hair tips for a square face shape:
Want to rock your square face shape with attitude? Aim for a soft, textured look that hits your face at just the right spot. "Steer clear of a length that hits at the jawline and aim to have your bob fall an inch or two below the jawline," Lebowitz said.
In other words, opt for a shoulder-length lob (long bob) that elongates and flatters your gorgeous face in the best possible way. Sideswept bangs and longer, tousled pixies are also great at balancing out a square face.
When styling your hair, focus the volume at the root, to create a more overall oval shape, and opt for styles with plenty of texture to lend a bit of airiness to your ends.
Makeup tips for a square face:
Since your jaw is so strong, you may want to soften the edges of your face with a bit of contouring at the jawline and the top of the temple.
"Add bronzer or blush to your jawline to soften the edges. For square or rectangle shapes, focus blush on the apple of the cheek and softly blend upward. You can also take any residual blush on the brush and sweep around your temples for a soft rounding effect," said Ramy Gafni, celebrity makeup artist and founder of Ramy Cosmetics.
If you're rocking a square face, you can really have fun with your eyes and lips since the rest of your face is already so defined. "Do a more rounded smokey eye to contrast the angular shapes. Same thing on your cheeks: Swirl a bright pink or peachy shade in a circular motion to cut the angle and give the appearance of a softer, more rounded cheek. A bright or bold lip color will distract from a harder jawline," Cherman said.
Diamond face shape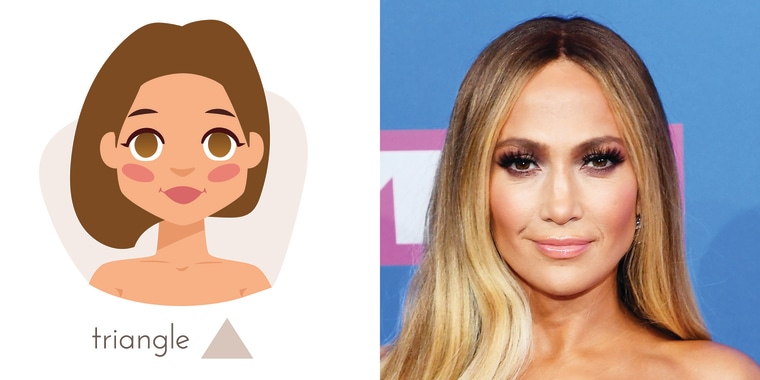 Diamond and heart-shaped faces can sometimes seem interchangeable, but diamond faces definitely have their own unique traits:
Diamond face shapes have a narrow forehead and a small chin.
Your cheekbones will be the widest part of your face and sit nice and high.
Your forehead won't be as wide as a heart-shaped face.
Celebrities with a diamond face shape: Jennifer Lopez, Scarlett Johansson, Tyra Banks, Liz Hurley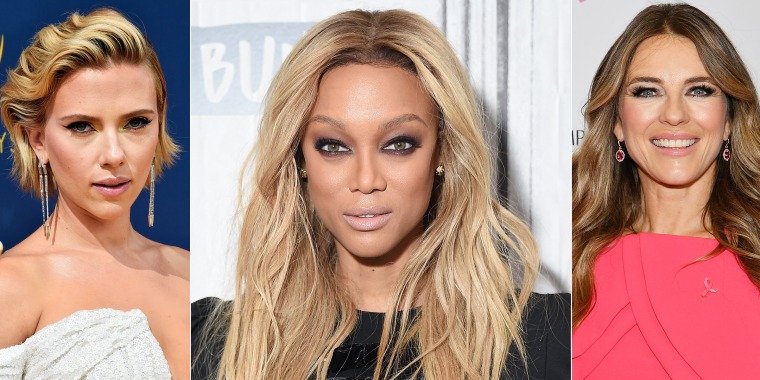 Hair tips for diamond face shape:
Hairstyles that show off the curves of your face or add a bit of depth are totally flattering for diamond face shapes.
"A chin-length bob is my go-to for diamond shaped faces. You actually want a little width in your style, so any hairstyle that helps widen the jawline is flattering," Lebowitz said.
Long hair with layers is also a great option! "It shows off your angular features and lets you play with wavy or curly looks," Duenas said.
Makeup tips for diamond face shape:
Certain makeup tricks can help amplify and complement your diamond face shape. For starters, those with diamond face shapes should aim to add fullness to the jaw and forehead.
"You can do this by highlighting the forehead and jawline with a lighter shade of foundation," Cherman said. "You can also create the illusion of a wider forehead by grooming the brows up and having a wider gap in the center."
Contouring the bottom of your chin can also soften your face a bit. "It creates more of a shadow, while highlighting the cheekbones to bring more light and focus to the center of the face," Lebowitz said.
Finally, if you've got a diamond face shape and want to use some blush, don't go overboard. Just stick to the apples of your cheeks!
Heart-shaped face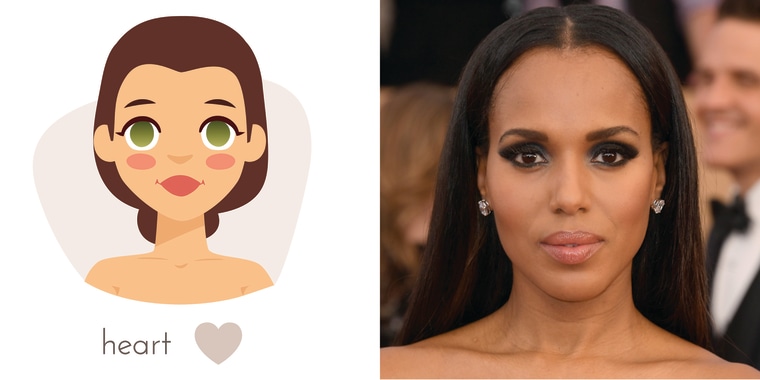 Curious whether or not your face is shaped like a heart? See if it matches the following criteria:
"A heart-shaped face will typically have a larger, wider forehead. Then the face gets more angled towards the chin, finishing into a point," Cherman said.
Heart shaped faces are somewhat similar in appearance to round faces, but have a wider forehead.
You have a slender jawline and your cheekbones and forehead are the widest parts of your face.
Celebrities with heart-shaped faces: Reese Witherspoon, Kerry Washington, Ruby Rose, Lili Reinhart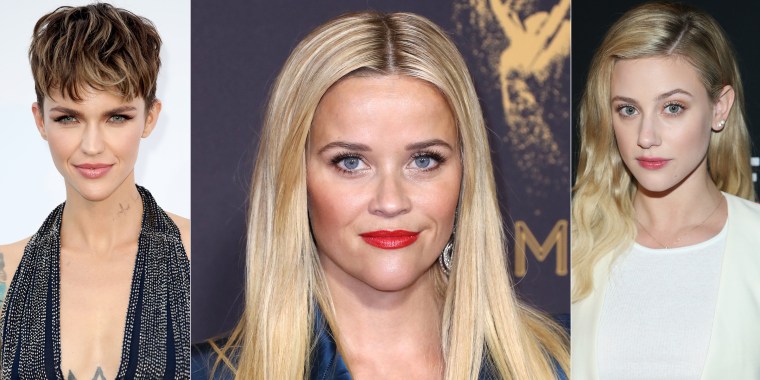 Hair tips for heart-shaped faces:
Want to flatter your heart-shaped face? Try long, sideswept bangs to add nice definition to your cheekbones! Or, opt for a shoulder-length cut with pixie bangs.
"Bangs work well! A lob with bangs is really cute. The key is, you want to have a cut to balance out your forehead and chin," Brown said.
Makeup tips for heart-shaped faces:
Looking to balance out a heart-shaped face? Turn to your makeup bag!
"To soften the appearance of a larger forehead you can use a bronzer along the sides of the temples and bottom of your chin. Use a rosy blush to accentuate the high cheekbones," Cherman said. "It's also good to bring attention to your lips - think bright colors and glossy lips - because it subsequently draws eyes away from the jawline."
Those with heart-shaped faces can also use light eye makeup colors — think champagnes, pinks and nudes — to highlight and make the eyes pop.
Oval/oblong face shape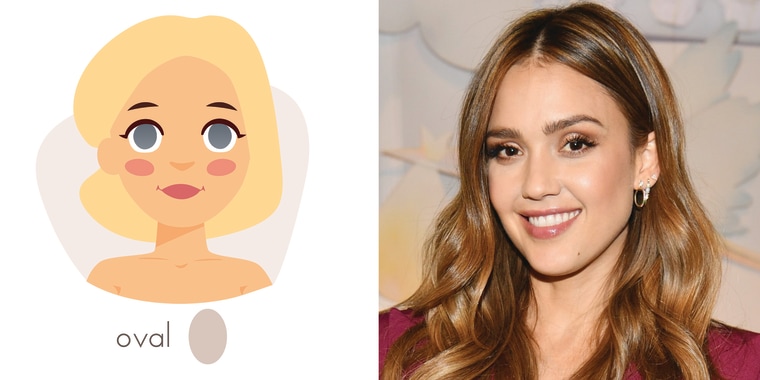 The terms "oval" and "long" faces are often used interchangeably, and with good reason: A long face is pretty much just an elongated version of an oval:
An oval/long face is longer than it is wide.
You'll also have a round chin and jawline.
"If the lower half of your faces seems to be longer than the top, you have a long face. Also the forehead will typically be the widest part of the face, while all the other features remain rounded and soft," Cherman said.
Celebrities with oval/long faces: Olivia Munn, Julianne Moore, Jessica Alba, Kate Middleton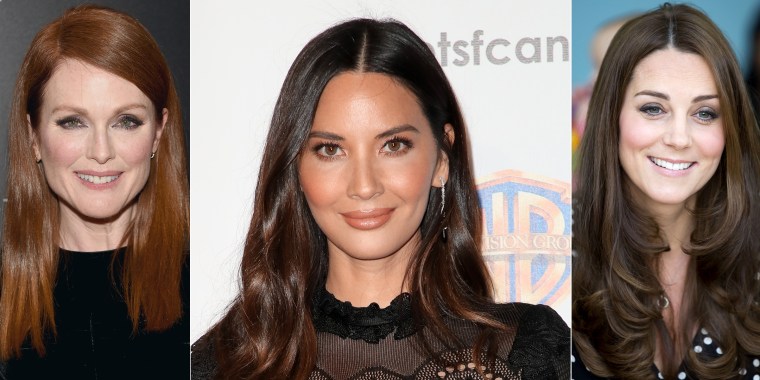 Hair tips for oval face shapes:
Luckily, oval face shapes can rock pretty much any hairstyle! Long, short, bangs, voluminous styles — they all equally flatter your face shape.
"An oval face shape is every woman's dream. I love a modern pixie or a haircut that allows you to slick it back. Think short layers with a softer fringe or pixie paired with a deep side part," Lebowitz said.
If you're rocking an oval/long face, you could also try a shag or sideswept bangs. Both will help break up the length of your face!
Makeup tips for oval face shapes:
Congratulations if you have an oval face shape! You can rock pretty much any makeup style with ease.
"An oval face shape is ideal and can apply any makeup style and look great," Gafni said. "Long faces should apply blush along the hairline and on cheeks, focusing on the area near your ears (this creates a wide-looking face) and along the jawline."
You can also try lightly dusting a bronzer along the forehead, under the cheekbone and onto the apples of your cheeks.
Luckily, though, you don't actually need to call attention to any neglected areas of your face if it's oval.
"Since an oval face shape is the most balanced, you don't really need to over-emphasize. Subtle makeup should be the thought here," Cherman said.
Rectangle face shape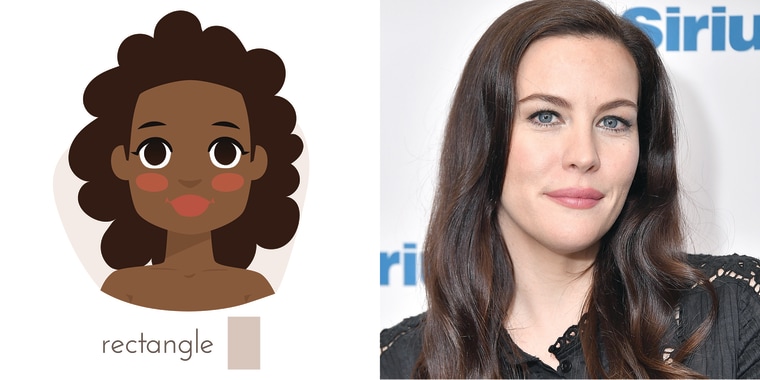 A rectangle face shape is actually a mix of two different other shapes.
"The rectangular face shape is a hybrid of the oval/long and square shaped face. It's essentially the long face with angular edges," Gafni said.
Rectangular face shapes feature a square jaw and a face that's longer than it is wide.
You'll also likely have a high forehead.
Celebrities with rectangle face shapes: Liv Tyler, Kim Kardashian, Courteney Cox, Meryl Streep
Makeup tips for rectangle face shape:
Apply blush on outer edges of forehead, on cheeks and on either side of chin along jawline to soften the edges of your face.
The best way to draw attention away from the length of your face is to play up the eyes. Dramatic smokey eyes with bold colors or exaggerated cat eyes will make them pop. You can also make your brows a little more round in order to create some curve to the face. Keep lips to a minimum here, with a rosy fresh color to make them look more plump and full.
Hair tips for rectangular face shape:
It's all about layers, layers, layers, baby! "Whether it's long bangs, soft layers or something similar, layers will make your face appear somewhat wider, and less angular," Duenas said.
Much like a square face, rectangular faces also do well with soft, voluminous looks that have a touch of texture. Lobs and bouncy waves are all perfect if you're rocking a rectangular face.