Blue jeans are about as American as apple pie. While many can argue why their personal favorite is the greatest pair that ever was, few know the history behind the go-to wardrobe essential.
Everyone from cowboys to crooners, like Bing Crosby, wore jeans in the 19th and 20th centuries and celebrities today are no different. While the perspective on jeans has changed over time — it used to be seen as a manual laborer's garment, instead of the closet staple it's become — the basic design has not.
Which brings us to those weird little silver or copper studs. Go ahead, look down: Chances are, the pants you're wearing today feature exactly that. The round metal attachments are actually called rivets and are "very specifically placed to reinforce an area of high tension in a garment," said Jac Cameron, creative director and co-founder of AYR, a denim and sportswear brand available online and at Nordstrom locations. (The name stands for "All Year Round," so you know Cameron knows a thing or two about clothing that lasts!)
In the original design, rivets were used to hold jeans together at places where they were most likely to come apart, like at the pockets. Although the practical purpose and circular shape remain, Cameron said that "as [metal] molds have advanced, so has the design." Bar tacks — "a necessary anchor placed at the top and bottom of a belt loop" — and zippers are other essential elements that have been added to jeans over time.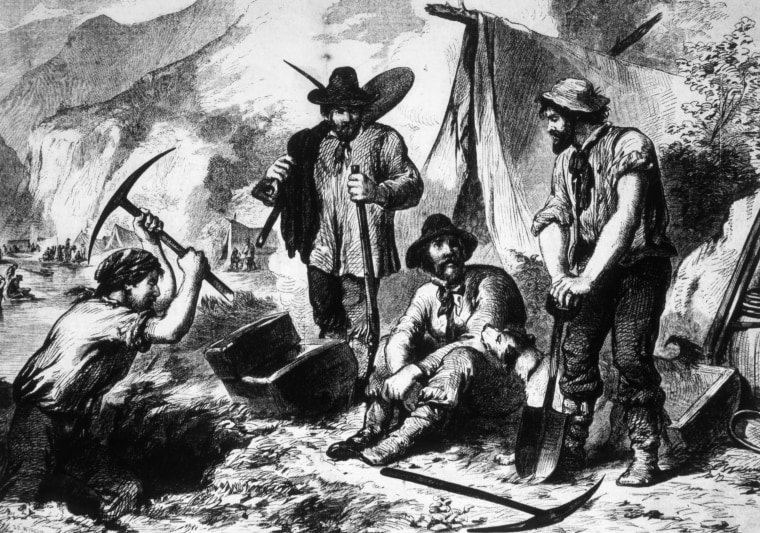 But a Nevada-based tailor named Jacob Davis started it all by patenting the technology of rivets in 1873 with none other than Levi Strauss, who hoped make denim last longer and wear better, according to the denim brand's website. This has cleared the way for other evolutions, such as legging hybrids, stretch styles and trends like culottes and boyfriend jeans.
Whichever denim style you fancy, just remember that those rivets are hard at work to keep it all together!
This story was originally published on June 8, 2016.