Between correcting crow's feet, saggy necks, flabby arms and wrinkly hands, the beauty industry seems to have run out of aging body parts to fix. But now, they're invading our eyes.
Limbal rings are the slightly darkened circles around our irises that become less defined as we age. So, why should we care? Psychologists say we unconsciously judge how attractive or young someone is based on the size and shade of their limbal rings.
"Research supports that people with more defined limbal rings are perceived as more attractive than those without limbal rings, as long as they appear natural," said Dr. Darren Peshek, director of The Odyssey Network Vision Science Research Lab. "Evidence suggests that the limbal ring is a signal of health and youth ... thickness is, on average, greatest at birth and decreases gradually with age."
Contact lens brand ACUVUE recently launched a new way to beautify with "Define" lenses, which aim to enhance the limbal rings. The company has been selling similar cosmetic lenses — in both prescription and non-prescription forms — throughout Asia for about 10 years, but they first became available in North America this fall.
"The lenses are brand new to the market. When we introduce them during exams, both female and male patients are very interested and receptive," said Dr. Susan A. Resnick, of Drs. Farkas, Kassalow, Resnick & Associates in New York City. "Patients love the added beauty benefits the lenses offer."
Not everyone is convinced, however. Melissa Barnett of the California Optometric Association urges her patients to understand the risks associated with using lenses strictly for cosmetic purposes. "If not used properly, eye infections such as microbial keratitis (inflammation of the cornea) can develop," she said.
Nevertheless, I asked Dr. Resnick to help me try a pair to test what effect they might have. The experiment was mostly out of curiosity (Would anyone notice the difference?) and slightly out of vanity (Would I seem younger or more attractive in some way?). I learned that my light brown, hazel eyes are a good candidate for a trial since the darkest, most dramatic shade named "Shine" works with my coloring.
It felt strange for the first few hours (never having worn contacts beforehand), but after the initial teary-eyed batting, I noticed that I instantly looked a little perkier. The next step: wearing the lenses home to see if my husband or children would notice a change. My 6-year-old son commented that I looked "less sleepy," while my husband didn't seem to notice anything at all. So much for changing my attractiveness!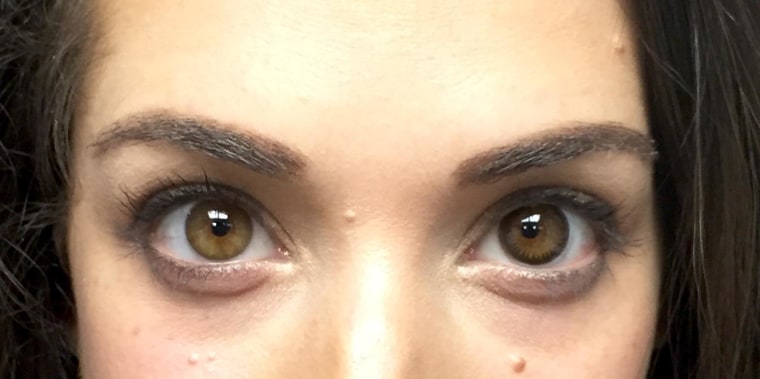 Perhaps the most interesting aspect of these eye-enhancing lenses is the way they mask natural biological cues to those around us. Dr. Nando Pelusi, a clinical psychologist in New York City with a background in evolutionary psychology, is concerned that "this will be another factor on which attractiveness will be based. Until we get limbal ring-detection awareness, this is just more noise to signal [that you are looking for a] mate."
A 30-day supply of the one-day disposable lenses costs $75, and is available only by prescription. And, of course, you can wear them as frequently or infrequently as you want.
I've worn the lenses two other times since the initial fitting and like the idea of saving them for special occasions — they add a sort of pop that eyeliner can't quite match.