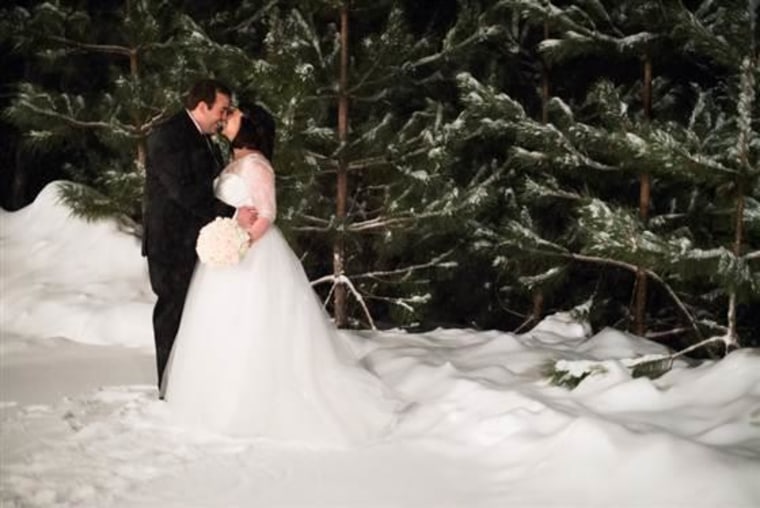 This winter has set record low temperatures in every corner of the continent, but that hasn't stopped intrepid brides and grooms from tying the knot.
Though wedding season typically calls to mind open fields, flowers in full bloom, vibrant green grass and abundant sunshine, these couples showed us that just because there's a chill in the air, it doesn't mean you can't create a spectacular affair to remember.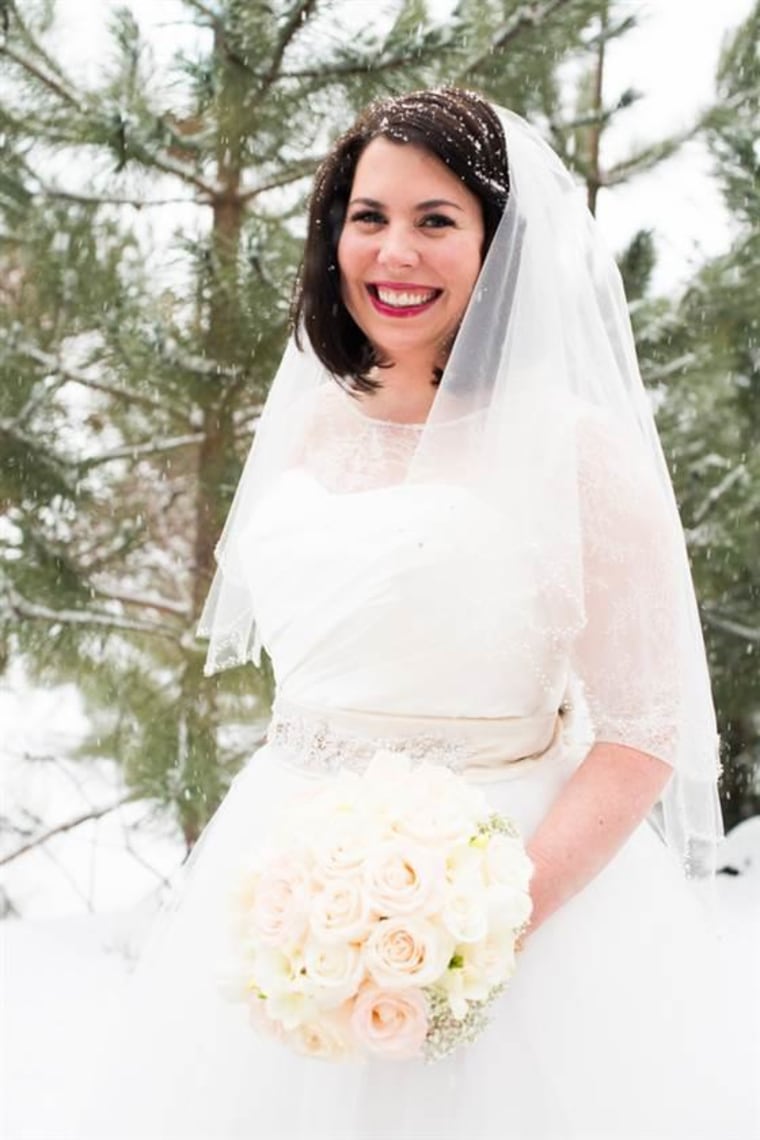 Laura Carroll and Evan Lavallee were married on February 1st of this year in Sheenboro, Quebec. The couple met in September 2012 in Pembroke, Ontario, where Laura, 29, is originally from and where Evan, 30, moved for a job a few years back. They were engaged this past Thanksgiving, and rather than dragging out the planning process and holding out for the coveted summer months, they planned a winter wedding wonderland in four months.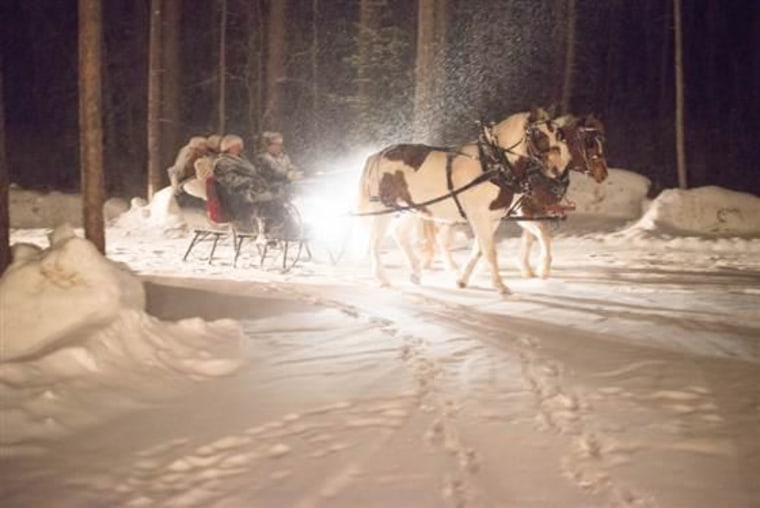 You'd think a wedding in Canada in the dead of winter would be unpopular, but that was the point.
"In summer we fall victim to back-to-back-to-back weddings from mid-May to August or September," said Laura. "Everyone loves to go to a wedding, so I thought it'd be really nice if everyone really wanted to come because they had nothing else to do. We're not afraid of the snow and we thought it would be totally Canadian."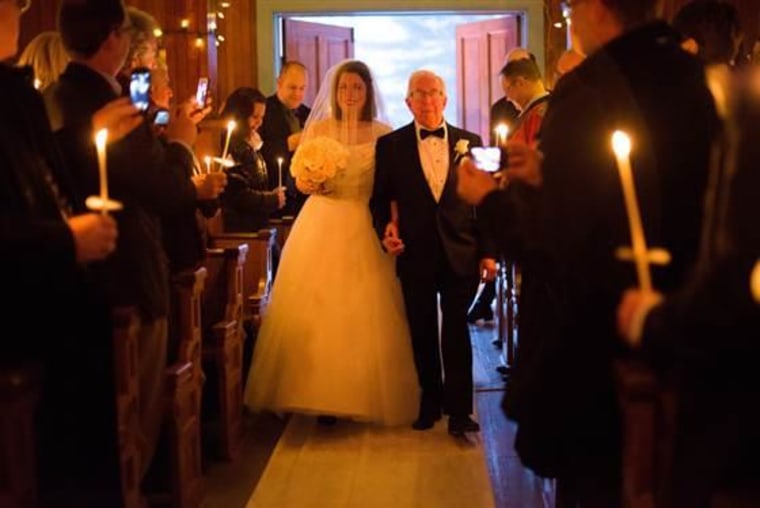 The happy couple prepared for the possibility of a very snowy day, and that's just what they got — about a foot of it. "We were hoping to have a stereotypical winter day," said Laura. "We could not have been luckier to have a perfect snowy day to tie the knot!"
She ended up wearing snow boots to the ceremony and switching to Manolo Blahniks on the steps of the church. "There's something really magical about getting married in the winter," she said. "Everything is white. There was just a sparkle."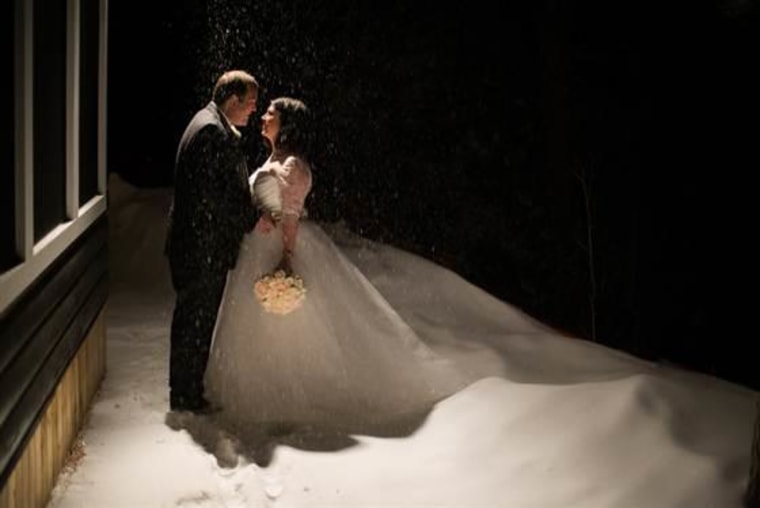 Another plus: extra attention from venues and vendors. "It was so easy because we weren't dealing with a ton of other weddings," Laura said. "We had our vendors undivided attention because it was their off season. They were so excited to dig in and gave it their all."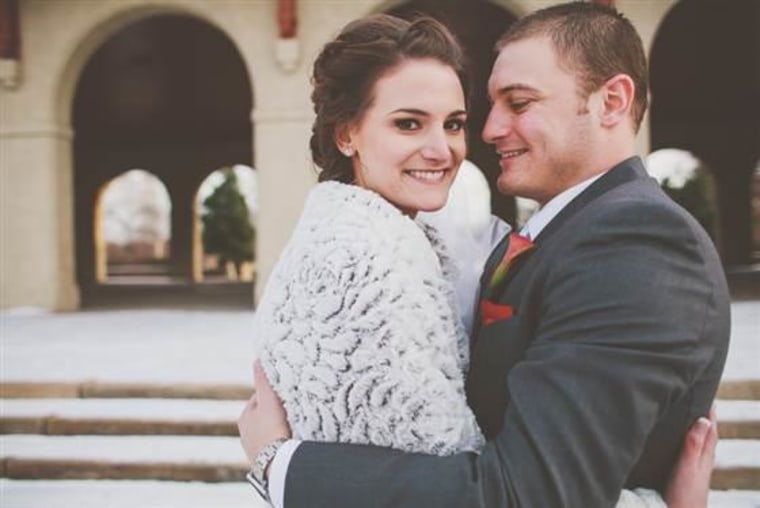 A couple of months prior to Laura and Evan's nuptials, Keri and Paul Whitman had a stunning wintry celebration of their own in St. Louis. This pair grew up down the street from one another in St. Peters, Mo., but it took many years and a lot of persistence on Paul's end for them to finally come together.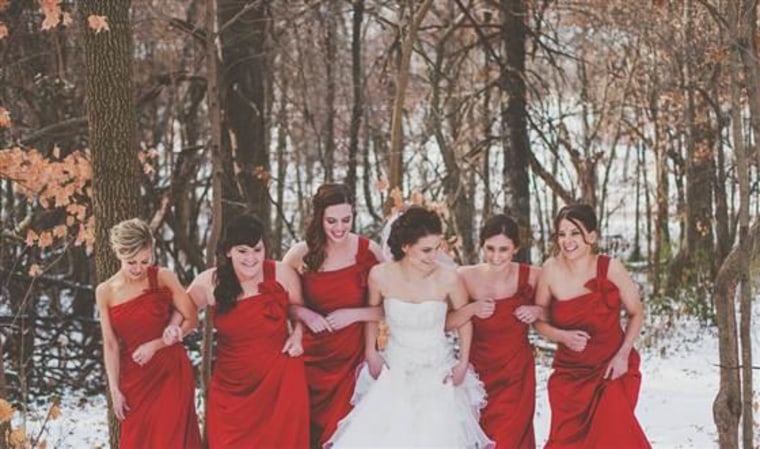 Keri and Paul got engaged on Dec. 12, 2012 — 12/12/12 — so the wintertime was already meaningful to them. But Keri said a winter wedding was an idea that pre-dated Paul.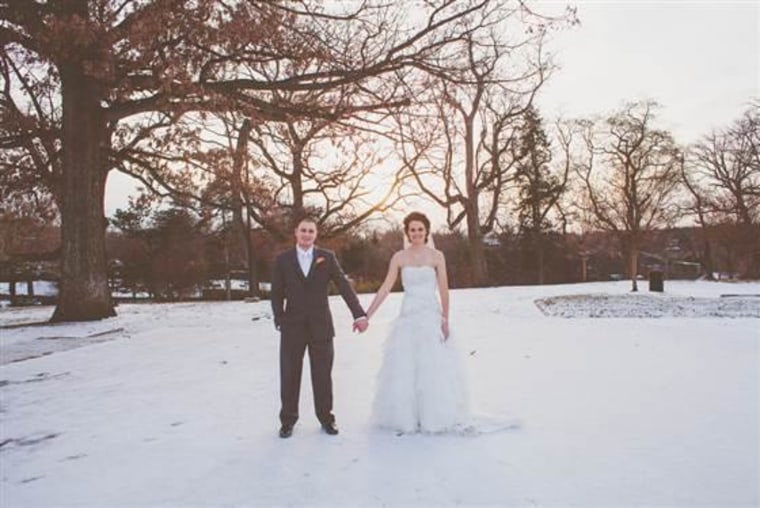 "I always wanted to do a winter wedding," the 26-year-old said. "I wanted something a little bit different. It was always in the back of my mind, but I just didn't know how it would play out."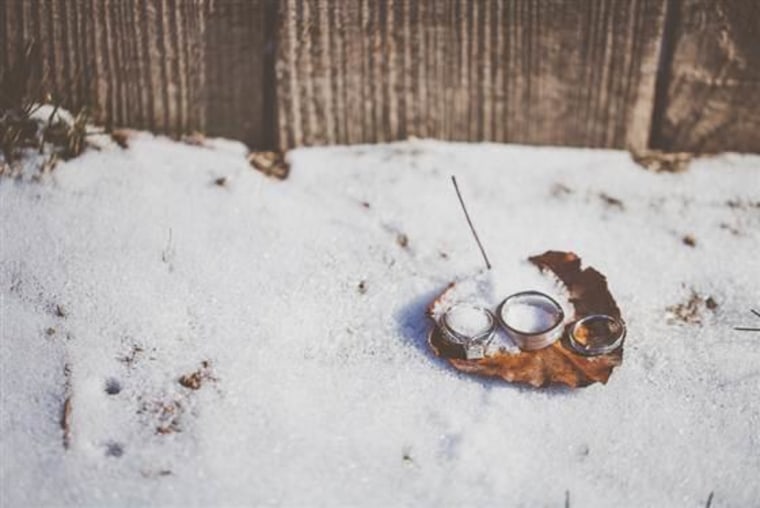 Once Paul, 30, became her husband-to-be, they were destined for a winter wedding. Paul suffered the loss of part of his leg from the knee down after an ATV accident in 2006. He has a prosthetic, which often causes him to be very warm, and so it was clear that a holiday-time wedding would be perfect for everyone.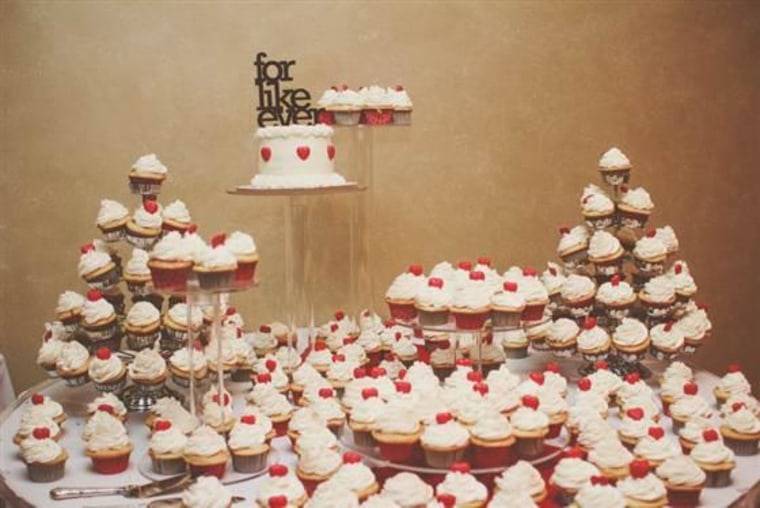 Ther temperature on their December 7th wedding was in the low 20s, but that didn't stop them from taking picturesque outdoor photos. The bride bravely posed in her gown and white Toms shoes, surrounded by a blanket of snow.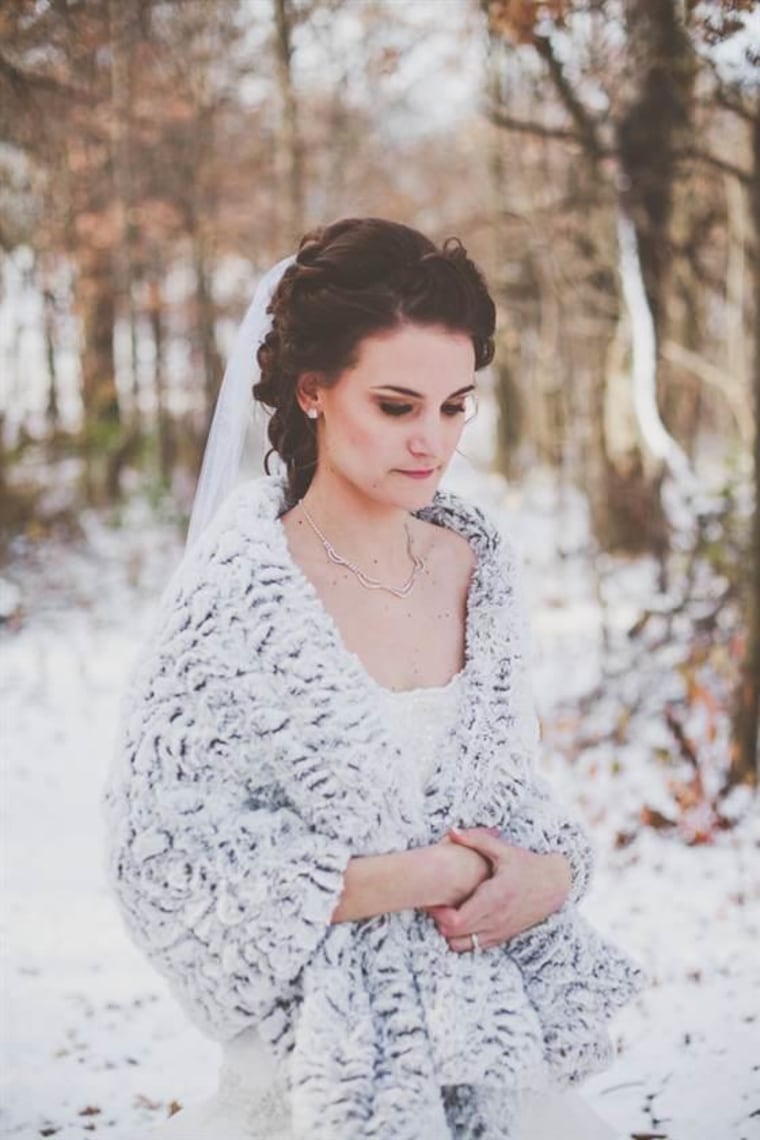 "It was freezing!" Keri recalled. "But when we got the pictures back, I knew it was totally worth it." After they thawed, they had a reception filled with holiday cheer and red and white décor accents.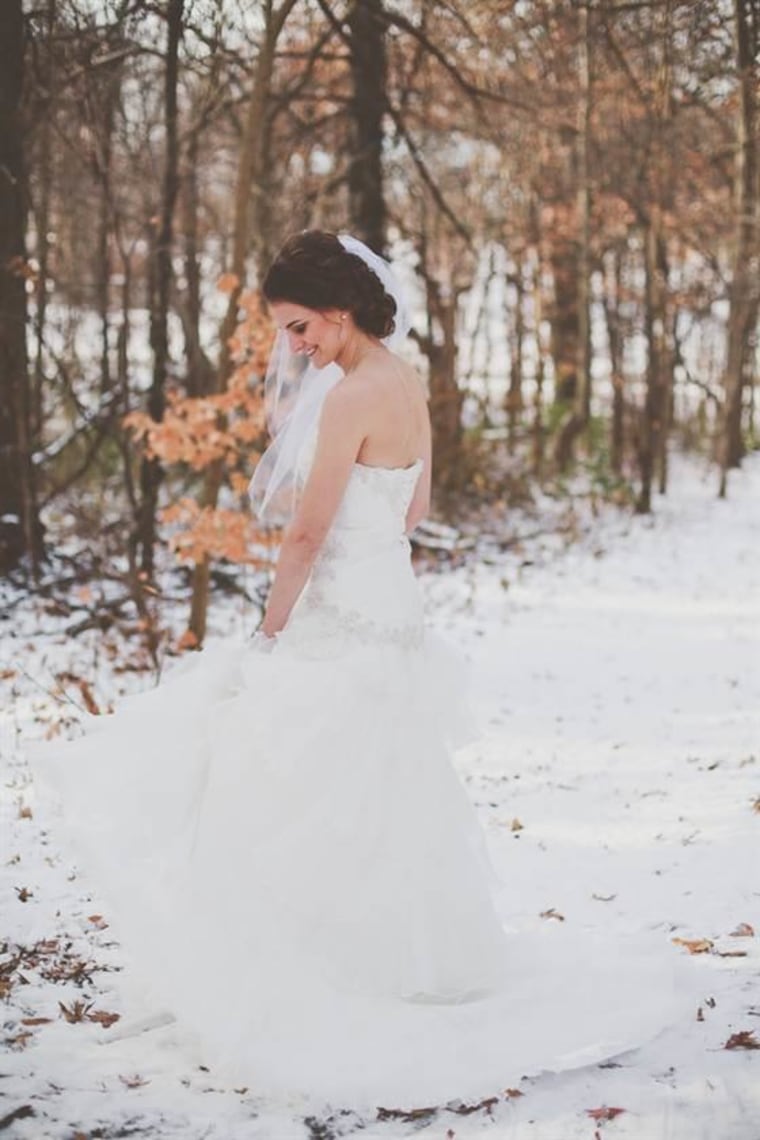 Katy and Chase Rogers are a couple from a much warmer part of the country, but who also opted to forgo the classic summer wedding. They reside in Jacksonville, Fla., and were married on January 11th in a small ceremony and reception with 25 of their closest friends and family.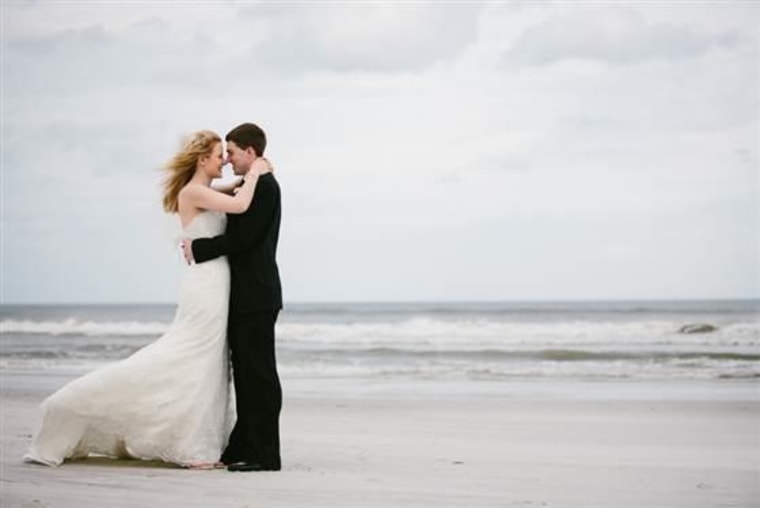 "It's so hot in Jacksonville in the summer, and it was the perfect time for us," said Katy, 24. "We wanted a longer engagement and didn't want to plan the wedding right away. And it's so pretty here in the winter — not too cold."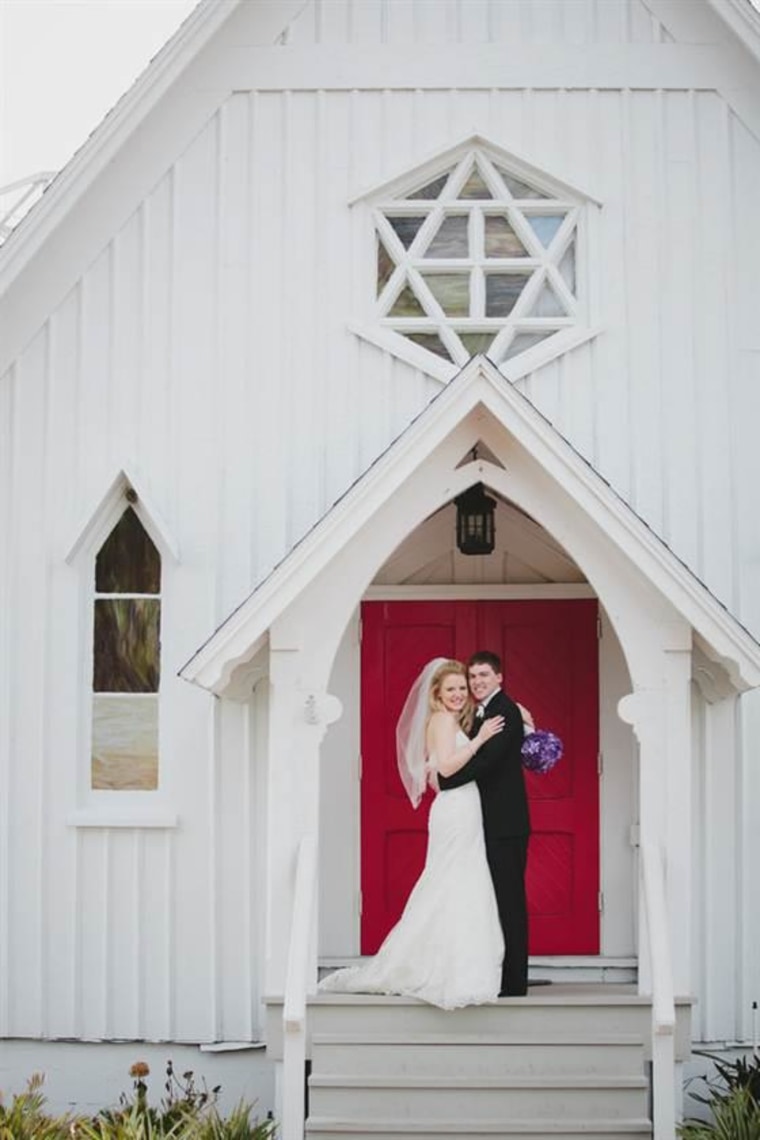 They were married in a historical church a few blocks from the beach where they spent four hours walking and talking on their first date six years earlier, and where Chase, 26, proposed with a message in a bottle in 2012.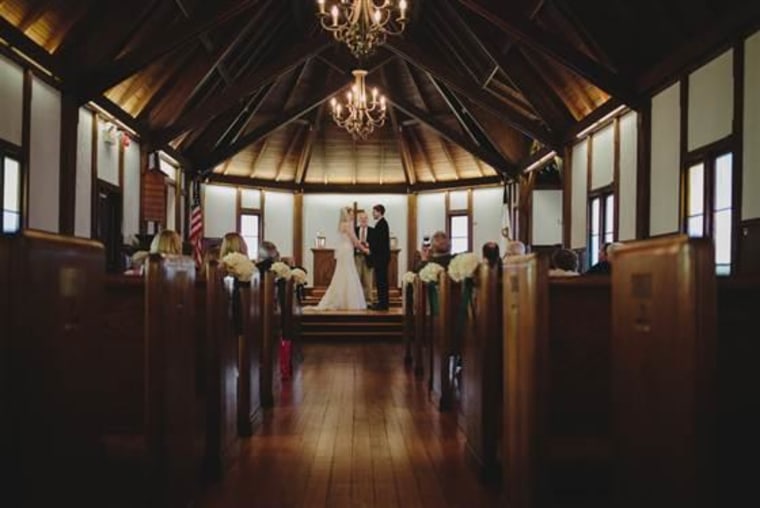 "It was nice because the beach is usually crowded in the summer," Katy said. "We got to take pictures because there weren't a whole lot of people around. It's a pretty popular tourist destination, but it was less crowded and made for much better pictures."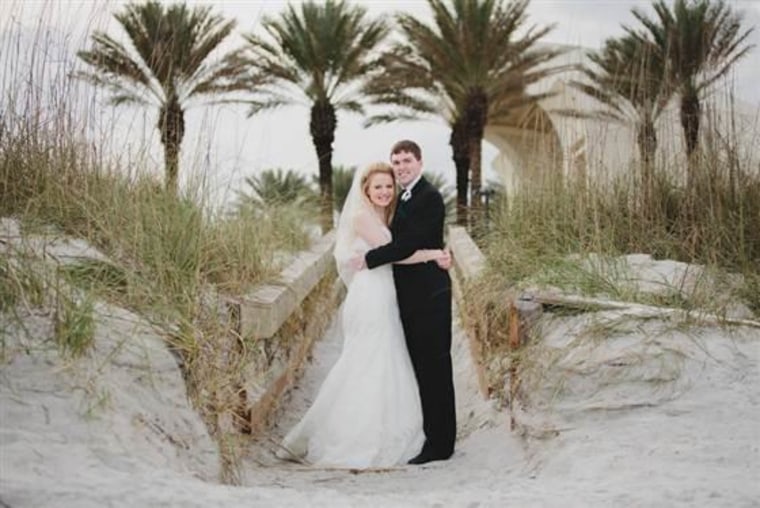 She also echoed Laura's sentiment that venues and vendors were much more attentive because they had time and enthusiasm to spare, and said prices were lower than in peak season, which was a bonus to the ease of planning.
After hearing these stories and seeing the beautiful results, maybe it's time for more summer-loving brides-to-be to look at the winter with fresh eyes! Check out some more winter weddings we love:
Carleigh West and John LeClair; Edmonton, Alberta, Canada:
West and LeClair were married at the Alberta Art Museum on Nov. 30, 2013. "In Alberta the winters can be cold and bitter, but this was one of those exceptional days where the sun was shining brightly and glinting off the newly fallen snow, like the jewels in her bouquet," says the couple's flower and accessories designer. The bride and groom sported matching mittens and scarves, and paid tribute to their favorite winter sport — ice skating! (All photos provided by Milton Photography)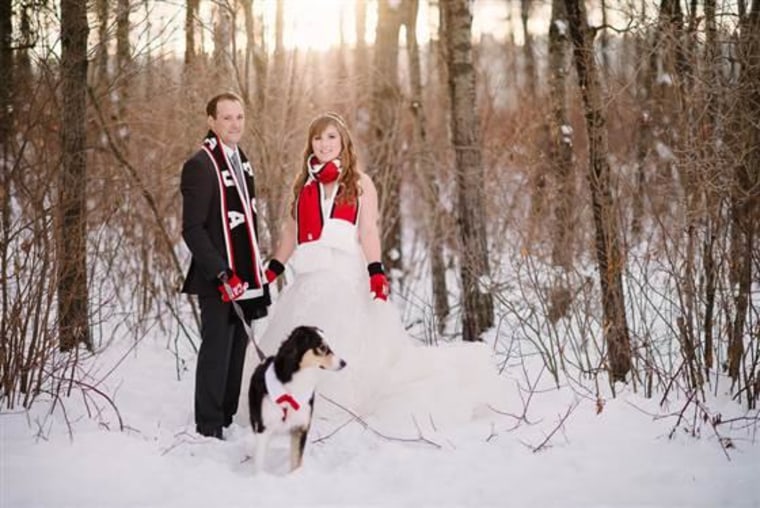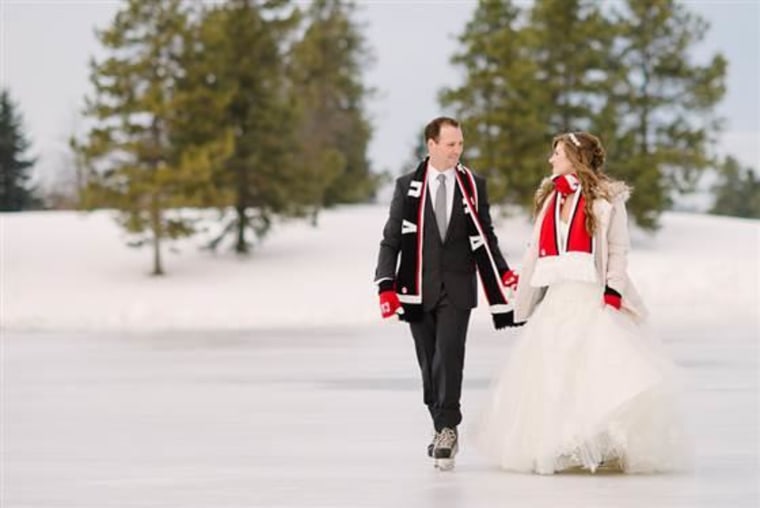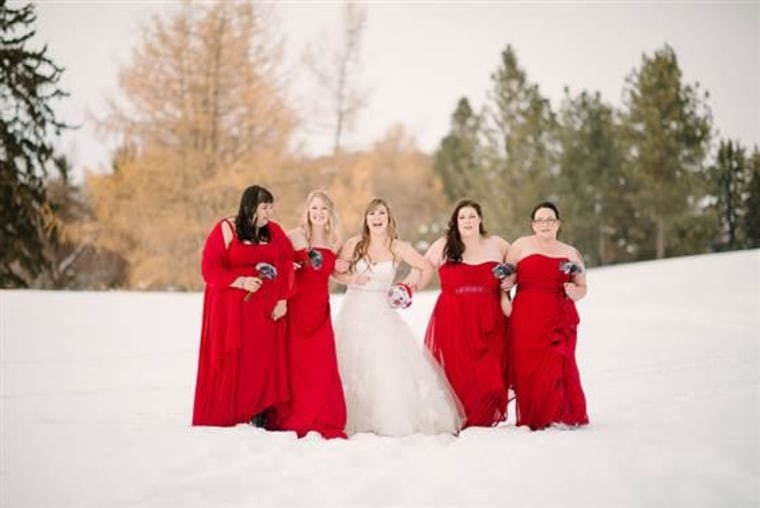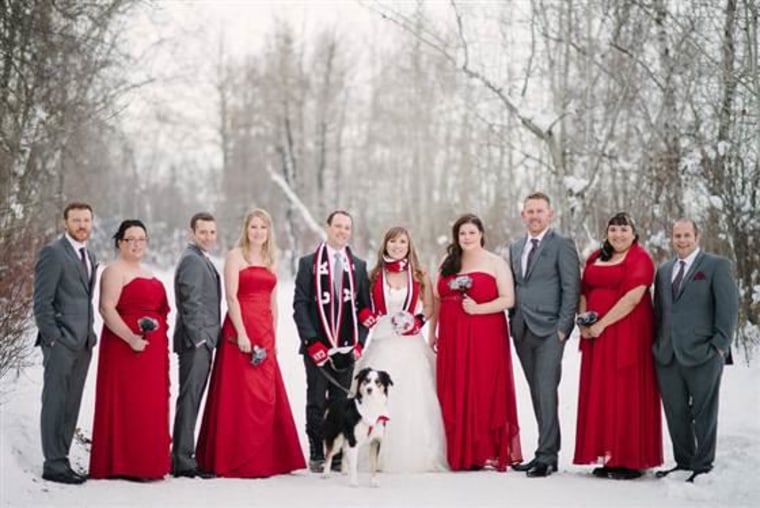 Andrea Eckenroad and Collin Dinsmore; Bryn Athyn, Pennsylvania
Andrea and Collin tied the knot at the historic Cairnwood Estate, which dates back to 1895. They included a two-story Christmas tree and wreathes throughout, as well as Christmas-themed boutonnieres and other holiday decorations. (All photos provided by Bartlett Pair Photography)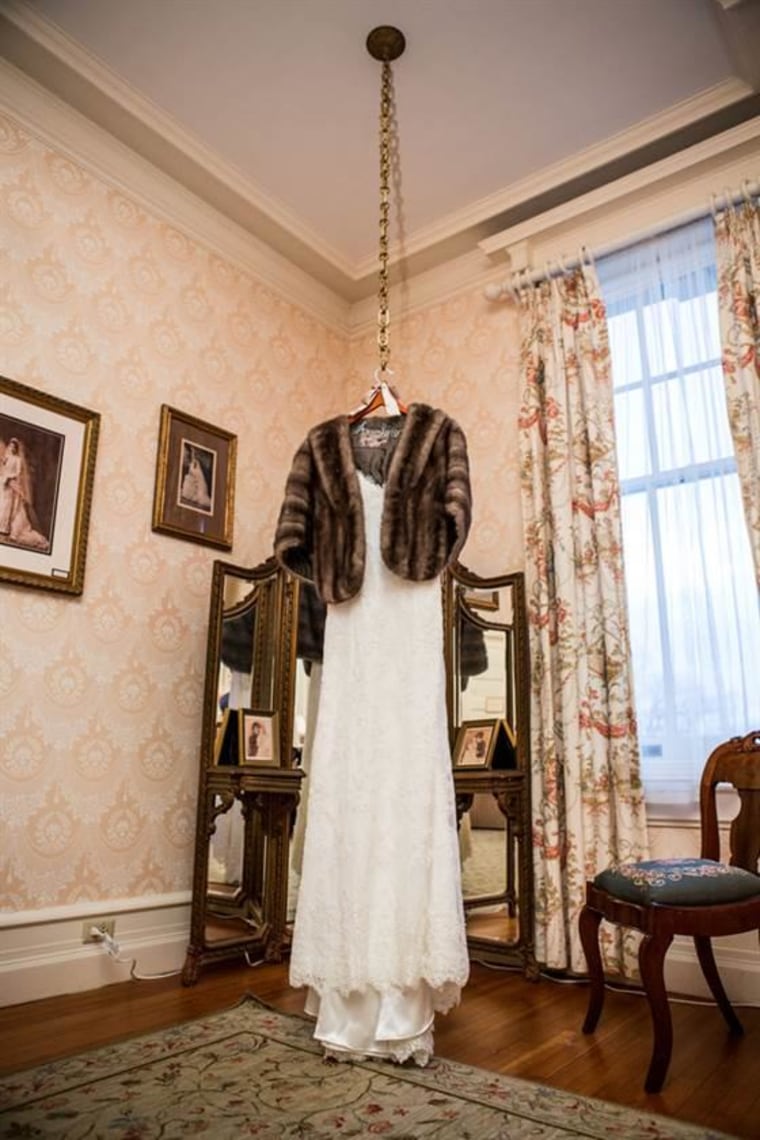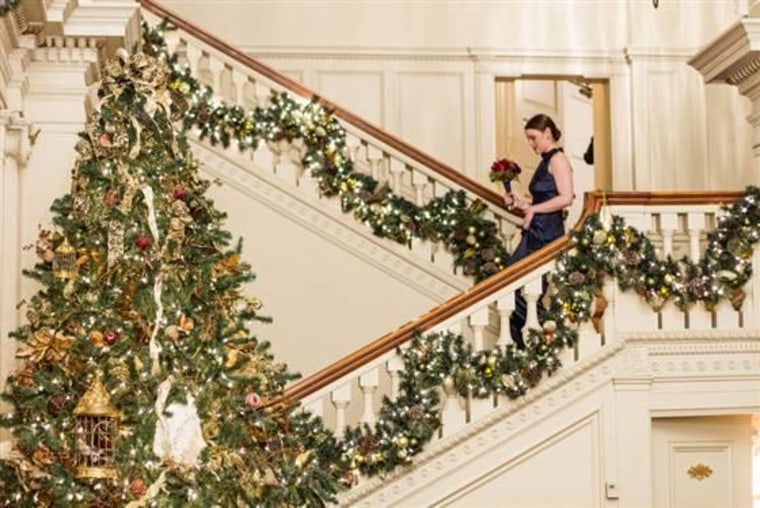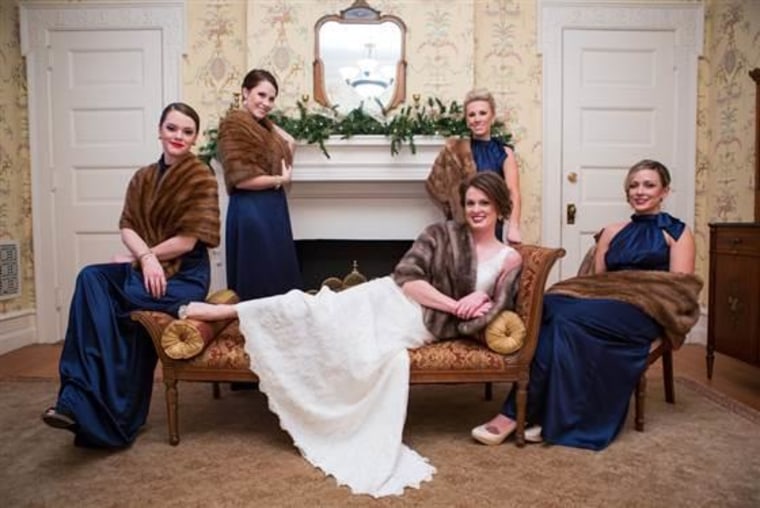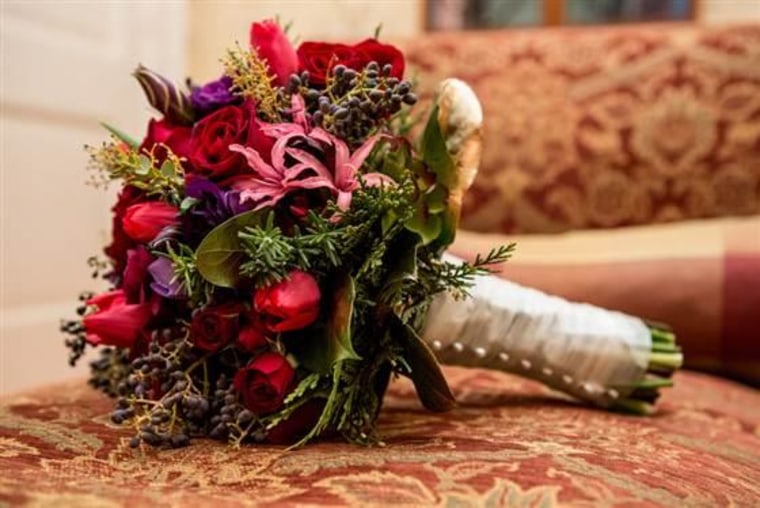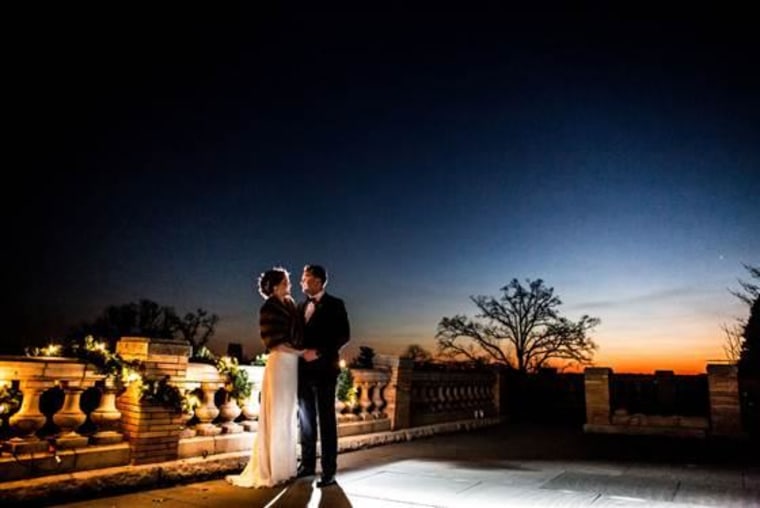 Caitlin and Zack Bratschi; Maruqette, Michigan
The day before the Bratschis tied the knot, their wedding location was blanketed by a huge snow storm. The fresh powder provided a beautiful backdrop to their nuptials, and their colors of red, black and white popped against the snow. (All photos provided by Wren Photography)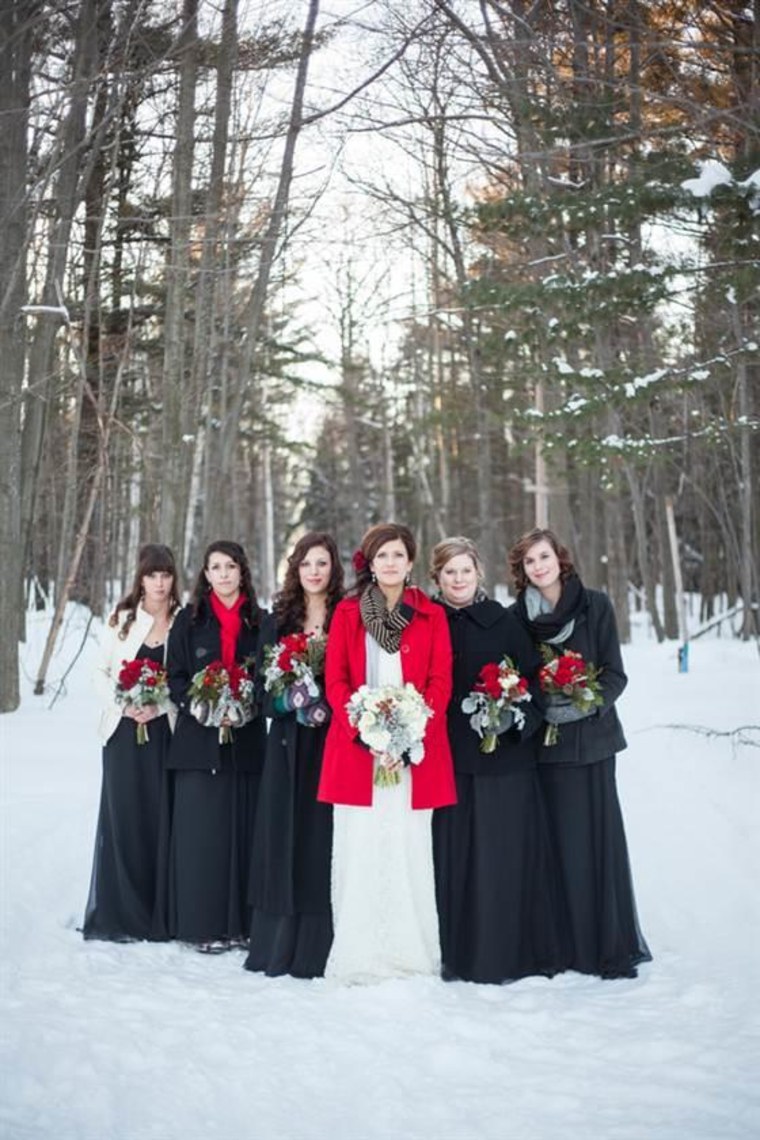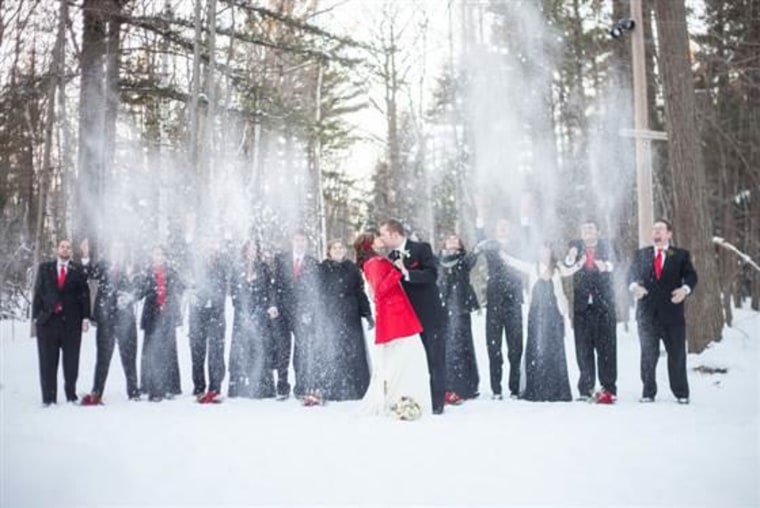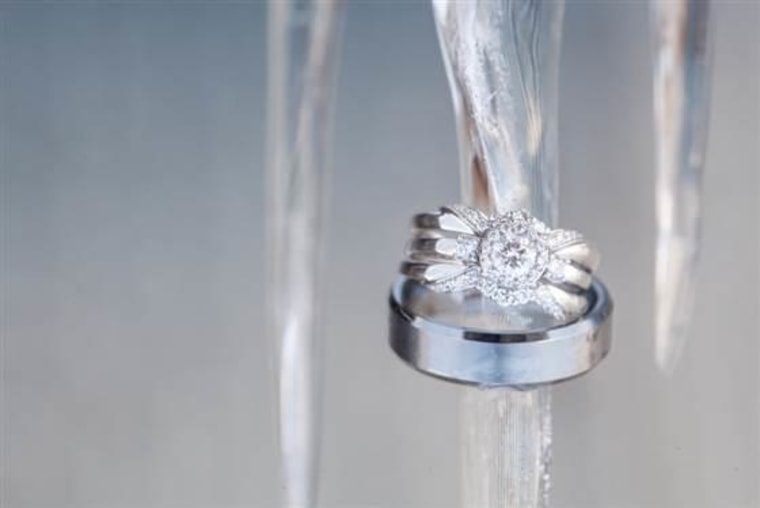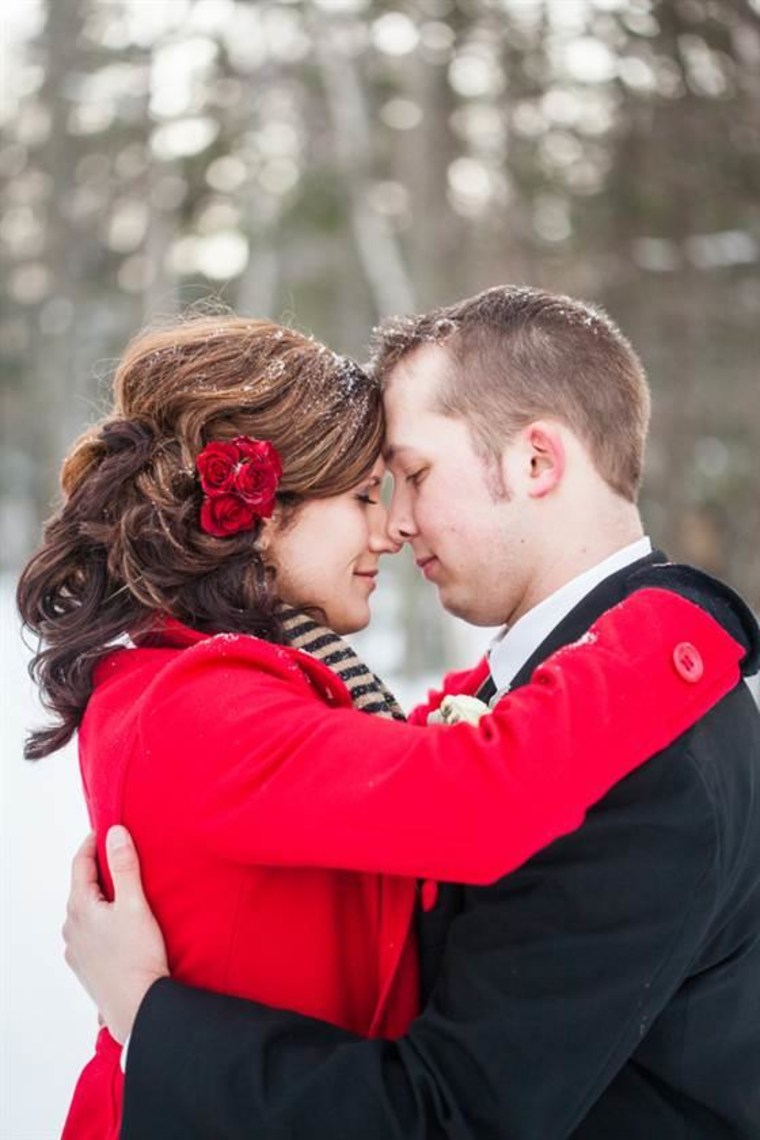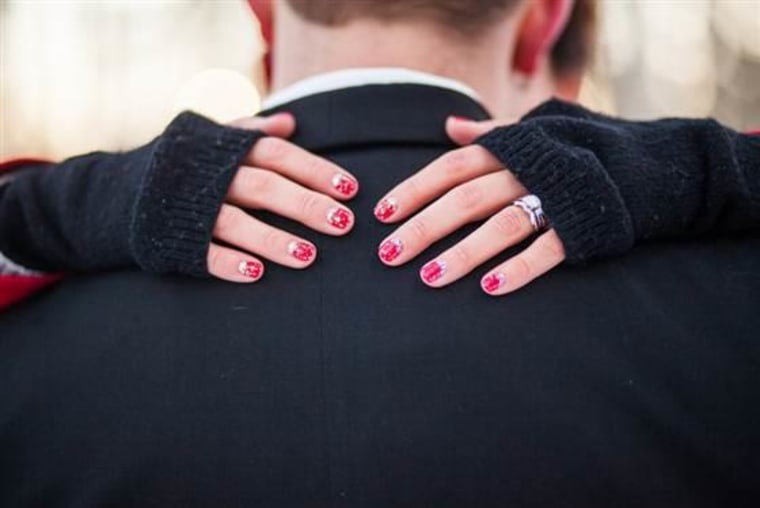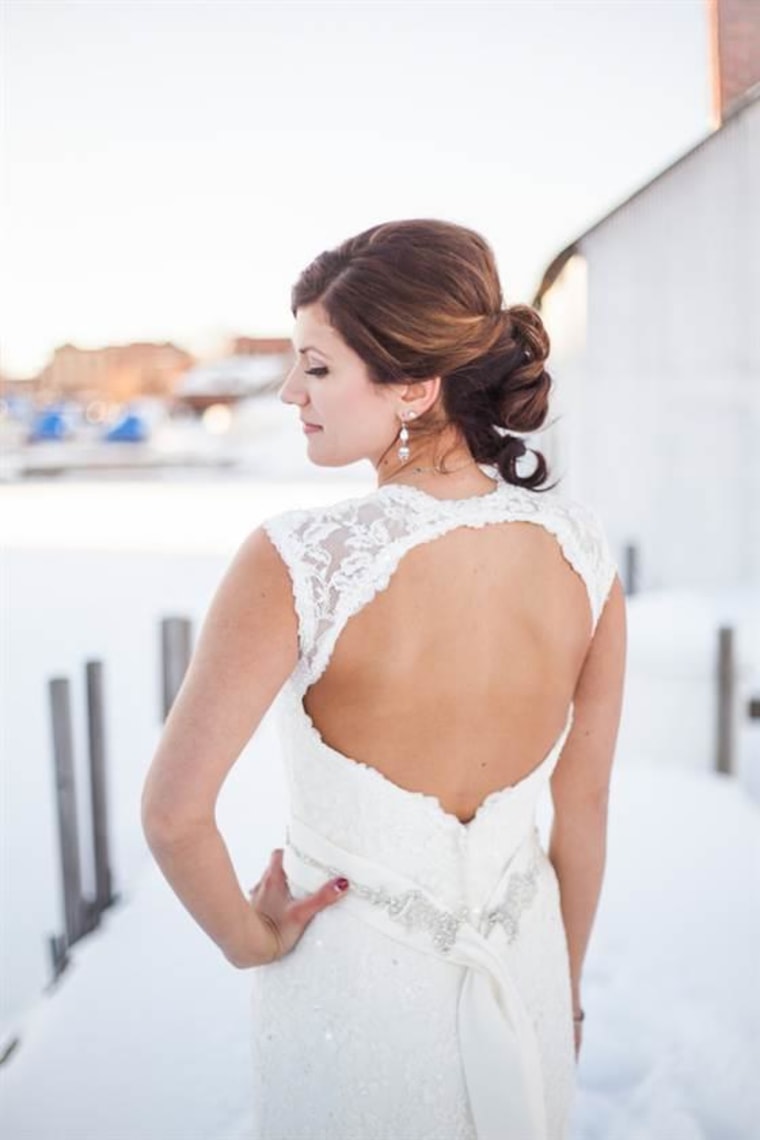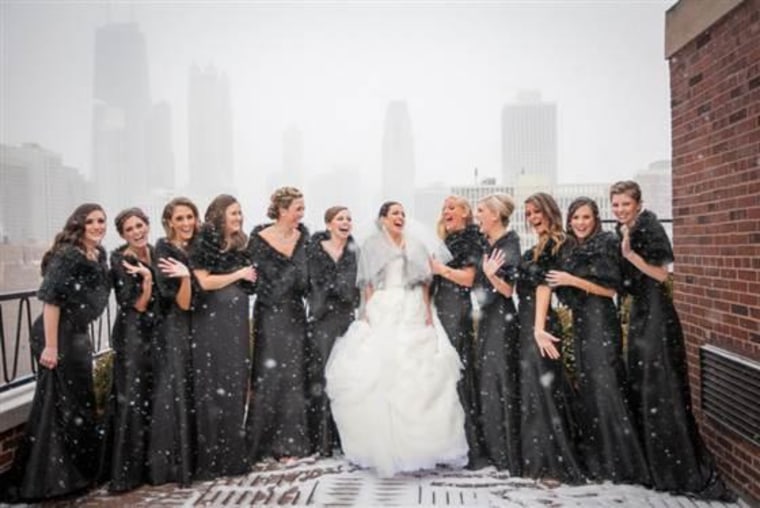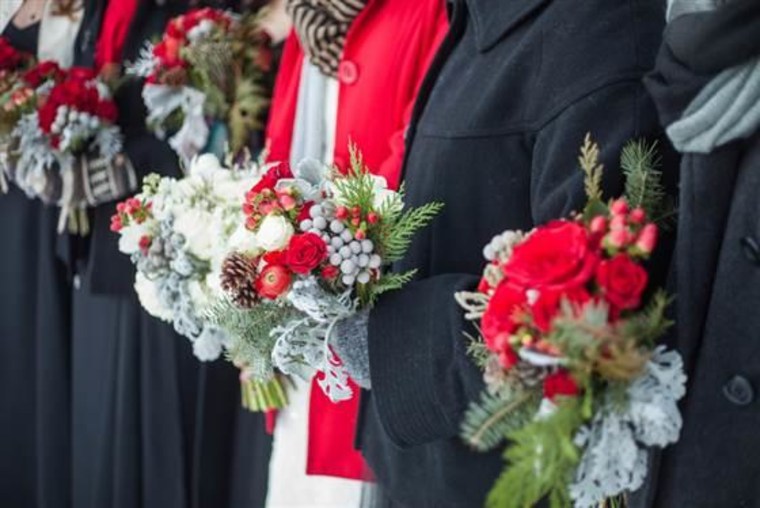 Julie Wilton, Daniel Moja; Chicago, Illinois:
This New Year's Eve wedding took place in downtown Chicago, where it snowed a foot. While the bride sported four-inch heels, sliding around the sidewalks of the city, she was "all smiles from ear to ear," according photographer Elena Bazini. The reception, with candelight and subtle details, warmed up all the guests, and the dance floor was packed. (All photos provided by Elena Bazini Photography)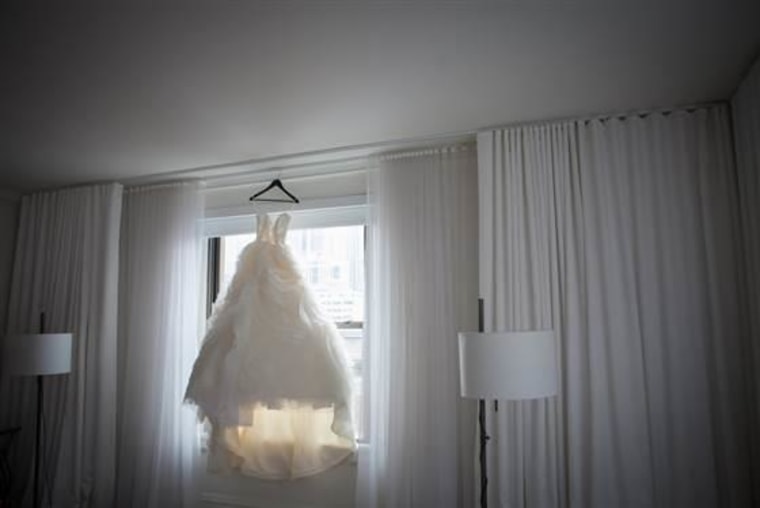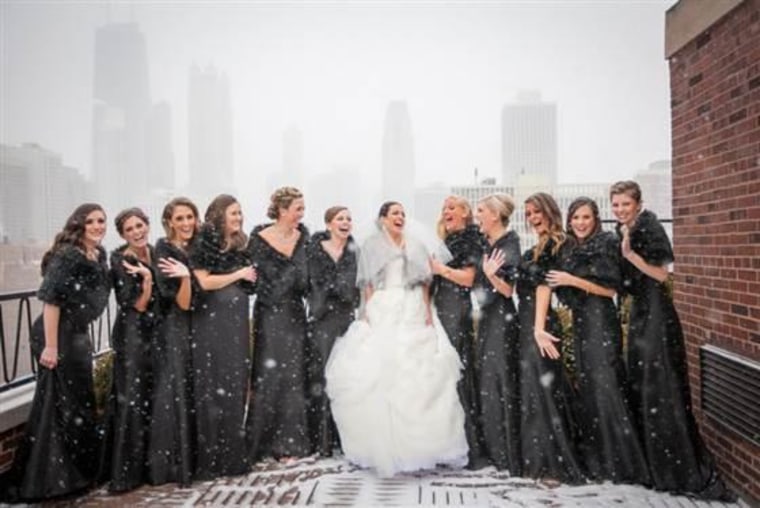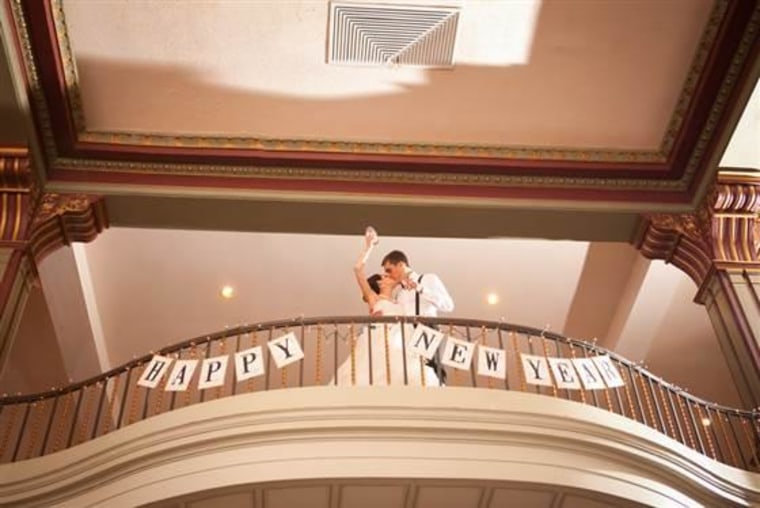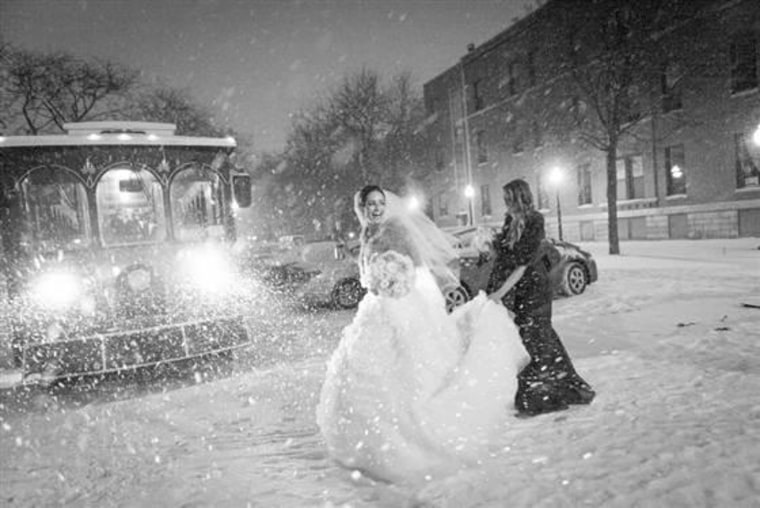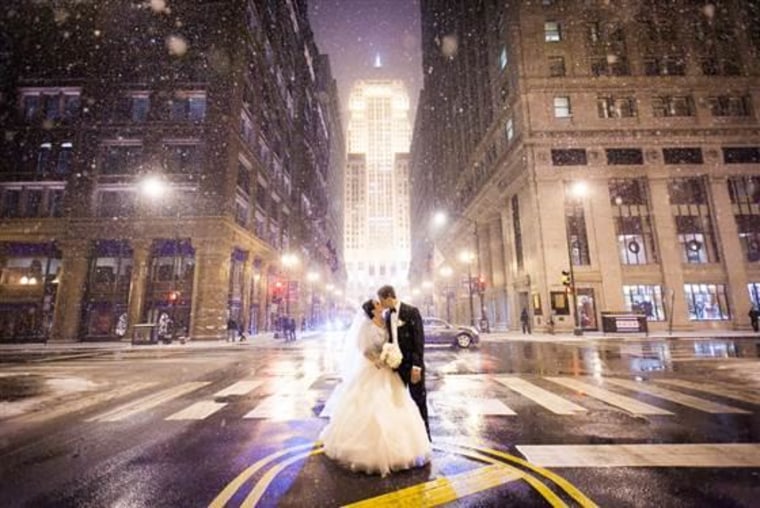 Laura Carroll and Evan Lavallee's wedding photos provided by Still Moments Photography
Keri and Paul Whitman's wedding photos provided by Danielle Castle Photography
Katy and Chase Rogers' wedding photos provided by Stephanie W. Photography
This article was originally published Mar. 2, 2014 at 11:31 a.m. ET.