If you didn't "Stand With Wendy" earlier this week, you can at least stand in the same running shoes she wore during her marathon battle for abortion rights.
The pinkish kicks sported by Sen. Wendy Davis, D-Fort Worth, during her 12-hour filibuster Tuesday in the Texas State Senate have been getting some major love on the Internet.
On Amazon.com, where the "rouge red" Mizuno Wave Rider 16 shoes sell for $115, reviewers are showing their political stripes and focusing on the more non-traditional ways to measure a running shoe's performance.
"The next time you have to spend [hours] on your feet without food, water or bathroom breaks, this is the shoe for you. Guaranteed to outrun patriarchy on race day," wrote M. Black, who gave the shoes the maximum 5 stars.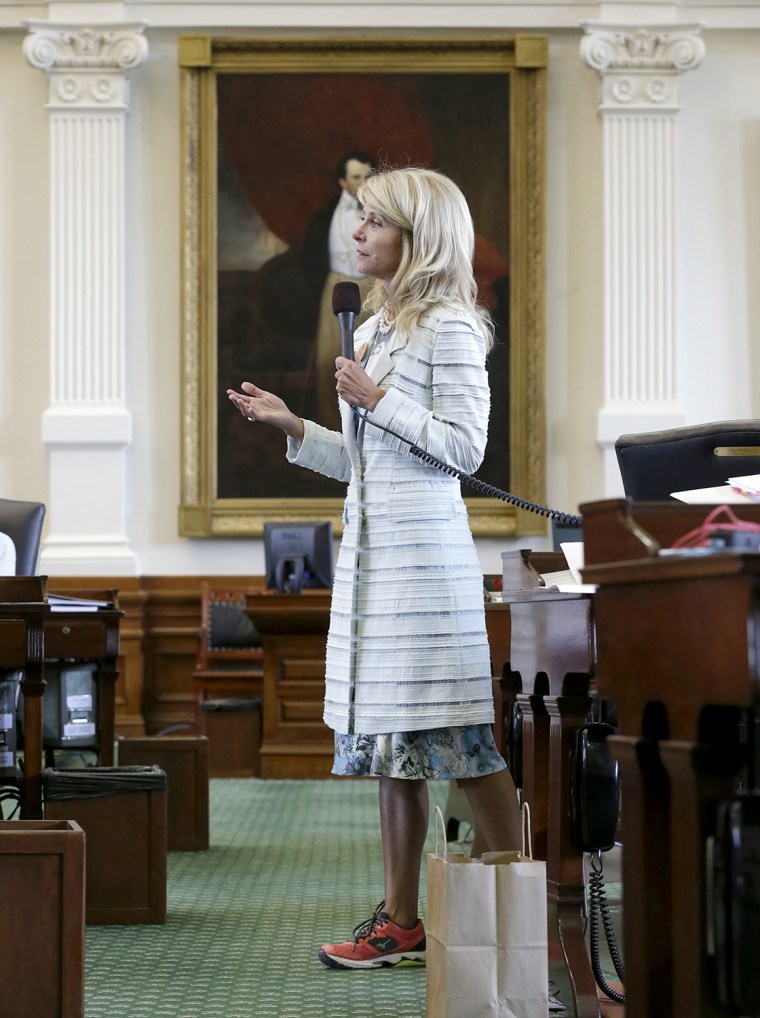 "Better than a chastity belt," wrote K. Kaufman of New York, who said she bought an extra pair "to wear directly over my womb, which seems to have done the trick."
Meanwhile, reviewer Jonathan called them the perfect shoes "for progressive feet."
"Do you believe in human rights? Do you think a women's health is a matter for her and her doctor and not for aged religious fundamentalists? Then these are the shoes for you!" he wrote.
Apparently, Amazon reviewers are far more partisan than shoppers on rival shoe site Zappos, whose patrons are strictly business when it comes to their reviews.
Nearly all of the reviews for the Mizunos were positive, but the comments focused on more practical matters, like fit and whether they were good for people with high arches.
Alyssa V. said she ran a half-marathon in her Wave Riders back in April, but she still wasn't sure whether she liked the shoes.
"I'm an oversupinator and these tend to push me out further than I should be," she noted. Yet, "I still love Mizuno products and will continue to buy them!"
Harper Cornell, a spokeswoman for Mizuno, said the company has been surprised by the sudden attention on the Wave Rider, but expressed pride that its flagship running shoe "is able to provide the comfort and cushioning needed for any endurance event, whether it's a 5K, a marathon or 10-plus hour filibuster."
"Daily website traffic totals were nearly double compared to the same day last week, and the Wave Rider 16 product page led as the number one viewed page," Cornell said. However, "Mizuno USA is a privately held company so we do not share specific sales data."
(TODAY.com did not get immediate responses from Amazon.com or Zappos.com.)
On Amazon, commentators were more concerned about whether the shoes were a perfect fit for a fight with Republicans rather than whether they were a good match for feet that roll outward.
"When I first began wearing these shoes I thought my reproductive rights were secure. Turns out, I couldn't have been more wrong. Luckily these shoes are really great for kicking Republican legislators out of office!" said another reviewer, who noted they "go perfectly with any back brace you may need after a good old fashion filibustering."
Then there's Tom Miller, who only gave the shoe a one-star rating on Amazon, with the warning: "Do not buy these shoes."

The Golden Valley, Minn., resident begins his review by acknowledging a few things. Among them, he's a man and "these are clearly women's shoes." He also admits to have never worn the sneakers, he has never gone through "the experience of wearing them" and that they are not designed for his feet.

Yet, "I feel somehow compelled to decide for the shoe's female target market whether or not they should own them."