They are obsessed with fall, waiting all year to pull on sweatshirts, crunch through the leaves and enjoy the cooler air. So what better way to get engaged, he thought, than with a custom-carved proposal pumpkin glowing bright on a dark autumn night?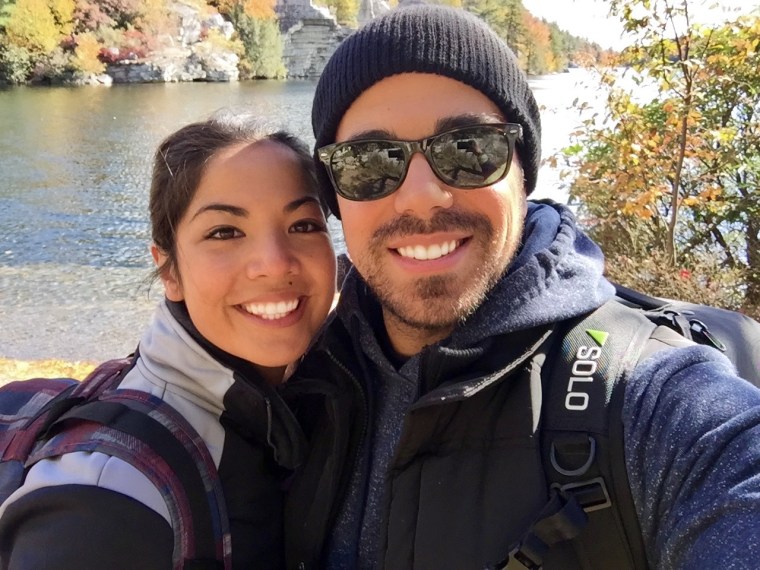 Jonathan Ehrlich surprised his love, Jenna Bonvino, with a pumpkin featuring their likeness and the words, "Jenna Will You Marry Me?" It was displayed among thousands of pumpkins at The Great Jack O'Lantern Blaze in Croton-on-Hudson, New York, earlier this month.
"As soon as you get engaged, people say, 'Show me the ring, and how did he do it?'" Bonvino told TODAY.com. "I have such an awesome story. It's really special to us. It was truly perfect."
On the night of Oct. 17, their one-of-a-kind pumpkin was set out in a prominent spot toward the end of the hour-long loop through the outdoor jack-o'-lantern display. When Bonvino saw it, she didn't realize it was for her; she figured it was another Jenna's lucky night.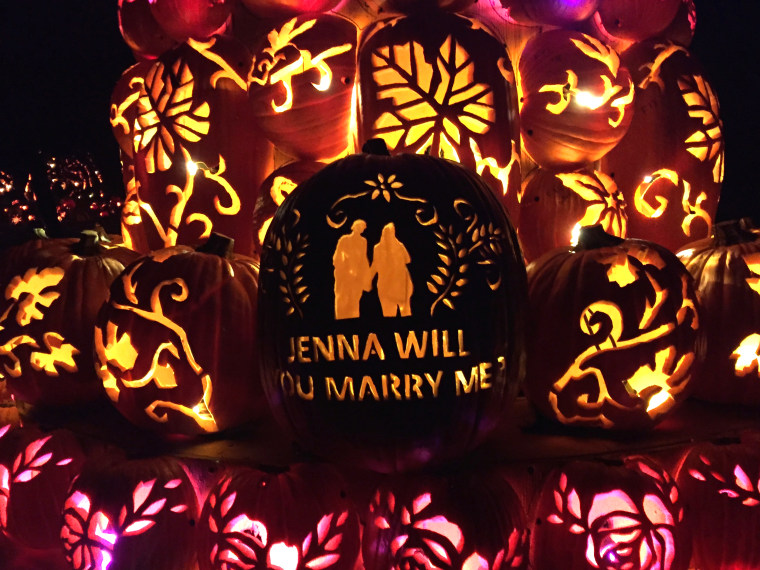 But Ehrlich pulled her aside, dropped to one knee and asked her to marry him as the crowd cheered. "I was shaking like crazy," she recalled. "It didn't feel real."
While Ehrlich, 32, and Bonvino, 28, shared a tender moment and words that neither really remember, those around them who had seen their pumpkin wanted answers: Was Bonvino in fact THAT Jenna?
"All I heard was people saying, 'Is that Jenna? Is that Jenna?'" the bride-to-be recalled. "I kept yelling, "I'm Jenna! I'm Jenna!" and "I said yes!'"
Ehrlich began planning his proposal in the summer, contacting officials who run the blaze to design and carve the bespoke pumpkin. It was based on a photo of the couple's shadows taken while they were holding hands on a trip to California.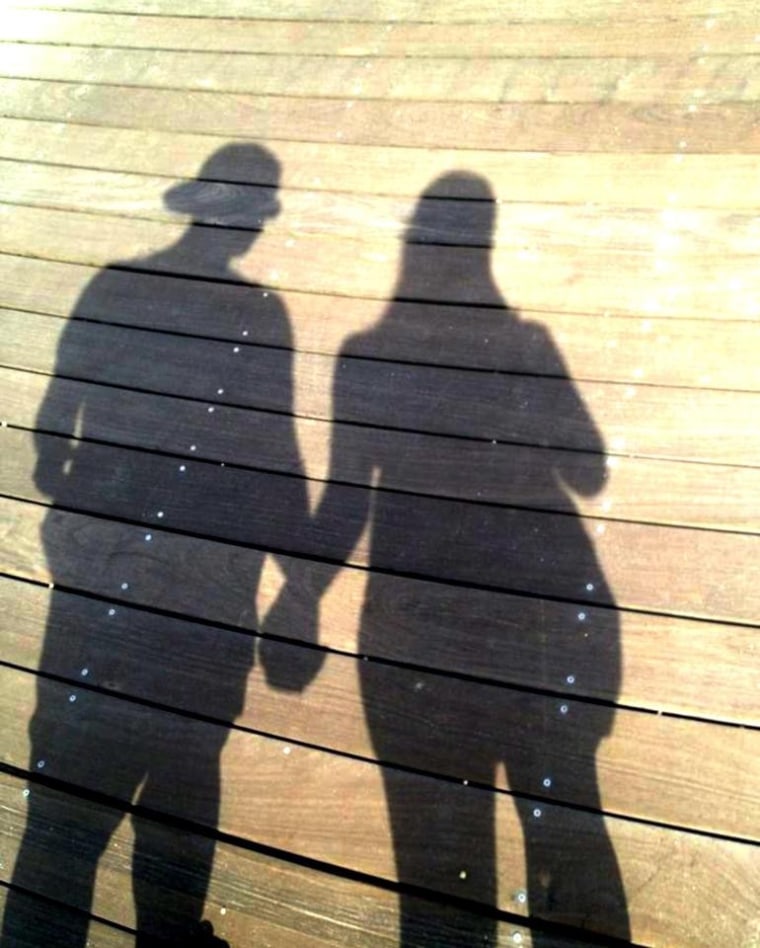 He knew that fall, their favorite time of year, would be the perfect time to propose and thought doing it at the blaze with a special pumpkin would be fun.
"Whenever fall comes, we get really, really excited to do as much as we can with pumpkins and apples and hiking," said Ehrlich, who has been with Bonvino for three and a half years. "Everything that has to do with fall, we really love. It seemed like the appropriate kind of thing to do for us."
They were both thrilled with the results.
Ehrlich thought the carving came out great. "They did a really good job," he said. "It looked really good, especially at night."
And she was overjoyed with his proposal.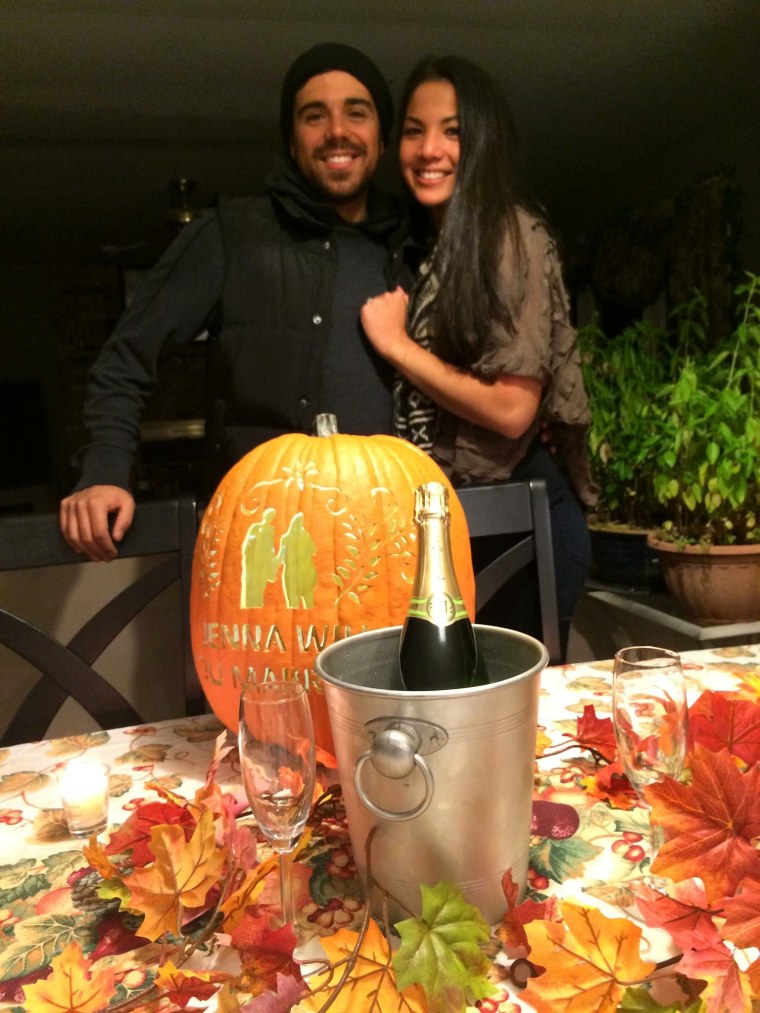 "He did an amazing job," Bonvino said. "I can't believe he pulled this together and was able to surprise me. He's usually not that good about keeping things he's excited about to himself."
The pumpkin is an artificial one and will last forever. For now, it sits atop a dresser in their home in Queens.
For Ehrlich, the keepsake represents the "start of something good," and Bonvino beams whenever she sees it.
"I love looking at it every day," she says. "I look at it just as much as I look at my ring, and it keeps a constant smile on my face."