Shannelle Armstrong-Fowler is one of our 2018 TODAY Style Heroes. Click here to see the full list!
Do a quick scan for wedding dresses online and it's easy to notice something is missing: images of models who look like they wear a size 14 or above.
That's not to say there's nothing out there for plus-size brides, but there are definitely fewer options. Add the discrimination some say they have experienced at bridal boutiques — being told, "There's nothing here for you," or "You still have time to lose the weight!" — and it's no wonder many women consider finding a dress the most daunting part of the whole wedding-planning process.
Shannelle Armstrong-Fowler is on a mission to change that. She launched Haute & Co., a plus-size bridal boutique in Chicago, after hearing a friend's tale of struggling to find a wedding gown in her size, 26.
"She was truly, truly discouraged," she told TODAY Style. "And I decided, 'I can fix that.'"
Armstrong-Fowler, who previously worked in public relations, set out to open a shop that catered specifically to the curvy and plus-size community, offering sizes 14 to 32.
"(I wanted to) give women the best version of themselves," she said. "Surround them with people who are educated in sizing, design, alterations. Make them comfortable."
But it wasn't easy.
"The hardest part was, really, the negotiations and conversations with designers," Armstrong-Fowler said, adding that she had to convince many to increase their size ranges. "They were resistant. I mean, you had designers saying things to me like, 'Oh, do they get married?' Or, you had them saying things like, 'Yeah, you're the one that wants to work the big girls.' So there was a lot of body-shaming and there was a lot of resistance."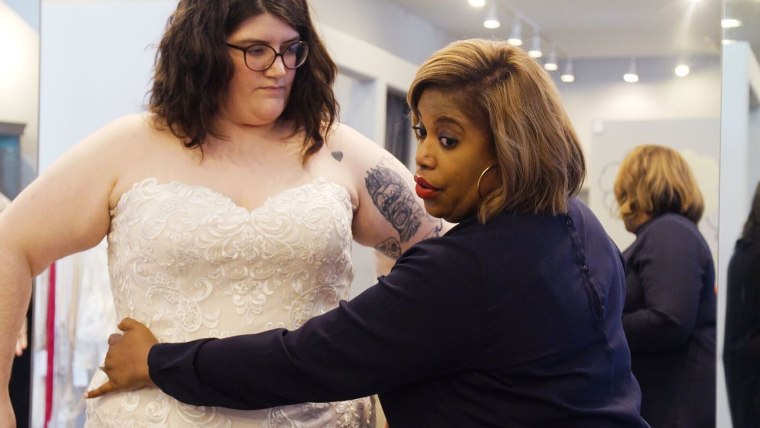 Many of the brides she sees are already discouraged by the time they step foot in the door at Haute & Co.
"They're typically a little bit reserved because they've been disappointed," she said. "They've had challenges."
Most bridal boutiques carry one or two samples of a wedding gown for women to try on, not a range of sizes. If brides can't fit into those samples, they're out of luck. It's hard to find "the dress" when you can't even see what it would look like on your own body.
The plight of a plus-size bride has been well documented. Earlier this year, the New York Times shared the story of Katie Liepold, whose engagement photos were edited, without her permission, to make her and her husband look thinner. In an essay published on XO Jane, a former employee of a bridal store recounted a customer buying two of the same exact gown, so they could be sewn together, all because it wasn't available in her larger size.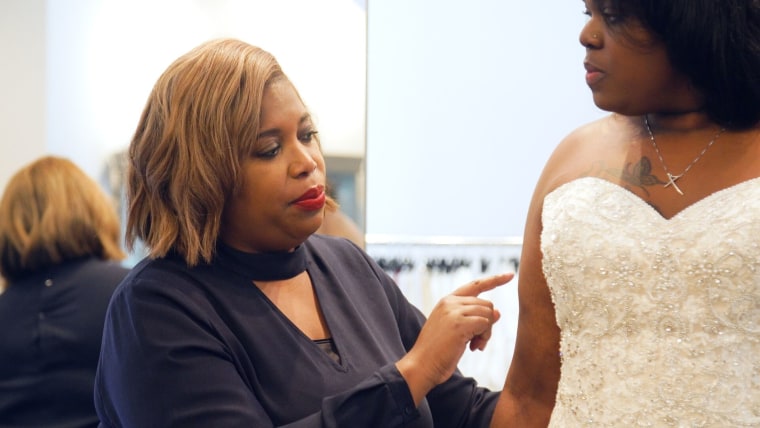 Armstrong-Fowler opened Haute & Co. in 2013. Earlier this year, "The Perfect Fit," her series about helping women find their dream dress dress, launched on PeopleTV.
While it's clear designers have started to listen to calls for more size diversity, there's still room to grow. As Armstrong-Fowler sees it, designers are only hurting themselves by ignoring such a large part of the population, pointing out that average American woman wears a size 16.
"What I would love wedding gown designers to do is rethink their current sizing policies," she said. "If you do not go past a size 20 in bridal, if you can't go to a 32, try to go to a 28. I just want you to rethink the number of women you are excluding from your beautiful designs, and the number of women you will never have the opportunity to look (at) and say, 'That's one of our looks. That's our design. And she looks beautiful.'"