A lot of brides switch up their hair between the ceremony and the reception, but some women are taking their second look to the next level!
Kayla Cummings, 26, who tied the knot with her husband Griffin in January, started her wedding day with long, blond waves.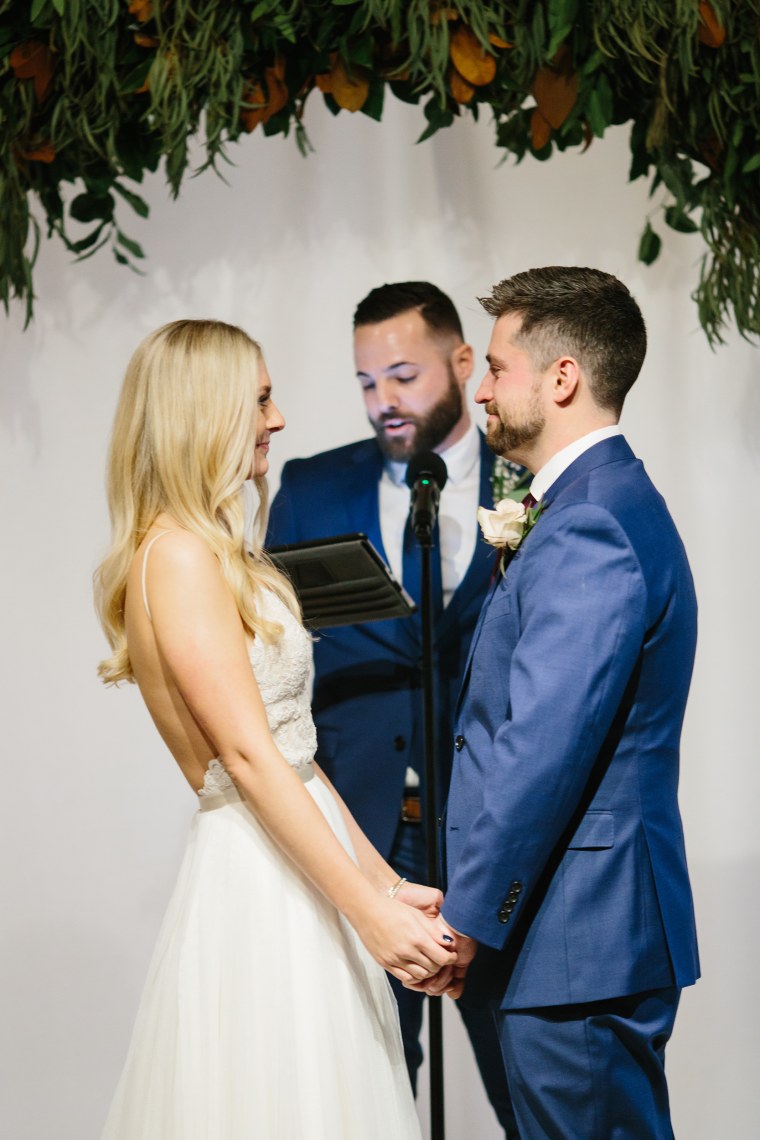 But Cummings, a mental health social worker who lives in Canton, Michigan, had a huge surprise in store for everyone — including her new husband. Before the first dance, as first reported by Refinery 29, she snuck away and got a lightning-fast haircut.
"I always knew I wanted to do a second look with my hair, and know myself well enough to know that I feel best with my hair down," Cummings told TODAY Style in an email. "I was trying to think of how I could achieve two very different looks both styled down and thought, 'Why not just chop it?!'"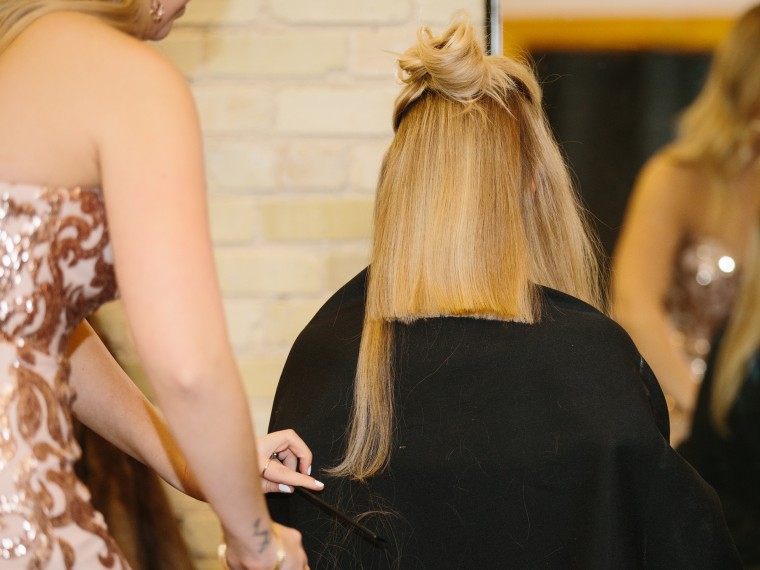 Getting a mid-wedding chop sounds pretty stressful, but Cummings says she wasn't worried about taking the plunge.
"No bride will ever not feel beautiful on her wedding day, so there really was no risk," she said.
It also helped that Cummings' professional hairstylist was her sister, AJ Palace. The sisters had been planning the top-secret cut for months, and Cummings trusted her sister completely to create her new look.
Palace, 29, knew she had just minutes to pull off her sister's transformation.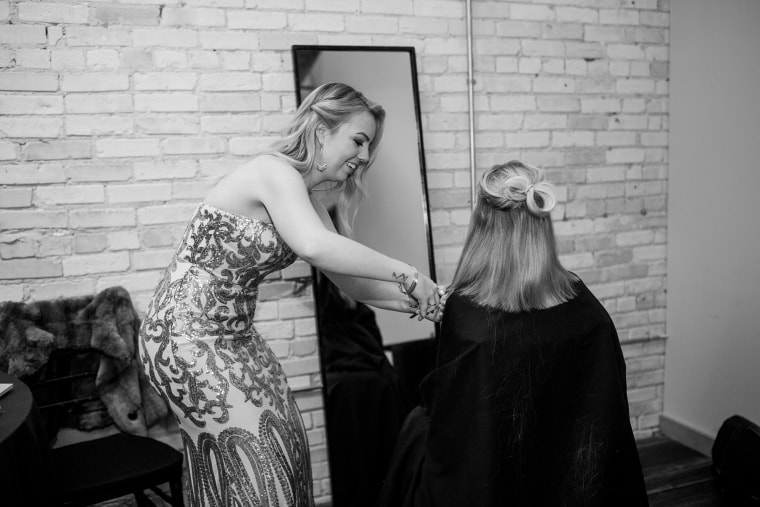 "We had about 15 minutes blocked off for the actual haircut, and spent the first five searching for a table linen to use as a cape!" Palace told TODAY Style via email. "We chopped off Kayla's hair, she took off her feminine skirt to reveal a sexy fitted dress beneath, and added a berry lip."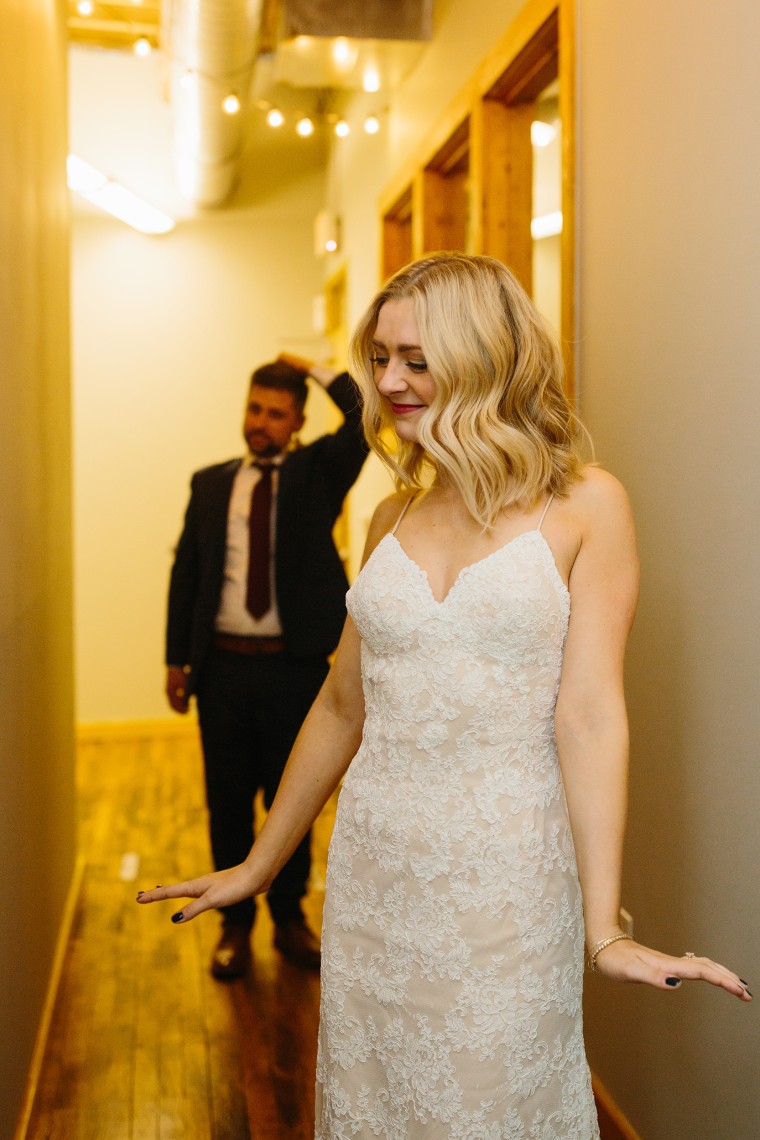 Cummings stepped into her reception completely transformed, with a gorgeous, long lob. Everyone was floored, but no one more so than her new husband.
"Griffin was shocked! Hands-on-head, jaw-dropped stunned!" Palace said. "He loved the cut … He hugged me too and kept saying 'Good job!' The guests immediately noticed the transformation when she confidently walked out onto the dance floor for their first dance. Everyone talked about it all night."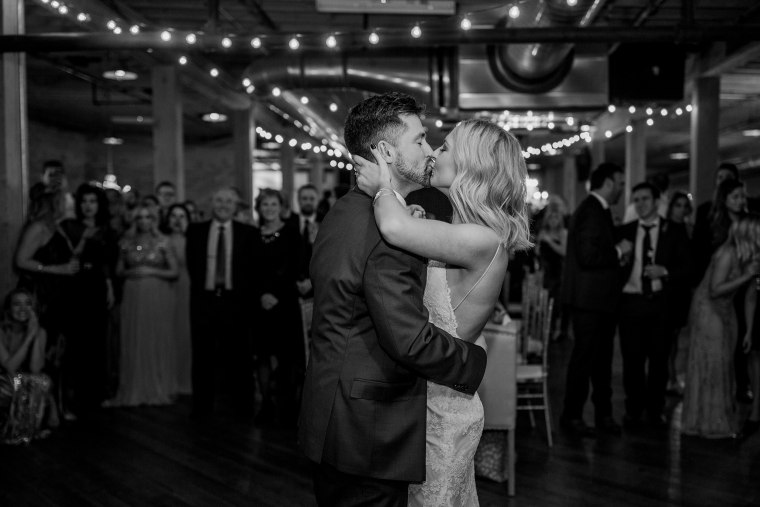 And as word continues to spread about her sister's mid-wedding chop, Palace says other women been approaching her about wedding day haircuts.
"I've had a couple upcoming brides asking about it," Palace said. "I think this is a trend worthy of a take off."
Another bride, Tracey Manner, 31, was an early adopter of the trend. She chopped off about 10 inches of hair on her wedding day.
Manner, a public relations executive who lives in New York City, had been growing out her thick, wavy strands for her destination wedding in Belize last May, and, as Refinery 29 reported originally, she knew she wanted to switch up her look at the reception.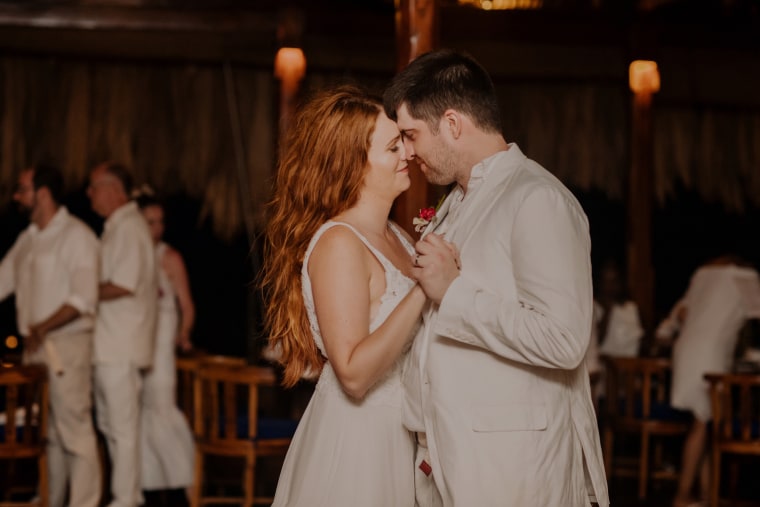 But unlike Cummings, she wasn't 100 percent sure whether she was going to actually go through with the chop — until some intense weather on her wedding day helped her decide.
"The day started with a torrential storm that cleared into a beautiful cool day, only to heat up to 95 degrees as I was putting on my dress," Manner told TODAY Style via email. "The humidity paired with my nerves and excitement only made me hotter once my long hair was down my back. Right after our ceremony, a wind storm started but at that point my mind was made up. I was so over the long hair."
So her good friend, hairstylist Matt Fugate, chopped off nearly a foot of her hair on the fly — literally.
"Matt had to cut my hair with his razor in 40-mile-per-hour wind on a deck. His wife was holding towels up trying to block the wind," Manner said. "It was hilarious, fun and something I will never forget. It was a really special moment with two of my best friends in the world. I just embraced the moment, my glass of wine and put my trust in the universe."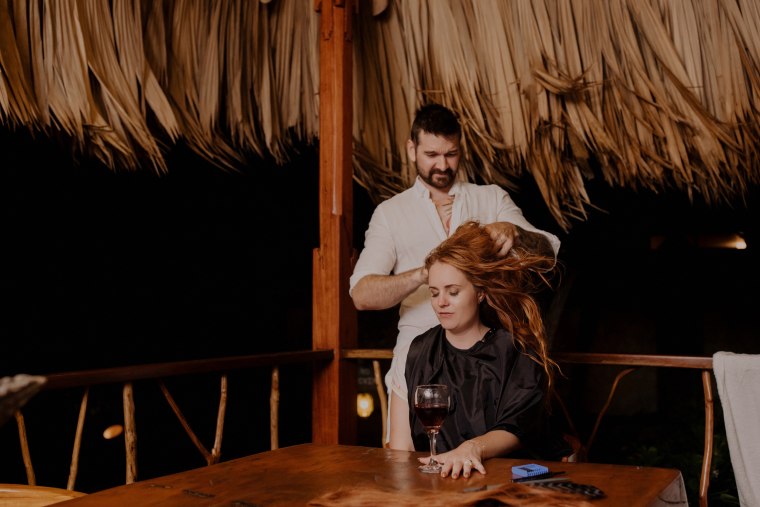 Afterward, Manner had no regrets.
"It felt incredible to step out with a dramatic new haircut," she said. "One, because it was so hot but two, because it was like a new beginning. It also definitely set the tone to all of our guests that it was time to dance the night away."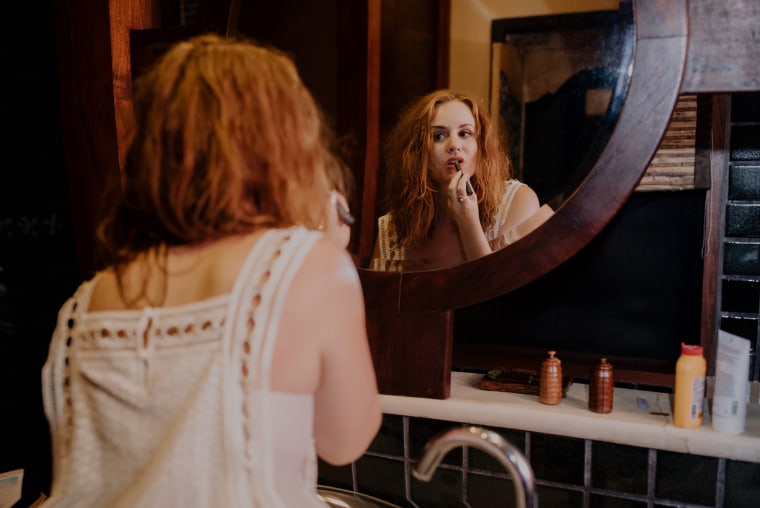 Looking back, Manner said she would absolutely recommend a mid-wedding cut to other brides.
"If your hairstylist is there and you trust them the way I trust Matt, 100 percent do it," she said. But of course, she warns, after the chop there's no going back.
"You have to be the kind of person that can roll with a big change and accept it," she said.