It's no secret that the internet is obsessed with anything and everything that cleans pores. In fact, Dr. Pimple Popper has even created a game where you can pop pimples.
When I heard that Sephora offers a treatment that uses a vacuum-like machine to clean out the gunk in pores without involving any extractions like your typical facial, I was instantly curious. The perk hydrating facial takes just 30 minutes, and it's complimentary with any $75 purchase at the cosmetics and beauty chain.
The way it works is simple: First, a skin care consultant removes your makeup and goes over your current skin care routine along with any issues or concerns you may have. Then, he or she checks the moisture level of your skin using a meter that runs on a scale from 0 to 99, with the ideal range falling somewhere in the 70s. I clocked in at 49, which felt right on target with my concerns of having combination skin. I'm dry in the cheeks but oily in the T-zone.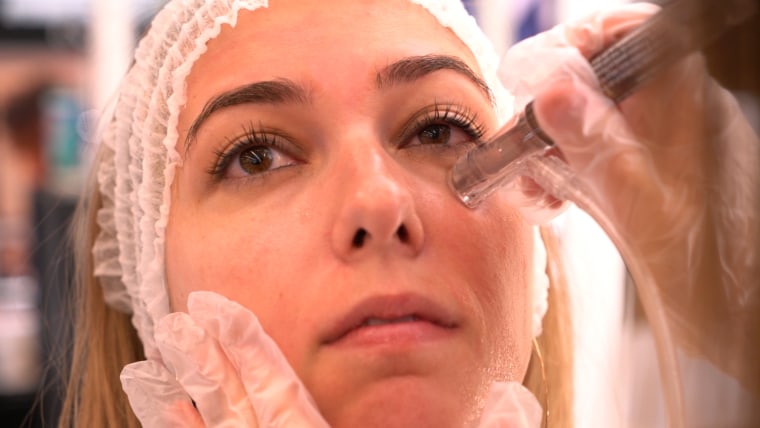 Then it was on to the actual treatment. The machine resembles a typical medical laser but it has a little pen-like device attached to the top. The first step involves applying a solution to exfoliate the skin and running the machine over the face to suck out all the impurities. The machine itself didn't hurt a bit. The best way to explain the sensation? It's like when a dog licks your face — and who doesn't love that?
Next came the hydrating portion, in which the machine sealed the serum into my skin. Again, it was completely painless and actually quite enjoyable. The consultant runs the device over the entire face, even the lips. And they change the top of the device each time, so it's sanitary.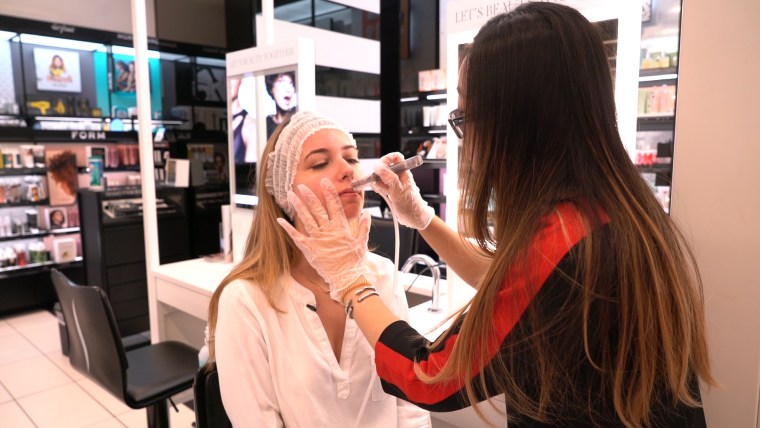 You can work with your consultant to control the intensity of the facial. Mine started out relatively light, and then I asked her to bump it up for the full effect.
Once the two-step process of the treatment is complete, the consultant reveals all the impurities removed during the process. I was completely horrified when I saw mine; it looked like a mixture of snot and phlegm. Disgusting!
I like to think I take pretty good care of my skin by getting regular facials, exfoliating with peels and using retinol. However, David Razzano, beauty director at Sephora, compared it to cleaning teeth. You may brush, floss and use mouthwash every day, but when you go to the dentist there is still plenty of plaque to clean. This facial is like a professional cleaning for your skin.
The treatment finishes up with the consultant applying skin care products like moisturizer and sunscreen to keep skin hydrated.
While I loved the way it felt and thought my skin looked very clean and clear, is this facial actually effective?
New York City-based dermatologist Dr. Debra Jaliman, who hasn't tried this particular facial and doesn't offer it in her office, thought it would be an effective way to exfoliate due to the suction feature of the machine, which can give you a much stronger exfoliation than your typical method. She would recommend it especially for people with clogged pores, acne-prone or oily skin, but people with rosacea, eczema or sensitive skin should proceed with caution.
She recommends people with sensitive skin exfoliate once per week while others can do it up to two times a week.
"People are busy and they don't exfoliate enough. This leaves dead skin on the surface, so moisturizers don't penetrate deep into the skin. Makeup doesn't go on smoothly, so the skin looks rough and dull," she wrote in an email to TODAY Style. "An exfoliating routine will leave your skin looking fresh and healthy."
Indeed, the day after trying the perk hydrating facial, my makeup went on so smoothly and my nose definitely looked less clogged.
All in all, I really enjoyed the experience. It was quick, painless and efficient. I can't wait until my next shopping spree so I can do it again.