Our editors independently selected these items because we think you will enjoy them and might like them at these prices. If you purchase something through our links, we may earn a commission. Pricing and availability are accurate as of publish time. Learn more about Shop TODAY.
With the royal wedding of Prince Harry and Meghan Markle just days away, it's time to plan your official viewing party! Celebrate the historic moment with an early morning gathering featuring classic English snacks, festive decor and a few of your closest friends.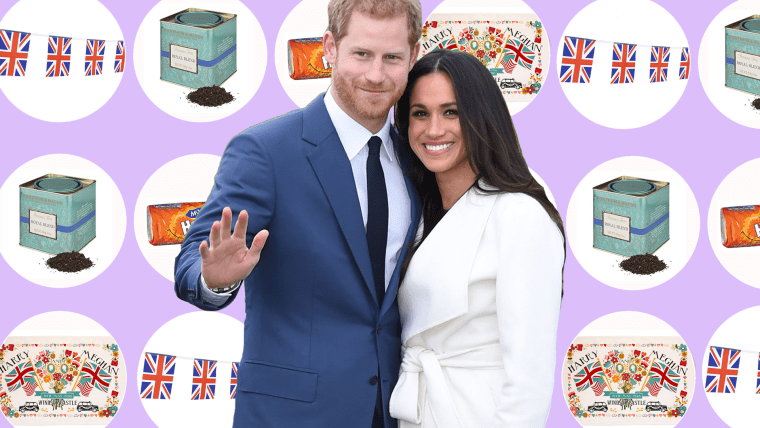 Shop a few of our favorite finds, and be sure to watch Savannah Guthrie, Hoda Kotb and the TODAY team live from Windsor Castle on May 19 with coverage beginning at 4:30 a.m EDT and a broadcast of the ceremony at 7 a.m. EDT!
TSMD 100-Foot United Kingdom Flag Banner, $12, Amazon
As Harry, Markle and the royal family travel by carriages to St. George's Chapel, they'll be greeted by thousands of well-wishers lining The Long Walk, the aptly named path toward the grounds of Windsor Castle. It'll be a sea of Union Jack flags, so a banner like this one will make your own home feel like you're right in the middle of the festive wedding procession — well, sort of.
Ulster Weaves Royal Wedding of Prince Harry and Meghan Markle Tea Towel, $20, Amazon
It's custom to find commemorative mugs, china and other home goods on the market ahead of a royal couple's big day. This stylish tea towel will forever remind you of Harry and Markle's marriage... and serve as an adorable decoration for your watch party.
Prince Harry and Meghan Markle Face Mask Royal Wedding Pack, $15, Amazon
A little kitsch is never a bad thing. These goofy Harry and Markle face masks will help get any early riser into the wedding day spirit.
Pavilia UK | British Flag Toothpicks (100 count), $5, Amazon
Also available at Jet and Walmart.
Stick to an easy feast of scones, muffins or cucumber tea sandwiches that you can prep ahead of time so you won't miss a moment of the coverage. For a quick way to spruce up your treats, place a Union Jack toothpick atop each one!
Palmquist 11-Piece Porcelain Shabby Rose Green Tea Set, $86, Wayfair
A similar set is also available on Amazon.
Ditch the coffee for just one morning! No proper early morning watch party would be complete without tea served from a beautiful tea set fit for a queen.
Fortnum & Mason British Tea, Royal Blend (25 Count), $22, Amazon
Fortnum & Mason, the iconic grocer located on London's Piccadilly street, is known for its custom tea blends and biscuits. It's also a favorite retailer of Queen Elizabeth II, who has in years past chosen the market's sweet Christmas pudding as a holiday gift for each member of royal staff. Ahead of major moments in royal history, Fortnum & Mason often releases special teas, like the Jubilee Blend, created in honor of the queen's Diamond Jubilee, and the Wedding Breakfast Blend in honor of the Duke and Duchess of Cambridge's 2011 nuptials.
McVitie's Hobnobs Original, $13, Walmart
Also available at Amazon.
Traditional English tea is often served with biscuits, and McVitie's are a classic choice. They also come covered in milk chocolate for a more decadent treat. If you're feeling a bit adventurous, serve a "spot of toast" with marmite, a favorite spread among many Brits that's made of yeast extract.
Decorative Things Meghan Markle and Prince Harry Royal Wedding Paper Cocktail Napkins (24), $20, Amazon
Because what's better than custom cocktail napkins bearing the name of Harry and his future wife? These paper dolls fashioned like Harry and Markle are also a festive way to salute the couple, available now from Target.
Occasion Flower Veil Headband, $24, Asos
One of the things that sets royal weddings apart from all others is the fashion. Dress designers are hoping for a large uptick in the $32 million wedding industry once Markle reveals her gown to the world, according to the New York Post. And who can forget Princess Beatrice's and Princess Eugenie's fascinators from Prince William and wife Kate's wedding? Be sure to have one handy for a photo-op, or unlock the TODAY Royal Wedding Lens on Snapchat for a virtual version!
Pajama Shirt and Shorts, $25, H&M
And while we're on the subject of photo-ops, it's probably best to don your cutest pajama set, especially if you plan to take lots of selfies!
Her Ladyship's Guide to the Queen's English Book, $10, Amazon
Also available at Barnes and Noble and Target.
And to ensure you've got all the royal lingo down, from royal titles to teatime manners, read up with Caroline Taggart's "Her Ladyship's Guide to the Queen's English," a primer on all things British.