Daisy Edmonds loves an adventure. So when the 8-year-old spotted the "desert adventure awaits" T-shirt with her mom at a British big-box store, she looked for one in a color she liked.
And that's when she started getting annoyed.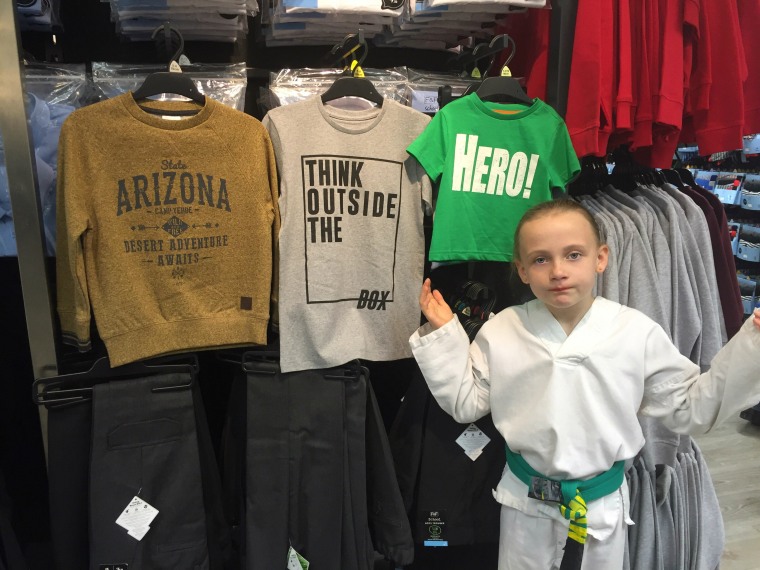 She realized she had been going through racks of boys clothing that encouraged imagination and heroism. But the T-shirts for girls right next to them bore entirely different messages, ones about feeling "beautiful" and "fabulous."
"It's unfair, because everyone thinks that girls should just be pretty and boys should just be adventurous," Daisy tells her mother in a video she originally posted on Facebook that has since gone viral. "I think that is wrong. Why should boys and girls clothes even be separated, because we're just as good as each other."
RELATED: Critics slam Gap Kids for 'sexist' ad that calls boys 'scholars,' girls 'social butterflies'
Daisy points out one of the girls' shirts that simply says, "Hey," in pink-and-black block lettering.
"'Hey?' What is that even supposed to mean? I don't find that inspiring. What part of 'hey,' is great? I don't get it," she says, while wearing a martial arts uniform from the class she had just finished.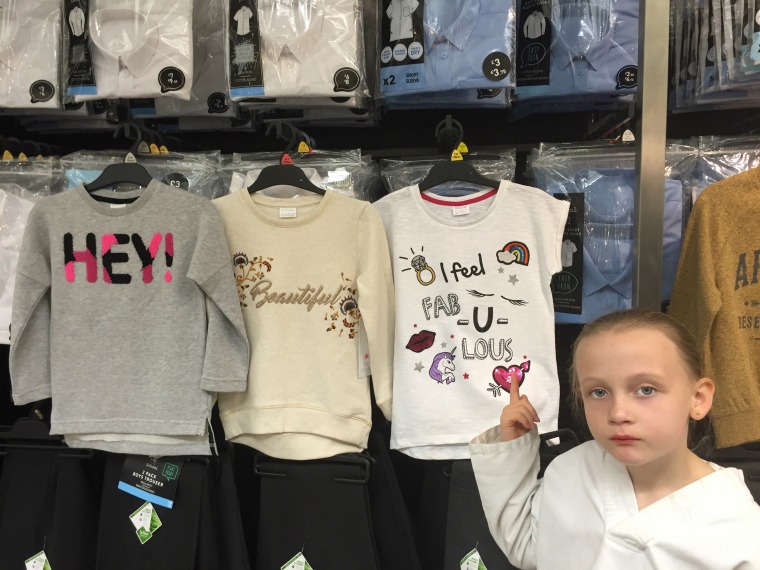 Beck Edmonds said she recorded her daughter's observations on a recent Saturday morning as the two ducked inside a café at a Tesco superstore to kill time as one of Daisy's little sisters attended a birthday party.
RELATED: Girls' Life vs. Boys' Life cover comparison leaves us shaking our heads
The family lives far from relatives in Cotswold, a south central region of England, so Edmonds said she recorded Daisy's mild rant with the intent to post it on a Facebook page she created to help keep in touch with relatives.
"I put it online for my mum to watch because I thought it was funny, and I was proud of her for having an opinion, and the next thing we know, our local paper saw it," Edmonds told TODAY.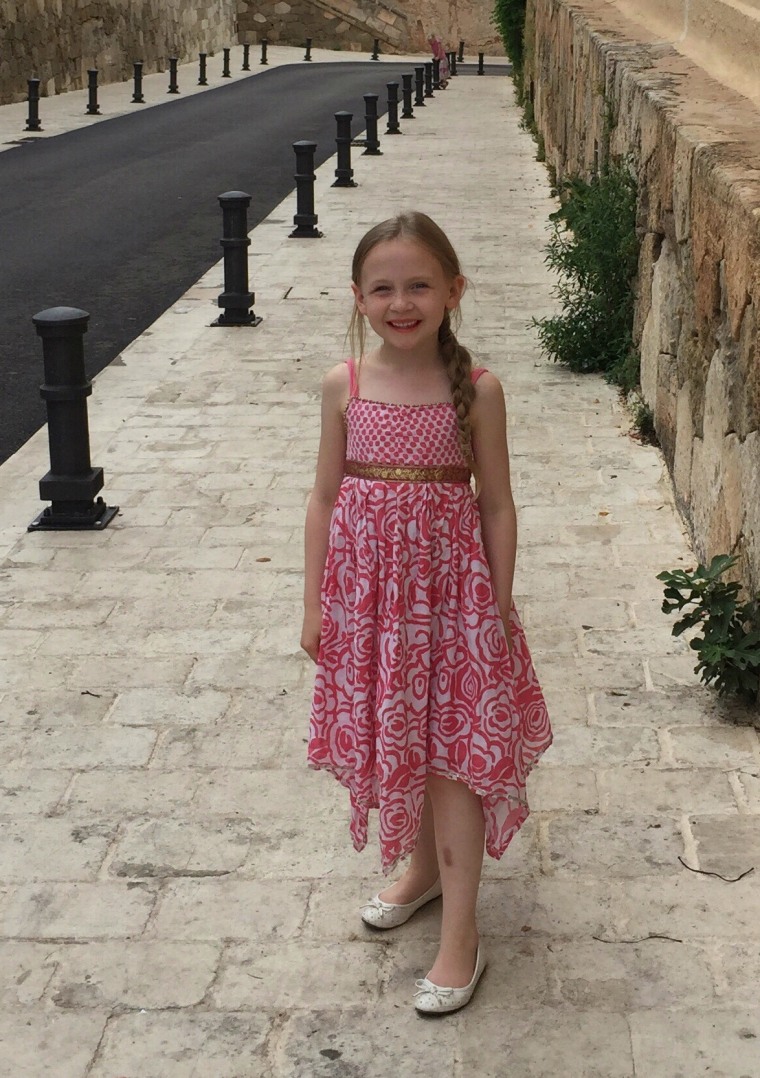 Within a week, the video went viral. It now has more than 1.7 million views and nearly 19,000 shares.
RELATED: Target removing 'gender-based signage' for kids after complaints from parents
Edmonds, who has two other daughters, ages 6 and 2, said the family frequently talks about subjects that affect young girls, both domestically and around the world in more repressive nations.
"I certainly didn't tell her (Daisy) what to say, but we often do talk about subjects like body image and Photoshop and makeup and affection," she said.
All of her girls enjoy having their hair done and pretending with makeup, but they also understand "all that stuff is just really good fun, almost like costumes and dress up," said Edmonds, who noted that having daughters "made me notice casual sexism in a way that I've never ever noticed before I had kids."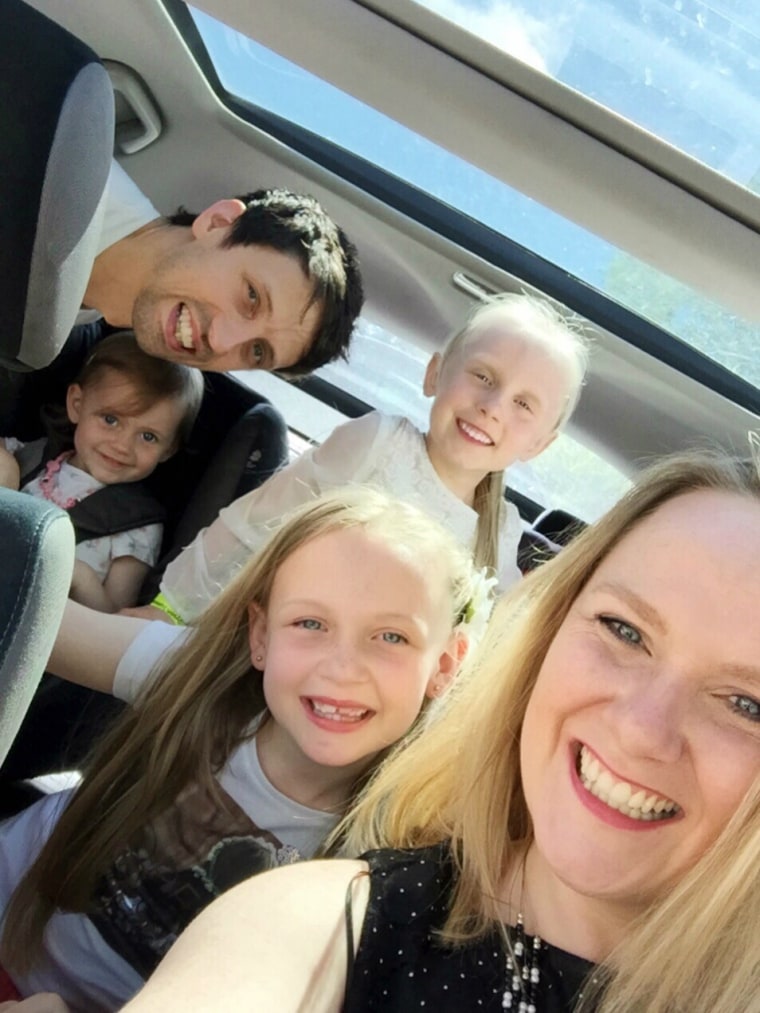 Edmonds said she reached out three times through Twitter to Tesco, the superstore she and her daughter were in, to get company feedback on Daisy's observations. She said the store failed to respond until after a local British reporter reached out to the company.
In a statement, the company said, "We stock a wide variety of clothes suitable for girls and boys and listen to the views of our customers when reviewing our range."
Edmonds said a representative also reached out to her family offering to send Daisy sample clothing to "assure her that new styles will be arriving stores shortly."
Responding to some social media critics, Edmonds acknowledged that potentially sexist or gender-specific marketing may not be as a significant problem such as war or world hunger.
"But I don't want my 8-year daughter going to bed at night crying about world poverty and human trafficking," she said. Instead, she's sticking with age-appropriate issues her daughter can understand.
"It just prepares them to be able to take on issues that actually matter when they're older and when they're capable of coping emotionally with them," she said. "The T-shirts may not really matter, but the question is, can you get little kids to look at something and say, 'Is it fair, or is it not fair? Is it just, or unjust? Because then, when it matters, they will know that their voice counts and that they are equipped to have an opinion."
Follow Eun Kyung Kim on Twitter or Facebook.