Wal-Mart apologized Monday for advertising some of its Halloween costumes under a "fat girls costumes" category on its website after the link was flagged by customers in disbelief.
"This never should have been on our site. It's unacceptable and we apologize," Ravi Jariwala, a spokesman for the retailer, told TODAY.com. "As soon as we were notified about it this morning, our teams began immediately to remove it from our site and also to ensure it never happens again."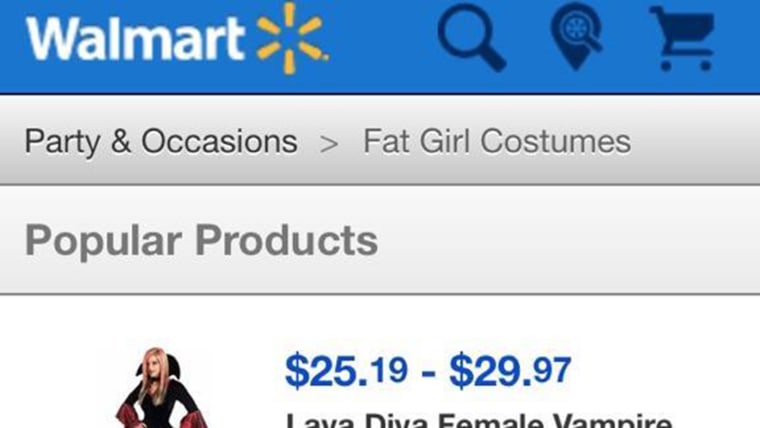 News that the retailer's website had indexed numerous Halloween items under the description "Fat Girl Costumes," first reported by Jezebel after a reader tip, fueled a Twitter firestorm that continued even after Wal-Mart took down the page by mid-day Monday.
The link no longer directs viewers to the page for "fat girl costumes." Instead, it refers potential customers to a selection offering options for "women's plus size Halloween costumes."  

But it was easy to find other ways to view the original page throughout the Internet, as Twitter users gladly pointed out.
Jariwala said he doesn't know how the original "fat girl costumes" section got posted but guessed it might have been related to "some technical issues."
"A lot of it was probably driven by search algorithms but I don't want to comment on it too much because our teams are looking into it," he said.
Jariwala said he learned about the controversial web page after media inquires Monday morning. That's when Wal-Mart immediately took steps to remove the page off the website because "it shouldn't have been there in the first place."
Follow TODAY.com writer Eun Kyung Kim on Twitter.