/ Source: TODAY contributor
You could call red the signature color of Virgin Atlantic. The U.K.-based airline founded by brash British music mogul Richard Branson sports a red logo, red engines, red seats and even the female flight attendants are required to wear red lipstick along with their distinctive red suits and heels. This spring, they'll all be sporting a new shade as the innovative airline dips its wing into the beauty industry with the launch of a lipstick in a shade called "Upper Class Red."
The lipstick is debuting as part of a marketing campaign for the airline's resdesigned "Upper Class" cabins on the London to New York route. But why lipstick to celebrate a new aircraft feature?

"Red lips signify jet-set glamour and style synonymous with the Virgin Atlantic brand," a Virgin Atlantic representative told TODAY.com. To create the lipstick, Virgin Atlantic teamed up with bareMinerals' Pretty Amazing Lipcolor, who carefully selected a shade to match the brand's signature Virgin Atlantic red.
"It's got the coverage of a lipstick but the high shine effects of a gloss to deliver a full-bodied, velveteen color — a red shade that suits every skin tone," Sarah-Jane Froom, European makeup artist at bareMinerals, has said of the shade.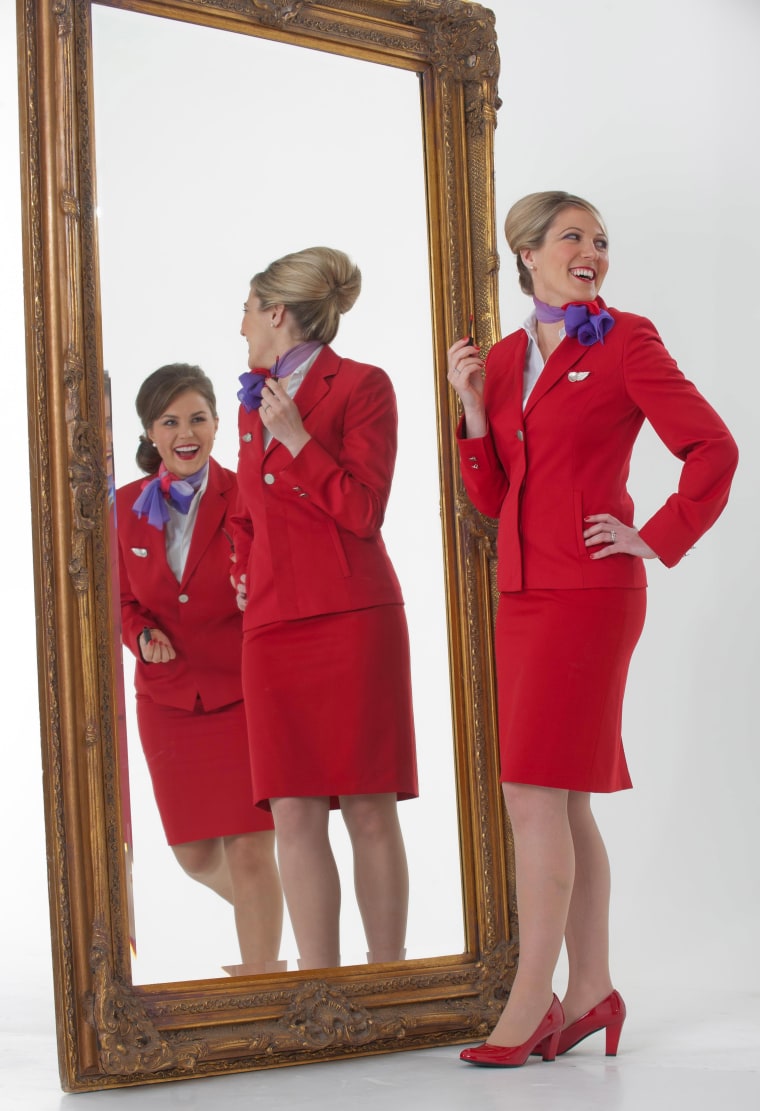 The lipstick itself has been designed with jet-setting fashionistas in mind. It has hydrating elements to alleviate the chapping effects of cabin-pressure, and a long-lasting finish that's suited to long-haul flights from London to New York. One swipe, and you can feel, if not exactly look, as glamorous as Kate Moss or Victoria Beckham do when hopping the pond.
The lipstick can be purchased exclusively at a cost of $16 at the Virgin Atlantic Clubhouse Spas at Heathrow, Gatwick, and JFK airports, and through the airline's on-board shopping guide, though an airline representative told TODAY.com that "there is a possibility for larger retail distribution." Passengers lucky enough to be traveling in the new "Upper Class" cabins will get samples of the lipstick on-board. The all-female "Upper Class" cabin crew will, of course, be wearing the shade as well.

If the "Upper Class Red" lipstick is a success, could this be the dawn of a new era in airline beauty products? Who knows: JetBlue "True Blue" eye-shadow could be in our future.