It's not often that I get excited about a razor. To be honest, shaving is a chore. So, razors rank pretty low on my list of favorite beauty products.
Still, I can't help but get excited about the few razors I've found over the years that make shaving less painful. And, I recently discovered a new one: the Venus Platinum Extra Smooth razor ($13 at Amazon), which just hit shelves this past February.
I've been a fan of the brand's Venus & Olay razor for five years now, and I wasn't sure that they could top it. Yet, they've won my heart once again with this new release.
What sets the Platinum Extra Smooth razor apart from any other I've used before? The ergonomic metal handle, for starters. Designed specifically for women, the handle is easy to grasp — especially when it gets slippery in the shower — and gives me more control than a typical plastic razor handle. The heavier feel makes it easier to shave evenly without the razor sliding all over the place.
A great handle is one thing, but the Platinum Extra Smooth razor also has a pretty great blade. Coated in diamond-like material, the five blades are designed to reduce friction, drag and irritation, and they give me a nice, close shave. Since I'm lazy with my beauty routine, I've been using this razor for without shaving cream for almost two months. So, I can really see what it's made of.
Usually, I can only skip shaving cream when I'm using a razor with some heavy-duty moisture bars — otherwise I'm prone to cuts and nicks. The Platinum Extra Smooth razor has a subtle, water-activated moisture bar around the blades that gives me a close shave without cuts or stinging. It rivals the soothing effect of other razors I've used with much thicker moisture bars.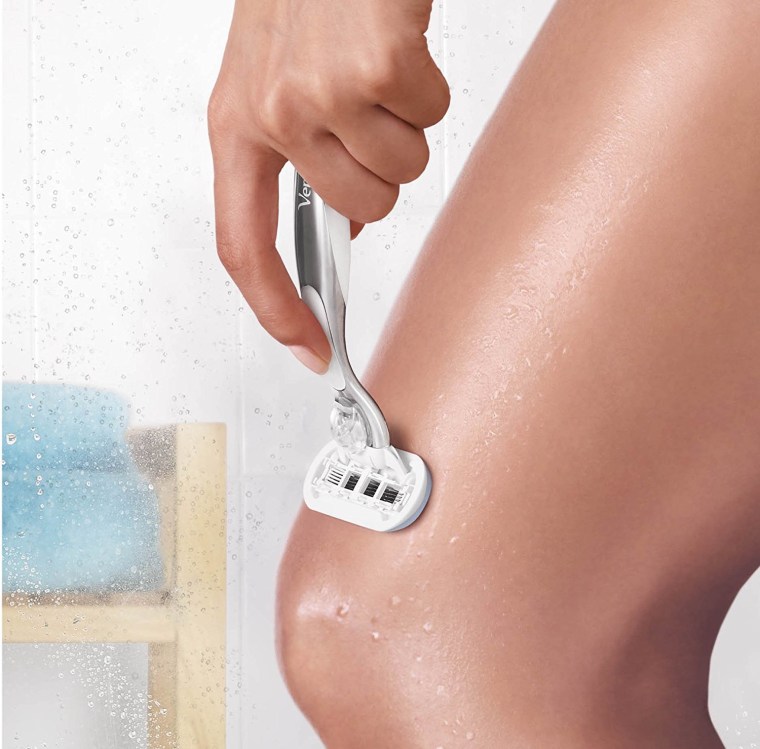 Before trying the Platinum Extra Smooth razor, I didn't think I would find another razor I loved as much as the Venus & Olay. After using it for weeks, though, I definitely stand corrected. I'm excited to add a new favorite to my beauty arsenal.
If you want to try Chrissy's other favorite, check out the Venus & Olay razor:
For a few other options, here are three of the best-selling women's razors on Amazon: