Calling the visual of a skinny underwear model with a thigh gap "irresponsible," a British advertising standards group has demanded that Urban Outfitters remove a catalog image from its website.
Responding to a complaint from someone who called the model in question "unhealthily thin," the London-based Advertising Standards Authority filed a report on the picture showing the lower half of a woman wearing a pair of polka-dot mesh briefs.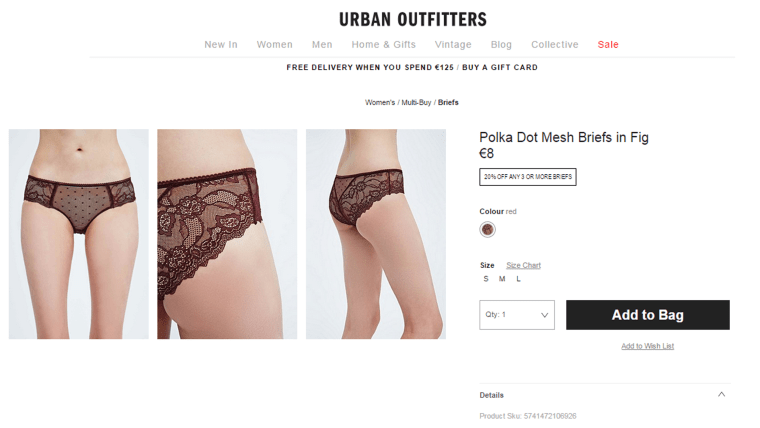 "The ad must not appear again in its current form," the advertising group ruled in its report, dated Dec. 31. "We told the advertisers to ensure that the images in their ads were responsibly prepared."
The ASA contacted the clothing company's U.K. bureau, which defended the model and the visual and stated that "the model in question was represented by one of the UK's most successful and well-respected agencies." According to the ASA report, Urban Outfitters believed the model with a waistline of 23.5 inches was "naturally tall and [had] a slim physique," rather than underweight, and added it's "common practice to use slim models in the underwear industry."
But the ASA upheld the original complaint, cited a "significant gap between the model's thighs," and noted that "her thighs and knees were a similar width."
According to Urban Outfitters' website, the company targets "urban-minded individuals in the 18 to 30 year-old range."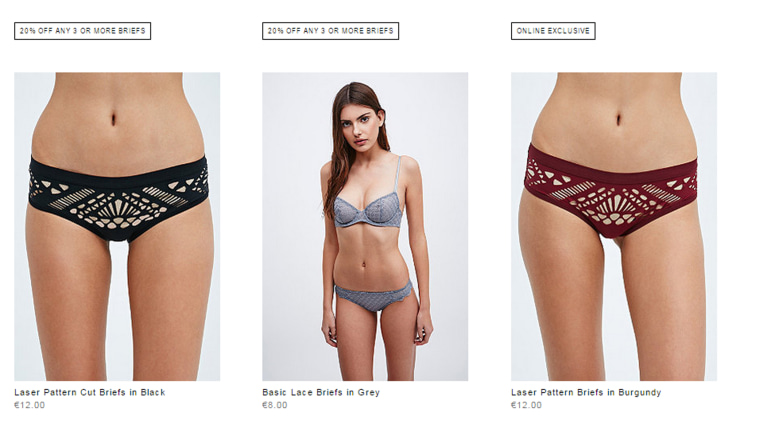 That target demographic factored into the decision of the ASA, which wrote, "We understood that Urban Outfitters' target market was young people and considered that using a noticeably underweight model was likely to impress upon that audience that the image was representative of the people who might wear Urban Outfitters' clothing, and as being something to aspire to. We therefore concluded that the ad was irresponsible."
In turn, the ASA ruled the clothing company's image violated a rule, which aims for responsible advertising: "Marketing communications must be prepared with a sense of responsibility to consumers and to society."
Similar images of models with thigh gaps remained on Urban Outfitters' websiteas of Tuesday, as spotted by BuzzFeed and other outlets. But according to the Daily Mail, the company has "no obligation to take down the additional images because they are not the subject of the complaint."
Emma Lavery, a spokeswoman for the U.K. branch of Urban Outfitters, "declined comment on this matter" when TODAY.com reached her by email Tuesday.

It's not the first time the company has faced controversy. In September, the brand issued an apology after selling a "Vintage Kent State Sweatshirt" with red splatters that resemble blood stains.
It's unclear how much of Urban Outfitters' thigh-gap visual is the product of photo editing, but it's more subtle than that of the apparent doctoring of a Target swimsuit image that left many consumers wincing last March. Regardless, a thigh gap isn't something you should worry about in the first place.
Follow TODAY.com writer Chris Serico on Twitter.