Apparel company Under Armour may have had its patriotic heart in the right place, but that didn't cut much slack with Americans offended when an iconic war image was co-opted for a T-shirt.
"Raising the Flag on Iwo Jima" by Joe Rosenthal is one of the best-known historic photographs from World War II, taken in 1945 and featuring five U.S. Marines and one U.S. Navy corpsman lifting the Stars and Stripes atop Mount Suribachi during the Battle of Iwo Jima. It went on to win the Pulitzer Prize for photography later that year and has since become one of the most recognizable images from the war.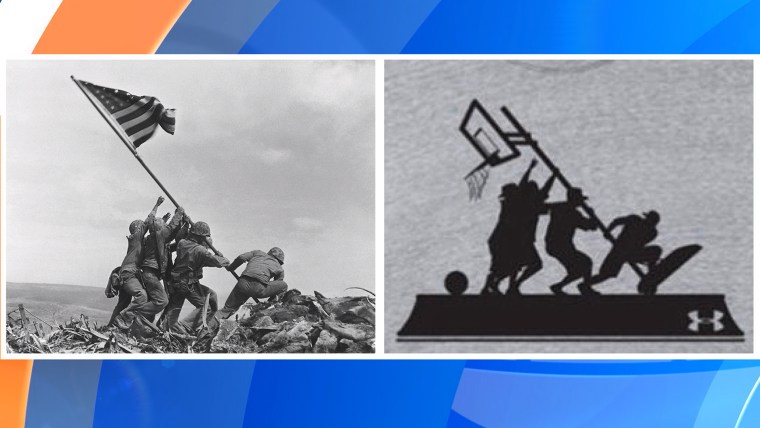 And while that photograph may be 70 years old, time has done nothing to dull the sacred sentiment many attach to it. When an altered version of the image dubbed "Band of Ballers," featuring basketball players raising their hoop, appeared on an Under Armour T-shirt, it sparked outrage on social media.
The company pulled the shirt after receiving complaints and issued a statement on social media over the weekend:
That seems to have done some good:
Under Armour has been surprised by public relations issues with its imagery in the past. In 2013, special Northwestern University flag-themed football uniforms created by the company appeared to have streaks of blood on them. The uniforms were meant to be worn once, then auctioned off to raise money for the Wounded Warrior Project (which since 2001 has helped injured service members).