Of all the novelty holidays on our calendar, this one has to be our favorite. National Ugly Christmas Sweater Day is Friday, Dec. 12 and we're ready to celebrate! 
In honor of the occasion, we've scoured the web for gloriously ugly (yet also pretty adorable!) pullovers. Expect plenty of pom-poms, tinsel, jingle bells and, yes, animals in Santa hats—plus some surprisingly chic modern touches.
O Tannenbaum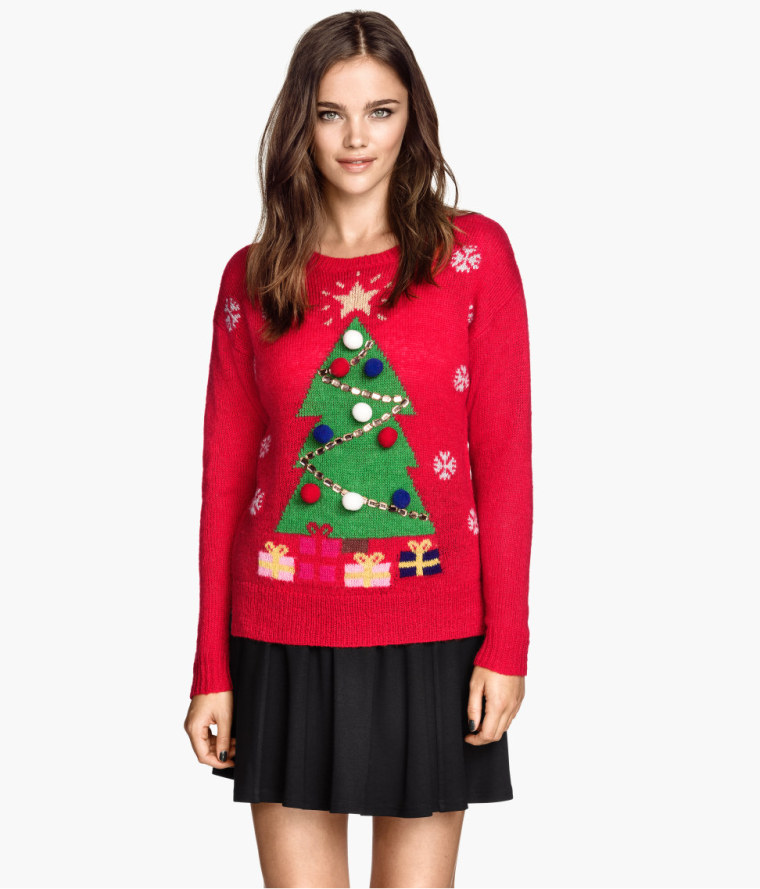 Our real tree may be tastefully decorated, but we can't help but smile at H&M's over-the-top evergreen.
H&M Knit Christmas Sweater, $34.95
Checking it Twice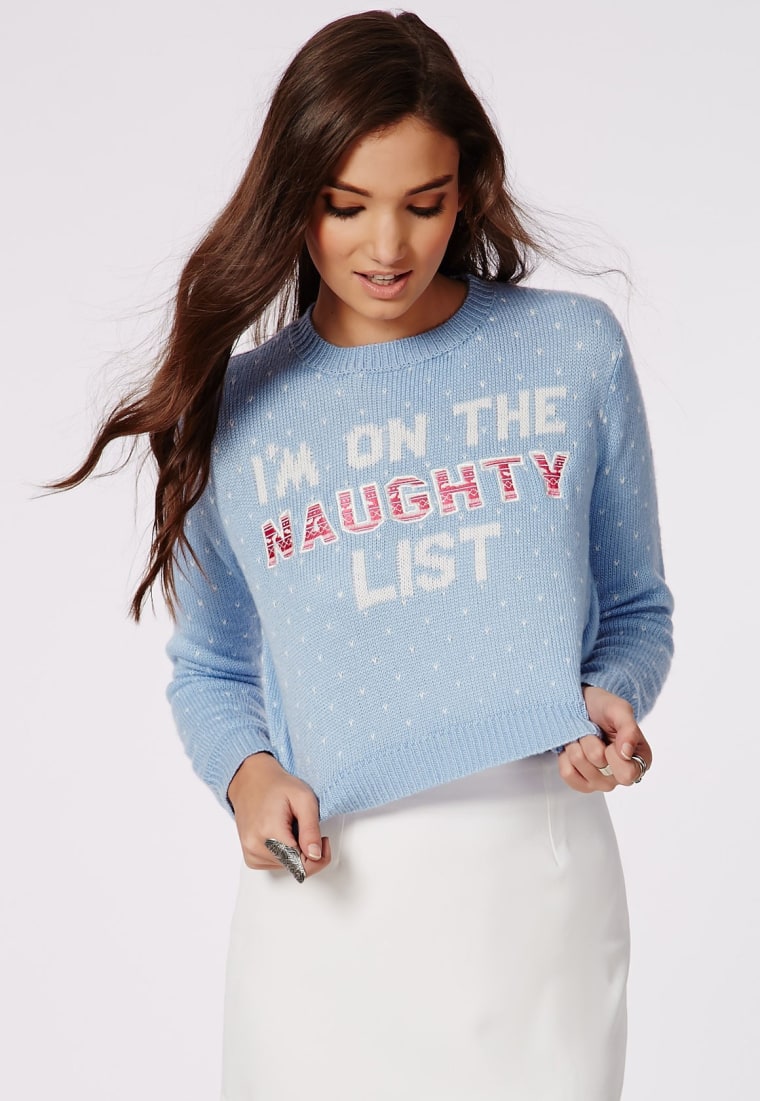 Give a little naughty wink with this cropped sweater, which looks amazing with a mini skirt or skinny jeans. The pastel palette will help you stand out in a sea of red and green.
Missguided Crop Slogan Knit Sweater, $37.98
Pucker Up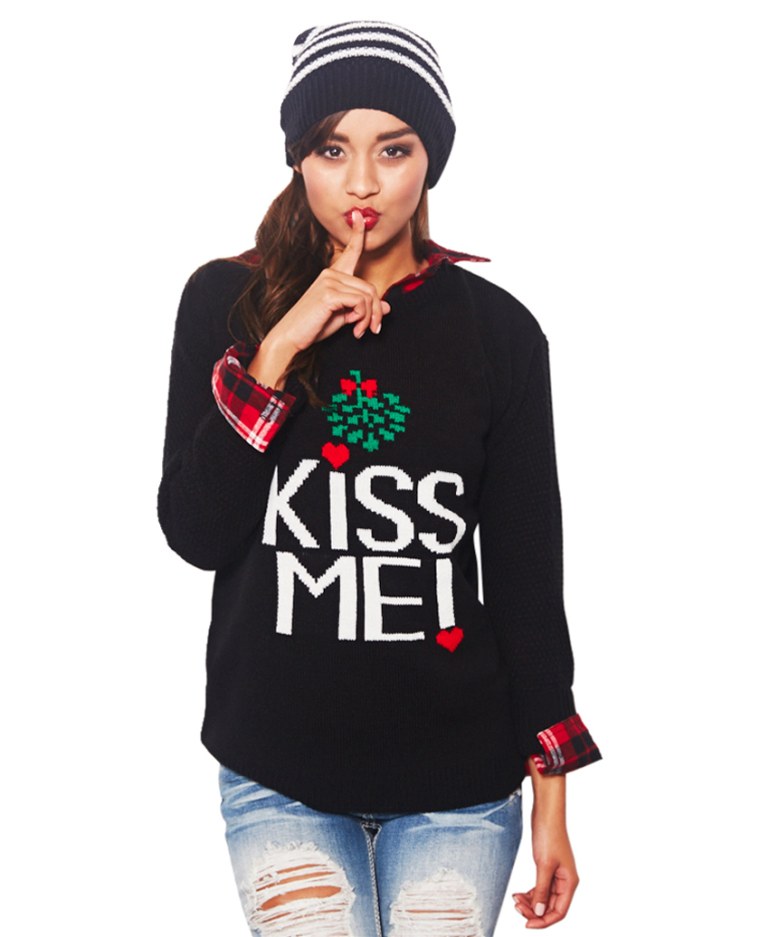 No need to linger under the mistletoe all night in this sweater. Send your message loud and clear with this festive choice that comes with a coordinating striped beanie.
Wet Seal Mistletoe Sweater Set, $39.90
Cat Attack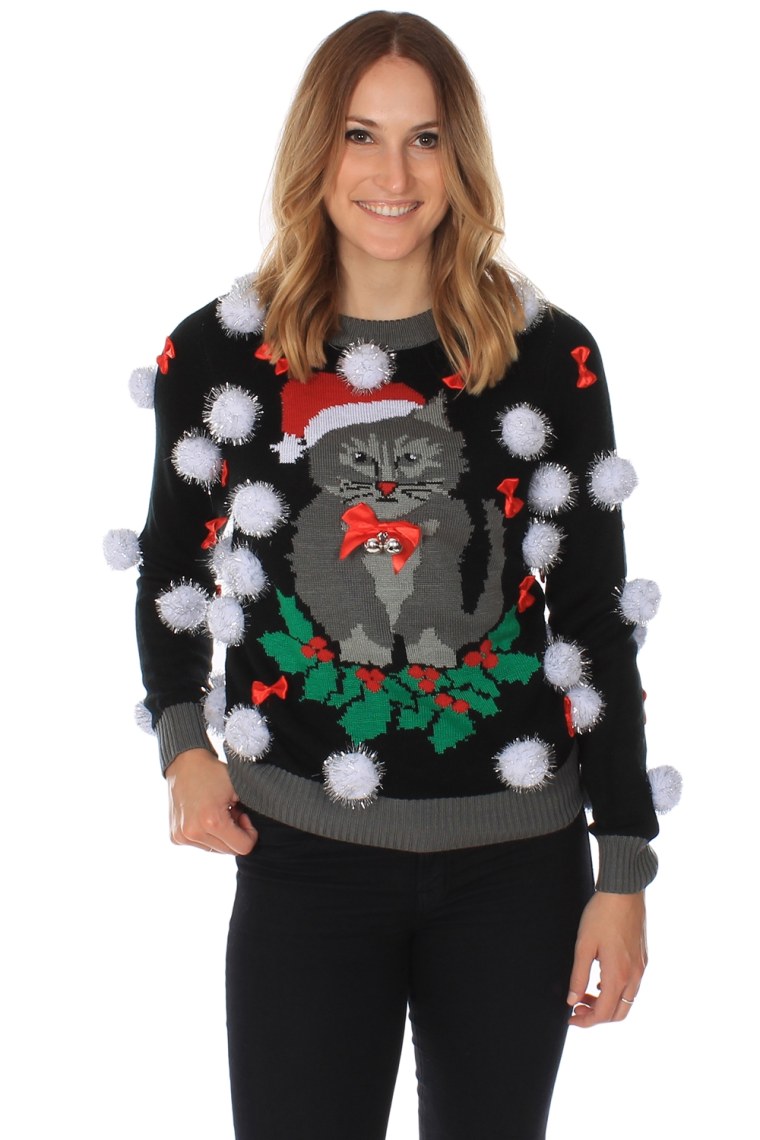 Now this ugly Christmas sweater means business. Be a proud crazy cat lady in this eye-popping collage of pom-poms, jingle bells and bows.
Tipsy Elves Ugly Cat Sweater, $69.95, coming soon
Puppies Pastoral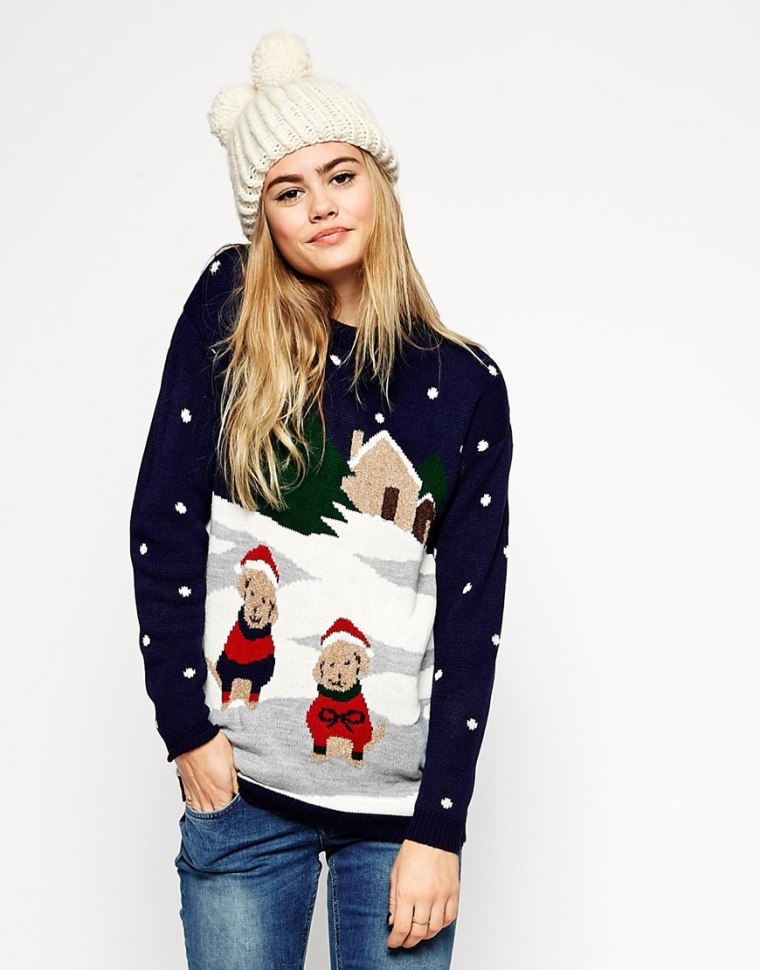 More of a dog person? This oversized jumper features yellow lab puppies frolicking in a snowy scene. Aww…
ASOS Holidays Sweater in Winter Scene with Dogs, $56.85
All the Trimmings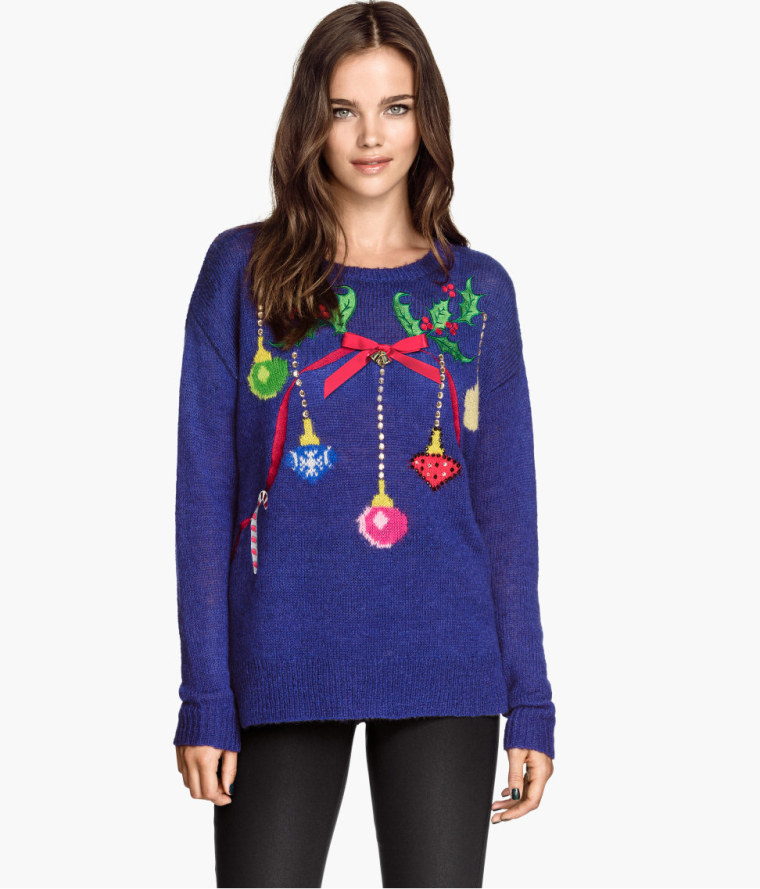 Crystals, bows and bells add 3D drama to this ornament-emblazoned pullover. Would it be totally nuts to weave some tinsel into your braid to match?
H&M Knit Christmas Sweater, $34.95
Sequin Santa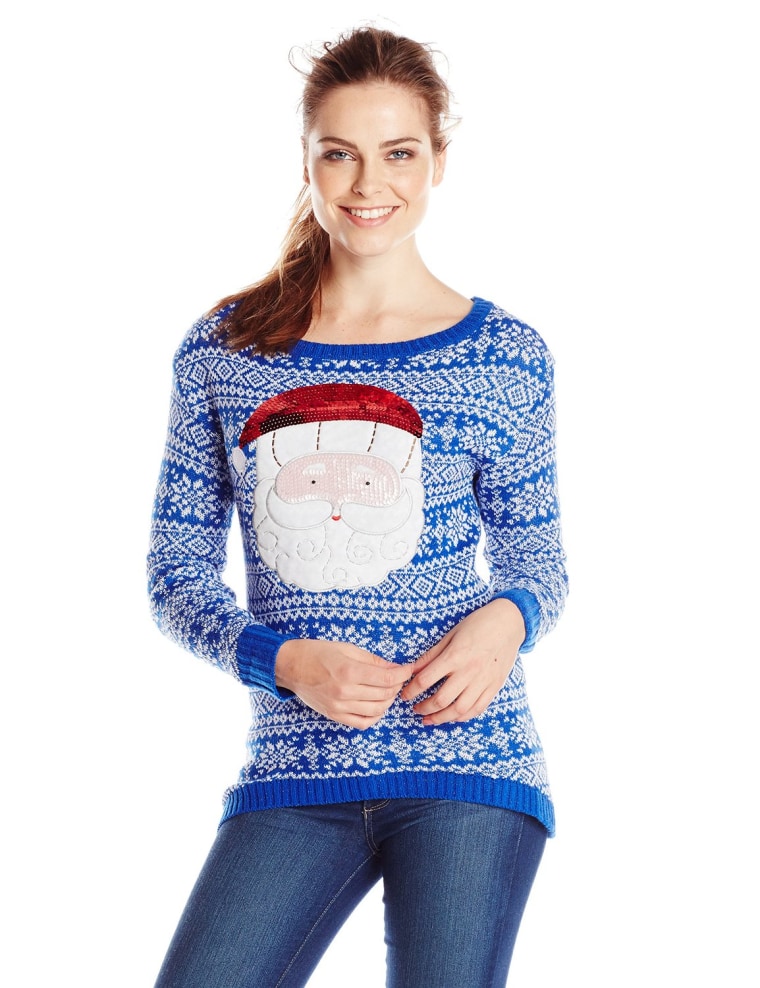 We love this unexpected combo of traditional Fair Isle knit and sparkling sequins. It feels like we're après-ski at the North Pole.
Isabella's Closet Santa Sweater, on sale for $29.99
Bad Grandpa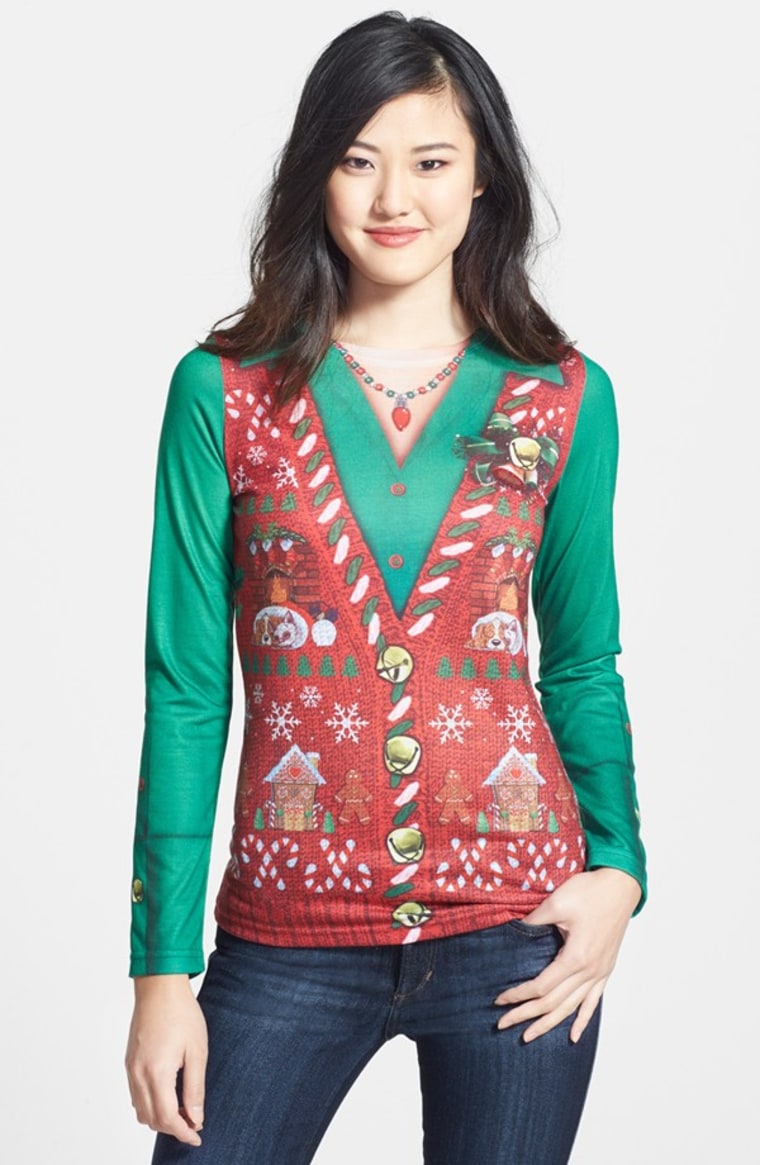 This trompe l'oeil top has all the kookiness of a Christmas vest (and requisite electric bulb necklace) in the comfort of a lightweight tee.
Faux Real Ugly Christmas Vest Long Sleeve T-Shirt, $30
Santa's Helper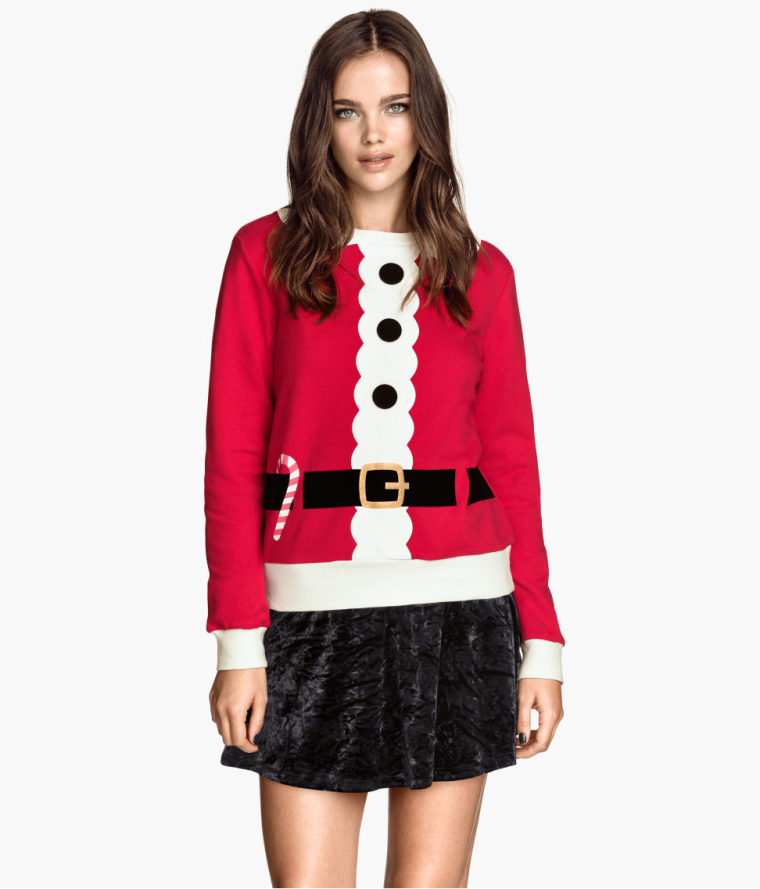 What's not to love about playing Mrs. Claus for the night? Your hubby's always in a good mood, he lets you share his cookies and you get to spread holiday cheer throughout the land. (Have a little elf at home? Check out the matching onesie and cap!)
H&M Sweatshirt with Printed Design, $34.95
Freshly Baked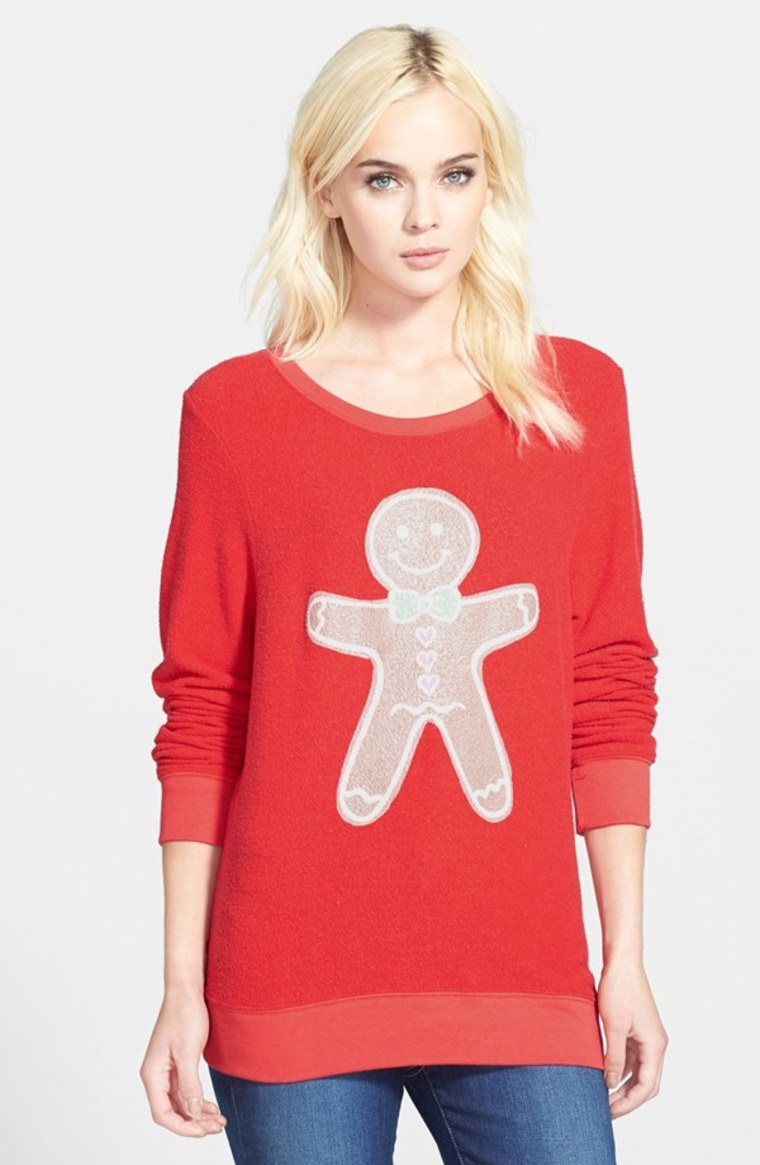 Not only does this luxe pullover look good enough to eat, the innovative fabric is scented like cinnamon.
Wildfox Gingerbread Man Scented Pullover, $98
Black Tie Very Optional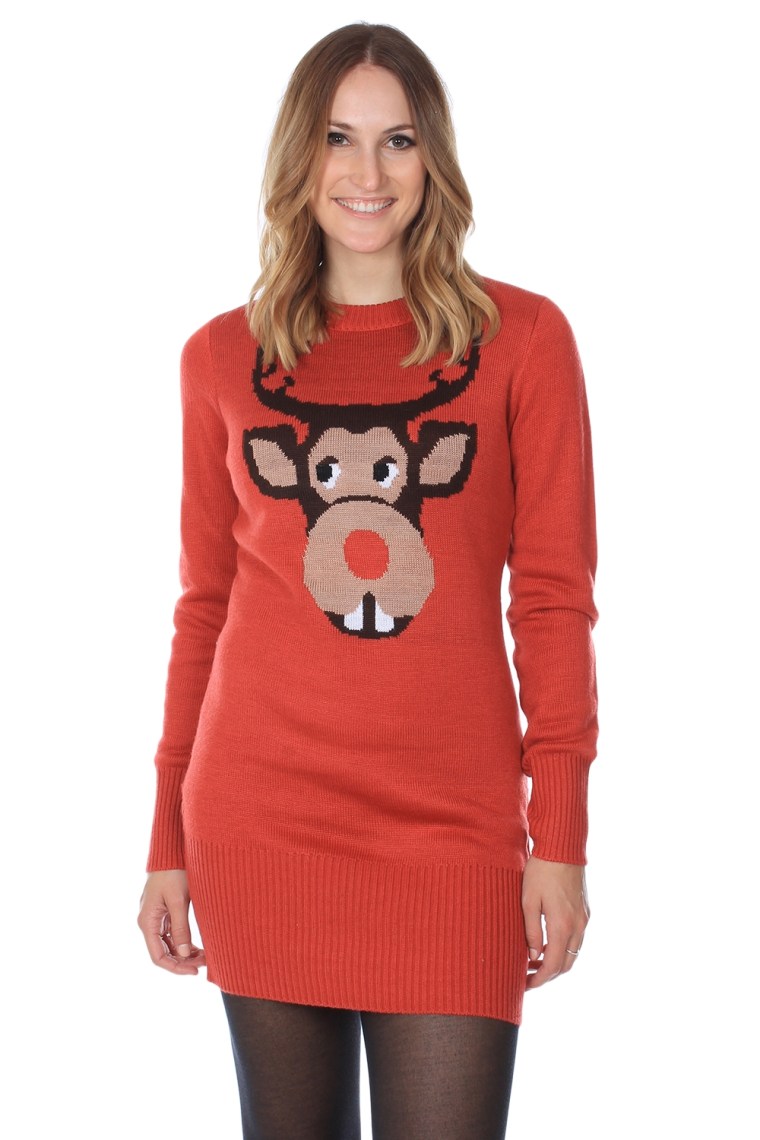 It was only a matter of time before ugly Christmas sweaters morphed into ugly sweater dresses. This sleek style from Tipsy Elves features a bucktoothed Rudolph front and center.
Tipsy Elves Bucktooth Rudolph Sweater Dress, $64.95
Feeling Crafty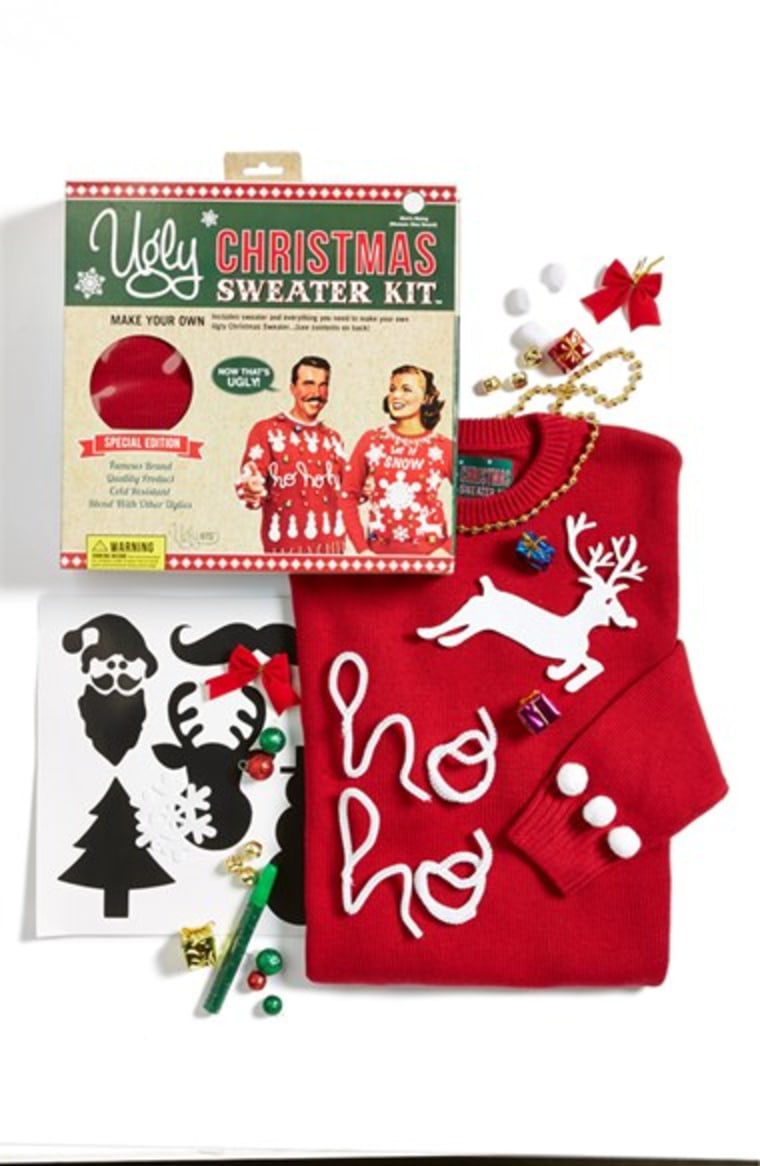 If none of these sweaters is quite crazy enough (or you're simply in the mood to DIY), there's the Make-Your-Own Sweater Kit. Bedeck a simple red pullover with your choice of felt decorations, pom-poms, bows, googly eyes, glitter gels, jingle bells and gems—and, for the love of Christmas, don't hold back!
Solid Make-Your-Own Sweater Kit, $29
And if you really can't commit, rent a vintage ugly Christmas sweater, instead!