What's a better birthday present than a makeover? Thanks to TODAY's Ambush Makeover team, two women from Texas celebrated their big days with gorgeous new looks.
Celebrity hairstylist Louis Licari and TODAY contributor Jill Martin, along with their glam squad, worked their magic on 49-year-old Deborah Willingham.
She was in New York City with her husband and son. Now a grandmother to one, she's been married for 14 years and likes to keep her beauty routine simple: washing her face every day. She's a huge fan of Kathie Lee and Hoda and has been planning her Ambush Makeover for years.
Was it worth the wait? Absolutely, according to her husband Joshua.
"Oh man, she looks beautiful!" he exclaimed after taking off his blindfold. "It's awesome—you guys did a great job."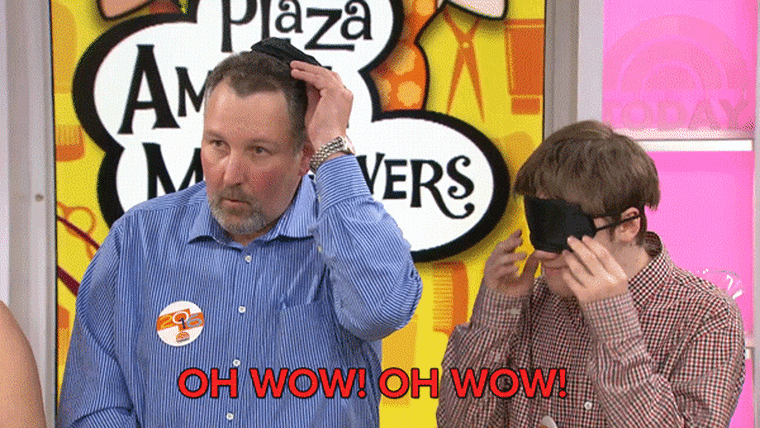 Louis Licari transformed Deborah's perm into a layered look with highlights that flattered her face and brought out her cute dimples. Meanwhile, Jill swapped Deborah's hoodie for a smart white blazer, pairing it with dark jeans, a statement necklace, and black pumps. No wonder Deborah looked into the mirror and said, "Ta da!"
Linda Slate, 74, is a retired hairstylist of 25 years and has one son and two grandchildren. She was in New York City with her sister Nella. She's hoping her makeover will help her find new love.
"I want to look beautiful, and young—I'm tired of looking like a drab old woman!" Linda told Jill Martin before her big reveal.
Did Louis and Jill deliver? We sure think so!
"Oh my gosh! You look so gorgeous!" Linda's sister Nella said at first sight. "Unbelievable!"
Louis styled Linda's blond lob with new layers and a darker color that complemented her elegant eye shadow, while Jill dressed her all in blue with adorable leopard print flats. Watch out, world—Linda Slate is now single and ready to mingle!
Congratulations to both ladies on their birthdays and gorgeous looks!